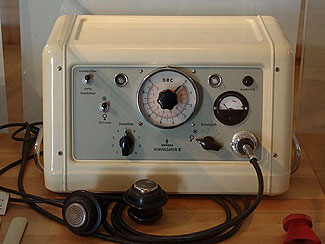 Just the thing after a long sleep - shock treatment!
Mike's Pith & Wind - Deep sleep
Sleep can be elusive at the pointy end of life. It's often simply because you haven't exerted yourself enough to deserve a decent night's rest, but we both know that sleep is most elusive when you need it most. In my case the kiss of death for a restful night's sleep is knowing that I have to be somewhere first thing in the morning, especially an airport. In fact, add travel to the equation and I not only sleep badly but I'm guaranteed to have to get up at least half a dozen times to have a pee.
It may sound radical, but I'm beginning to wonder if we have more than one brain. Maybe there are other lesser or virtual brains governing crucial body parts down south that conspire with – or against – the main, or federal brain. It would make sense. Why would the capital brain, way up north at the top end of the body, even want know all the gruesome details, the ins and outs, of the bladder and the colon? It would make more sense to have some dedicated regional brain in the area that's more acquainted with the engineering and whose only concern is the prompt disposal of the body's waste products.
I have a slow metabolism. (You know where this is going, Adam). One thing that is bound to get my tardy peristalsis grinding into action is the seemingly innocuous act of navigation. Perhaps it's an argument to invest in a GPS, but if I'm going somewhere that requires Google Maps, or, heaven help me, the Melways, the first thing I have to do when I arrive at my destination is go to the toilet and have a dump. Or not – it's.. read more

MORE LINKS!
STOP PRESS
.................................
All the very latest news, gossip and pics
ARCHIVES
.....................................
Find all the back-issues of the Bloody Newsletter and Stop Press
HELPFUL LINKS
............................
Some helpful links to Spectrum's fave people
MIKE & BILL'S DEMOS/VIDEOS
Listen to Mike & Bill's demos and check out their YouTube videos
CLASSIFIEDS
................................
You wanna learn guitar or buy a classic piece of equipment? Check the classifieds
FREE DOWNLOADS
.....................
Give us your thoughts on the file-sharing issue
BOOK SPECTRUM
........................
How to book Spectrum for that special function
CORRESPONDENCE
....................
E-mails to the editor on any and every subject
Dick's Toolbox -The etiquette of the X
In this world of serial monogamy where people split with gay abandon, where marriages last no longer than most people can hold their breath, in a milieu awash with the mass publicity of the Kardashians and Cruises and where access protocols are negotiated with the help of lawyers, counsellors and complicit media, it seems common to see partners in various states of current, future or prior relationship consorting in a most amicable manner. Those who aren't are no doubt nursing the financial ruin of a settlement that has been obtained acrimoniously and expensively. I have a lawyer uncle who annually travels for several weeks aboard a rather large cruise ship called 'The World' as a gift of gratitude for a settlement he obtained. To be more accurate, it isn't a cruise ship, but rather the world's largest private yacht with around two hundred residences. Life is now hell.... read more