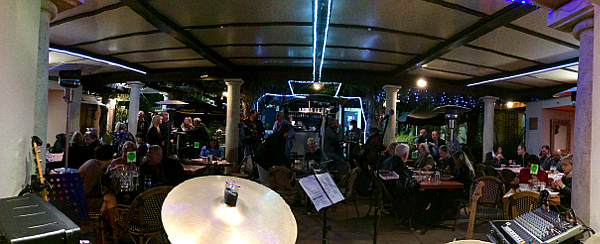 The view from the tiny stage at Beach 162 behind the Premier kit that Robbo brought for the gig
The opening salvo for the Frankston Guitar Fest.
9.10.17 - Billy Dettmer was worrying that nobody would turn up at Beach 162, the venue he'd chosen to host the 20th anniversary show for the Frankston Guitar Festival that he had a such a big hand in presenting late in the 20th century, but the signs were already good when Broc and I arrived. For a start the weather was good, which counts when you're playing under canvas in the Garden Bar, and there were already people of the right vintage chomping into the excellent pizzas from the house kitchen. So what if we'd not played note since early in the previous month and we hadn't done a trio gig since 2016?
And so it was that we all had an enjoyable evening together tickling our memory cells and exploring the relms of trio-dom.