September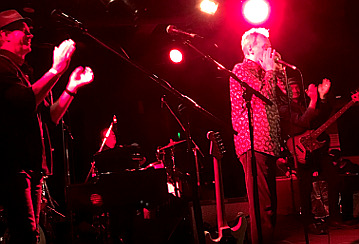 1)The nine-piece 1965 Masters sound check at the Corner Hotel - Rob Pippan on the left 2) Mike gets the audience to sing all of I'll Be Gone
Mike croaks at the Corner Hotel with the 1965 Masters Apprentices
2.9.17 - On Monday evening I noticed my throat was feeling a bit rough and my legs were aching. I gargled and hoped that it didn't foreshadow something more sinister - but of course it did. By Thursday I could feel some energy returning at least, but no voice, which was problematic as I had Spectrum's appearance at the Corner Hotel with the 1965 Masters Apprentices slotted for the Friday night.
By the time we got to the sound check on Friday evening I thought I'd recovered enough of my voice to bluff my way through our forty minute set, as long as there wasn't too much singing and I could get the crowd to sing I'll Be Gone - all of it! Which is the way it worked out and I don't think too many people were disappointed.
Not that that was the point, of course. The evening was by way of celebrating the Masters' place in Australian rock history and with three of the surviving original Masters on stage augmented by six of Adelaide's finest it was a surprisingly satisfying tribute. While it was personally good to reacquaint with Twilights' bassist John Bywaters filling in for original Masters' hassist Gavin Webb on the Melbourne leg of the tour, (I think the last time we met was back on the Long Way To the Top tour in 2004), it was a real privilege meet up with the original MA members, Mick Bower, (one of the early Masters' principal writers), drummer Brian Vaughton and guitarist Rick Harrison.
The surprise was being introduced to Mark Holden's brother, Craig Holden, who took Jim Keays' role for at least half the show. Did a fine job too, and Mark assures me that he and Craig are getting together for some future musical projects. Honestly it was a bit disconcerting seeing them both together though.
Anyway, the good-sized crowd at the Corner, old and young (a surprising percentage of youngsters in front of the stage singing along with the lyrics, which tickled Mick Bower considerably) loved everything the 1965 Masters threw at them. I recognised most of the covers the Masters did as my Christchurch band, Chants R&B, covered many of the same songs. Jim and I found a lot of common ground in his last few years and I suspect he would've approved of the show and be itching to pull on his rock 'n' roll boots and take centre stage.
Thanks to Rob Pippan (pic 1) for thinking of Spectrum to support such a show.