S P E C T R U M S P E C T R U M S P E C T R U M
M I K E R U D D B I L L P U T T . C O MM M I K E R U D D B I L L P U T T . C O MM M I K E R U D D B I L L P U T T . C O MM M I K E R U D D
stop press r

October
gig report / Spectrum plus Madder Lake at the Newport Bowls Club Sun. 14.10. 18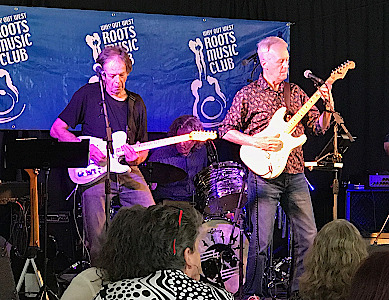 1) This might be Red Hot Momma, but anyway everybody's clapping! 2) Two seriously elderly gentlemen at either end of their fretboards (MG)
The Spectrum / Madder Lake double bill rolls on!
15.10.18 - There were a lot of people there already when we arrived at the Newport Bowls Club a few minutes after 12.30 and it it just kept on filling up as the stage came together. The kitchen was struggling to keep up with the demand - Robbo's meal didn't arrive till after our set was over! Somehow amidst all the turmoil of two bands setting up in a confined space we managed to start on time and my old Christchurch compatriot Tony Bishop was pulling a mix out of the steamy ether - and the crowd was loving it! I still managed a few fluffs, but in general the set ran as planned and everyone was happy. I had been worried that my hip (gardening accident) might've inhibited my movement, but the tiny amount of room available on-stage had more of an effect than anything - the adrenalin rush took care of the pain.
Keaton's 'strawberry jam' stole the show (again) between the bands' sets, then it was Madder Lake's turn, with the hard-working Brenden Mason (pics) again featuring just as he had with Spectrum! I don't know where he finds the energy but I'm glad he does because he adds so much to the Spectrum mix! I popped up and joined the Madders for a couple of tunes on harp - and then it was all over, bar the congratulations and back-slapping.
A full-to-the-brim-house made everybody smile. Thanks Rob Rowe! Thanks Steve Georgiou! It was a great day! Roll on the next double bill!
gig report / The Indelibles return to St Andrews to a more restrained welcome 7.10.18

The chaps attempt to encourage the odd dancer with a snappy version of Keep on Dancing
St Andrews does its best
8.10.18 - The St Andrews pub (Sangers to some) never really disappoints and there was so much to recommend The Indelibles' appearance on this occasion that it seems peevish to venture a complain, but it was a quiet day numerically-speaking. That said, the response of the crowd to my typically inscrutable selection of songs couldn't be faulted. In fact, it was verging on whelming. Another plus was that I'd got there early enough to actually have time to kill before we started the first set, so I was scarcely panicked for a change. So, it seems I have to be there a full 90 minutes before start time, rather than an hour. Bugger.
Disappointingly my amp proceeded to broadcast a persistent farting sound, Damn it! I hope I can get it seen to before the Double Bill gig on Sunday!
M I K E R U D D B I L L P U T T . C O MM M I K E R U D D B I L L P U T T . C O MM M I K E R U D D B I L L P U T T . C O MM M I K E R U D D