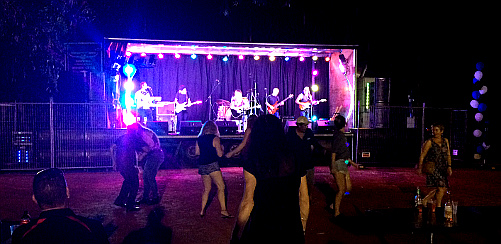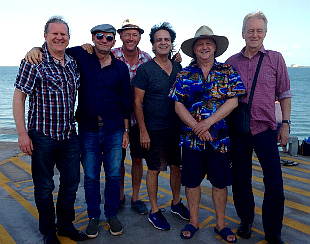 1) The Giants play on their home turf at the Humpty Doo Blues Festival 2) Robbo, Broc, Daz, Peter Leslie, Martin Fisher and me at the Wharf
The Humpty Doo Blues Festival is alright with me
Sat. 8.7.17 Spectrum at the Humpty Doo Blues Festival
10.7.17 - What a terrible thing it is to be uprooted from a typical Melbourne winter's day and be put on a jet plane up the top of Australia and be subjected to pleasantly warm temperatures all day and all of the night - as well as get to play a set of your own music (and blues) with yer mates to a receptive Festival crowd! Even worse, you have enough down time to be taken by Peter Leslie (pic 2) an old mate of Broc and Robbo's into the township of Darwin to have a very pleasant lunch of Barra, salad and chips on the Wharf and meet a fellow Kiwi who is also a musician (and a lawyer) who has a predeliction for oysters and a passion for rugby amongst the other fine things of life. (Martin Fisher pic 2)
This exquisite torture was organised at the behest of The Giants' Stu Woods, who brought us up to the NT last year at about this time to play at the Blues Festival at the Noonamah pub, just down the road from this year's venue at the Humpty Doo pub. Stuart is a long term fan of Spectrum (and subsequent outfits) and is in a position to indulge his musical preferences from time to time and fellow old boy Matt Taylor and Spectrum are the grateful beneficiaries of his largesse.
Really the only slight inconvenience was the late night/early morning flights there and back (and Jetstar's recent imposition of a $25 - $50 charge for the carriage of guitars), but all the rest was just varying degrees of enjoyment.
Mind you, our drive to Darwin for lunch did feel like an escape of sorts. The airport was the closest I'd been to the township, so driving into the CBD was like all my Australasian Post memories coming to life. We met up with Martin Fisher at the wharf and sat down to a civilised meal and equally erudite conversation.
The Friday night had been light on for a crowd and Daryl's 'solo' set was played to practically nobody, but fortunately there was a respectable crowd on hand when Spectrum took the stage on Saturday night. Of course we were a little bit rusty, having not played at all since our SA trip in May, but there was enough good stuff to keep the punteres - and onlooking musos - ecstatically/reasonably happy.
We got back to a chilly Melbourne airport at 6.30am on Sunday morning, sadly missing the 'blues explosion' that Stu had planned to wind up the festival - and the unseasonable NT warmth.