S P E C T R U M S P E C T R U M S P E C T R U M
M I K E R U D D B I L L P U T T . C O MM M I K E R U D D B I L L P U T T . C O MM M I K E R U D D B I L L P U T T . C O MM M I K E R U D D
booking
How to book Spectrum
Apart from the legendary Spectrum band there are four other Mike Rudd options to choose from listed below. If you'd like to book Spectrum or any of the other outfits please contact Mike per
email
or speak to him directly on (03) 9736 1164 or 0411 103 818. Prices and availability of the various combos available on request. (Read
live reviews
of Mike's bands)
* For those into such things, (like I am) you can see a description of
Mike's stage gear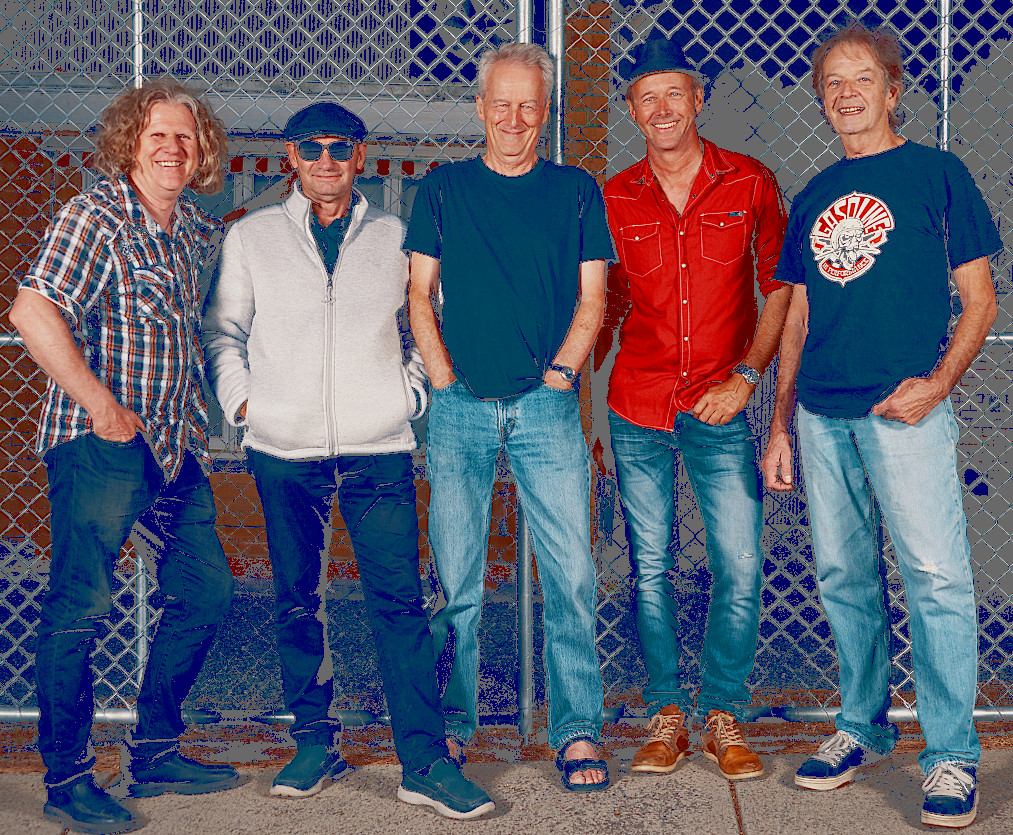 Mike Rudd, Brenden Mason, Peter 'Robbo' Robertson, Daryl Roberts and Broc O'Connor
Spectrum today is, conceptually at least, similar to the original band launched way back in 1969, but the loss in 2013 of bassist and fellow founding member Bill Putt leaves singer/songwriter Mike Rudd as the sole original member in the current line-up. The recent addition of Madder Lake guitarist Brenden Mason (pic) however has added a very positive dimension to the band, especially in the live performance arena - a recording would seem to be inevitable.
Spectrum and Madder Lake played a very successful series of double bill shows during 2019 celebrating Spectrum's 50th anniversary and as 2020 marked the Madders' 50th anniversary there had been another series of double bill shows planned throughout the year, another good intention scuttled by COVID-19.
Today's Spectrum plays a batch of retrospective songs from the various Spectrum, Murtceps and Ariel albums, including a selection from their many singles released over the decades. Like Spectrum's But That's Alright and Play a Song That I Know, The Indelible Murtceps' Indelible Shuffle and Esmeralda and Ariel's Jamaican Farewell and Disco Dilemma - and there are quite a few more.* Never forgetting the legendary song that started it all, I'll Be Gone (Someday I'll have money) of course!

* See Spectrum's Heritage song-list nnnSee the official Spectrum bio
BACK TO THE TOP
mmmmmmmmmm


L-R Agent Smith, bass - Chopped Liver, keyboards - Robbo McRobbo, drums - My Crudd, vocals, guitar and harp

The return of The Indelible Murtceps!
They said it would never happen again, they also said that it could never happen again, but they were wrong - again! In 2022 the jesters of the Aussie music scene, The Indelible Murtceps, are back! The band's first gig for countless decades was in January in their all-too familiar role as support for their big brother band, Spectrum, and it felt as though there had been no gap at all between gigs. The chaps were resplendant in their chosen avatar costumes (see pic) and the songs, culled exclusively from the Murtceps repertoire of old, sounded as fresh as ever. If you're looking for a good time and a laugh, this is the band for you.
BACK TO THE TOP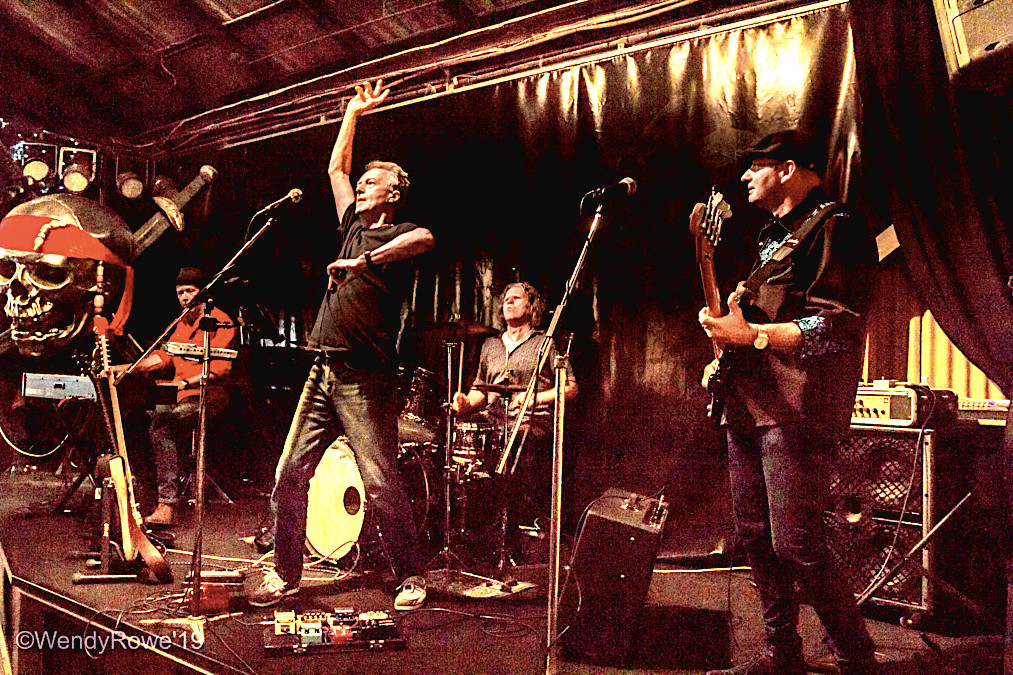 Mike Rudd's Indelibles - inc. Spectrum Plays the Blues
AKA The Indelibles, this is the very same band that was known until quite recently as Spectrum and is the band that can evince the original Spectrum, The Indelible Murtceps, Ariel, WHY, Mike Rudd & The Heaters and even Mike's first band, Chants R&B songs just for you.
With songs like
I'll Be Gone, Launching Place Part Two, Going Home
and
Fly Without Its Wings
, Ariel's
Jamaican Farewell, Rock & Roll Scars,
Red Hot Momma
and
Worm Turning Blues
, Murtceps'
Esmeralda, Some Good Advice
and
We Are Indelible
, you'll be in Spectrum heaven.
The Indelibles
(pic)
will also treat you to a set of more recent songs from the
Breathing Space
EP series like
Rocket Girl, Silicon Valley
and
Xavier Rudd is Not My Son,
followed by a set of crowd pleasing blues from the
Spill - Spectrum Plays The Blues
and
No Thinking
CDs. Irresistible? Up to you. Indelible?
Certainly!

PS - If you find you haven't enough space (or money) for the four-piece, you might consider the three-piece version of The Indelibles,
Mike Rudd's Three-piece Suit
(AKA The Suits).

See
large portrait
(pic Dale McCabe)
BACK TO THE TOP
The String Band's first gig L - R Bobby Macindoe, Roger Young, Issie Morse, Sarah Morse, Jeremy Alsop and Noel Kennedy

Meet The Indelible String Band Q&A
Q. So, what's this Indelible String Band all about then? A. Well, I should point out that the project is still at the dream stage, but the portents are pretty good that the dream is due to become a reality. Portents don't necessarily trump the pandemic, of course. Q. How did this dream come about then? A. I received an email on the 11th of January 2019 with an mp3 of a string arrangement of I Can Do Anything. When I say arrangement, I mean a real arrangement, not just an immediately recognisable version of the original song with strings tacked on. It actually took me quite a while to identify what song it was! I was impressed and intrigued, and when I played it to my live-in muse, the beautiful Maria, she absolutely adored it, so the die was cast! Q. So, can you tell me anything about the arranger? A. Noel Kennedy's a gentleman of a similar vintage to me - not quite as old, of course, nobody is these days - but Noel's been in and around the music scene as we know it for the requisite yonks and was aware of the Rudd oeuvre - which, in itself, is noteworthy. This all began a couple of years ago so we've met in person two or three times now, but in many ways we're still feeling each other out, musically speaking, which is all part of the adventure. More to come...
Noel Kennedy
Noel Kennedy began playing keyboards in rock bands around the Ballarat region in the early seventies. His frequent trips down to Melbourne enamoured him of the young bands of the era, like Carson, Daddy Cool, Chain and Spectrum.
He has played with numerous bands over the years including Supernaut and Peter Blakeley. In 1992 he moved with his wife Kathy and family to Auckland, where his music was featured on tv commercials and documentaries, in addition writing scores for children books with Radio NZ and Scholastic.
In 2006 -2009 he attended Auckland University studying Jazz Piano and Arranging.
He now resides in Melbourne and, as well as preparing arrangements for the anticipated Mike Rudd's Indelible String Band, performs with the Jazz trio, Green Dolphin Street.
Noel is also currently working on the score for the up coming Australian feature film The Ninth Order.
BACK TO THE TOP
-m

Mike Rudd, George Butrumlis & Jeremy Alsop
I had a dream - and the dream was this acual trio, with piano accordion meister George Butrumlis and ace bassist Jeremy Alsop brilliantly transforming the repertoire from Rudd's Ancient & Modern hymnal into sublime reality. If the reaction to the trio at Spectrum to Ariel's re-Visionary concert is anything to go by, there's an audience out there for exactly this kind of sophisticated acoustically inclined fare. George's lyrical playing and instinctively appropriate vocal harmonising combined with Jeremy's knowing, but always tasteful double bass, flesh out the Cruddy guitar and vocal musical palette and enliven my occasionally quirky songs culled from pre-history, last century, yesterday and beyond..

Trio bios and a live review
nBACK TO THE TOP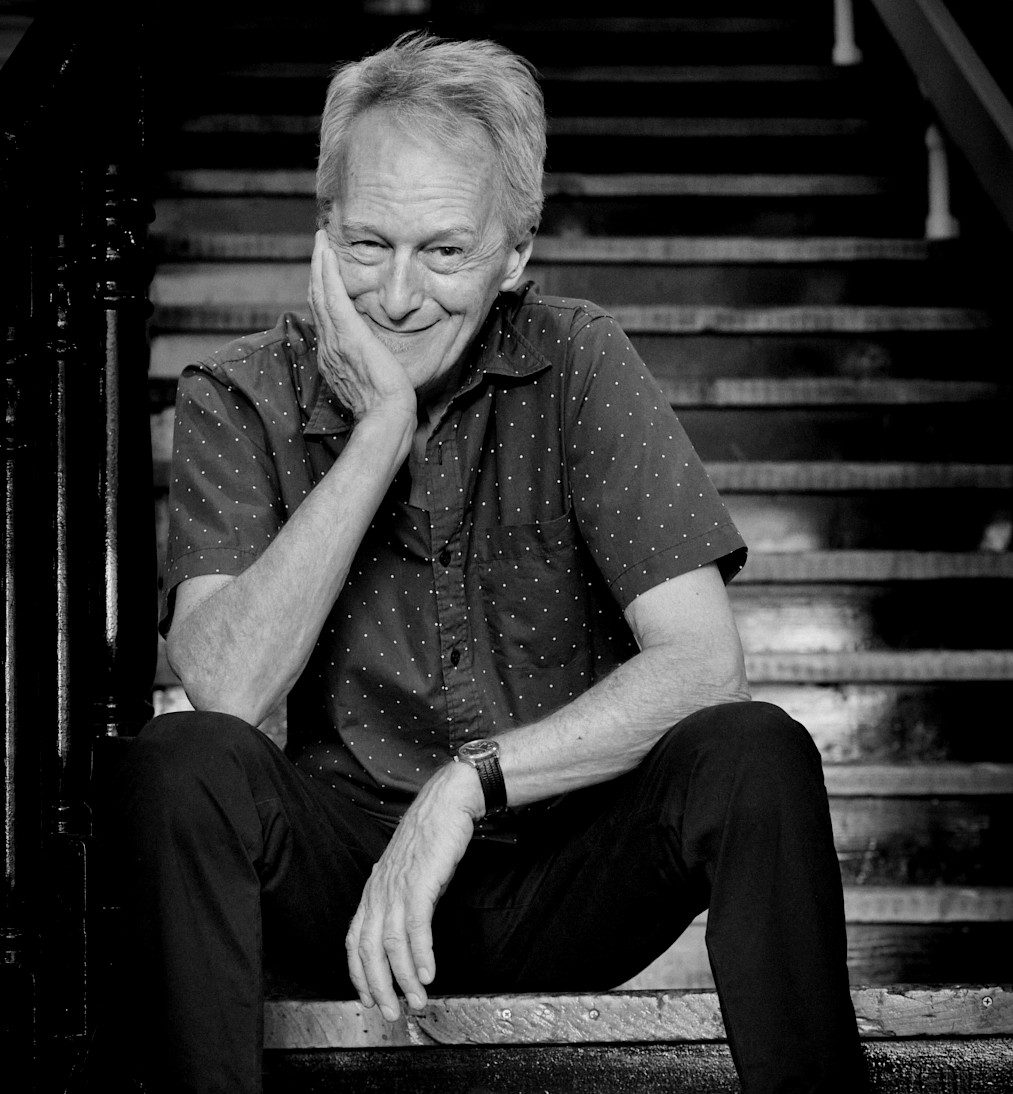 pic - Peter Lamont
Mike Rudd playin' wid himself
Throughout his long performing career, Mike has preferred the comfort and safety of 'the band' format, but things are about to change. Mike sees playing solo as an opportunity to tackle songs that, for one reason or another, don't get played in the group setting. Outrageous songs like Excuse Me Just One Moment from Murtceps' Warts Up your Nose album and Confessions of a Psychopathic Cowpoke, from Ariel's A Strange Fantastic Dream album which of course was famously banned from airplay by the FCB* when on release.
Naturally the solo repertoire isn't just comprised of controversial songs - there are some damn strange and just plain beautiful songs in there as well. Songs like Superbody, from the Spectrum Part One album, the Ariel single I Can Do Anything, and the haunting Kneedeep from the Living on a Volcano CD.

*Federation of Commercial Broadcasters
n
BACK TO THE TOP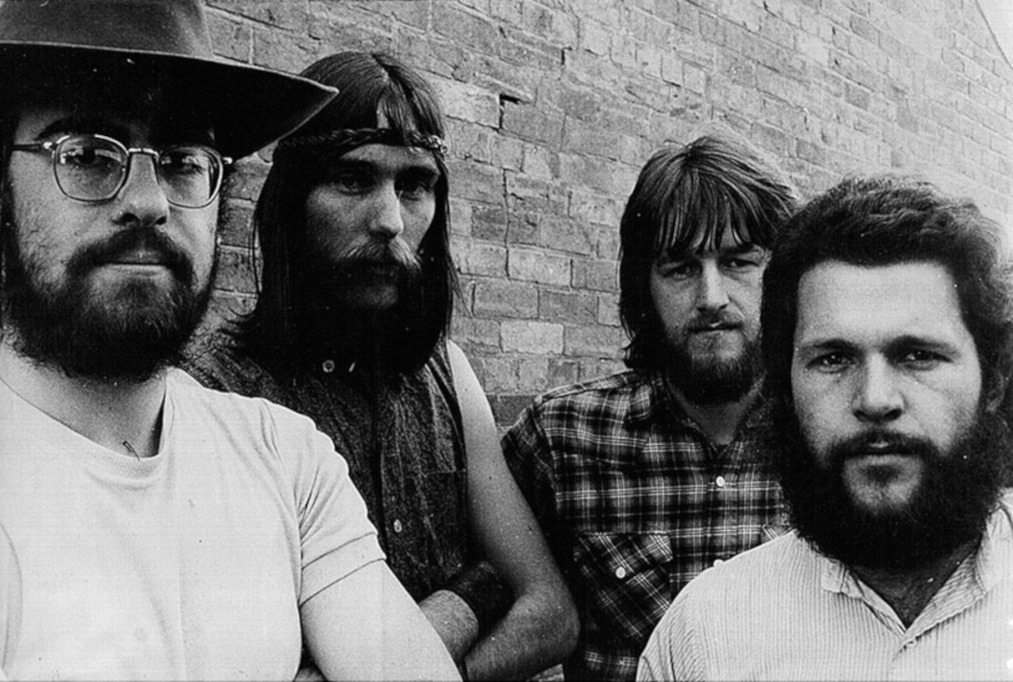 Discuss - is Spectrum dead?
The original Spectrum played around Melbourne and beyond between 1969 - 1973 when it was known chiefly as a sit-down-and-listen-to concert band, playing at venues like the Thumpin' Tum, Berties and Sebastians (oddly known as Discotheques) and the occasional riotous TF Much Ballroom event.
When pub gigs came into vogue in Melbourne, The Indelible Murtceps was devised to cope with the more visceral demands of pub audiences and happily co-existed with its big brother Spectrum, occasionally even playing a support role in the bigger concerts.
The popularity of Spectrum's national number one single, I'll Be Gone, put the band in front of many more people than an outfit retrospectively dubbed as a prog rock band might've expected, but Spectrum doggedly pursued its own musical course, to the point of NOT including I'll Be Gone on its first album, Spectrum Part One.
You will hear echoes of the original Spectrum in all the contemporary configurations listed above and, while it's still a useful reference point, the fact is that Spectrum as it was known back in the '70s, doesn't actually exist any more.
Don't be disheartened though. If you really want a genuine, purely Spectrum-Murtceps contemporary recreation, let's talk. In the meantime, if you'd like a stimulating concert-type reappraisal of Spectrum and beyond there's the Spectrum option with the effervescent guitarist Brenden Mason to consider.

And there's much, much more, so rather than me rabbiting on, check out the list above. (See official bio)
BACK TO THE TOP
M I K E R U D D B I L L P U T T . C O MM M I K E R U D D B I L L P U T T . C O MM M I K E R U D D B I L L P U T T . C O MM M I K E R U D D