---
email Mike for more details
---

See other Ruddy live projects like: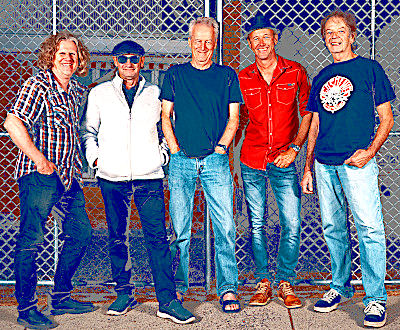 Spectrum
---
L-R Peter 'Robbo' Robertson, Broc O'Connor, Mike Rudd, Daryl Roberts and Brenden Mason
---
Spectrum today is, conceptually at least, similar to the original band launched way back in 1969, but the loss in 2013 of bassist and fellow founding member Bill Putt leaves singer/songwriter Mike Rudd as the sole original member in the current line-up. The recent addition of Madder Lake guitarist Brenden Mason (pic) however has added a very positive dimension to the band, especially in the live performance arena - a recording would seem to be inevitable.
Spectrum and Madder Lake played a very successful series of double bill shows during 2019 celebrating Spectrum's 50th anniversary and as 2020 marked the Madders' 50th anniversary there had been another series of double bill shows planned throughout the year, another good intention scuttled by COVID-19.
Today's Spectrum plays a batch of retrospective songs from the various Spectrum, Murtceps and Ariel albums, including a selection from their many singles released over the decades. Like Spectrum's But That's Alright and Play a Song That I Know, The Indelible Murtceps' Indelible Shuffle and Esmeralda and Ariel's Jamaican Farewell and Disco Dilemma - and there are quite a few more.* Never forgetting the legendary song that started it all, I'll Be Gone (Someday I'll have money) of course!
The Indelibles
---
Mike Rudd, Peter 'Robbo' Robertson, Daryl Roberts and Broc O'Connor
---
The Indelibles can evince the original Spectrum, The Indelible Murtceps, Ariel, WHY, Mike Rudd & The Heaters and even Mike's first band, Chants R&B songs just for you. With songs like I'll Be Gone, Launching Place Part Two, Going Home and Fly Without Its Wings, Ariel's Jamaican Farewell, Rock & Roll Scars, Red Hot Momma and Worm Turning Blues, Murtceps' Esmeralda, Some Good Advice and We Are Indelible, you'll be in Spectrum heaven.
The Indelibles will also treat you to a set of more recent songs from the Breathing Space EP series like Rocket Girl, Silicon Valley and Xavier Rudd is Not My Son, followed by a set of crowd pleasing blues from the Spill - Spectrum Plays The Blues and No Thinking CDs. Irresistible? Up to you. Indelible? Certainly!
See The Indelibles (in Spectrum Plays the Blues mode) play Albatross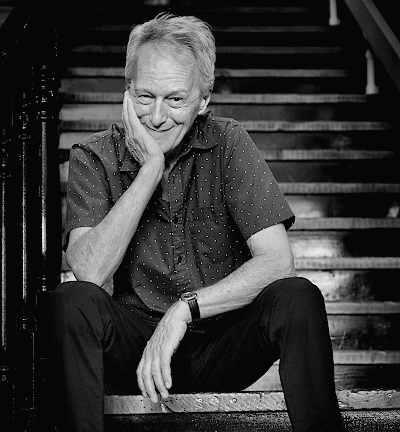 Mike Rudd with George Butrumlis
---
Throughout his long performing career, Mike has preferred the comfort and safety of 'the band' format, so the prospect of playing a buck-naked solo gigs was daunting. Nonetheless, he persevered for a couple of years making the odd solo appearance with only his Morris nylon-string guitar and an assortment of blues harps for company, until happenstance intervened and another path was revealed.
The Mike Rudd Trio, with accordionist George and bassist Jeremy Alsop, had been booked for an appearance at Doc White's Gilmore Street Sessions, but when Jeremy had to pull out at the last minute, Mike and George played a very satisfactory night alone together - and the 'Mike with George' die was cast.
Mike sees playing 'solo' with Sympatico George as an opportunity to tackle songs that, for one reason or another, don't get played in the group setting. Outrageous songs like Excuse Me Just One Moment from Murtceps' Warts Up your Nose album and Confessions of a Psychopathic Cowpoke, from Ariel's A Strange Fantastic Dream album, which of course was famously banned from airplay by the FCB* on release of the album.
Naturally the repertoire isn't just comprised of controversial songs - for those who just can't get enough there are three (!) interpretations of Spectrum's perennial biggie, I'll Be Gone, as well as other some damn strange and just damn beautiful songs. Songs like Superbody, from the Spectrum Part One album, the Ariel single Jamaican Farewell and I Wonder Who's Kissing Her Now from the Living on a Volcano CD and newer songs from the Breathing Space series, like Look at the Moon and Star Crazy and newer still as yet unrecorded songs like Old Black Dog and You're in My Heart.


* Federation of Commercial Broadcasters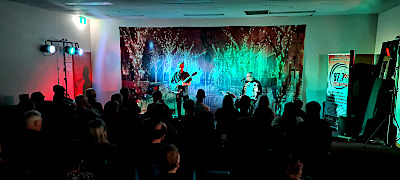 © 2018 mikeruddbillputt.com