Scroll down to the start of the month
Close this window to
return to Mike Rudd &
Bill Putt's home page

1) The Leader's Shaun gets close to Bill's essence 2) Limelight's Dave Walker and Mike
Limelight song comp
30.11.07 - Bill being around this morning was an unexpected bonus for the photo shoot at the Lilydale Leader to promote Dave Walker's Limelight - kudos for musicians, a songwriting competition for artists in the Shire of Yarra Ranges. There'll be a Showcase concert on Sunday February the 17th in conjunction with free
workshops on the 16th and 23rd of January which will be hosted by Bill and Mike. I'll have more to say on this soon, but in the meantime for more info go to Limelight's MySpace site.
The dynamic duo's duo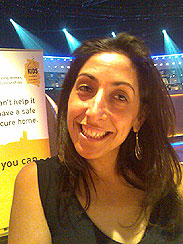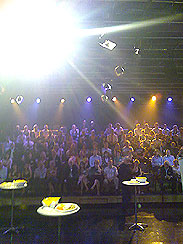 1) Roadcrew Brett and Brayden 2) KUC's Nikki Carmel 3) Arriving on stage on the Millionaire set
gig report
Crudd & Pump do San Remo and the KUC Supporter Event
28.11.07 - This would be the third time that Bill and I have played the Westernport Hotel in picturesque San Remo, and, although it's a bit of a hike, it's a pleasant enough way to while away a Sunday arvo/evening. This time we'd reverted to our original possie pointing out of the room and copping the view of the moods of the bay as the sun sinks. As I say, a pleasant enough thing to do, and when you get a touchingly warm reception as well, you can pack up the gear with a feeling of satisfaction for a job well done. Helping load out was my young blues harp student Brayden, with his dad Brett (pic 1), which was appreciated by us old blokes, especially Bill with his crook back.
The gig last night was unusual in a few respects, not the least in its setting on theWho Wants To Be A Millionaire set at the Channel 9 Studios. It was the annual Kids Under Cover Supporter Event, where the organisation thanks the various donors and volunteers for their contributions over the year. It was very hot and sticky outside, but the air-conditioning helped restore our energy as we set up plum in the middle of the extravagant looking Squillionaire set and sound checked. KUC Events Coordinator Melissa Drum and Marketing Manager Nikki Carmel (pic2) made sure we were comfortable and found us our dressing room, and before we knew it the guests were arriving. Bill and I idly chatted with various people while devouring as much as we could of the finger food that came our way, and then the speeches were upon us, led off by patron Athol Guy followed by Ken Morgan, the founder of KUC.
Compere Andrew Gill announced our arrival - and there we were, pumping out I'll Be Gone as best just the two of us can on the slightly surreal TV game show set (pic 3). We'd already done one encore when Ken Morgan, looking almost apoplectic, (he does tend to get excited), insisted we reprise I'll Be Gone, which we were happy to do, of course.
I'd got back to our dressing room and I was delighted to find that The Bill was still going as I'd forgotten to set the VCR in my haste to get to the sound check, when KUC Director Max Pietruschka popped in and introduced himself and said how he'd been working at the Armstrong Studios (both in Albert Park and South Melbourne) when Spectrum was recording there in the early seventies and had very fond memories of those days. I resigned myself to not seeing the end of The Bill and was wearily packing up my gear when I bumped into my mate and almost relative (she's Dick's niece), Petrina Dorrington, who is the retiring Executive Director of KUC. She invited Chris and me over on Xmas Day, (don't get me started!), and we agreed to do e-mails about doing coffee, (or hot chocolate in my case), which is when I intend to present her with a modest cheque from the sales of the Gonz CD. I can feel a warm glow beginning just thinking about it..
Queenscliff and Trentham Festivals

1) Shane O'Mara and Chris Wilson on the main stage 2) Mia Dyson and her band get funky

3) The only working train in Trentham 4) A clown makes me an apple 5) Redhead breaks things

6) Marcie Jones sings 7) Bill surveys the enormous crowd at the Trentham Festival
gig report
A tale of two festivals
24.11.07 - I was very gratified that Spectrum was asked to play the Queenscliff Festival this year. After a number of years of putting ourselves forward for no result, I'd all but given up and hadn't even applied this year, but even so, it's not a strategy I would particularly recommend. I have a soft spot for the festival because it's stayed local in every respect, sticking with its policy of choosing from a roster of local acts. A bonus for us was that because of our timeslot, we were the act that was to be broadcast live on Paul Petran's Music Deli show on Radio National, which you would imagine couldn't hurt our profile, that's if you could discern that we had one to begin with.
We got to the main stage pretty much right on time for our sound check with the ABC, despite being delayed due to an accident on the Bellarine Highway. Everybody was very happy to see us and was very helpful and went out of their way to make us feel comfortable - indeed Bill remarked it was the best stage sound we've ever had for a festival show.
Chris Wilson and Shane O'Mara (pic 2) put on a typically rivetting show ahead of of us - but when they'd finished I was disconcerted to see the audience simply evaporate, leaving this vast, lonely space in front of the stage. Paul Petran introduced us to the radio audience, and the live audience, such as it was, manfully tried to sound enormous - and we were under way. Curiously the crowd came flooding back in during I'll Be Gone, and when I next looked up through the fog and the lightshow, it registered there was an endless sea of faces looking back
Fundamentally, we don't do enough big shows. In my case, my mind was racing and I just couldn't get comfortable. I made some uncharacteristic (and some characteristic) blunders and I failed to communicate - with either audience. Having said that, I was very pleased that the tempos at least sounded relaxed, and Daryl felt like he belonged and wasn't just tacked on - but these are just impressions. Paul gave me a CD of their recording of the show, but I haven't listened to it, and I don't know whether I shall.
8) If you want to get a shot of yourself, get Luke to do it
Bill stayed at my place overnight as we had an early start; first to vote, and then get to the Trentham Festival in time for a 2.30 start. When we got there we found a local outfit on the back of a truck playing to and audience of perhaps five people risking sunstroke under a cloudless sky. They dithered on for far too long, and just when I thought they were vacating the stage to allow us on, Marcie Jones (pic 6) and her pianist husband Murray waltzed onto the stage and began their set.
By the time we finally hauled our gear onto the truck tray and set it up, most of the potential punters that had been wandering around the pleasant tree-lined streets of Trentham idly studying the unsurprising selection of Festival stalls (pic 5) were heading home to tend their sunburnt

| | |
| --- | --- |
| 9) Daz's son Luke took this one too - Spectrum opening the set with I'll Be Gone | arms and sink a few VBs. Funnily enough, it's this very kind of situation that invariably relaxes me, perhaps because it's so familiar. Call me contrary if you like, but I delivered the kind of performance that few people ever get to witness - principally because there were so few there to witness it. It's a conundrum - if I could've exchanged the mindset for the two performances, or better still, discarded the first mindset altogether. Ah well.. |
The Stagedoor rides again!

1) The instigator - John Baker 2) An air vent onto Hereford Lane at the Stagedoor

3) Trevor evokes James Dean 2) Robin Judkins spruiks the show for TV 3) Robin at rehearsal

4) This woman used to mow my lawns! 5) The Breakaways on the compact stage at Al's Bar with the crowd pressing

6) Master blues harpist, Midge Marsden 7) Purple Dave Hurley 8) My mate, bassist Dave Orams

9) The crowd at Al's Bar (see large pic) with John making a run for it
gig report
Wild Things gigs
22.11.07 - I got this e-mail from a John Fjordson, who can be seen trying vainly to edge out of shot in the pic of the Al's Bar crowd on the left. Obviously a young bloke too - and that was a bit of a thrill, 'cause you wonder what they might make of it all.
I saw the Chants R+B and The Breakaways, as a 18 year old who only heard you're music via garagehangover.com I was blown away. Keep the faith and all that. I was the guy in the green t-shirt up front. I'm involved with a group devoted to music
development in Christchurch called Red Panda. We so far specialise in free gigs - mainly showing up in public places without permits and lots of bands playing music. We sometimes venture into commercial gigs and are applying for some peace awards where we get free money. I hope that in 41 years time, we'll be seeing Black Market Art, Bang Bang Eche and all the other bands of 2000 playing to audiences as big as yours. Thank you for the amazing night, thank you for keeping music evil, thank you for giving me the chance to see the bands my father grew up with. I am truly inspired and wish you the best of luck with your future ambitions.
I mean, how good is that? He even thinks we've got a future. So, the story. I wrote the first chapter already before I left Auckland, and I just downloaded it - only to find that the new Vista Word format is incompatible with my ancient program. I eventually sorted it though - check it out. See B&W photos from Auckland show
The Boss' 60th birthday party

1) Eris and Bongo await the big moment 2) SURPRISE! And I think you can tell Ross is really surprised!

3) I'll get these girls names for you 4) Daz wants to believe I can pull this off and so does the other old duffer

6) Ted, Ted, Ted.. 7) Mark Sydow close-up and too personal 8) Gary tells some Ross anecdotes

9) Ross, Tania and Dimitri listen 10) Ross gets equal time 11) Renee sings Ross her special song

Ross' birthday bash
21.11.07 - I'd received various clandestine messages from Ross' wife Tania, and then Ross' management, about Ross' surprise 60th on Tuesday night (at 7.00 sharp at the Riva restaurant on the Marina), but in the end it was just a matter of getting there on time with guitar (and harps) at the ready at Mark's suggestion. It was very hot still, but the odd drop of rain was thudding into the van's windscreen as I chugged into the restaurant's carpark. I tucked my gear away under a table in a back room, not really expecting that I'd get to use them precisely because I'd gone to the trouble of lugging it all in, and launched myself anxiously into a sea of familiar and semi-familiar faces, with the usual alarming quotient of no names attached.
There was a warning that we should shaddup because Ross was about to arrive - and then he made his entrance - and he did look genuinely surprised. (pic 2) The band (Ross' band The Urbans) started to play, and I was just getting into an interesting conversation with Alan Howe when the party formalities began. Gary Young held the floor and told the story of DC's inception and of how they'd killed on the Beachboys' Tour (you read it here first!), Ross then said a few words, and finally Renee got up and sang a song she'd written for the occasion, all of which went down very well. I think the Wilsons as a unit were well pleased.
Another set from the Urbans with an attractive looking gal singer - and then John McAll came over and said I should come and do some blues numbers with an assortment of players. Some band it was too - Nicky Bomba on drums, Wilbur Wilde and Paul Williamson on saxes, the Urbans' nifty upright bass player whose name I didn't get and John McAll on keys. Ross joined us at one stage and demanded a harp, so I gave him my smelly A with the


12) John McAll barks out something to Mike (pic - Gerald McNamara)
dud note and he used that. I'll never wash it again. Actually, I'll never play it again.
Jane Clifton sang a song too - and all the while I just grooved away happily watching the dancers and thinking this is better by far than trying to socialise.Mind you, I did manage to chat with Eris O'Brien (pic 1), David Pepperell, Alan Howe, Paul Williamson, Daz (pic 4) and Deb, Valda, Tracy Bartram, Renee Geyer and more over the evening, but shortly after we finished our set I giddily headed out to the carpark, determined to quit while I was ahead. I must've looked a bit frail on it too, 'cause one of the waitresses asked if I needed help carrying my harps to the van.

Chants R&B '07 - Jim, Mike, Martin, Trevor and Matt at Al's Bar
Chants R&B reunion
21.11.07 - I'm back from Aotearoa safe and sound after quite a few adventures and some good times with the Chants' boys, (pic), and it'll make interesting reading too - but events have already moved on at a rate of knots, meaning that the full story might have to wait in line. One annoying distraction is that the rain that broke the oppressive preview of summer that Melbourne's been having since I got back, has dislodged the gaffer holding my broken tile together (see Mike's Pith & Wind) and more urgent repairs are required. Bugger!

Kinga gets snapped with the legendary Spectrums
gig report
Maldon Blues Club goes off!
11.11.07 - At 9.30 in the morning it was an incredibly early start, but we've not been to Maldon before and it's better to be safe than sorry. Robbo and I met up with Bill in Woodend and arrived in Maldon around 12.30. We were made very welcome by Kinga (pic) and Ken White of the Blues Club and had a good lunch before setting up. The room filled up rapidly, and by the time we started was looking pretty full. It turned out to be a brilliant afternoon - the room sounded good and the crowd was attentive - and in the end some people were literally dancing on the tables. A nice way to finish up before heading off to Christchurch tomorrow.

Nik has a sinking feeling he's gonna be on Stop Press
gig report
Melbourne Cup Day
7.11.07 - Fortunately the weather cleared and Cup Day was about as pleasant as it could be. Was it last year or the previous one to that the Pump and I graced Nik of Audiophile's back yard? Well, by and large it was an enjoyable repeat, except this year we didn't get an umbrella and I came up a little broiled. (pic left)
I went up to bro' Dick's place after that, and a chance remark by Dick as I was heading home caused me to check my passport (I'm leaving for the Chants' reunion in NZ on Monday) to find it had expired almost a year ago. I reckon there's a fifty-fifty chance I'll get my new one in time. Why do I do this to myself?

Alana, Yvonne and Glen. Yes, you did blink Yvonne!
gig report
A magicky, mystical night at the Lomond
5.11.07 - By the time we got to load out, it was raining. Not just raining, but raining heavily, and the sky was alight with flashes of lightning. I was apprehensive about what might await me at home as regards my leaking roof, but buzzing like mad from the vibey gig. It seems ridiculous at our stage of life, but we've definitely turned some sort of performance corner. I somehow think it's the duo gigs informing the trio/quartet ones, but whatever it is, it would be nice to think that it's a linear process and we'll continue to float sublimely on to some live performance nirvana. Alana Galea is pictured (pic left) with a Gold Coast couple who are neighbours of my sister-in-law. Small world!
Mazz's Spectrum pics

1) You'd think this is just another I'll Be Gone pic - but it ain't! 2) Bill concentrates

3) Robbo looking like a Robbo should on Gary's kit 4) Daz was in the dark - again..

5) I said my tie's caught in your guitar! 6) Bill combines his bass-playing essence with his slide-playing essence


7) Mouse over moving Mike
gig report
The Prince Albert and more Wool Exchange pics
3.11.07 - Miranda 'Mazz' Worthington gave me these trif pics she took of us at the Wool exchange. There were a lot to choose from, and most of them good, but this is a fair selection. There are a couple of large pics to check out too.
Bill, Robbo and I played the Prince Albert last night. I used to quake with fear at the prospect of being grievously polluted with toxic cigarette smoke, but now the only thing to contend with is the possibility of upsetting the neighbours with excessive noise. Some nights you just feel relaxed, and so it was last night. The modest volume proved to be an asset rather than a hindrance, and the band had lots of musical fun and japes - which sounds indulgent, but the exuberant mood was evidently contagious and the audience responded in kind.
We were sad to hear that our Way Out West buddy, Rob Rowe, is feeling poorly. From all of us Rob, get back to your best soon, y'hear! (See Alana's review)
Daddy Cool and Spectrum in Sleepy Hollow

1) Gary winces as the kick drum reverberates during sound check 2) Two bass players - say no more

3) Happy Ross and Shorn of the Dead face the paparazzi 4) Bill, Gary and Robbo the Red - somebody's gotta go!

5) Dom Italiano strums 6) Restless Ross Hannaford coaxes his stand-in black Gibson


7) The two Rosses front Daddy Cool (see large pic)

gig report
Daddy Who? Daddy Cool at the Wool Exchange
1.11.07 - 'Spectrum and Daddy Cool, back together again' said Ross Wilson with a twinkle, before heading upstairs for DC's usual gushing reception at Geelong's Wool Exchange. We'd arrived early, like a dutiful support band should, and seen all the afternoon's events unfold, from the DC sound check and evening meal, to their finally heading for the main stage. In between Spectrum had fitted in around the impressive props (pic 1), sound checked and performed a well-received Spectrum-type set, in which I'd experimented with a mélange of material, rather than the usual one-dimensional effort. I think it worked OK - I was happy with the way it went anyway.

The main room at the Wool Exchange is an interesting one. DC's manager, Mark Sydow, wished there was a space like it in Melbourne. It appears to be as wide as it is deep, the perception of depth complicated by two significant mezzanines beyond the dance floor in front of the stage; but the chief impression is one of height, accentuated by a dome looming high overhead. The fact that it's on the first floor means that, over a certain volume anyway, the sound is bottom heavy, and the fairly extreme airspace means that, if you're not careful with your positioning, the sound from one's amp just a few feet away can virtually disappear. Gary Young was quite upset with the booming bottom end during DC's sound check, and I have to say I was wondering how appropriate it was for a band like DC. I can remember (sigh!) when they would've done that same gig with a McLean's vocal-only PA and still had the room rocking.
Keep an eye out for DC touring with The Beach Boys (sans Brian Wilson?) - I predict they'll steal the show..
back to the top