Scroll down to the start of the month
Close this window to
return to Mike Rudd &
Bill Putt's home page

Sandy, Steve, Wayne and Helen enjoyed Crudd & Pump's plunking
gig report
Crudd & Pump's blissful arvo at Balnarring
27.8.07 - The Heritage Tavern looked an attractive proposition even from the outside - and because it was such a nice day, we were plonked out on the spacious verandah with the diners taking the afternoon sun. The only potential drawback was the sound meter - which Shane said had given Chris Wilson a lot of grief when he played there - and Bill and I kept edgily scanning it as we repeatedly transgressed into the red
throughout the afternoon. (We successfully negotiated the arvo with no interruptions, thank goodness!)
Along with Wayne and Helen Reid, (whom some of you may remember from their shop Rhythm & Views in Northcote), there was another face that seemed vaguely familiar. Me and the face got to chatting, (pic 2) and it turned out he was John Royle, who claims to have played alongside the Party Machine at the Dandenong Town Hall, (Impact I think it was), back in the sixties - in fact, he reckons we even backed him for a couple of numbers. I don't actually remember that, but I did remember the guitar he had, garishly emblazoned as it was with a Union Jack. (Mind you, I was wearing white canvas bell-bottoms and a purple paisley tunic at the time).

| | |
| --- | --- |
| 2) John Royle chats to Crudd 3) Crudd & Pump turn in an electrifying show (pics Wayne Reid) | And as the sun slid down behind the hills we wound up the last set with everybody singing along lustily (how else?) to Esmeralda. Adam (the owner) said he'd been pestered all afternoon by people saying how good we were, so it looks like we'll be paying a return visit. |
It's thirty years ago today!
21.8.07 - Correspondent Gary Hall took time out to remind me that it was thirty years ago today that Ariel said farewell one (more) last time at the Dallas Brooks Hall back on Sunday the 21st of August 1977. It's been brought to my attention from another source as well - Vincent Donato from Liberation Music (hmmm..) has sent me a DVD of a clip from Nightmoves from that very same year of a song from the Aloha show. It's strange how these sorts of coincidences tend to cluster. One of my harp students mentioned last week that he'd first come across Spectrum at a gig in a shearing shed in Cobram as part of the Peaches & Cream festival in, what, 1970? Bugger me, but another bloke pipes up at the Wild Thyme gig last weekend and says that he'd seen us for the first time at the very same gig..
Warbie gently rocks..

1) Rob Glover (Sports) had a wistful night 2) Broc was there for the second week running


3) Happy Birthday Baz!
gig report
Crudd & Pump do the Wild Thyme
19.8.07 - With Robbo with Fi on the dark side of Yepoon, it was left to Bill and me to fill out an evening at one of our favourite intimate venues, the Wild Thyme Café in Warburton, about an hour's drive from Camberwell down the Warburton Highway, (which must take some sort of record for the most speed signs on any comparable stretch of highway). We got there just after 7.00, but with the place being flat out with diners we couldn't get in to set-up till after 9.00, so we relaxed, had a bite to eat and chatted to the Wolfe Gang's Broc (pic 2), who'd played there the previous week, and a little later to Baz McCulloch (pic 3) who was at the Wild Thyme celebrating his 55th birthday.
I don't think I've come across Rob Glover (pic 1) for well over a couple of decades, when the Sports and Spectrum and Ariel were touring, and I enjoyed chatting to him - he remains a gentleman with an endearing turn of phrase.
gig report
Crudd & Pump at the Bay
12.8.07 - The Bay hotel is quite a tiny pub opposite the Peter Scullin Reserve, where we have trotted out a couple of Christmas songs for Carols By The Bay on a couple of occasions. When Bill and I arrived at the hotel we were slightly surprised to find there was a snappy young guitarist, Matt, (pic) already playing, so we plonked our gear down while we waited and tried to work out the odd set up. I quite enjoyed playing, despite the discouraging ambience, and we noticed that there were a few people in the room that looked as if they knew who we were. Sure enough, by the end of the night they'd almost all come up and said how much they'd enjoyed it. I'll be interested in the feedback our agent gets from the hotel, but if we do manage to play there again, I'll see if we can't set up pointed at the audience next time, rather than the espresso machine.
For Blues' Sake 2

1) Li'l Fi sings to the camera 2) Neale Johns and Brenden Mason's Blackfeather

3) Laffy - you're on the website!
gig report
For Blues' Sake Festival - the sequel
11.8.07 - The 'package' concept went so well at Nighthawk Blues last month that organiser and motivator Daryl Roberts decided to do it again at Don't Tell Tom. Li'l Fi (pic 1) was strutting her stuff when I arrived with Daryl and Robbo being potentially ubiquitous backing her up, and it all felt very relaxed and friendly in the late afternoon light. Peter Laffy (pic 3) was compering proceedings and kept the relaxed vibe going between sets - as well as allowing a procession of guitarists to use his amp. Spectrum was on next, and although I'd worked out a set list earlier, I had to add in a scattered version of On Broadway when it looked like we were going to finish early. At least I gave the audience I'll Be Gone, which I'd conspicuously left out last time at the Nighthawk. Blackfeather (pic 2) was on stage (with the two Robbos again) as I left, and, as predicted, the review is on the website even before the show is over
Rhythms news
11.8.07 - Might I recommend this month's issue of Rhythms for its interview with me by Bruce Milne on Spectrum's Part One release and Nick Charles' interview with roots music missionary and occasional Spectrum keys' player, Daryl Roberts. If you haven't come across it before, Rhythms, like the music and musicians it features, is worthy of your support - you get a vital snapshot of what is happening on the local scene in particular, and without the pressure of a weekly deadline it can afford to be more considered in its approach and you'll appreciate the in-depth articles on local and visiting overseas artists.

1) The civil war cannon in Volcano, San Andreas CA
Spill and Volcano CDs back in stock
2.8.07 - It's been embarrassing to say the least to have both Spill and Living On A Volcano out of stock, but both are now happily back in stock - and under quite interesting, if not curious circumstances. You may remember that in 2000, Spectrum rather surreptitiously flew over to California and played the odd gig there. I'd forgotten that we'd taken some CDs over with us to furnish the local retailers, and that I'd left the balance in the care of my other brother Jeremy in San Francisco. He and Susie rang me recently, and we decided that they were far more use to us in Oz. This is the somewhat remarkable story of their being returned to me as told by Jeremy: We were away on vacation week before last.
A trip to Mono Lake - odd-shaped tufa rocks emerging from a placid lake which is ten times as salty as the Pacific Ocean - and nearby Mammoth Lakes and Gold Country ghost-towns (including the wonderful Bodie). On the way out of town (Monday) we dropped into a post office with your CDs, just to get pricing. Worked out that we had to transfer them to the six priority mail boxes in order to get the best deal. So your CDs came with us to Mono Lake and Lee Vining (the town where we stayed for most of the trip). Lee Vining incidentally would be otherwise unremarkable except that it is right on the lakeshore and - another bonus - has an excellent restaurant (the Whoa Nellie Deli) at the local Mobil gas station. I repackaged your CDs into the six boxes before we set off home, thinking we might find a convenient post office along the way and - this being the US equivalent of the wop-wops (the boondocks you might say) we might actually find a post office without a 30-minute queue.
As we drove along Highway 49 we came across San Andreas and then the very small town of Volcano. The perfect place - I thought - from which to send your packages. Unfortunately, it was not to be - most post offices are open on Saturdays, but not here in the sleepy town of Volcano. Anyway. Susie took some digital photographs of the town of Volcano (attached for your viewing pleasure).
Volcano is so-called because it sits in a crater-like hollow and was previously known as Soldier Gulch. There is a saloon (which is said to be haunted), a grocery store, an art gallery and a gift shop. Look at the photos and it's as good as being there.

2) Waal, I guess this is the Volcano Museum 3) George Reeves once changed costume in this booth

Hullo - is anybody home? Buda, where are you?
Offbeat off dear..
2.8.07 - I've fixed my bluetooth (yay!) so I'm able to show you a shot of Williamstown's Off-Beat music store, taken the other day on my mobile when I was in Willy to see Way Out West's Rob Rowe. Ian 'Buda' Carpenter wasn't in at the time, so I didn't get to offer my commiserations on the shop closing. I got an e-mail from Ian the other day, which said: Dear Friends, I'm finally breaking free of the Retail Shackles. Yep, Offbeat is closing the doors for the last time at the end of September. If we have any unfinished business like Cds on consignment or anything you can think of, please get in touch and we can finalise things. We will of course be continuing and evolving some interesting
ideas online. If you know anyone that might be looking for a shop or a great space please pass on the information below. Offbeat Music (the shop) is up for grabs! Could you be interested in a fabulous commercial location? Come and talk to us! Go to the Website for more information: www.offbeat.com.au
Blues, blues.. and Spectrum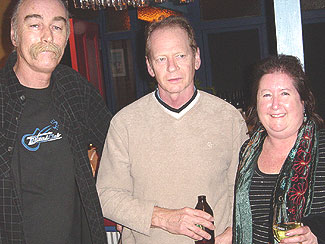 1) Bill with regulars Ray and Di at Nik's Taverna 2) The Detonators' Rockwell T James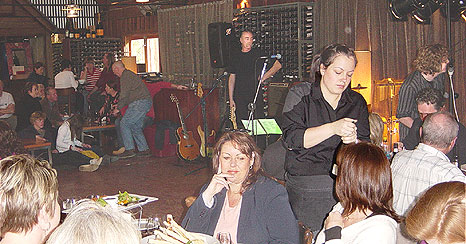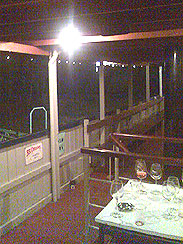 3) Bill surveys the bedlam at Oscar W's Wharfside Bar 4) The spot on the paddle steamer that's forever Spectrum's
gig report
The Echuca Winter Blues Festival
1.8.07 - Happy birthday to any horses reading this. I apologise for the poor selection of pics, (above), but I still haven't resolved the bluetooth situation and my regular camera is starting to play up as well. But, to the Festival. Bill and I did the Echuca Winter Blues Festival a couple of years ago, and, while it was enjoyable enough with just the two of us, I figured then that the full band would be a better proposition. And so it proved to be. We arrived good and earlyin Echuca at 5.30 on the Friday evening and checked in to the accommodation at the Merool Riverside Holiday park in a cabin made out as a Cobb & Co. depot, right on the Murray riverside as advertised, quite new and very comfortable as it turned out.
We were surprised to find a PA already set up at our first gig at Nik's Tavern - nobody had told us that this was going to be the case and we'd brought our own PA with us - but it was pretty similar to our own, so we imagined it would be OK. Nik thoughtfully provided us with some of his delectable Greek fare as we set up, and pretty soon the room had filled up with happy diners. My optimism re' the PA was slightly awry as I didn't really come to grips with the graphic equaliser for the entire night, and so wasn't thrilled with the overall sound - not to mention that my amp started to make farting noises every few notes, testing my notoriously short fuse to the limit - but the audience seemed to enjoy themselves, with some of them appearing to take quite an interest. As a postscript to the night, I was the only one to sleep warm back at the cabin. Bill only discovered he had an electric blanket the next morning and Robbo didn't notice there was an extra blanket provided for our two beds. What can I say?
The second gig was at midday on Saturday at Oscar W's Wharfside Bar and Café, which Bill and I had played the last time, and we found the same PA as we'd had at Nik's the night before. I managed to work out the equaliser this time, but now my amp didn't want to co-operate at all, and in Jamaican Farewell I lost the plot completely. I miserably plugged in my Strat' direct to the PA - up till that point I'd been really enjoying the gig - and just went through the motions for the rest of the set.
That night we were booked to play on a paddle steamer on the way to the Morrison's Winery gig, which was a bit of a logistical puzzle, but we overcame most of the potential problems by setting up at the Winery early, only this time using our own PA. The paddle steamer part was fun, apart from Bill's circulation deserting him in the cool conditions. I played a couple of hoot-nanny faves (If I Had A Hammer and Michael Rowed The Boat Ashore, which entertained Robbo hugely), and we did some spontaneous blues songs which amused the folk in the general vicinity. As it turned out, this was a dancing crowd and I was able to coast through the night at the Winery without the usual energy-sapping displays of bravado.
After the gig I took the bus back to the Bridge Hotel with a group of revellers to pick up the van. They were a happy lot and obviously enjoying themselves to the max. I quite enjoyed being part of the bus group and found myself wishing not for the first time that I could've been enjoying the Festival as part of the audience rather than as a pooped performer.
The next morning we left contentiously early to get back to Melbourne to open up the show at the Willy RSL featuring The Pardoners. Contentiously early, as Robbo had taken my sarcastic reference to having to leave at 8.30 literally. Fun and games. Anyway, we got there well before 1.00, but predictably not early enough to beat the ever-concientious Glyn Mason. I was looking forward to the Willy gig despite the tight schedule, because, quite apart from it always being a good gig to do, we don't get to fraternise with Glyn Mason nearly enough these days. He and Sam have got a great, if under-appreciated, double-act thing going, and, as a bonus for this show they had our old mate David Hicks on percussion, as well as Sam's Canadian ex-pat wife Judy on harmonies.
It was good to have Daz with us on keys again, and I think we did an interesting enough selection of songs - my view of proceedings was slightly tarnished by not having my amp on deck still - Glyn loaned me his acoustic-style amp, but it wasn't the same. My biggest thrill of the afternoon was when we were about to start and yer actual Normie Rowe strode up to the stage and shook my hand - Bill said he stayed the whole set and joined in enthusiastically with I'll Be Gone.
All in all an interesting weekend, and I would like to think Spectrum can do some more doubles with Glyn and Sam in future. The next week or two are very quiet, but I should have my amp back from Dale and be raring to go by the time the next gig appears..
back to the top