Scroll down to the start of the month
Close this window to
return to Mike Rudd &
Bill Putt's home page
Lobby's Benefit goes off!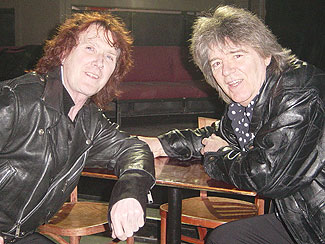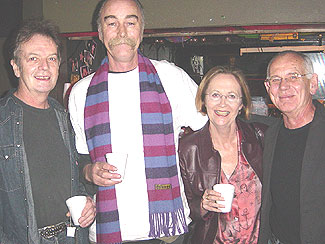 1) Colin Burgess and Jim Keays in stereo 2) Brenden Mason, Bill, Paul Wheeler's partner Kerrry Ritson and Paul


3) Spectrum's Daryl Roberts and Chain's Dirk Dubious 4) Matt Taylor leans to the right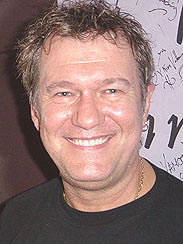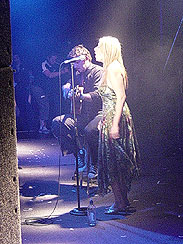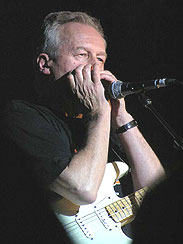 5) Jimmy Barnes beams 6) Lobby's daughter Frances and guitarist Duncan 7) Someday I'll have..*


8) Wild Bill Thorpe interrogates Lobby* 9) Russell Morris seconds before hitting the stage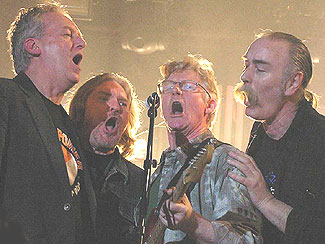 10) They're groaning - Mike, Thorpie, Phil and Bill 11) Wendy Saddington gives an impassioned performance
gig report
Big, big Lobster night out
30.8.06 - It was always going to be a long night. They asked us all to be at The Palace at 5.00 for a meet 'n' greet photo (some people paid $200.00 for the privilege of having their photos taken with the cast and the possibility of chatting with somebody famous) and the shoot did eventually happen - after 6.00. Food arrived, but I wasn't hungry then and wound up not eating till after 11.00, (I bought a lamentable hot dog from the stand out front), but I'd had a late and rather large lunch so I wasn't going to faint - well, not from hunger anyway. Sparrow (formerly Avenue, who feature on the Gonz CD) opened the show at about 7.30, and the tone was set, with medically dangerous levels of bass and kick pulverising anyone immediately in front of (or behind for that matter) the bass bins flanking the stage. Some bands went out of their way to be loud too, which I thought was quite unnecessary, and combined with the cigarette smoke and the total absence of seating, I was glad not to be trapped with the audience in the auditorium for the whole night .
And so it went, on and on and on. I thought the poppier (i.e. more melodic) acts acquitted themselves best, with Brian Cadd, Russell Morris and even the Masters standing out. Brod Smith and Phil Para made a special effort with a version of the Purple Hearts' Early In The Morning (a Graham Bond Organisation song that my band Chants R&B used to do when we arrived in Melbourne in '66), Wendy Saddington gave an impassioned reading of Looking Through A Window, and of course Lobby pulled the requisite energy from out of a hat (and even defiantly rolled himself a fag to stick on his bottom lip) and put in consecutive stony-faced sets that would seem to have put the seal on a noteworthy career.
Billy Thorpe stalked the ramparts back stage and bossed everybody about, but without his energy and focus I suspect there wouldn't have been a show, and it was all worth it to see the expression on Lobby's face throughout the evening. Anyway, Billy gave Spectrum a generous intro and even kissed my hand at the end of the evening, which was a bit startling.
The crew found my Raybans and misplaced my effects board extension, but were the stars of the evening as far as the smooth-running of a pretty complicated night went. Lobby's family benefitted to the tune of $90,000 - Warren Morgan says all they've got to do now is make sure Lobby doesn't get his hands on it and blow it on some wacky project or other.
(Check out the crowd pic to see if you're there) + readers' feedback
* photos by Harley Parker + Age story
King Lobster

1) Tony Naylor nails it 2) Brian Cadd plays a few bars of Purple Haze 3) The girls chat ornamentally
Lobby Benefit sound check rocks
28.8.06 - I'm dumbfounded - the sound check was actually on time! In fact, I was nearly late, it was so on time! Funnily enough, I don't remember ever having played in The Palace - in fact I don't think I've even been in the room before tonight. It's not a bad sort of space either - better than the Mercury Room I'd guess. I'm stuck with a Marshall plus quad box, courtesy of he-who-must-be-obeyed, but even that sounded appropriate. Lobby, looking in good spirits (pic left), commented favourably on the 'architecture' of our sound, so it mustn't have been too bad. The usual rule is that a good sound check is followed by disastrous sound on the night. May that rule be broken..

Jazz-man (Jasmine) and Maria with Kerry to the rear
A huge, tiny night at the Wild Thyme Café
28.8.06 - Warby! Nestled in the hills nearly an hour's drive from Camberwell, it was known as the place to take refuge from Melbourne's stifling summer heat and had a famous sanitorium located there, but it's famous from our perspective for having the Wild Thyme Café, the world's most intimate gig. I was looking forward to just playing again after a very quiet August, and Saturday night was no disappointment. Barry McCullough (Willy Winter Band) lives there now and rolled up with a video camera in hand and filmed most of the night. He's promised to send it to me so that will be a most interesting record. (Maybe). Our host Alan has created an area for the band outside at the back and I can't wait till summer to try it out. But I will..
1) Nicky incites Joe into a guitar frenzy (see large pic) 2) Joe blows his mean pink sax
Limestone passages
25.8.06 - I was astonished to receive an invitation from Mark Sydow's office to the launch of Joe Camilleri and Nicky Bomba's Limestone CD at The Cornish Arms this afternoon (Friday). Given the way things have been at home lately I was glad of the opportunity to pop over to Brunswick and check it all out, and arrived in time to have a few words
with Joe and Nicky before they took to the stage (which has moved since I was last at the Arms). What followed was a very relaxed and entertaining set featuring five numbers from the Limestone CD, which I'm listening to as I write this (we all got a Bomba shopping bag with three Bomba CDs inside). The reggae thing is very much Nicky's stock in trade of course, and the combination of the two Maltese Dub Masters is uninhibited and irresistible, and so I headed home with my spirits replenished and not a little grateful for the surprise invitation.
The return of Esmeralda
15.8.06 - Our friend Peter Barber asked if we could do a revised version of Esmeralda for him with a different set of lyrics - which I did, but I thought you might like to hear the old lyrics one more time in a new recording. I stayed with the original feel and Bill put down a really nice loping guitar part, but there's a group of gospel singers in the break that I'm not too sure about - see what you think. I've stuck it on the Demos page.
There's a painting in the Louvre (right) of Francois d'Aguesseau who lived in 18th century France. Bobby Valentine thinks it looks like me..
Spectrum NOTat the Prince this Friday
15.8.06 - It's just as well Rob Rowe rang today to invite me to the Ian McCausland exhibition he's holding at the Willy RSL on Sunday arvo October the 15th, (stick that in your diary!), because he said in passing that he and the gang were looking forward to seeing us at the Prince Albert in Williamstown this Friday night. There was nothing about it in the Outlook Calendar I was looking at, but Rob insisted that there it was, large as life on the Gigs page. It was too, but it's not there now, which is a pity 'cause we could've done with a gig about now, but I thought I'd better reinforce the message just in case you were mapping out your weekend with smoke-inhalation at the Prince with Spectrum number one on your list..
The hills are alive..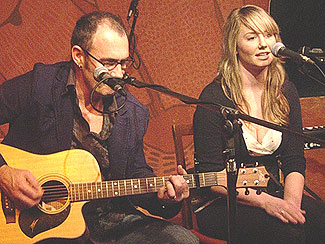 1) Cres Crisp, Mike, and Riley Jordan 2) Brian Baker and Ella play from their In Our Backyard EP (see large pic)
Double CD launch at the Burrinja Café
13.8.06 - It was just as well we weren't working last night - I did something horrible to my neck on Friday (I'm still in quite some discomfort), but allowed myself some time off from painfully doing last year's tax to pop up to the Burrinja Café last night (Saturday) to attend a double CD launch for Riley Jordan and Brian Baker. Riley's partner Cres Crisp used to play with Bill and me in the Mike Rudd Quintet, (it used to amuse me when agents would ask how many were in the band), and Riley and Cres were presenting songs from Riley's new CD The Secret Daughter's Rhyme as well as joining Brian Baker and company for a few numbers and vice versa. I bought Brian's new In Our Backyard EP some weeks ago from his site (I think Robbo's got it at the moment) and found it another imaginative and melodic offering, albeit with a home neighbourhood focus lyrically (I bet Rowville's not been the subject of too many songs) and stripped back instrumentally, the band being for the most part discarded in favour of just acoustic guitar and voice .
The band wasn't in evidence for this live show either, with guitarist Mark Smith being the only survivor from The Spoils Of The Empire outfit I saw some months back, but almost by way of compensation Brian's daughter Ella has blossomed in confidence and is contributing much more by way of her presence.
I had a couple of chats with Brian - I find his positive attitude in adapting to changed circumstances inspirational - and I commented on his output, contrasting it ruefully with my own stalling, and he said he was inspired in turn by David Briggs' advice to keep on producing a catalogue of recorded material irrespective of the interest or otherwise from the industry or public. Good advice too - I should take it to heart..
1) Ron Tabuteau and Kerri Simpson 2) Eris O'Brien makes the best of a flash in the pan

gig report
Reality check at the Clifton Hill
10.8.06 - It was a quiet night last night at the Clifton Hill pub. Well, in one sense that's how it's s'posed to be as it is an acoustic session afterall, but sadly there were all too few punters in attendance. Bill and I had a bit of a run through at my place earlier because of my stated intention to play a

few songs we hadn't looked at for a while, and anyway my throat needed to be warmed up, so I arrived after Eris' set and just as Kerri Simpson and Ron Tabuteau started their's. I had a bit of a chat with Eris and we agreed that we should get back together soon to work on a couple more songs. I'm not much of a collaborator, but I enjoyed working with Eris and it seems to be quite productive - well, Eris is quite productive. Our set was well received and went pretty well musically speaking - that is until we got to the encore, Sox, which we hadn't rehearsed, and in which I abandoned my guitar and attempted cover all the bases with just voice and harp. At some point in the ensuing chaos I picked up the guitar again, but it was all too late - we went into a shuddering tail-spin and crashed in flames on the unforgiving pub floor. Nobody seemed to mind though and we got a rousing send off - importantly Rod Claringbould still managed a wry grin as he paid up at the end of the night.
Mike & Bill at the Clifton Hill tonight
9.8.06 - I'm determined to play a couple of things tonight you mightn't have heard for a while, so it could be an edgy show, although I doubt it. Eris O'Brien, the world's most subtly nuanced songwriter, and Kerri Simpson, accompanied by Ron Tabuteau, flesh out the acoustic-as-anything evening. This is the very show, still sponsored by Rod Claringbould, that eased Bill and I back into live performance again, so it's a kind of musical pilgrimage.

Runaway, John Darcy and archivist Milton Hammon
Lobster misses party
6.8.06 - It was always on the cards, but Lobby didn't quite make it to a little 'do' held in his honour at Ruby's in Belgrave this afternoon, and everyone understood. Bill and I popped in on the off chance Lobby might show, but ended up chatting to Ed and Jan Nimmervoll, Darcy and Milton Hammon (who'd put together a comprehensive DVD of Lobby's appearances with the Wild Cherries, Purple Hearts, Aztecs et al), Bobby Bright and so on. (Don't miss the Lobby Benefit on Tuesday the 29th - check details). Darcy's drummer son Matt got got up with his Live @ Subs mates and played a perfectly nuanced set of bass, drums and guitar way beyond their years before I finally hit the road - the kids are alright!

Bill and Mike manage to obscure Daryl completely
Some neato shots of Spectrum
4.8.06 - When we were up at St Andrews on the weekend (see the July gig report) Tony Powell, one of our regular audients, was brandishing an impressive looking camera, which it turned out he'd just bought and was happily experimenting with. We're getting a few more gigs as the quartet (yay!) and we need a new publicity shot, so I suggested to Tony he have a bash at capturing us during the break - which he did to great effect, and you should see the results in upcoming flyers etc.
In the meantime Tony pulled out a couple of great shots of us in full flight - which I can tell you is no mean feat, given the barely romantic time of day and cramped conditions. For a gander at some bigger shots, check 'em out!
What Bill and I did on Wednesday..

1) What's this then? 2) This is hard - I wanna see you do this man! 3) A McCausland poster - yay!

4) Kaya (L-R) Sally, Alexandra, Juleiaah and Emma 5) Bill in his cupboard 6) Click track machine John Salerno

7) Rodrigo Bustos busts a groove 8) Paul Cecchinelli 9) Sound and groove architect Steve Scanlon

10) 'Not the chin!' - X-Factor's Mark Holden and Mike
The endless groove session
3.8.06 - I turned on the TV the other night just as Mark Holden's version of Bill's Short Term Memory Loss Blues graunched to a halt on the Aurora channel. I should've known that this might presage another encounter with Mr Holden, but I was oblivious to the signs. In the meantime Bill and I had been enlisted by engineer/producer Steve Scanlon, whom we'd met on the recording of Mark's George Ballroom DVD, to put our imprimatur on a Kaya track he was recording, (Kaya was a girl group that appeared on 7's X-Factor show). So we duly turned up at noon yesterday with our preferred instruments in hand - Bill had borrowed a beautiful dobro from Ken Stephenson, (pic 5) and I had been compelled to add a Db harp to my
collection to accommodate the unusual G# key the track was in - and we figured we'd probably be out of there in and hour or two at the most. And that might have been the case had not there been some creative processes in train to do with the rhythm track, and if the bassist (Rod - pic 7) and drummer (John - pic 6) hadn't been such awesomely accomplished players it's conceivable that we might be there still, but up to thirty takes later the groove had been nailed and they had a bitchin' track in the making. By then it was 5.15, and the Kaya girls and their boyfriends had arrived, Bill had left and I was still to put my parts down. Thankfully I was able to satisfy Steve (the groove perfectionist) with my three passes and even had a moment on the way out to briefly fraternise with Mark, (pic 10) who it seems was Kaya's 'mentor' on the X-Factor show and who had arrived as I was putting my parts down, before finally hitting the road for the safety of Camberwell at 5.30.
Phew! That was some session! Oh, I almost forgot. A few days ago I took delivery of four parcels from Michael Gudinski. You may remember we went to the Ian McCausland poster exhibition at South Gate some months ago - well, it might even be close to a year ago now. Anyway, two of the parcels were marked for Bill's attention, so I took them to the session. Pics 1, 2 and 3 show Bill making a meal of opening one of the parcels and eventually holding one of the framed Spectrum posters that Michael thoughtfully purchased on our behalf all those months ago. I haven't gotten back to Michael to thank him yet, but it was a lovely gesture, don't you think? Incidentally, I saw Ian recently and he proudly told me you can now purchase all his collection of posters from his site - check it out!
This is the big one..
1.8.06 - It's a bit like John Howard and the Iraq invasion - we volunteered before we were even asked to do this one. I don't know what it is, but I feel a particular empathy with Lobby's situation. When I first arrived in Melbourne back in '66, Lobby was quoted as the definitive rock/blues guitarist on the Melbourne scene, a man we smartarse Kiwis had to respect. And it was true - despite being almost laughably undemonstrative to the point of being retiring, Lobby had a commanding presence that mesmerised his predominantly young male fans. Ironically his only observable pretence at a stage act was his persistent chain smoking, which often resulted in not only the inevitable fag drooping from his bottom lip, but one lit on the head of his guitar as well.
One of the funnier encounters Spectrum had with Lobby also involved cigarettes. Ray Arnott was playing with us, so I'm guessing circa 1971. Spectrum was on the same bill with Lobby at the Frankston Mechanics Hall and Lobby was blasting away, eyes closed as usual, when Ray begged Bill for a couple of fags. He ducked down behind Lobby's amp and puffed away with gusto while Bill and I got Lob's attention and pointed to his amp with an ominous cloud of smoke coming from it. Lobby went white and rushed back to his

his amp and hurriedly switched it off, at which point Ray arose laughing with the two cigarettes in his mouth. I don't know what happened then 'cause we ran away!
Anyway, that was then, and this is now, and Lobby needs us. Spectrum will be there with Daryl Roberts' keyboards helping recreate the original Spectrum ambience, along with a host of stars that rivals the LWTTT tour. Just be there!
back to the top