Scroll down to the start of the month
Close this window to
return to Mike Rudd &
Bill Putt's home page
Anzac Day in Goodna with The Vagabond Crew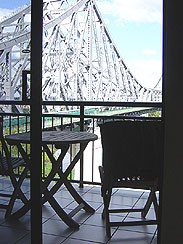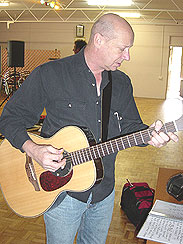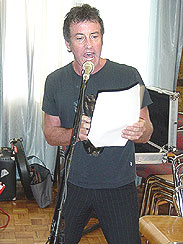 1) The Storey Bridge leads into my room 2) Russell absorbs 3) Rob Hirst rips it up (see large pic)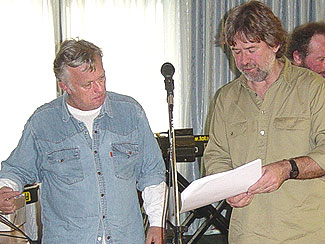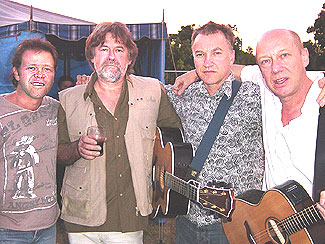 4) Brod listens to the Schumann Think Tank 5) Troy Cassar-Daley chats to John, Hughie and Russell pre-gig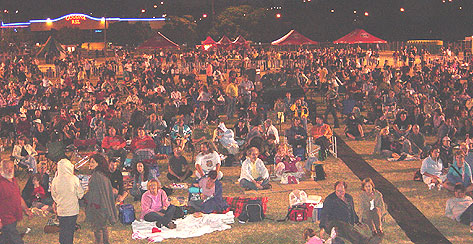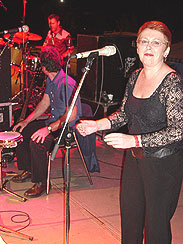 6) The Goodna crowd good naturedly waits for The Vagabond Crew 7) Kat Kraus is surprised by Rudd paparazzi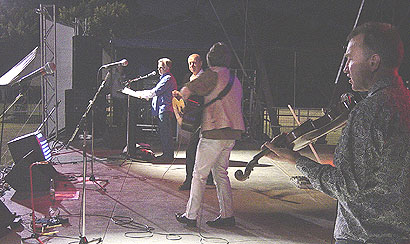 8) Brod Smith sings something or other that I'm not involved with and then 9) focuses on the trip home
Diary of my trip to Goodna in Qld
27.4.06 - Yep - that's where Goodna is; Ipswich Qld, about forty five minutes out of Brisbane. An early rise on Monday morning to get to Hughie's place in Kew by eight o'clock, and then off to Tulla courtesy of Hugh's friend, Adam. Meet up with some of the others in the Qantas Club - not frequented by me normally, but John Schumann's second home apparently - and have a little brekky before boarding our flight and starting to read the Haruki Murakami book that Richard has lent me.
Brisbane: On the way to the Medina Apartments in the cab, start to get a feel for the Crew banter - a little different from the Spectrum 'Feeble' humour, but otherwise good natured, blokes-on-the-road stuff. Rehearsal on location in Goodna called for midday, so we just get settled in and we're off to Goodna in a couple of cabs.
Rehearsal is in the old Goodna RSL and goes on quite a long time - Rob Hirst hasn't rehearsed with the band before today and is energetically getting involved in as much as possible. He is taking Toby's place in I'll Be Gone by request and we do it a couple of times. The VC's version is a blast - they ride the bass line in the bridges for all they're worth and it sounds powerful.
The next day we sound check on the actual stage and I'm relieved to see that one of the auto cue monitors is almost directly in front of me, but I stick my cheat sheets on the stage by my mic stand anyway. The lyrics that I'm supposed to know off by heart have been bouncing off my brain cells harmlessly for the last two weeks, and I've been panicking that I'm going to let the show down 'cause I can't read my lyrics in the gloom. It's quite taken the edge off for me in an otherwise relaxed build up to the show.
Nobody goes back to the apartments, so it's a long wait till we go on stage at sundown. I go out to buy an ice cream with Toby and Shannon and we feel quite daring and label ourselves the 'ice-cream splinter group'. 'What kind of rock & roll show is this?' demands Russell.
Eventually we get on stage. The sun has all but disappeared and the lights take over. The show starts and there's a wave of emotion from the crowd that ignites the band and, for the first time since we started rehearsing, it actually seems to be the coherent show that John Schumann and Mick Wordley must've had in their heads when they were originally planning it. Of course there were hiccups, the most ironic being when Shannon came to his defining guitar hero moment replicating Ian Moss' solo in When the War Is Over - and one of his pedals haemorrhaged and he was rendered totally mute. By the time he re-established contact, the moment had gone.
The reception when we finally get off stage is darn-near euphoric. Grown men in tears etc. I meet up with my loyal Qld relatives in the RSL's gaming room, where Robyn and Margaret are already feeling a 'but tunny'. I have a quick chat with Syl and Fraser over a beer, and then it's time to go. I'm given a lift back to Brisbane with VJ from the agency, who talks about her fear of sharks and her beach volleyball and her boxing, and I think if I was forty years younger.. We meet up with the rest of the Crew for drinks and pizza at a trendy bar over the bridge from the apartments, and we eat and drink and chat until I can stand it no more and manage to cadge a lift with Russell back to the apartments.
An early start the next day to catch the plane home, and I'm suddenly back in Camberwell, feeling slightly wobbly - and it's over.
An ironic but predictable corollary: For the last couple of days those recalcitrant bloody lyrics have decided that they'll stick now thank you very much, and I haven't been able to get them out of my head.

Support Act launch on TV - part 3
27.4.06 - Those of you who, on my recommendation, were glued to the ABC's Stateline last Friday, will just have to accept my apologies for the non-appearance of the advertised item. Anyway, I'm now reliably informed that the Stateline story on the Support Act Launch goes to air on the ABC tomorrow night, Friday 28th at 7.30, and is then repeated on Sat 29th at noon. Hooray!


Tia Hunter poses with the lads at the Lomond

A whiff of the Lomond
22.4.06 - It was quite disorientating at first. Since our last visit, the Lomond has seen fit to install a stage, and it took a bit of adjustment to, first: fit on it, and second; get used to the 'new' acoustics and the new diagonal view. I wasn't happy at the outset - the load-in has been made more difficult - but after the first couple of songs I got into the swing of it. We had a guest in young Tia Hunter (pic) to sing Summertime, which added another dimension to proceedings, and I don't think the Bistro doors have been opened before, so altogether it was a night of firsts.
As an aside, I can't wait for a total ban on smoking to come into effect - the Lomond is the stinkiest gig we play. I store the gear in the studio, and it stinks for days.
A good reason to check out the Demos page..
CONGRATULATIONS MIKE, BILL, ROBBO & DARYL!
I DOWN LOADED SILICON VALLEY ………. AND ……….. IT'S JUST AWESOME……… I AM PLAYING IT REGULARLY IN CAR CD PLAYER AND I KEEP THINKING IT HAS TO BE THE BEST IF NOT AMONGST THE BEST SPECTRUM TRACKS EVER………NOT ONLY DOES IT REFLECT AN UPDATED SOUND BUT IT ALSO CONTAINS ECHOES OF "MILESAGO MATERIAL" ………. BEING A FIVE MINUTES PLUS TRACK IT IS REMINISCENT OF THE LONG HAUNTING SPECTRUM SONGS OF OLD……… AS FOR I'LL BE GONE (B) IT'S BETTER THAN THE ORIGINAL AND CAPTURES THE SPECTRUM FEEL PERFECTLY, I'M SURE THIS VERSION WOULD HAVE QUALIFIED FOR INCLUSION ON SPECTRUM PT 1 ……. THEY SAY SOME THINGS ONLY GET BETTER WITH AGE……..
P.S. WE'D LOOK FORWARD TO A SPECTRUM COVERS PAGE ON YOUR WEBSITE …….. IT WOULD BE VERY INTERESTING TO LISTEN TO OTHER CONTRIBUTIONS
POST EASTER REGARDS
PETER CAROLAN 18.4.06
Support Act launch to be shown on ABC TV
19.4.06 - The ABC shot some material and interviews of the Support Act launch for Stateline, which will aired on Friday 21st at 7.30pm, then repeated Sat. 22nd at noon. Asylum TV on Channel 31 also taped the show, and that will air this coming Tuesday night (25th) and repeated Thurs. 27th at 12:30am and Sat. 29th at 11.00pm. (pic - Sun. Herald Sun 16.4.06)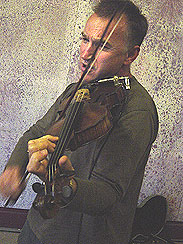 1) I remember when it was part of the Troy empire.. 2) Hughie McDonald fiddles and burns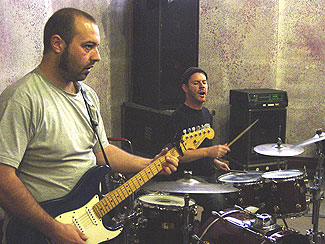 3) Kat adds a significant harmony 4) Shannon Bourne and Toby Lang rock the house
Schumann rehearsals get under way
18.4.06 - On Anzac Day I'm travelling up to Brisbane to appear with a bunch of celebrated musicians, including Russell Morris, Broderick Smith, Shannon Bourne, John Schumann et al, at the re-opening of the refurbished Ipswich/Goodna RSL. In preparation for that event, I popped down to the Deluxe Rehearsal Studios in South Melbourne today to.. gasp!.. rehearse! It was actually quite a lot of fun - you should hear the versions we're doing of Russell's Wings Of An Eagle, Broderick's Boy On The Run, the Chisels' When The War Is Over, and not forgetting I'll Be Gone. Lots of words to remember though - too many. We're rehearsing again tomorrow. I'm tired already....
Paul Barter's Bosnian story
17.4.06 - Some of you will remember I promised to pass on a classic road story, told to us in Tassie by Paul Barter - well, here it is. Enjoy!
A drummer friend of mine, Greg Hynes, was on tour in Europe in the mid-nineties with a band called Wild Pumpkins At Midnight.
At a gig one night, a young Bosnian lady convinced the band it would be worth their while to play some gigs in her home country. This was at the height of the Bosnian conflict, but she claimed that the people there were starved of entertainment and their appreciation would be overwhelming, and, she added, it would also be very financially rewarding - even more so if they could smuggle in a quantity of fax paper, which apparently was in short supply at the time.
The band was doing it hard, so after much discussion they decided to take a chance on doing the Bosnian gigs, and persuaded Greg to stuff as many rolls of fax paper as he could in his bass drum. read more

The boys with Liam, Max and Warby's Tracy Bartram
gig report
Wild Thyme lives up to its name
16.4.06 - The world's most intimate gig, or at the very least Melbourne's most intimate, calls for miniaturisation, and so we use half the PA and the small mixer, I use my small (Champ) amp - and we sit very still when we play the Wild Thyme Café. It's worth all the effort though, especially when you have nights like last night - the rapturous reception for our every musical twist and turn was food for our weary souls. Bill was using my Martin guitar in place of his Yari, which is still in traction, and it really worked nicely, especially in San Andreas. Easter Saturday might've been a harbinger of winter - Ron Barassi said there was snow on the hills - but it was decidedly warm inside..
Support Act Vic. launch

1) Michael Chugg flew down from Byron especially to help with the launch 2) Peter Laffey eases out another solo

3) Wilbur plays jazz in blue 4) Steve Romig and Mick Pealing enjoy the attention


5) Bob whispers to Paul Norton
Support Act launch goes off!
11.4.06 - Support Act has been an entity in NSW for some years now, and has been responding to the various dilemmas that musicians and roadies in particular from all over Australia find themselves in from time to time, but last night marked the inception of the Victorian branch, which has been largely fostered by my mate Bob Valentine and fellow Debonair members, Bob Murfett and Mae Parker.
I arrived quite early and was there to see Pete Laffey and the other Kingbees cruisily open the night's proceedings, followed by his sister Mae Parker belting out some standard rock numbers (including My Heavy Friend - the theme song for the night) with Lisa Bade and Big & Horny.
After a few words from Bob Valentine, Michael Chugg then officially launched SALVIC with an edgy speech, absolutely destroying a hapless punter who dared to chatter during his rave, followed by some jazz fom Wilbur Wilde, Alan Zavod and company.
As is my wont, I left early-ish, (after a good three hours imbibing smoke and G&Ts I'd really had enough), and so missed some musical highlights, including the momentary reformation of the legendary Truth, some songs from Mick Pealing, and a couple from our friend the gorgeous Enza Pantano. You shoulda been there..

You can contact Support Act on www.supportact.com.au
Vic. Support Act launch on this Monday night
8.4.06 - The NSW branch of Support Act played a big part in raising money for the Peter Dawkin's operation I told you about last month, so it's about time they raised a profile in this state too. Have you ever asked yourself what happens to tinnitus-ridden old wrecks like me when we're put out to pasture? Musicians are notorious for not planning for their retirement, and there's nothing sadder than an old muso playing air guitar in a gutter near you. At the Prahran Hotel, 82 High St. Prahran (between Punt & Chapel) this Monday night (the 10th) from 7.00 till late, and for a mere gold coin donation, you can see - maybe even touch - Wilbur Wilde, Nikki Nichols, Bob Valentine, Lisa Edwards, Mick Pealing, Big & Horny, The Bees, Mae Parker, and many more helping to launch this worthy organisation.
For more info, you can e-mail or call Mae Parker on 0416 076 349. I'm gonna be there!

Phil Manning, Max Merritt & Wal Bishop with Mike & Bill
Spectrum, Chain and Max Merritt concerts planned for Rocktober
6.4.06 - Bill and I rolled up to Wal Bishop's mansion today and met up with Phil Manning and Max Merritt for a pow-wow about some concerts together later in the year, possibly to be recorded for a special release DVD. Depending on commitments, it all looks very possible too, and we all got quite excited about the prospect of the three bands touring together.
We'll keep you informed as to how it all develops.
SNIPPETS

Get Behind Yer Roots tonight
4.4.06 - Just got the word from Daryl that GBYR 2, starring Spectrum, The Hornets & The Wolfegang will be on Channel 31 tonight (Tues.) at 11.00, as well as on Thursday at 12.30am and Saturday night at 11.00. For more info, check www.asylumtv.com
Spectrum in Geelong this Saturday
5.4.06 - The full complement of Spectrum, with Daryl Roberts on keys, will be gracing the Limelight Lounge this Saturday night. I do believe this is the first time for decades that the real-deal quartet has played the sleepy hollow.

Aztec Music breakthrough
6.4.06 - There are welcome signs of a breakthrough of sorts between Aztec Music, who have expressed interest in releasing Spectrum's back-catalogue, and EMI, who own all the band's early recordings. You should check out Aztec's site to see what they've accomplished to date.

Martin Pullan of Edensound Mastering and happy Mike
Spectrum's new song
4.4.06 - 'Waddabout the new album?' I hear you cry. 'It's coming', I reply with practised weariness. But, in the meantime, this is as exciting as it gets. Texacali Rose's Hugh Waylon approached us late last year asking if we'd mind contributing a song to a compilation the Lomond was assembling, featuring bands and artists that had played at the Lomond over the years.
In a moment of sheer recklessness, I said we'd write a song especially for the CD, and, inevitably I was called to account a few weeks ago.
We'd actually recorded a couple of blues ideas in the interim, but they were so lame I couldn't bear to offer them up, let alone finish them, and so I exhumed an idea that was
intended as an instrumental, called South Wind, and on a very hot day added some lyrics to it. The lyrics are about the very situation I was in, i.e. on a very hot day, can't be bothered doing anything and waiting for the south wind to bring a refreshing cool change - so it's called inspirationally, Hot, Hot Day.
I've stuck an mp3 file of Hot, Hot Day on the Demos page so you can have a listen to it.
Spectrum's NSW Tour

1) Gaye and John sass up the blues 2) Geof with one 'f' explains where the accomm. is..

3) Spectrum with troublemaker Phil Culnane and brother Paul 4) The damage to Bill's Yari

5) Gaye with a poster by her young bro' Malcolm 6) Robbo and China fancier Bec in Deni

7) Mike does Kevin at the Club
gig report
NSW proves bigger than first thought
2.4.06 - The getting from point A to point B in Canberra's always been a bit of a mystery to me, and so it proved this time around, with just travelling a few hundred metres being quite beyond our powers of navigation. Fortunately, Geof (with one 'f') Cook from the Let's Create agency, who suggested the gig in the first place, made himself available to nursemaid us around for the night that we ventured into the nation's capital to play the National Press Club bar, and we survived nearly intact. The exception was Bill's Yari classical guitar, (pic 4), which suffered the indignity of being fallen on by Paul Culnane's little brother Phil, who was celebrating his fiftieth birthday, and had his own navigational problems to contend with.
Apart from the Culnanes, my dear Canberran friends Jane and Peter Greagg made it to the gig, with Pam Cleary and her friend Lynnette being other noteworthy
arrivals from distant points of the compass around NSW.
This is the very point that had eluded me when I was toying with the prospect of stringing a couple of gigs together in NSW - NSW is quite a large state, and the reality is that it's almost as far from Canberra to Deniliquin as it is from Canberra to Melbourne. It's probably just as well I hadn't considered it rationally as it turned out, or we might have missed out on doing one or other - or even both gigs. We didn't know what to expect from the National Press Club gig, and, while I wasn't unhappy to discover that it was quite an intimate (read 'small') bar, it would be nice to play somewhere next time that caters for our hardcore audience, which I know prefers to listen to the various nuances of Spectrum in relative comfort.
Of course, this is exactly what The Crossing Café in Deni (Deniliquin) does so well, with the added bonuses of excellent food (best steak of the year!) and a couple of entrepreneurs in Chris Bodey and Brett Allitt who not only know and love good Aussie music, but are prepared to take pains to promote it comprehensively and sympathetically.
The result was that audience was nearly twice the size that we had on our last visit, and responded knowledgeably and enthusiastically to our haphazard bill of entertainment - we sold quite a few CDs as well - and being musos themselves meant that Chris even lent Bill his flash Takamine nylon-string to cover the temporary loss to misfortune of Bill's Yari.
We'll look forward to our next foray to the capital and to Deni - I'll see if we can't find some other gigs that might break the journey next time, though.
back to the top