Scroll down to the start of the month
Close this window to
return to Mike Rudd &
Bill Putt's home page
Bill Dettmer cancels gig
27.6.05 - I was having a bit of a lie down last evening when, inevitably I guess, the phone rang. It was Bill Dettmer, and he informed me that his Little Willy and the Hopeless Romantics' concert, slotted for this coming Saturday, is off. It seems the enormous public liability insurance premium demanded has (indirectly, in this case) claimed another victim. I'm not a political animal, but I feel there is quite an issue here to be resolved. I've heard of a number of organisations having to pull the plug on functions when faced with an out-of-all-proportion public liability premium. Given that the incompetent insurance companies have been weeded out of the Australian landscape, it's time for a little bit of common sense to prevail. I guess it's just another symptom of our society being dragged resentfully towards the American model. I like America, but it hasn't got it all right.

1) Mr Spoonbill, Jim Moynihan, and his proud mum, Annita 2) Brother Jack Moynihan has a preliminary word

3) These two blokes gave Spoonbill an irreverent intro 4) Aurora Kurth does the rubber duckie

5) Ben Carr on sax appeal 6) I'm guessing this is Jonathan Chong on visuals

7) Spoonbill megafauna on the prowl 8) Trades Hall drinks list - even the prices haven't changed

9) The trio that comprises the nucleus of Spoonbill live do their thing (large pic)
Spoonbill CD launch
26.6.05 - The Trades Hall was the venue for the Spoonbill Megafauna CD launch, and I was reminded of what a cool space it is. Actually, it was bloody freezing outside, but the vibe was warm inside and the crowd of Spoonbill 'rowdies' that filled the space obviously enjoyed the imaginatively presented evening's proceedings. In brief, while the music was loud, it remained hi fi, and the visuals were wittily complemetary. A fun night.
Spectrum's psychedelic salad days recalled
24.6.05 - Bill and I were summoned into the studios of 3CR today to recount what we could remember of the very early days of Spectrum's career - it seems to be a bit of a trend lately. This time Bill and I were subjected to the gentle probing of one Iain McIntyre, whom I've apparently met before when he was researching my first band, Chants R&B, and who is now writing a book and radio series about the late '60s to follow up his first book, Wild About You, which was about the mid '60s. Iain is seen here (left) fondling the rather splendid packaging for the Billy Thorpe and the Aztecs Live at Sunbury set that Gil Matthews' company has just released. If this is any indication of the kind of quality they're making standard, it augers well for the projected series of Spectrum releases.
SNIPPETS

The Mercurials' CD launch
22.6.05 - Everybody's doing it! The Mercurials will launch their eponymous debut CD at Dizzy's in Richmond at 7.00 on Sun. July 3 with special guest Andrew Duffield. The Mercurials' CD is now available from our friends at The Basement Discs in the city.

Party stuff
22.6.05 - OK. So, for obvious reasons I didn't make a big fuss about it, but I had my 60th last week, (pic), and if you're interested you can check out the sordid details in the new A Separate Reality feature. What is this, you cry? Well, it's a blatant blog, (is that the right term?), covering all the personal stuff I record day in, day out, that I can't fit anywhere else. check it out

1) Robbo and young Madison pat the skins 2) Bill shows Jake the bassist where 'F' is..
Kids rule at St Andrews
20.6.05 - Sundays at the St Andrews pub are always fun, and yesterday was no exception. There were the usual suspects of course, but we had some new chums too, notably from the Kelvin Club the other night. The rhythm section attracted some young fans anxious to try out the hardware. (pics)
Spoonbill CD launch
18.6.05 - Jim Moynihan gave me a preview copy of his Spoonbill CD some months back, and I was very taken with it. I think anybody who enjoys electronic music, (for want of a better description - I'm not up with the latest terminology), will thoroughly enjoy this - well recorded, with forensic attention to detail, while managing to keep sight of the Big Picture. I had the same feeling listening to this as when watching the Wallace and Gromit series - how can they possibly manage to end up being humorous when proceeding at such fractional increments? The mind boggles - but Spoonbill not only retains coherence, it manages to be cerebrally and emotionally satisfying as well. Check out the Spoonbill launch at 9.00 on Saturday June 25 at Trades Hall, 54 Victoria St, South Carlton. The lineup includes:10.00 PasoBionic & Bulb 11.00 - 1.00 Spoonbill visuals by King Aphid and Djak Expect to see large scale puppets and theatrical interludes throughout the evening. Check out the Spoonbill flyer for more details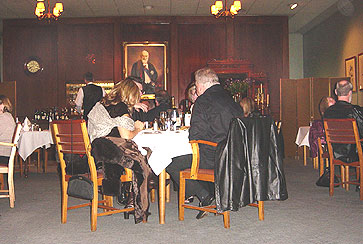 1) The inviting entrance to the Kelvin Club 2) The even more inviting sumptuous interior, with
diners being overlooked (presumably) by Lord Kelvin (I'd better check that..)
The Kelvin Club gig - how the other half lives..
18.6.05 - It wasn't until we actually started to play last night that we realised that the Kelvin Club had been well and truly 'treated' for sound - apparently the building used to house the ABC recording facilities - and the acoustic tiles in the ceiling, coupled with the plush curtains, gave no hint of comforting resonance. No matter, we eventually adjusted and the smallish/select audience seemed to really appreciate the music on offer. We in turn appreciated the attention given us by our 'gentleman's gentleman', Allan, and the Kelvin Club's director, Harry, not to mention the free nosh. All right, I'll mention it: I had a traditional corned beef with the dreaded white sauce and mashed spuds, (which I don't think I've had since the '50s at Christchurch's Warners Hotel), while Bill and Robbo opted for the spiffy fish & chips. We were even treated to sticky date puddings for dessert! Anyway, what I'm trying to say is, next time I advertise us as playing at the Kelvin Club, make a point of being there - it's not yer usual tat, mate, it's a real, honest-to-god gentleman's club that bespeaks another era altogether, and one that mightn't be around for ever.
SNIPPETS

Correction re' the Kelvin Club gig
12.6.05 - Kevin Silberberg, the Immediate Past President of the Kelvin Club, has e-mailed me to advise the number quoted for you to ring if you wanted to attend this Friday's gig at that illustrious venue, is 9654 5711 - not 5911 as originally advertised in the gig guide. A lot of you city slickers are looking forward to this one, I know, and the least we can do is get the info right. Sorry.

PayPal feedback
14.6.05 - One thing we have got right is the new-ish credit card service on the CDs page, where you can buy selected CDs using your credit card through PayPal. This is especially useful for OS customers, and today I got an unqualified rave from one of our latest customers in the UK. He's already ordered some more CDs! check it out

Paul Barter promises Robbo that he'll get Spectrum a gig at the Forth Blues Festival

Old friends' night at the Lomond
12.6.05 - Gosh! Two gigs within a couple of weeks of each other! I might have to give up the day job.. It was a much bigger crowd than had been anticipated on this Queens Birthday weekend for Spectrum's return to the Lomond, and they were in fine spirits too. To mark the occasion we were revisiting some tunes we hadn't played for some time, (Kneedeep, Dancing At Midnight), and trying out some newies, (Gee Whiz, Sleepwalk), and simply everything went down exceptionally well. There were a lot of familiar faces in the audience, and I wished I had my camera. Luckily I had my phonecamera on hand to grainily capture Robbo (left) having a cuddle with Paul Barter, (maker of Robbo's Barter drum kit), who's up from Tasmania for the long weekend.
Piledriver - preserving the Status Quo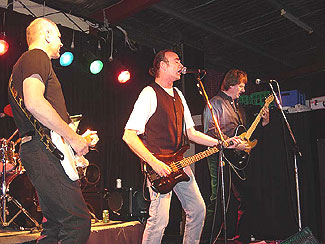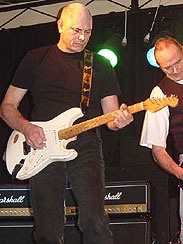 1) The Piledriver front line 2) Longtime Quo fan Jean Luc Picard dropped in on guitar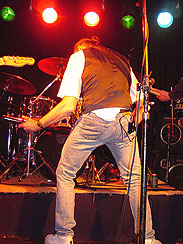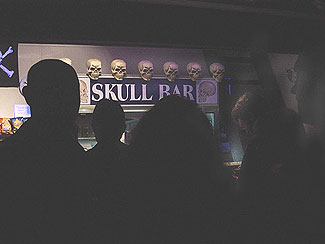 3) Andrew Forrer lets one rip at the audience 4) Every skull in the place was numb..
check larger pics
11.6.05 - As a matter of fact, Andrew Forrer is the brother of the Chants' first bass player, Marty Forrer, but he's better known in Melbourne as a country music player, and for his and wife Glennis' traditional Boxing Day BBQs. I'd e-mailed Andrew to let him know that I'd played with an old mate of his whilst in Christchurch recently, and he invited me to come and see the inaugural gig of his new band, Piledriver, at the Jam Tin Skull Bar buried deep in the factory wastelands of North Cheltenham. When I arrived, the band had already begun the first set, and the audience was being pounded unmercifully by the loudest band of any description I think I've ever heard in a confined space. Mind you, I have always had a bit of soft spot for the Quo, and the Piledrivers really do look and sound the part, playing the material with affection and considerable panache. And VOLUME. Check the Piledriver website for future gigs.
Manny 'the man' re-materialises
10.6.05 - I'd just ducked into JB Hi Fi before racing home to rehearse (!) some new and old songs for the gig tomorrow at the Lomond with Bill, when I heard the lilting laugh of Manny Paterakis (pic), former Heaters and MRQ drummer. We had a nice little chat over indifferent coffees too - Manny's got his little enterprise, Manny's Music, in which he figures as DJ for hire and compiler of groovy music CDs for shops, restaurants and discos. I'll stick up a link on the Helpful Links page if you'd like to get in touch. What a nice surprise!
SNIPPETS
Regrettable new feature
9.6.05 - I guess you could call it a blog, but anyway, it's the stuff that happens everyday that's not necessarily connected to the musical side of my life - the sometimes scungy detritus that leaves marks on the porcelain. It's A Separate Reality

MBAS Blues Jam relocates
7.6.05 - More or less as anticipated, I guess, but the fraught MBAS jam has relocated to the Dan O'Connell in Princess St Carlton and will be there tonight I'm supposing.
Big Fi Li'l Fi again!
9.6.05 - Last Friday morning, Li'l Fi gave birth to a 7lb 2oz boy. Cub reporter Robbo tells me he will simply be called Gus, in preference to his full handle of Quincy Angus Hunter. Congratters to Fi and Dirk, but mostly Fi, on behalf of all our readers.



Gerry Hale gig
9.6.05 - The next Czech Club gig is the Friday 24th June with special guest Matt Walker.
Czech Club 497 Queenberry Street, North Melboure
Doors open 7:15pm

1) Rob roasts Ross and thanks Tina for the roasts 2) Rob and Ross (see large pic)
Rob Draper's CD launch
5.6.05 - As advertised, three quarters of Spectrum showed up at the Rob Draper CD launch at the Noise Bar last night, with the ever ubiquitous Robbo on drums in Rob's backing band, and guest appearances by Bill on lap steel and Mike on harp. In fact it was a pretty interesting debut launch for the young man. Ross Ryan and Jo Jo Leslie opened proceedings as acoustically as anything, before Ross was joined by Rob for a couple of father and son numbers. Then the band came on and trashed the night, but even that worked pretty well - nothing too loud - and the teens and oldies all seemed to enjoy the evening equally. Shame about the cigarette smoke.. (The end is nigh).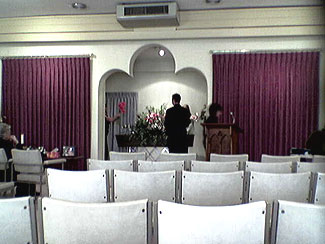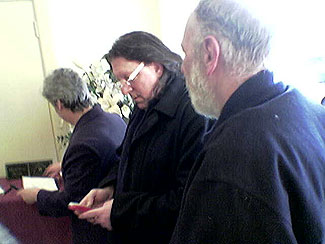 1) The parlour was almost empty when Bill and I arrived 2) Lobby Loyde finally lobs as Gavin turns off his mobile
Keith Barber's funeral service
Well, not so much of a service. Not a God salesman in sight throughout, which left the family, particularly sisters Pauline and Jan, to take us for an entertaining ride through Keith's life. Wild Cherries' singer Danny Robinson, accompanied by Les Stacpool, adroitly interpolated a few songs, and Dan said a few well-chosen words about his old drummer mate. Bill and I didn't check the papers as advised on this page (!) and arrived thirty minutes early, which gave us a little time to catch up with the diminishing reservoir of '70s' survivors. Another one bites the dust.
See this month's Pith & Wind for another perspective
pic courtesy of Jim Colbert

Keith Barber dead
2.6.05 - I just received an e-mail from Peter Robinson saying that Keith Barber (pic) died earlier this week, apparently from liver complications. I always thought of Keith as the coolest dude, and the last time I saw him at the Mercury Lounge he looked terrific. Keith was in the Wild Cherries and then joined the La De Das when they were going through their Traffic period, and so were my favourite band. I'm saddened to hear this news.
The service is at John Allison Monkhouse 922 Glenhuntly Rd 4.00 tomorrow (Friday) check the paper for final details
It's gold at Platinum
..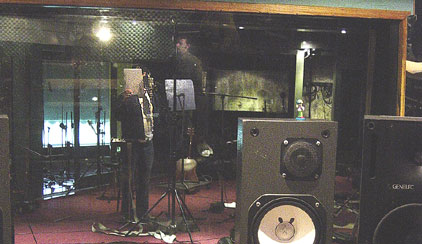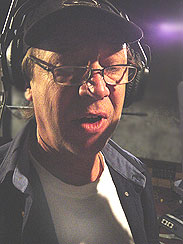 1) Who's that in the studio behind that sheaf of lyrics? 2) Why, it's none other than Russell Morris!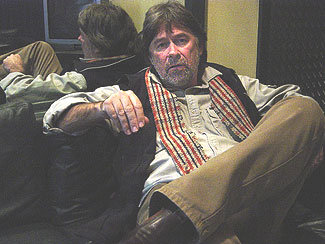 3) Kerryn Tolhurst 4) John Schumann has had correspondence from readers of Stop Press
Schumann's Lawson project under way
1.6.05 - Well, you can't say I don't have a diverse life! This afternoon, at John Schumann's behest, I rolled up to Platinum Studios in darkest Chapel St, to take part in a most interesting project. Interesting because I was singing words that Henry Lawson most likely wrote as a poem, to a tune written by John Schumann, who can actually cut the requisite larconic delivery in his sleep. So, what does Ruddy do? He simply changes the melody to suit himself! Actually, after the initial stunned silence, John and producer Kerryn Tolhurst seemed to warm to the idiosynchratic Rudd approach, and, you never know; it may even make the final cut. John tells me the album could be out in a couple of months - I wish we could be that snappy! With guests including Russell Morris, Brod Smith, Shane and Marcie Howard, Mal Logan, Kerryn Tolhurst himself and Rob Hirst, it's bound to cause a stir. We'll keep you informed..
Christchurch school fashion tip
1.6.05 - Now, I know it gets pretty nippy in Christchurch, but I reckon Melbourne gets it badly enough in the cold and damp dept. over winter. Anyhow, I thought this long plaid skirt (pic of Ro Brittenden) was a thoroughly charming development in girls' school attire which could be replicated throughout the Commonwealth of Oz. Well, the cold bits, anyway. I don't know about you, but an unhappy by-product of childhood obesity is the sight of chubby young girls showing far too much of themselves in abbreviated school uniforms. Leave it to our imaginations please, girls! Check out Mike's totally indulgent ChCh photo album
back to the top