Scroll down to the start of the month
Close this window to
return to Mike Rudd &
Bill Putt's home page
A Hard Way To Go..
29.3.05 - I was fumbling round in the dark at 8.00-ish yesterday morning trying to find News Radio when I heard the news about Paul Hester's death. I've had a day to try and absorb the fact that he's gone and the circumstances of his going, (which got more bizarre as the day wore on), and in the end I simply concluded the world is a darker place without the Hess. As readers of this website will know, Bill and I had a brief musical association with Paul in The Fez a few years ago, and we also spent some hilarious 'gentlemen's evenings' recording at his home studios. Paul was a generous and effusive host, and obviously had real affection for 'Ruddy and Putty' and what we represented as '70s rock music pioneers. (His favourite Ariel song? A Hard Way To Go - the lines 'Simulate experience, synthesise emotion' in particular held some fascination for him). The Fez signed off in style on the final episode of Hessies Shed and our paths subsequently diverged.
Paul was a restless soul and wore his emotions for everyone to see - the Foxtel replay last night of the Crowdies last concert demonstrated that - and, as anybody who was close to him can testify, he was constantly pricking and probing trying to extract the maximum from every living moment. That he should end his life this way is disturbing and confronting for his family and friends, but his fans can take some comfort in the archival legacy that Hess, the irrepressible, irresponsible, ever-romantic larrikin has left us.
More Frankston Guitar Festival stuff
24.3.05 - These fine shots of Bill and me were sent by Gerard Anderson, who is a photographer who seems to specialise in music shots. Why not check out his website - you'll find he's got heaps of fine shots from festivals and gigs around Melbourne.
Bill Dettmer goes ape on radio
22.3.05 - Bill Dettmer is well known to Peninsula-ites in particular as a mover and shaker in the music biz, and he's just written to me about a new radio show he's hosting. He's extended an invitation for us to appear on the show, so I'll keep you informed.
Bill says: 'In three weeks I am back on radio with a show all about LIVE music. The Roar of the Crowd (I like that) or Hot and LIVEly with Bill Dettmer (I'm still trying to figure out the best name). It's on 97.1FM (MDR) 1.00 - 3.00pm Wednesday arvos
Yes, it's in the hills, but with good signal across town and a high listening audience. Featuring LIVE recordings, LIVE in studio performances and interviews. Also: what's happening this week in LIVE music around town, all the LIVE news about living with music in Melbourne, all the touring artists talking about what they're doing, where they're playing and what's HOT and going down in the LIVE scene. I'll feature local, interstate and international players plus some of the great live concerts on CD and vinyl from my personal collection.'
Any artist wanting to do a live to air should call Bill on 0425 792 691 or email Bill at: dettmer@optusnet.com.au Send any live show material to PO Box 1481 Frankston 3199
More vintage David Porter shots discovered
22.3.05 - In the endless boredom, not to mention global dimming induced anxiety, I almost forgot. David Porter sent me a copy of this pic (left) of Spectrum when I was letting my beard go on its own personal jihad. He also sent a proof sheet of a very famous session when Spectrum did their version of the Last Supper in drag. My son Chris stars on a potty under the table. Check 'em out!

1) Ned Evett (see larger shot) 2) Robbo looks happy enough
The Frankston Guitar Festival
21.3.05 - I didn't realise we were the last act on the Festival, so I thought we were a little bit naughty doing an encore. But no-one chastised us - in fact, we could have probably played all night as far as the audience was concerned. The sound was a bit woofy, but otherwise it was an enjoyable experience, and a bit of a preview of things to come - inasmuch as we played a real Spectrum bracket with Daryl on keyboards.
An fascinating character played a solo set before we took the stage - Ned Evett (pic left) sounded a bit like an American Billy Bragg meets David Gilmore, and played a glass-necked guitar with live sampling just to be really different. check out Ned's website
A third of Spectrum at Port Fairy..

Robbo tries to hide behind Fiona Boyes
Ubiquitous Robbo finds another end of the candle
15.3.05 - Gerald McNamara has sent in this pic which he assures me shows Robbo on stage with, from the left: Jan Preston (piano), Jim Conway (harmonica), Rory McKibbin (gtr), Arnie Hanna (of Jim Conway's Big Wheel, gtr), Jam Hostess Lil' Fi, (Robbo), Fiona Boyes (gtr), Dirk Dubois (bass), Chris Wilson (harp),and Lucky Oceans (pedal steel). Don't tell me he's not a bloody legend!

The Frankston International Guitar Festival
14.3.05 - Spectrum will be making one of their all too rare appearances with a keyboardist at this week's Frankston Guitar Festival. The affable Daryl Roberts will be our guest on keyboards, and we hope to make up for the sound meter madness of last month's gig (see Feb's Bloody Newsletter and Stop Press) which threatened to damage Daryl's delicate electronic gear.
Some people don't think Spectrum is really Spectrum without keyboards, and I tend to agree with them. It's rather ironic we've chosen a guitar festival to make this specially augmented presentation, but there you go. Let's hear it for irony..

Spectrum's appearance at the Frankston International Guitar Festival is on the evening of Sunday the 20th between 7.00 - 8.00.



The cards cometh, the cards taketh away..
14.3.05 - The guy from Hungary desperately wanting a copy of Spill clinched it, but it's way overdue anyway. I'm trepidatiously pleased to announce that we are able to cater for those who would like to purchase CDs via the website. I've hooked up with PayPal (a division of eBay) and this should mean a fairly easy and secure process for purchasers. Check the CDs page, and if you encounter any problems, please get back to me on mikeruddbillputt@hotmail.com
Positively the last LWTTT tour shot..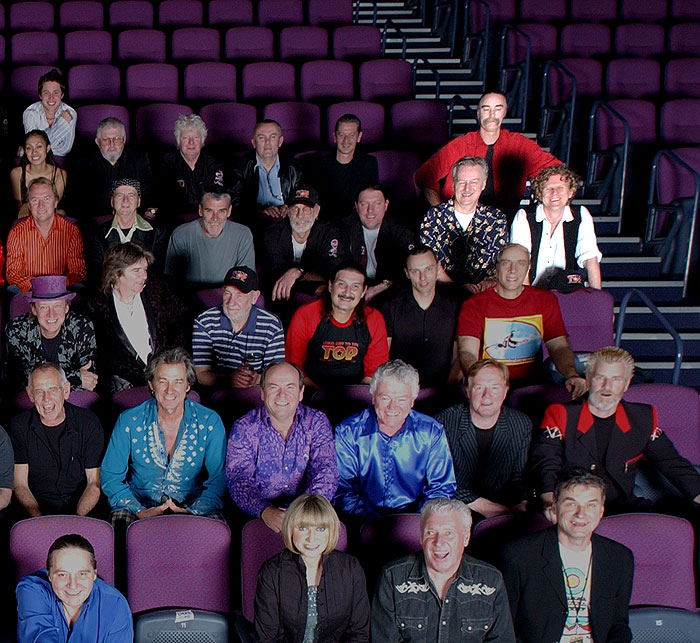 Everybody think of your favourite band..
10.3.05 - And then, magically, all the lights went out - except the one highlighting Mike, Bill and Robbo.. Well, that's how I remember it anyway. Pam from NSW just sent me the evidence - I think it's the only shot we've got of the whole cast. See how many stars you recognise. A free T-shirt goes to Pam for her fab shot. check more
Guitar Horror Story #442
6.3.05 - I got an e-mail a few days ago from a Peter Gordon who'd just recently discovered this site. He wrote: I have a red strat that I bought in the early 80's from a music store in Boronia (i think...possibly Bosnia). I was in the store at the time and told the guy he had a crap array of guitars on offer, with which he said "check this baby out". In almost the same sentence he said it was previously Mike Rudds guitar.
To be honest i nearly laughed at the sight of this thing, it had all that Roland synth stuff built into it (it was the 80's) and had a teak neck.
I plugged 'Ol Bluey' in....and was staggered by the sound.
Not the synth..the guitar. It still sounds awesome to this day. It has had a significant overhaul...in fact I have spent $2,700 on her. New neck, rip out the synth gear and god knows what else....but those pickups!!!
Unfortunately when I took it in for the rebuild Jim and Merv Cargill thought they would do me a favour and repaint her for me....and replace the pickup covers and guards. I hate them now...just kidding.
However, I have always wondered if it was in fact one of Mikes. If not, I am sure he probably wishes it was. Whats more he no doubt doesnt give a rats.
I thought I'd remember if I had ever owned a red Strat, and told Peter so. But there's a twist to this story. You'll remember Spectrum played at the McWilliams Winery a couple of weeks ago. I didn't mention it at the time, but Paul Murphy approached me at the gig with a DVD of the Mushroom Evolution Concert. The Heaters played a couple of numbers at the concert, including a version of I'll Be Gone (what else?) with Ariel's Harvey James and Glyn Mason as guests. For some time now, Paul has been attempting to put together the definitive pictorial history of Spectrum, Ariel et al. There's quite a bit of it around, but it's difficult to pin down, and some eras are pretty light on for images. The Heaters aren't particularly well represented and Paul thought the footage from this concert would fill in the last major gap. (Hopefully I'll have more news on Paul's DVD soon).
I put the DVD in my gig bag and promptly forgot about it - that is, until last night at the Nighthawk Blues gig when I rediscovered it. So, this evening I put it on - and bugger me! There was I, as large as life and hirsute as anything, playing a red Strat with a teak neck !! (pic)
The Roland synth stuff I'm not owning up to, mind you. But, given that I'd completely erased the red Strat from the memory banks, anything's possible.
So, I'm calling on all you guitarists out there - give me your weird and wonderful guitar stories and I'll print 'em right here on this website. I'm sure I've got a few more stories myself - if only I could remember them..
The first story has arrived - and it involves another of my guitars! Check it out.
Tsunami benefit goes off!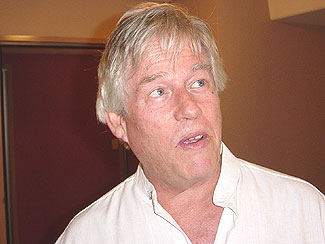 1) Phil Manning tunes with forking smile 2) Pig Morgan thinks of a pastie he once ate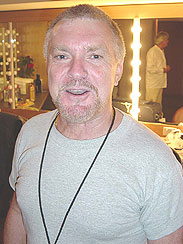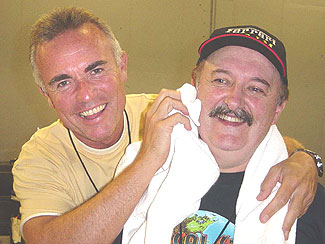 3) Billy puffs up - It is the year of the Rooster 4) Paul Christie towls off the Rat in anticipation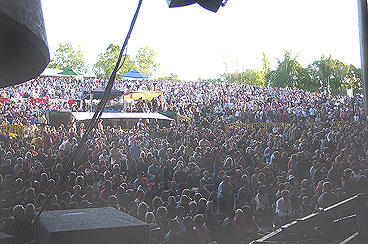 5) Bill pops up behind Phil Pappas and Alan Howe 6) The crowd rocks happily to Daddy Cool


7) The wizards of joyful music, Daddy Who? Daddy Cool, that's who!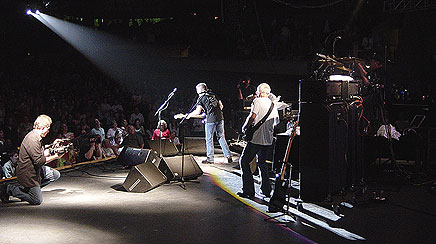 8) Thorpie shakes the Bowl's foundations 9) They were recording the show - so watch out for it sometime on TV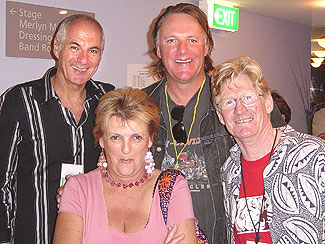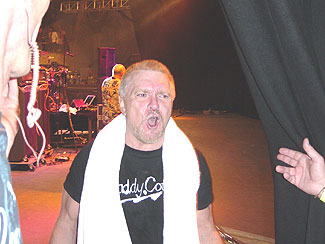 10) Shane Bourne, Wilbur Wilde, Jane Clifton and Phil Manning - again 11) Billy storms off stage on a high-ding


12) Chisel do the Chisel thing with Wilbur blowing his horn (check out
enlargements of 6, 7, 8 & 12)
Tsunami surprise!
28.2.05 - Yesterday (Sunday) I was preparing to do the BAS in a leisurely fashion for a change - I usually leave it till the day on which it's due - and was having a light lunch with management on the banks of the Yarra when the mobile rang. It was Bill. He said Thorpie had rung and asked if we were interested in appearing with the Aztecs that evening at the Tsunami benefit. (When I got home, I found Billy had left this message on my answerphone). Actually I wasn't, but I could hear the barely restrained anticipation in Bill's voice and so I thought better of grumpily saying 'no' and grumpily agreed. 'Bugger', I thought, 'there goes my quiet afternoon doing the bloody tax.' The only consolation was that Robbo was at the Bowl enjoying the show and we might be able to surprise him with our little cameo.
As we arrived we could hear Farnsey doing The Voice, but he'd finished his set by the time we checked in to the Aztecs' green room and Daddy Cool was preparing to rock the house. We watched them from back stage as they wove their old black magic all over again, just as though there'd been no indecently long interval at all between drinks. Hanna looked truly spectacular of course, and Ross was, well, Ross, but it's the musical combination of the four original members that feels so natural and un-manufactured. I hope we don't have to wait that long again before they 'come back again' - well, we simply can't!
Then it was Thorpie's turn. Apparently he's been playing 'our' tune since the LWTTT tour, but it's a measure of the man and his passion that he thought to invite Bill and me to join the Aztecs on stage to perform it with him. I was astonished to discover before the show that he had no set list, and I mentioned His Bobness' propensity to spring songs on his band. Billy had witnessed this particular idiosyncrasy of Dylan's at close hand when he was living in the States, and knew a couple of accomplished guitarists who had been reduced to quivering wrecks working on the Dylan tours.
Anyway, all anybody knew was that I'll Be Gone was to be the third number. Thorpie was going to play the opening harp line and I was going to echo it from off-stage. That sequence would be repeated and then I would wander on stage and somehow we'd navigate through the rest of the song.
Well, I suppose that's what happened - roughly. (check the undercover news review) And, speaking of rough, what was that smooch about at the end of the song? Before you entertain thoughts of kissing me again young Billy, make sure you shave off that stubble!
Then came the Chisels. A truly unique and very Aussie band, with their celebrated 'subversive' approach to pub pop/rock music. That they're able to carry off hook-laden pop songs, gut wrenching ballads and furious guitar propelled rock with equal conviction says a lot about the combination of talents, but an awful lot more about the musical focal point of the outfit - Ian Moss. I should take a little space to expand on this guitarists' guitarist, whilst never forgetting that he has voice to die for as well.
My first guitar playing idol was Eric Clapton. When I heard the Bluesbreakers' Beano album for the first time, it was a revelation. I'd never really heard of, let alone listened to the black players that Clapton had digested - all I knew was that Eric was doing something that connected with me right then and there. And the tone.. the combination of Gibson Les Paul, (later stolen), and ambiently recorded 30 watt Marshall combo amp, served both the intention and the technique and made it a seamless whole. However, the latter-day Clapton has embraced the Fender Stratocaster - and, frankly, he seems to be a bit lost on the instrument.
In absolute contrast, Ian Moss makes the Strat speak so eloquently that even young girls, who haven't a clue who is playing what, go weak at the knees when he plays. As anybody who has played a Strat knows, (i.e. me), the temptation is to muck around with its single pole-ness using tone settings and effects to try and mask technical inadequacies. Where the Gibson humbucker fudges and sustains, Fender pickups can sound thin and feeble, at the same time painfully reproducing every wayward slur and overwrought bend. Ian Moss is a Strat Master - his sound is loud but honest, and as 'Strat' as you will ever hear, and I just can't think of a better player in the pop/rock/blues genre - anywhere. And, as I said, he sings gorgeously too. Bastard.
Anyhow, back to the Tsunami concert. Although I'm fairly reclusive at the best of times and can honestly do without the 'Hail fellow, well met' scene, it was good to see the LWTTT crowd again, but especially good to see DC back on board - they're one of a kind - and to see the other acts we caught still at the top of their game. And if that was the Melbourne Whatever Festival, then it was really good to see it at the Bowl, as opposed to the tragedy of Jeff's Shed, and out of the unwinnable competition with the St Kilda Festival. Now all it needs is some individual character. Let's pretend that that was the first one.
PS - My favourite moment of the evening was Wilbur's second spot with the Chisels. The moment came and Wilbur timed his arrival at the mic to perfection, casually played his first note - and Barnesy yelled at him 'Piano solo!'
check out a correpondent's review of the concert - and Alana Galea's review
back to the top