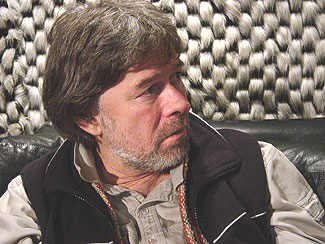 Nobody leaves the studio till I find out who farted
Schumann project revealed
What have John Schumann, Kerryn Tolhurst, Russell Morris, Shane and Marcie Howard, Rob Hirst and Mike Rudd got in common? Well, probably not a lot as a rule - but John Schumann has pulled all these disparate elements together to record this week. Read all about it in Stop Press
Mike's Pith & Wind - Ask Not..
A week or so ago, I was hurrying back from the supermarket to keep some appointment or other, when I spotted this gentleman weaving towards me. My initial impression was that he looked a little shabby, but kind of dapper, and I hoped I could look that good at his age. Almost as soon as I thought that, I had the uncomfortable feeling he was going to want to talk to me – and, bugger me, he stopped me and pointed at my feet in wonderment.
'Aren't your feet cold?' he asked. As it was a cool day and I was wearing sandals, I suppose it was a fair enough opening gambit, but even as I was telling him that my feet weren't at all cold, I knew I wasn't going to get away that lightly.
He told me his name was Walter, and asked me my name. When I told him it was Michael, he said he would call me Mickey. He apologised for his demeanour, but he'd been drinking whisky for breakfast; his wife had gone and his son had gone too, and he had nobody.
I decided that my appointment could wait and that I would let him have his say no matter how long it took, which I hoped wouldn't be too long. I took off my sunglasses to make eye contact and let him know I was there for him for that moment at least.
| | |
| --- | --- |
| | MORE LINKS! |
| | STOP PRESS................................. |
| | All the very latest news, gossip and pics |
| | ARCHIVES..................................... |
| | Find all the back-issues of the Bloody Newsletter and Stop Press |
| | HELPFUL LINKS............................ |
| | Some helpful links to Spectrum's favourite people |
| | MIKE & BILL'S DEMOS................. |
| | Have a listen to Mike & Bill's demos of new songs |
| | CLASSIFIEDS................................ |
| | You wanna learn guitar or buy a classic piece of equipment? Check the classifieds |
| | FREE DOWNLOADS..................... |
| | Give us your thoughts on the file-sharing conundrum |
| | BOOK SPECTRUM........................ |
| | How to book Spectrum for that special function |
| | CORRESPONDENCE.................... |
| | E-mails to the editor on any and every subject |
| | |
Ask Not.. - (cont)
He asked me if I believed in God, and as not many people ask me this and I've actually given it a bit of thought, I was probably a little too enthusiastic when I said that I didn't. This threw him a little, and I thought he was going to burst out laughing for a second. He went on to say that he had been thinking of doing away with himself, so I made it very clear that I didn't approve of this course of action, with recent tragic events still read more