Scroll down to the start of the month
Close this window to
return to Mike Rudd &
Bill Putt's home page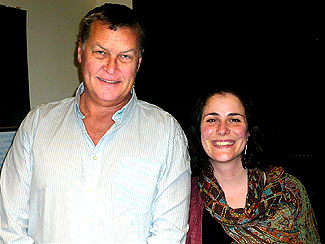 1) Larry Ponting readies the Latrobe Ballroom 2) Bob Valentine and Claire at 88.3 FM
Mike's Bob & Larry day - and the EPs have arrived!
31.8.11 - Bill and I had a short-lived outfit called Bob & Larry and it didn't occur to me till I put up the pics above that I'd inadvertently had one of those days. Larry Ponting (pic 1) contacted me a few days ago about performing at the launch of the Entertainment Assist organisation and so I duly turned up at the Latrobe Ballroom in the Sofitel at 9.45 for a 10.00 sound check. I opened the proceedings with an acapella version of I'll Be Gone, which is an absolutely appropriate song for such an occasion. I knew quite a few people in the room, but I'd never met Iva Davies before (Iva's a patron of EA) and we had an interesting little natter at the end of the official part of proceedings.
I wandered down to The Basement Discs to check on Friday's lunchtime launch - still with no word from Aztec about stock of the EPs - and then wandered back up to the parking joint to pick up the van. I was still in shock from the $62.00 parking fee when I got to 88.3 FM in Mordialloc to have a chat with Bobby Valentine. (pic 2)
Bob played four of the BSAW tracks that I'd burned onto CD and we had such a jolly time I'd quite forgotten the pain of parking.in the CBD by the time I emerged.
Just a few minutes ago I got a message from Ted Lethborg saying that the BSAW sleeves had finally arrived. Hopefully that signals the end of the dramas associated with this EP's release.
Wrokdown to the rescue - again..
29.8.11 - I heard from Ted today that the EP could be at Aztec as early (!) as tomorrow. In the meantime, you can check out the Soul Man video on the Videos page, dedicated to the original antipodean soul man, Max Merritt. Note the Max soul-type horn section scored by former Meteor, Jimmie Sloggett, who'll be playing with Spectrum at the 'real' EP launch on this Friday at The Basement Discs. (While you're on the Videos page you should check out a veritable treasure trove of curious and curiouser past videos including the original I'll Be Gone clip).
Incidentally I'm currently listening to The Pardoners second album, Indulgences. Pretty damn brilliant too. Go to their website to get yourself a copy.

1) Bill watches the Tigers pull off another win in the rousing confines of the Waltzing Matilda Sports Bar

2) Julie Dacy and daughter Ruby helped make our day
gig report
Waltzing Matilda Sports Bar Sun. 28.8.11
Fun and games at the Waltzing Matilda
29.8.11 - Daryl made a point of contacting me after he'd played at the Waltzing Matilda a few weeks back to tell me that it was a pretty uncompromising venue - and when Bill and I walked in yesterday arvo we knew exactly what he meant. (pic 1) When I was approached by Shane, the room manager, and he asked if we played 'uptempo' or 'jazzy blues' and went away muttering about some sort of 'miscommunication' with the agency, I suspected it could be a rough day. Thankfully we were joined by some friendly faces, including Steve Fraser and Pete, Julie and Ruby Dacy (pic 2) and a table full of their friends and the afternoon didn't turn out to be so bad after all.

Ice cream anyone? Mike and Steve Romig's new venture
gig report
Bentleigh Club Sun. 21.8.11
The EP launch turns into a preview
22.8.11 - As intimated previously, the 'launch' at the Bentleigh Club last night was distinguished by the absence of the one element seemingly essential to a CD launch - a CD. In the event it was of little consequence as the crowd, (such as it was), seemed happy enough to have the transaction deferred to another day. Perhaps in hindsight, Sunday evening wasn't the best time for our audience, but in any case we chose to focus on getting some decent footage for a Soul Man clip and I think there was enough footage shot to make a mini-series thanks to the ever-patient Brenden Mason.
Not that there weren't any musical highlights, but even here

events seemed to be conspiring against us - I got a call from Enza Pantano in the morning saying she was in hospital and wouldn't be able to make it. (All our love to you Enz). In the event, Gavin filled in for her, which was effective enough but not quite the same thing. And the Giant Edison Screw lightshow didn't get beyond the loading- in stage and so we missed out on Hugh McSpedden's idiosyncratic visual contribution - as well..
Thankfully Mark Holden showed up to give us a thoroughly over-the-top introduction and Jimmie Sloggett was also there to sweeten Right Into You, Brunswick St and Limbo Man - and then he and the Wrokdown Circus horn section plus Gavin and the girls brought Soul Man to full realisation and despite everything the room was palpably moved.
To sum up, it was a difficult evening but despite everything it all worked out OK - special thanks go to Wrokdown's Anita Monk (and Anita Sulcs) for making the show happen at all.
Highs and Lows at the Hi Fi Bar

1) Jim Keays soldiers on (see large pic) 2) Spectrum tries to affect nonchalance at the Hi Fi Bar (pic- Andrew Smith)

3) Jeremy went all the way downstairs to get my G&T 4) Aztec's Ted Lethborg makes it clear it wasn't his fault
gig report
Hi Fi Bar Thurs. 18.8.11
Myeloma Benefit brings indifferent news about the new EP
20.8.11 - When Jim Keays asked me if Spectrum would be on the bill for his Myeloma Benefit concert at Rock of Ages 3 last year I agreed instantly. I like Jim a lot and his personal battle with Myeloma is an ongoing and courageous one, but typically he wasn't interested in publicising his own situation, rather highlighting the nature of the disease through the concert and attracting more funding for research to help others in the same predicament. It was quite a line-up too, including Russell Morris, Madder Lake and Daryl Braithwaite, so we were honoured to be invited.
Madder Lake opened proceedings and they sounded very smooth indeed with their new engine-room. Daryl Braithwaite and band played an unexpectedly long set, during which I suddenly realised I'd left my pedal-board at home! Things are clearly not improving in the memory dept. but I think I managed to scrape by with a minor set readjustment. It's all the more galling that I had plenty of time to rush back home had it occurred to me earlier.
I think I've been worrying about the CD situation a bit, (whether they're going to be pressed in time for Sunday's launch), and Aztec's Ted Lethborg confirmed my worst fears - from the audience while we were on stage, mind you - the end result being there aren't going to be any of the new EPs at the launch, which I think is probably not only a first for us but for anybody I can think of really. The 'real' launch, (with actual product available to buy), will have to be the one we had planned at The Basement Discs at lunchtime on Friday the 2nd of September. Surely they'll be ready by then..

1) BV gals Deb Lobley Wright, Anita Monk and Enza Pantano 2) The Wrokown Circus Horns plus Jimmie Sloggett
Rehearsal? Spectrum?
20.8.11 - It sounds far-fetched I know, but I actually booked a room at Lighting Lab in Box Hill for Thursday night for us all to get together and rehearse for our EP launch night at the Bentleigh Club on Sunday evening. Rehearsal rooms haven't changed one iota either - the room was cold and smelled mouldy and the PA looked as if it had been in a car wreck - but it was good enough for what we wanted and we managed to negotiate the new BSAW songs successfully. Roll on Sunday!

Fuzzy Derek and Mike and mic
Mike's 'senior moment' takes the gloss off
16.8.11 - It was as we were leaving my place in Mt Waverley for our interview with Derek Guille at the ABC studios in Southbank that Bill asked if I had my camera. A few minutes later I realised that I didn't have my camera - at all - and that the probability was that I'd managed to leave it (unused) at The Lomond Hotel. (See the gig report below). I shall ring James at The Lomond today and see if it's been turned in, but I don't hold out much hope.*
We inevitably struck a huge traffic snarl on the Monash and it was all I could do to stay calm as we crawled off the freeway and took an alternative route to Southbank. Once we were there though, all my recriminations evaporated as we were totally indulged by the warmly generous Derek Guille - I think we must've been on air for more than 30 minutes. We sang abridged versions of IBG and Esmeralda and chatted about well, everything, and had a lot of laughs before giving this legendary fixture of Melbourne radio a final hug and heading home..
* The very good and slightly amazing news is that I rang James today at The Lomond - and they'd found the camera and it was waiting for me at the bar to be picked up. My faith in human nature is patched up with BluTac, if not entirely restored..

No pics from the Lomond, but here's the EP..
gig report
Lomond Hotel Sat. 13.8.11
The trio works its arse off..
15.8.11 - Early in the evening Bill assured the audience, to polite applause, that, as it was the 15th of August, we'd been together for precisely 42 years. Which sounds plausible enough, except that Saturday was actually the 13th and, in any case, I happen to know that he made up that date in the first place.
However, it was a matter for some celebration that the gig happened at all. I got a call from Di earlier in the week asking if we were actually playing, as she'd rung The Lomond and they didn't know anything about it. It transpired we'd been double booked, but perhaps seniority worked in our favour for a change and we arrived on stage with no ugly disputation to contend with.
We 'premiered' Brunswick St from the new EP on the night. It's
not that we've never played it before, but we've not done it as it was recorded with the lyrics before, and we managed it pretty well. Now all I've got to do is similarly master the Soul Man and Limbo Man lyrics before next Sunday..
After we'd packed up I (almost literally) staggered across the road to the Triple R studios and put in a brief appearance on Headley Gritter's The Party Show. Dr Bob Mason was in the house flaunting his considerable knowledge of The Beatles, as he apparently does on an annual basis during the Triple R radiothon. I was able to boast of actually having read his book, Magic Circles, (I've reviewed it on this site somewhere), which surprised the good Doctor a tad.
I was also encouraged to mention the Jim Keays' Myeloma Benefit Concert at the Hi Fi Bar this Thursday and the EP launch on Sunday at the Bentleigh Club. Bill and I are appearing on the Derek Guille show tonight and so we'll give it a bit of a plug there as well.

Keef Richards' good advice..
Ian McCausland's exhibition plus more launch news
10.8.11 - I was hoping that Ian McCausland, who designed the Breathing Space As Well cover, would be able to come to the launch, but it seems he might have a prior engagement with his Rub It On Your Gums exhibition opening at the Dancing Dog Gallery on the same day. (See flyer) He still might make it down, so I hope he'll bring some of his posters along to sell.
We're very lucky to have Hugh McSpedden setting up his Giant Edison Screw Lightshow at the Bentleigh Club - so be prepared for some outrageous as well as nostalgic images to be projected onto the band as we roll through our set. There'll be a horn section on the Max Merritt tribute song, Soul Man, led by the one and only Jimmie Sloggett, formerly of Max Merritt's Meteors plus a gorgeous girly backing vocal group with Enza Pantano, Debbie Lobley Wright and Wrokdown's Anita Monk. As mentioned we're recording a film clip for Soul Man on the night - make sure you're there and you might even be in it!
Chants R&B Rumble & Bang doco
7.8.11 - I think it has been mentioned here before, but there's a dedicated team in NZ which has been beavering away on a Chants R&B doco for months, perhaps bordering on years now. (The Chants was my first NZ band back in Christchurch in 1964 and although we broke up in Melbourne in 1967, the legend lives on, largely through the agency of one John Baker, a legend in his own right, who released all the known (and unknown) recordings of the band as well organising as the first Chants' reunion gigs in Christchurch and Auckland back in 2007 - but read on..)
The doco, (which I've not seen as yet), has been shown a couple of times already. Chants' bass player Martin Forrer sent me this note after a couple of his friends saw a screening in Wellington.
Guys,
couple of friends of mine, they're not musos, saw the film today in Wellington, thoroughly enjoyed it and said it was close to a packed house...
I asked Jeff Smith, one of the directors for an update and got this response.
Bit of an update as the documentary has now played 3 times in Wellington. Simon (the other Rumble & Bang director) went down for the opening last Saturday and I attended the two screenings on the Wednesday. Publicity wise it got buried amongst the noise generated by the film festival in general. That said we did get it on numerous music blogs and RNZ's Music 101. The trailer is also proving quite popular on Facebook as well. The response has been very favourable especially among the scene makers and journalists who have seen it. The audience so far has included people like Marty Duda, Nick Bollinger. Chris Bourke, Redmer Yska, Roger Shepard and Lias MacMillan. Mark Cubey from Kim Hills show on Saturday mornings is going to do something the morning it plays in Christchurch. This is a big deal as Kim's showis the top rated show on RNZ. Mark her producer really enjoyed it. Simon is also onto Vikki Anderson at The Press as well. Christchurch is the big one for us and we are really looking forward to it.
You can see the very snappy trailer on YouTube. Remaining dates for Rumble & Bang screenings are Wellington's City Gallery, Thurs. 11th August at 1.30 pm and Christchurch's Hoyts Northlands, Sat. 27th August 5.30 pm and Sun. 28th August 11.15 am. Screening dates are in train for Auckland.
It's amazing how these things work out - the release of Rumble & Bang intersects neatly with the launch of Spectrum's latest Breathing Space EP with the song Soul Man (dedicated to another Christchurch legend, Max Merritt), that references the very time in 1965 when Chants R&B were at the height of their popularity.
50/50 gig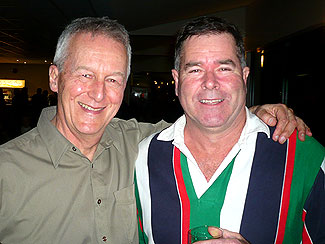 1) Bill takes his pants off 2) Mike poses with the 50th birthday party boy, Wayne Bissett
gig report
Wayne Bissett's 50th Sandy Football Club Fri. 5.8.11
Right as Wayne..
6.8.11 - It was scary to realise that it was fully ten years ago we played at Wayne's 40th birthday. Where has the time gone? This time it was the full line-up of Spectrum at the Sandringham Football Club (in the Tim Bissett Pavilion) rather than the trio in Wayne's shed in Narbethong, but in many respects it was for the same result, by which I mean that Spectrum has been a personal indulgence of Wayne's over the years that's been tolerated rather than shared by his fellow 'thongians. In any case, this time were playing a support role to local favourites Old Skool, an easy-going bunch of guys who were only too pleased to share their equipment with us and, most importantly, were guaranteed to end the night in the style to which the audience was accustomed.
It didn't mean we couldn't enjoy ourselves though, and there were some interesting musical moments for the band to savour while the audience generally socialised - as you do at a birthday party. The main thing was that Wayne was happy.
Robbo gets the Spectrum badge of honour for rising from his sick bed to join us on the night. I hope he enjoys his Tone, Tone, Semitone gig on Sunday..
back to the top