Scroll down to the start of the month
Close this window to
return to Mike Rudd &
Bill Putt's home page

The Teskey Brothers do their thing at the Clfton Hill
gig report
Clifton Hill Hotel Wed.27.7.11
The Clifton Hill Hotel acoustic sessions
28.7.11 - On the way in I started reviewing the songs I'd chosen to play at the Clifton Hill - which was a mistake. I immediately found that I'd lost some lyrics to the first song in the set (Dreaming) and resolved to a) not do that again and b) buy myself a G&T as soon as I got there.
The G&T seemed to do the trick and I didn't lose any more lyrics at least. I brought George Martin and my harps along without an amp this time in an effort to keep it as simple as possible and it seemed to work OK. Not that there's any pressure really - the Wednesday nights always seem to be pretty quiet. The people who did make the effort to be there seemed to enjoy our set a lot.
St Andrews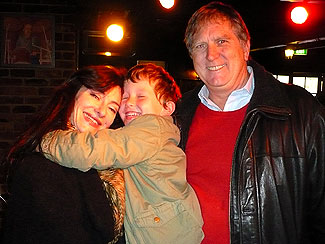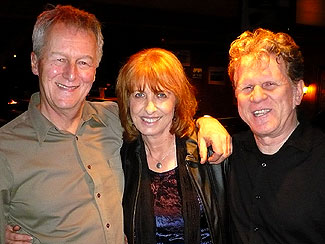 1) Greg Brown - with Michelle and Lachie playing peekaboo 2) Heather Bass was the sole rep' for The Trollops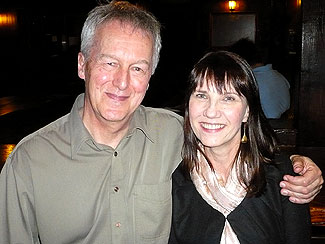 3) It's Elaine's birthday very soon - hooray! 4) Mick Newman took this shot of me serenading our youngest fan..
gig report
St Andrews Hotel Sun. 24.7.11
St Andrews just keeps on keeping on..
25.7.11 - When I'm asked about my favourite gig, I invariably reply that the St Andrews' pub is right up there with the very best Melbourne has to offer. It doesn't have a band room or the best stage or even the best sight lines for the audience, but those deficiencies are more than made up for by those crucial intangibles, i.e. atmosphere and friendliness, and as a result we always manage to put on a great show. (Mind you, it helps when there's something special going on in the audience - like this little chap (or chapette) I'm pictured (pic 4) serenading in Crawling Up A Hill!)
So, yesterday was another typical St Andrews gig, although The Trollops were mostly doing other things, (pic 2) but it was nice to see Greg Brown and family who'd popped in from SA and to see Jeff and Elaine again. (pic 3) (We'll look forward to their no-pressure un-birthday party).
Rock of Ages 4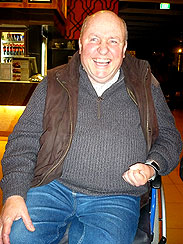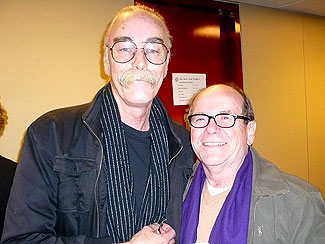 1) Peter McKechnie laughs at our miserable fare 2) Bill and Glenn Shorrock compare goggles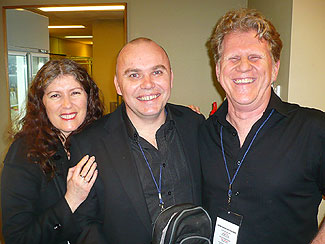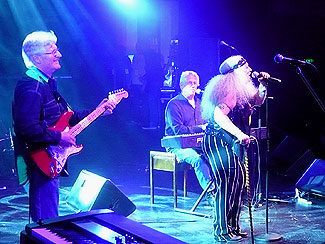 3) Lisa, Robbo and Jason Vorherr who played at their wedding 4) Pilgrimage have fun with Wendy Saddington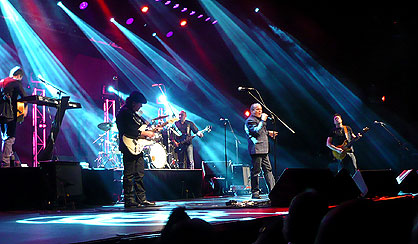 5) The Glenn Shorrock band was as smooth as Glenn's reverse mohawk 6) Jim Keays still cuts the mustard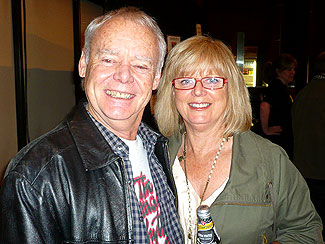 7) Chris Scheri the flautist from fellow Bananas' band Sweet Jayne 8) Mick Hamilton and Lyn Thorpe
gig report
Rock of Ages 4 Palms at Crown Fri. 22.7.11
Ted's very special birthday bash
23.7.11 - It was Aztec label manager Ted Lethborg's 47th birthday yesterday, so when Spectrum appeared we all sang Happy Birthday to him as he strode onto the Palms at Crown stage to (redundantly) introduce the band. Last night's show was the fourth in Aztec's Rock of Ages series of concerts, (not to be confused with the '80s tribute show at the Comedy Theatre), and if you've seen them all you might've judged it the best in the series so far.
As we arrived for our 4.15 sound check , Ross Ryan's band was playing Ross' Cool River, which is all I got to hear of them as it turned out. (Ross' accordionist Cathy Middleton was flitting around backstage with a very impressive looking camera throughout the night and a selection of her fine shots can be seen on her Facebook page, or even better on her website).
One of the treats of working at Palms is the massive stage, which combined with the lights and PA make for a very impressive bit of theatre - not to mention the novelty of being spoiled by the stage crew. We made sure to sound check efficiently this time, asking for a bit of each other in the fold-back, before filtering down to the Food Hall to take sustenance and generally fill in the hours before our appearance on stage.
Although I missed Ross' set, I did manage to catch a bit of Pilgrimage (Phil Manning and Warren Morgan) and their reunion with the unfailingly provocative Wendy Saddington. (pic 4) After Spectrum's set came probably the most anticipated spot of the night, if only because he'd not been on the Rock of Ages bill before. I'm talking about Glenn Shorrock and his band, (pic 5) and he surely lived up to expectations. Glenn's blessed with a very easy manner and his voice is as good as ever - the band shone and the set was received rapturously by all in the room.
Jim Keays (pic 6) (see Jim Keays' large pic) finished off the night and I think this particular band of Apprentices was the tightest of all his Rock of Ages bands - naturally the audience lapped it up. Then Melanie frog.marched Jim and me down to the merch table where we had a bit of fun signing peoples purchases - and that's where I met Sweet Jayne's Chris Scheri, (pic 7) Mick Hamilton and Lyn Thorpe.(pic 8)
Happily I didn't get lost on the way back to the van this time and (mercifully) made it all the way home without being interrogated by breathalysers. A perfectly splendid night!

1) The cover of Breathing Space As Well 2) Mark Holden to compere the launch
Breathing Space 3
21.7.11 - Another musical miscellany in the Breathing Space series of EPs is on the way to the printers. (pic 1) Spectrumites will no doubt be pleased that the band will be adding some new songs to the live repertoire.
I popped down to Elwood yesterday to have a word to Mark Holden (pic 2) who has generously agreed to compere the launch at the Bentleigh Club on the evening of Sunday August 21st.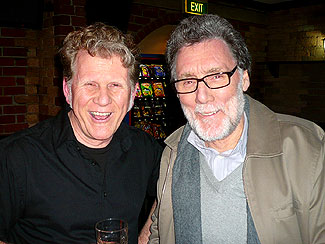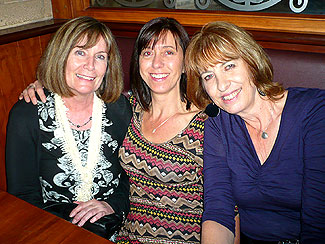 1) Robbo and Dr Wazz crack hardy at the start of the night 2) Trollops' Di, Lyn and Heather warm their FTG booth
gig report
Ferntree Gully Hotel Fri. 15.7.11
Spectrum's hard landing at the Ferntree Gully
16.7.11 - I predicted a hard landing for Spectrum at the Ferntree Gully Hotel on Facebook a couple of days ago, and so it came to pass last night that the SA trip was consigned to the realm of aberrant dreams in the space three deflating hours. For a start it was a cold night - ice coated the windscreen on the van at the end of the night - and the entire hotel was eerily quiet when we arrived to set up. Then Bill discovered his 'air' guitar was mal-functioning and he borrowed my Morris, which, despite the light strings, he appreciated for its even-ness of response.
Technicalities aside, if it hadn't been for the welcome presence of the trio of Trollops (pic 2) and Dr Wazz (pic 1) and a dozen or so curious locals, we might well have have been playing to ourselves. Given the scarce numbers I took the opportunity to throw in a version of Disco Dilemma, which I've been avoiding for the past few weeks, so the night wasn't entirely wasted. Not that any gig is wasted of course, but it's a shame that the get-down rock 'n' roll allure of the FTG has failed to attract our regular audience till now. Maybe next time..
We're bound for South Australia..

1) Are we ever gonna see his face again? That's John Brewster 2) Bernice and Lindsay at the Beach House Café

3) Our great mate Geoff Miller at the Whitmore 4) Bill signing posters at the Whitmore

5) Michelle, Lachie and Greg Brown at the Lobethal Bierhaus 6) Georgia Germein

7) Bill chats with Bob who used to see us at the Station Hotel 8) Ted gave us a bottle of his famous red wine

9) Alistair and Rose are our happy hosts at the Lobethal Bierhaus
gig report
Beach House Café Thurs. 7.7.11 Whitmore Hotel Fri. 8.7.11 Lobethal Bierhaus and Brahma Lodge Hotel Sat. 9.7.11 Semaphore Workers Club Sun. 10.7.11
Spectrum's SA tour goes off!
13.7.11 - We've always enjoyed our trips to Adelaide and since we've been working with Peter Serk, our SA agent, our forays west of the border have been gaining momentum. So, despite the fact that the menu was almost identical to the last trip and the weather certainly less congenial, things went even better this time around. The Beach House Café in Victor Harbor relies on its tourist business in summer, so it was a real test to see if anybody would
show up at all in mid-winter. In fact, it was only a little down on the summer crowd and we had another memorable Beach House night to open the tour, despite the fact that it was 'as cold as a witch's tit' just as Jeff Sunderland had predicted. The Angels' John Brewster (pic 1) lives just a few doors down from the Beach House and was a surprise guest for part of the second set, and I discovered that Lindsay (pic 2) was formerly a Christchurch boy who used to come and see my first band The Chants at the Stagedoor back in 1964-65!
The next night at the Whitmore Hotel we had Peter Serk's choice of sweet Georgia Germein open for us as she did at the Saturday arvo gig at the Lobethal Bierhaus. I'm not sure we actually need an opening act, but Georgia's a talented and self-possessed young performer who writes her own material and is prepared to take on an audience of her grandparents' contemporaries without losing her nerve - or verve for that matter.
When Spectrum came on the affection from the audience was palpable, in fact almost overwhelming - and our first standing ovation of the tour at the end of the night said it all. It was good to catch up with the Wordleys as well as Geoff Miller (pic 3) and his mate Sox.
We were looking forward to the Lobethal Bierhaus gig, which, like last time, was a fund-raiser for SA Variety, and we weren't disappointed. It's a very nice woody room to play in and we had the best spot in front of the open fireplace, (although Robbo did complain he was a bit hot). Greg Brown and family (pic 5) made it this time and seemed to enjoy themselves judging by the beams on their faces, and Bob (pic 7) got special dispensation to have a drink or two (or more) to recreate his '70s Station Hotel experience. Ted (pic 8) gave us a bottle of his very special home-brew red and my friend Iain Ross even turned up to say hullo/goodbye at the end of proceedings having been waylaid by a fallen tree.
Everybody giggled when we said we were going to the Brahma Lodge Hotel for our second gig of the day, but nobody explained why, although we got the impression the northern suburbs' might be considered somewhat less sophisticated than the rest of Adelaide.
That being the case we were mildly surprised when the room filled up with rather normal looking Spectrumites - that is to say, slightly older than the mean average, neither overly nor too well dressed, studious but without pretensions to genius and all quietly looking forward to a communion with one of their favourite obscure bands.
Given that this was a rare event, there weren't too many in the room we knew, although I was very pleased to meet up with an old friend in Edna Gibson. (aka Ande Nosbig)
In some ways the Lodgers got the most relaxed version of Spectrum of the tour. For 'relaxed' you might read 'tired', but, in any case, any inhibitions lurking in the Rudd psyche at least were abandoned by the time we got to the 'bonus' blues set, although, slightly disconcertingly, by then I was starting to feel my voice fray around the edges.
The next day was Sunday, (we have to remind ourselves of these ordinary facts), and were were very excited to be invited over to the Millers' place in Glen Osmond for lunch. Ju created a typically lyrical meal and we chatted to Geoff's bro' Adrian and wife Kath and watched a video of Geoff and Ju's daughter Andie stealing the show at the end of year dance class party.
Then it was on to the Semaphore Workers Club for the last engagement of our five-gigs-in-four-days tour. Comrade Dave Pearse was in fine form (he confessed blissfully he was now a grandfather) and I think the band was as relaxed as its ever been at the Semaphore, especially given we were using a foreign PA. The PA's foldback has seen better days, which wasn't too helpful given the state of my vocal cords, but again the feeling of affection emanating from the crowd spurred us on to greater heights. The rel's made it into the room this time (pic10) and Mark Smith and Co. (pic 11) eyeballed the band from close quarters all evening. We sold out of CDs altogether and it took us quite a while to effect a getaway with all the well-wishers in between us and the door. It's a helluva life. We went through the motions of a celebratory Chinese dinner after we finally got out of the joint, but we were pretty exhausted and it all seemed a bit anti-climactic after the turbulence of the weekend. Roll on summer and the next SA tour!

10) Micool & Lesley with Barry and Val Carlisle at the Semaphore 11) Mark Smith with his son and friend - plus Bill
Sorry..
1.7.11 - The usual 'circumstances beyond our control' led to the website being off the air for the past few days, for which I can only apologise. It's provided me with an excuse for running behind with the monthly changeover, although I imagine it won't be that much later than usual in reality.

Alana and Trollops' Lyn and Maree braved the uninviting conditions

gig report
Peacock Inn Sun. 3.7.11
And then the rain came..
3.7.11 - Sam See rang me this morning in case I wasn't clear on the the Peacock Inn's policy on dangerous weather conditions, which I didn't think augered well. When we arrived there was virtually nobody in the courtyard, which wasn't surprising given that it was already quite chilly with the prospect of showers.
Undaunted we set up on the mezzanine as before, but this time we pointed at the hotel rather than out towards the street where Bill Henson was poised to make a complaint
about the noise - The Pardoners had problems with Bill (or vice versa) the previous week according to Sam.
It was all quite congenial though, that is until we got to the last set when it started to bucket down and threatened to inundate our gear. We paused to make some minor adjustments and then bravely continued playing until our time was up. We got a very nice reception too and even sold some CDs. Hooray for us!
back to the top