Scroll down to the start of the month
Close this window to
return to Mike Rudd &
Bill Putt's home page
The Palace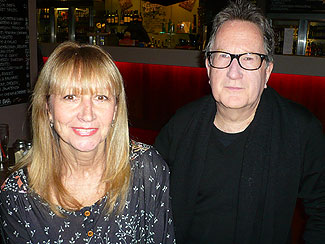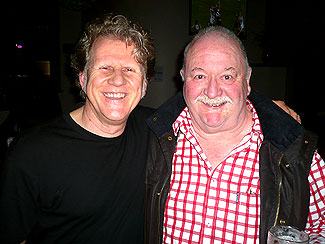 1) Lena Blomfield not in Bali with fellow SA expat, Robert Lloyd 2) Robbo with Rock Steady's drummer Dave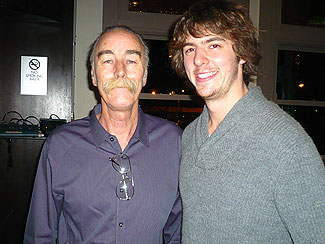 3) Choclatté's Adam, Teri, Sacha and Keri 4) Bill is unusually out-talled by a former bass guitar student
gig report
The Spectrum trio at The Palace - the Queen did not attend..
29.6.11 - I'd forgotten about the bloody acoustic tiles, but after I'd diagnosed the problem and cranked up the system everything fell into place. This time Robbo was in the room from the word go and amused himself experimenting with his lovely little Gretsch kit's bass drum. Mind you, we did plan to have a special Robbo entrance much like the last time, but the crowd, such as it was, was happy enough without the theatrics - and so was Robbo.
Debbie Wright took a couple of videos during the arvo - a fragment she filmed of The Song can be seen on Facebook. I'm looking forward to catching up with some of the other songs she shot - the afore-mentioned dratted acoustic tiles contributed to an unusually acceptable recorded sound.
The crowd was less than half what we had last time, (what do we have to do?), so we made do with the quality on hand instead. Facebookers Lena Blomfield and Robert Lloyd (pic 1) were coincidentally sitting next to each other and discovered that they'd both arrived in Melbourne from Adelaide in the same year. Our St Andrews' mates Sally and Walter roused themselves from their afternoon nap to put in an appearance and my friend and student Peter Carolan brought three mates with him. The darling Choclatté crowd (pic 3) were happy to trudge up Burke Road after work and a former student of Bill's showed up (pic 4) and disconcerted Bill by having grown up taller than him in the meantime. Dave (pic 2) happily told us that he and the remaining members of Rock Steady were back in the saddle again - and loving it.
Let's face it, what with socialising and playing and (mostly) loading out we were exhausted by day's end, but we'd had a most rewarding arvo. You shoulda been there..
The trio goes semi-troppo

1) Midnight at the airport with Uncle Bill 2) Robbo and Jon Sullivan whose idea it was to have Spectrum in Condong

3) The trio and Dirk with his chip Quincy on his shoulder
gig report
Condong Bowls Club Murwillumbah NSW Sun. 19.6.11
An unexpected arvo's fun in northern NSW
20.6.11 - The idea came to Jon Sullivan (pic 2) after Dutch Tilders' hugely successful appearance at the Condong Bowls Club on his swan-song tour a few months back, as a result of which he got in touch and asked if Spectrum would be interested in playing a one-off gig there. I'd never heard of Condong before, but in any case I had no hesitation in accepting the offer.
An early rise (and virtually no sleep in my case) saw us waiting to board our plane at 9.30 where we met Midnight (pic1) one of WHY's lighting crew from the early '80s who now works with the RocKwiz crowd. We reminisced about the early days of projection technology - there were
some very hairy moments setting up the old Barcovision projector - and Midnight said we were probably ahead of our time. Right, but the issue was really that we got in before the technology was a) perfected and b) cheap.
We were met at Coolangatta airport by Max and Wendy who took us to the Condong Bowling Club where Avalon served us sandwiches and tea and we met up with some old friends in Pam Cleary, James Thomson, Janie Conway, Lil' Fi, Dirk and Quincy. (pic 3) Then we were proudly shown the backline that had been conjured up for us - with the exception of the drum kit, an exact replica of what we usually use on stage here at home! Jon had even purchased a Carlsbro (acoustic guitar) amp' for Bill in the UK - I believe they're unprocurable in Australia these days. Robbo had a bit of tweaking to do on the snare drum but we were more than happy with the sound by the time we walked out on stage.
When Cruiser sidled up to me and suggested we should finish up we really didn't want to stop - and why would we? We had the dance floor filled with beautiful women (I suggested they could be the northern NSW chapter of The Trollops, but I'm not sure they were too taken with the idea) and the joint was rockin'!
We did eventually call it a day and packed up - a welcome uncomplicated load-out for a change. Avalon created a couple of tasty courses to tide us over while we chatted with Jon, Cruiser and friends till it was time to head back to Coolangatta. The plane was a little late in leaving, (at least it was flying I suppose), so we didn't get back to Tulla till round midnight - but, of course, this time Midnight was nowhere to be seen..

Evil Graham Lee goes troppo
BSAW and other news..
18.6.11 - Wrokdown's Anita Monk has been reminding me to put some CD stock* into Gerry Hale's Guitar Gallery, (30 Johnston St, at the Spanish end of Fitzroy) - and on Thursday I finally managed it. I was met by Evil Graham Lee (pic) who reminded me glumly that we've met before, I'm thinking perhaps on the plane to Perth many years ago. I happened to mention that the humble ukulele is undergoing somewhat of a resurgence in popularity and he pulled out what he claimed to be an electric bass uke with black polyurethane strings, which feel like wombat entrails to play and sound like rubber bands, acoustically anyway. I was stunned when he plugged it in to a regular bass amp however, because it sounded just like an actual bass guitar. Could be a massive advantage if you want to carry it onto a plane. *Breathing Space + Breathing Space Too
I've decided (typically) that one of the BSAW mixes doesn't sound up to scratch and have booked another mastering session for next Friday. More news to come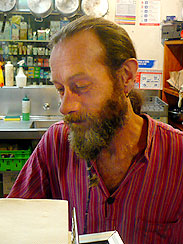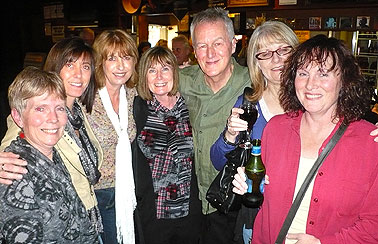 1) Allan prays I won't get him into trouble again 2) The Trollops were out in force at St Andrews
gig report
Wild Thyme Café Sat, 11.6.11 St Andrews Hotel Sun. 12.6.11
A shagadelic Queens Birthday weekend
13.6.11 - I didn't notice that it was the Queens Birthday holiday weekend when I was booking these two faves, so I was happy to see a good turnout at the Wild Thyme Café on Saturday night, especially given that it was quite a few degrees chillier in Warburton than in Mt Waverley. As we were setting up I was button-holed by Lachie, who happens to be Mike Brady's bank manager and who had Mike on his mobile, so we had a nice chat - Mike was down at his Wye River retreat and is very well, by the way.
The Wild Thyme is a tiny room, which means we have the opportunity to play as quietly as we ever do - we use only half the PA and and Robbo gets to set up his Gretsch kit for a change - but it's great fun and there's always the added bonus of a fine feed from Allan Seppings' (pic 1) kitchen.
We don't seem to have played St Andrews for ages, but even so there was a surprisingly large crowd on hand on Sunday arvo - Helen said that nearly all the luncheon bookings were there to see Spectrum - and all The Trollops (pic 2) save Jennie were there as well, so it was a real red letter day. It was good to catch up with Daz 'Chopper' Roberts too - it's always nice to play with keyboards, I guess mostly because it feels like the real Spectrum deal.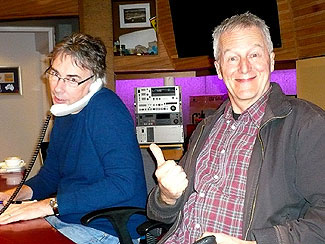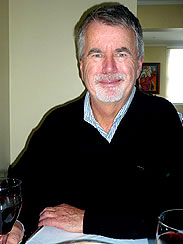 1) Another vital phone call for Martin Pullan 2) Another vital pinot noir for bro' Dick
Breathing Space As Well mastered
9.6.11 - The long-threatened third EP in the Breathing Space series has finally been mastered - but not without the odd misadventure. I booked today's session with Edensound's Martin Pullan (pic 1) last week, after having Bill over and settling on the songs to be included. I've had a computer upgrade in the last few weeks and there are still some lingering problems, but I managed to get the songs mixed and dumped onto a CD by midnight last night. I'd invited bro' Dick to the session (pic 2) and it transpired that he and Martin had a friend in common in one of those six degrees coincidences.
After the session was finished I felt nothing at all really - I think I was just glad it was finally over. In fact, it's not over at all, it's really just the start, so Dick and I adjourned to a restaurant that Martin had recommended and had a spiffing lunch accompanied by another fine Waipara pinot noir. Life keeps on giving..
back to the top