Scroll down to the start of the month
Close this window to
return to Mike Rudd &
Bill Putt's home page
Last Waltz at the Village Green

1) John Petkovshek's pic of the band's last waltz at the Village Green

2) John Petkovshek is surprised by Mike's paparazzo attack 3) The Trollops gather round Bill for a birthday portrait

3) Bill gets a hug from Dr Marg
gig report
Village Green 28.3.10
Bill's birthday on the job
29.3.10 - With my ongoing health issues (see the reports on the ASR page), it wasn't at all certain that Sunday arvo at the Village Green was going to happen. We'd reluctantly had to cancel the gig the night before, (sorry Lee), but Bill and Robbo promised to do the loads in and out so I felt certain I'd be able to cope - and Hey Gringo was poised to fill in just in case I couldn't make it.
As it happened, I coped pretty well - in fact I felt better during and after the gig than I had all week. After the first set I announced that it was Bill's birthday (63) and we all sang Happy Birthday. John Petkovshek (pic 1) had come down from Sydney, there was a full flirt of Trollops in attendance (pic 2) who debuted a Trollops' conga, and the Doctors' Sellers - Margaret made sure to give Bill a big hug. (pic 3) Unfortunately the Green has pulled up stumps for the winter, so the Manningham will be flying the AHL flag in the meantime.
Another tale of two gigs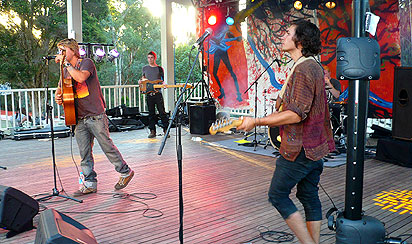 1) The Teskey Brothers lay down a cool groove at the Warrandyte
Festival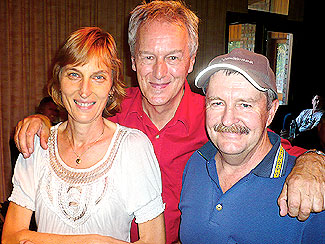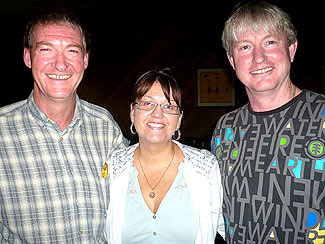 2) Mike poses with the Strahans formerly of Paynesville 3) Michael, Elsa and Dan Parry at the Goornong pub
gig report
Warrandyte Festival 20.3.10
Drovers Arms Pub Goornong 21.3.10
From Warrandyte to Goornong
22.3.10 - Another weekend, another big-ish stage at the Warrandyte Festival on Saturday night. the question was, would we have learnt from our experience the week before on the enormous Palms at Crown stage? (See A tale of two gigs below). I was encouraged when I heard the Teskey Brothers' set. (pic 1) They are so cool and all such fine players, especially for young blokes, but more importantly, the mix on and off stage sounded really fne, so all we had to do was get our part right.
The stage crew was helpful and efficient and the tiresome task of moving the drum kit forward to be with the rest of the band (and to accommodate Hugh McSpedden's projection scrim) was achieved with a minimum of fuss. Robbo made sure to have my guitar in his fold back and we could all hear each other OK, and as a result we managed to produce a relaxed set with the occasional musical highlight even!
There was a photographer taking shots on and around the stage during our set, so I'm hoping to see some some of them eventually. People said that Hugh's projection show was as quirky and fun as usual, and I know it would've been, but the band never sees anything of Hugh's shows.
Fortunately we had an early night as we had to leave for Goornong at 11.00 the next morning. Gornong's just the other side of Bendigo and it was at former Lomond Hotel regular Kel O'Brien's instigation that we were playing there in the first place, and the new publican, Bernie Burke, is a bit of a music fan himself, so the vibe was promising. Bill and Robbo didn't know the history of the booking, so were guessing at how small the crowd was going to be while we were setting up, but as it turned out there was a full room and everybody there knew more or less what we were about, although a good proportion of them hadn't seen us in the flesh for thirty or forty years.
We all had a great time and sold quite a few CDs - mostly the early ones - ate a fine meal on the house and drove home (safely) the way we came (Kel's route) through the customary blizzards of kamikaze insects. Hooray!
Kaz's Rock of Ages 2 pics

1) Well, that's nearly all the band, but Daz misses out again

Kaz's story
It's always nice to get shots from people in the audience, because for obvious reasons, we're always short of pics of Spectrum in action. Kaz, or Karin Grant, lives in Ted Lethborg's home state of Tasmania, and she's a fixture at the blues gigs down there. If you like to check some more of her shots try her FaceBook page.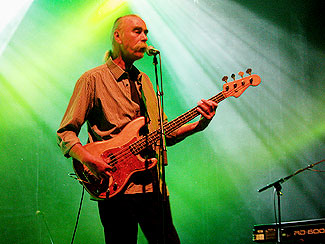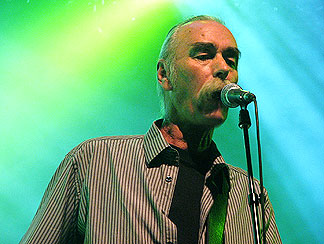 2) Nice shot of Bill 3) Nice shot of Bill - again.. Thanks Kaz!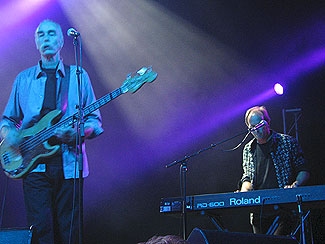 4) Ah, there's Daz at last! Why do they call him Chopped Liver? 5) Mike could be on a willow pattern plate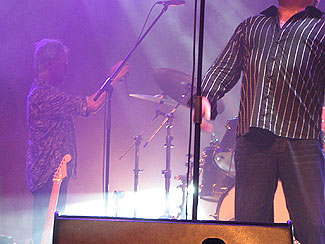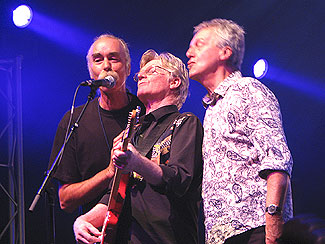 6) Mike dashes out on stage and snaps Gil with Madder Lake 7) The 'sensible' shot of us and Phil 'groanin'
Rock of Ages 2

1) Brayden and dad Brett Marriott 2) The Rock of Ages 2 audience (see large pic) watches on

3) Phil helps Ted come to terms with the Saints' defeat 4) Robbo with Ted who's still crying inside

5) Matt tells Jim about the Seniors card (true!) 6) Brenden Mason delivers another Madder Lake-type riff

7) Mick Fettes prowls the stage for another band member 8) Ted spruiks posters

9) Gil Matthews has too much fun sitting in with Madder Lake 10) 'Not another shot for the website' (true!)

11) Phil and Matt interact 12) Bill and Mike help Phil out on the 'groanin' chorus

13) Jim Keays (see large pic) was as timeless as ever 14) Mike proves Daryl was at the gig

15) The Trollops and band celebrate Janes's birthday
gig report
Rock of Ages 2 Palms at Crown 13.3.10
Manningham Sports Bar 14.3.10
A tale of two gigs
16.3.10 - 'It was the best of times, it was the worst of times..' could easily sum up the weekend's gigs, but there was some of the best and worst in both of them, so it's a little too pat. (Sorry Charles). The Rock of Ages 2 gig was building up to be a replica of the first one, but with the omissions from the first effort (like catering back stage) sorted this time - even my predeliction for a G&T was accommodated!
The sound check went smoothly enough too, (although that's when I discovered I'd left my tuner and wah pedal at home), but as soon as we took the stage after
Blackfeather's opening set, we realised we hadn't made good use of our time in sound check. In our defence, Spectrum doesn't get to do a lot of gigs on a big stage with a big PA, foldback etc. but we've been round long enough to have that sorted. The problem was that we couldn't actually hear each other, so it wasn't just uncomfortable, but our collective timing went out the window. I'd been adventurous with the set list and had included But That's Alright and Disco Dilemma, neither of which we've played a lot, and sure enough, I lost the second line of first verse to But That's Alright's and in a panic resorted to gibberish. As a consequence I was thoroughly rattled and decided to forego the challenge of Disco Dilemma, but as I hadn't prepared for such an eventuality there was a forlorn minute or two as I tried to decide what to do next - thankfully Robbo called out Hard Way To Go, otherwise I might still be trying to decide.
(Notwithstanding all of this, I copped a number of highly complimentary appraisals from members of the audience when I was wandering around the room taking photos).
The evening ended in absolute farce when I made the unilateral decision to take my amp and guitar back to the van and spent the next twenty minutes wandering round the various levels in lather of sweat unable to find where we'd parked. Without the aid of my mobile I might have been lost for good, but as a result I well and truly missed the end of the show.
The show itself seemed to work very well (again), despite my personal misgivings. A rock & roll highlight was Aztec Music chief, Gil Matthews, joining Madder Lake on drums (pics 9 & 10) and, of course, having Chain included in the line-up. (pics 11 & 12) Jim Keays (pic 13) was as pleasing as ever and the Madders (pic 6) clearly enjoyed themselves to the max. The Sunbury Backroad Festival, with much the same line-up, should be a lot of fun.
The next day at the Manningham Sports Bar it looked like we might've been playing to ourselves - until The Trollops arrived. (pic 15) But, as a counterpoint to the previous nnight, the band was relaxed and could hear each other and as a result played really well. That afternoon's version of Spectrum playing to barely anybody was what we could only dream about the night before playing to a room of 800. As Paul Hester was so fond of saying, it's the struggle that counts, but frankly I'm over it. Next time..
PS - It was on Sunday I discovered that I'd left my G harp at Crown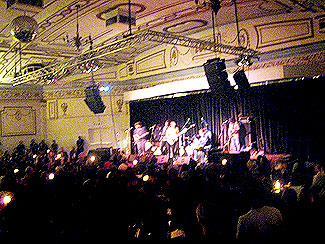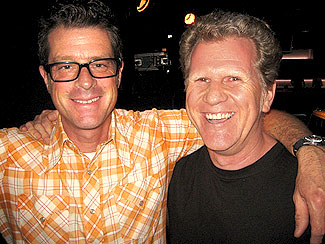 1) Calexico at the surprising Thornbury Theatre 2) Robbo with Calexico's drummer John at the Prince o' Wales
Robbo takes Mike to see Calexico
12.3.10 - There aren't many bands I can be bothered to go and see these days, but Calexico is an exception, so I was verging on thrilled when Robbo said he'd been offered a couple freebies by Calexico's drummer John (pic 2) for Tuesday night at the Thornbury Theatre. I wasn't even aware there was such a thing as the Thornbury Theatre, and we were both surprised at how civilised a room it is. (pic 1)
If you've not heard of Calexico you should do some investigating for yourself. As the name suggests they're a musical meeting of Tex and Mex, but informed by touches of neo-classicism on the plains of Psychedelia fed by the rivers of Passion and Torment - thoroughly interesting in other words. It was their last show in Oz before heading across the Ditch to NZ and they seemed to be enjoying themselves on stage and the audience went along for the journey. I'd forgotten how damn sexy their music is..
Speaking of NZ, the shows I did in Christchurch with Chants R&B have been written up as a gig report in last month's Stop Press.

The core group of Trollops welcomed Mike home

gig report
Frankston RSL Sun. 7.3.10
Trollops welcome Mike back home
8.3.10 - The reason there's been so little movement on the site for the past couple of weeks is that I've been in NZ* and I arrived home on Saturday night just in time for Spectrum's Frankston RSL gig on Sunday arvo. The weather was uncertain, so it was decided that we should play indoors in the Simpson Room, (doh!), which is not as attractive as the outdoor setting and, of course, the storms held off until we'd loaded out. *I'll be writing up my NZ trip
Trollops' Di, Heather and Lyn (pic) were staying in Frankston overnight and invited me to stay and have some calamari, but Bill had to get back to Strathie to deal with the inevitable flooding so I regretfully declined. Next time..

back to the top