Scroll down to the start of the month
Close this window to
return to Mike Rudd &
Bill Putt's home page
Chants R&B rock Christchurch - again..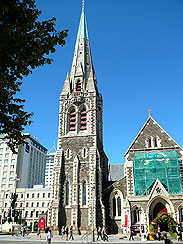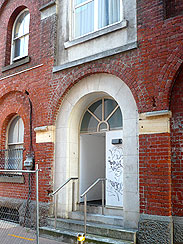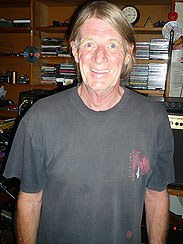 1) The cathedral where Mike once sang 2) The Stagedoor as it is now 3) Davey Johnston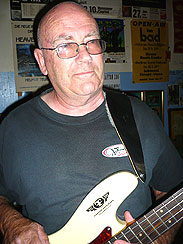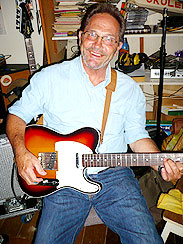 4) Chants' bassist, Marty Forrer 5) Ace axeman, Tim Piper 6) Former Stagedoor habituée, John Dalton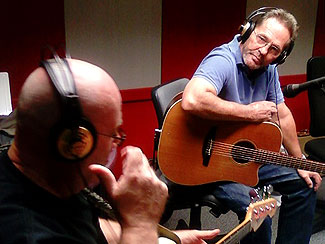 7) Tim chats to Tony Steenhart at rehearsal 8) Marty and Tim discuss options at the Radio New Zealand studio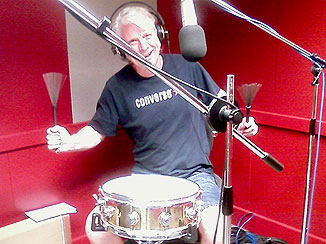 9) Trevor Courtney hams it up at Radio New Zealand 10) Barry Saunders at Al's Bar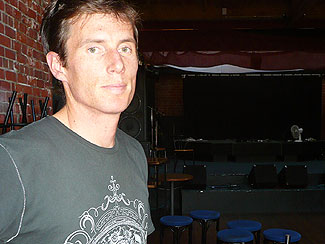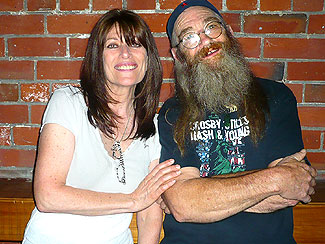 11) Film-maker Simon Ogston 12) Trev Courtney's wife and guest door bitch, Lyndsay Hammond, and hairy friend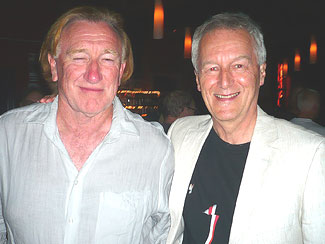 13) Mike's former Art School mate Brett de Thier 14) Dennis from Oz and his mates Tony and Grant at Al's Bar
gig report
Al's Bar Fri. 26 and Sat. 27.2.10
Chants R&B - the saga continues
9.3.10 - Ever since the first Chants R&B reunion gig back in November of 2007, Al Parks, the 'Al' in Christchurch's Al's Bar, has been agitating to have the Chants back, and after a bit of to and fro-ing, Chants' drummer Trev Courtney and I eventually settled on the end of February. Since discussions began, Trevor and his wife Lyndsay Hammond, (pic 12) have moved back to NZ and bought a property near Oxford about thirty minutes out of Christchurch, and so Trev was able to be pretty hands-on in the on-going negotiations.
At the last minute, Matt Croke, who'd played guitar (along with Jim Tomlin) with the Chants in 2007, had to pull out due to work commitments, so I approached Tim Piper, who coincidentally was Matt's replacement back in 1966, to see if he would be interested in joining Trev, Marty Forrer and me for the two gigs.
As it turned out, Tim was more than happy to be involved, so a couple of weeks ago we met up at Davey Johnston's (pic 3) house for our first (bass-less) run-through - Marty had work commitments and was only able to join us for the one rehearsal. Neverthless, both rehearsals went smoothly enough and afterwards we had time to chat with old Chants' fans John Dalton (pic 6) and Tony Steenhart, (pic 7) as well as record a couple of interviews with Simon Ogston, (pic 11) a local film maker who had approached us to make a documentary of the reunion.
Although John Baker wasn't directly involved in putting on the gigs this time around, we'd asked him to help us out with the promotion and he'd organised a live-to-air interview with Radio New Zealand's Jim Mora on Friday, so we spent a very relaxed hour or so at the Radio New Zealand studios (pics 8 & 9) and chatted with the very well researched Jim Mora. We played three tunes (Dimples, Kingbee and Sitting On Top of the World). which Tony Brittenden told me sounded really fine, so and I'll try to get hold of the recording and put it up on the site.
The gig that night started edgily - for me at any rate. One of the problems I had on both nights was the lack of light on stage and I blundered around in the dark trying to get things ship-shape, to finally suface and check that everybody was ready and say a couple of words to the bemused audience - when I was interrupted by Al Parks who'd neglected to tell me he was introducing the band.
By then I was so off-balance I launched into I'm Your Witchdoctor without Tim's introductory chord, (I was totally oblivious of this until the next day's sound check), and as a consequence it took us a few numbers to settle down. But settle down we did and the rest of the set went off pretty well.
There was a bigger crowd in on the Saturday night and there was an air of excited expectation when I walked into Al's Bar. The support, Barry Saunders, (pic 10) sounded more relaxed than the previous night, and despite making a couple of minor adjustments to the Chants' set list, everything felt more settled in the Chants' camp as well.
This time the start of the set went flawlessly, the crowd was into it and I was beginning to enjoy myself. At one point I jumped into the crowd and discovered Tony Brittenden's daughter Ro standing there with her two flat-mates and she looked so happy I just had to give her a big hug.
At John Baker's suggestion Simon Ogston had been joined by Jeff and Jude Smith from Deep Animation in putting together the doco and they were busily filming the night's show - I've seen some of of what they captured on film that night and it looks pretty exciting. Hopefully we'll be able to coordinate any future tours with the broadcast of the doco.
The reunion was great fun and it was terrific playing with Trevor, Marty and Tim again. Perhaps we'll plan shows that are a little more considerate of our audience next time around - maybe a Sunday arvo at a winery for instance - and John Baker reckons we should take the show to Melbourne too. Bring it on.

Time to change your shirt, Mike!

1) Pat Bromilow and Mike 2) Dave is wondering what Mike is up to when - flash!

3) Taylor Swift poses with young Hayden and McTubby
gig report
Pat Bromilow's 50th 13.2.10
Manningham Sports Bar 14.2.10
A busy weekend for the trio
15.2.10 - Pat Bromilow's 50th (pic 1) was actually a double celebration for him and Linda and so was billed as a 100th birthday party. It was at Pat's place, a rambling Through the Looking Glass kind of home set in the steep hillsides of North Warrandyte. Pat's a genial kind of chap and his guests were of the same disposition, with aunts and uncles and mums and dads chatting over a wine while the kids jumped in the pool and Dorothy did her best to carry the food from the kitchen to the tables set up under the awning picturesquely overlooking the valley.
The last set went for about ninety minutes, (!) so we were
starting to get the staggers by 10.30, but I had remembered that I was required to help my niece move some belongings back from Parkville to the family home in Warrandyte the next morning, so the gear had yet to be unloaded when I got home..
Sometimes tiredness can work in your favour, i.e you don't have the energy to be edgy, and perhaps that was the case at the Manningham yesterday, or maybe we're just comfortable with the gig these days. In any case, The Trollops noted there was a very good crowd in, which may have been because it was Valentine's Day, (certainly there was a posse in to check out Fevola's first appearance for his new club), but, for whatever reason they were there it was good to see a nice crowd and we put on a relaxed and well-received show.
Dave (pic 2) said he gets my e-mails, (and that's why he turned up at the Manningham), but he rarely checks out the rest of the site, so I took the snap to encourage further investigation.
After we'd eventually packed up I wined and dined with The Trollops in the Manningham's bistro, before drifting off home in a contented daze. That's what I call a rewarding weekend's work.
The pic of Robbo with Taylor Swift? (pic 3) Robbo's been up in NSW with his Rats of Tobruk Pipe Band for the past week or so, and it was when they were hanging around at Sydney airport he noticed the Taylor Swift entourage and brazenly demanded a photo op. His mate, 16 year old Hayden Middleton, is totally smitten and is the envy of his mates.

Steve Wade and Mick Pealing at the Clifton Hill Hotel
gig report
Clifton Hill Hotel 10.2.10
Mike leaves his brain at home..
11.2.10 - Bill came round earlier in the day and we discussed the set list for the inaugural Acoustic Sessions night at the Clifton Hill Hotel, as sponsored by the tireless Rod Claringbould. It was still pretty hot so we decided against having a run through, which in retrospect, was a cavalier decision, to say the least.
On the way in I was running through Dreaming in my head and found I couldn't remember the first couple of lines, so I was already flustered when I arrived. Mick Pealing and Steve Wade (pic) were still playing and I'd just asked Bill if he could ring Robbo to see if he could throw any light on the missing lyrics when I was approached by Anne
O'Rourke and Ric Dempster who wanted to to brief me on my part in presenting a petition to the government about the current indiscriminate application of the licensing laws, which has seen the high profile closure of The Tote and numerous other marginal music venues closing their doors.
Perhaps it was excusable then that I was still flustered when I arrived on stage, but what followed was a very edgy performance, with the world's shortest version of Healthkick and various sloppy synchronisational lapses, mostly engendered by me.
The crowd was very forgiving though, and I got some 'lovely' feedback, but my night of misery wasn't quite over. Just as I was about to march out the door I heard someone mention they'd found a camera. No prizes for guessing it was mine. (Thank you very much to the honest person who found it and gave it to the staff).

1) Mike looks happy to find a gig to wear his RocKwiz jacket

Phil's pics from The Minya and more..
10.2.10 - Phil Thomson was on photo duty at The Minya a couple of weeks back and pulled off some really nice shots, a terrific example of which appears left. If you'd like to get in touch with Phil or check out some more of his work, you can find him at redbubble.
I heard from Rob Harwood too, and it seems we just missed him and Geoff Achison at St Andrews on Saturday night. (See story below). Rob's collected many interesting performances via his desk over the years, and he's got a song or two from Spectrum as well. Check out Rob Harwood's ning site
A year after Black Saturday

1) David and his son Chris with Bill at the book launch 2) Flowers on the stage at the Strathie cricket oval service

3) The Chocolate .Lilies choir with Bruce Rogers smokin' on didge 4) The kids' choir prepare for their song

5) Bill wishes Rosemary good luck before her reading
gig report
Bridges book launch 6.2.10
Strathewen memorial service 7.2.10
Strathewen fires remembered
8.2.10 - This was a significant weekend for many Victorians, and Bill and his partner Rosemary were no exceptions. (Check last Feb's Stop Press for the story). I was honoured to be asked to accompany Bill on two events over the weekend - the first on Saturday at Bridges in Hurstbridge was a book launch for Footsteps In The Ash, the story of the fires as they affected the communities of Strathewen and St Andrews, and the second Strathewen Community Commemoration service early on Sunday morning at the Strathie cricket oval, just minutes from Rosewood.
The book launch was very well attended, and John Brumby and Julia Gillard both made fine speeches along with local CFA hero, Captain David McGay. Bill and I played some instrumentals before and after the speeches, which were well received and highlighted Bill's profile in the district.
Afterwards, we adjourned to the St Andrews pub where Bill and Rosemary shouted me tea (dinner) and Stan proudly introduced us to his grandson, Xavier, who was intgrigued to meet with Rose's beautiful grandaughter, Tilley.
Given the early start the next day, it was more practical for me to stay overnight at Rosewood and I slept pretty comfortably in the portable granny that also serves as Bill's new studio. Rosemary's daughter, Georgina, is on the Strathie renewal committee ('Renewin' Strathewen') and had already been down to the oval to supervise the erection of the stage and facilities by the time Bill made everybody porridge for breakfast.
Rosemary (pic 5) told me over breakfast that she was nervous, but I didn't really understand why - until she was called up onto the stage at the start of the proceedings to read her poem about the fires. (She did really well too). The Chocolate Lilies choir (pic 3) sang four songs with Bruce Rogers on didgeridoo (he made my didge), Cam Tapp sang his Lest We Forget song with the children's choir, (pic 4) and Bill and I played in the background as the people from the 1500 strong crowd signed dedications to the devastation wrought to the community on that fearful day.
I was invited to stay on for a BBQ, but I had arranged to meet up with Chris for a trip down to Choclatté and regretfully declined. Last night I watched the Black Saturday doco on the ABC and it reminded me of just how lucky I am to still have my mate Bill to play alongside, not to mention to be included so whole-heartedly by his extended family in the Valley of Ewen.
Chants R&B reunion at Al's Bar
3.2.10 - Some of you - well, most of you - wouldn't be familiar with my first band, Chants R&B. We started playing a residency at a sweaty little cellar called The Stagedoor in Christchurch, my home town, back in 1964, which only ended when we left for Melbourne in 1966.
We had our first reunion in 2007 and played at Al's Bar in Christchurch and another gig at Auckland's Monte Christo club a couple of days later.
This time we're playing just the two nights at Al's Bar on Fri. 26th and Sat. 27th of this month, and this time we're joined by the legendary Tim Piper on guitar, which I'm really looking forward to. Check out Chants' flyer
SNIPPETS
3.2.10 - Always good to start off with some good news. This advice comes from Jan & Mick Cox, stalwarts of the music industry, re' the rumours of Ray Arnott's demise: Hi Mike and Bill, It seems that all is well with Ray Arnott. I have been in touch with his ex wife Cina, and she tells me that Ray is just fine. I think he is up in Brisbane these days...
Maybe this the perfect time to pass on this cautionary tale I received courtesy of Peter McKechnie.
In ancient Greece (469 - 399 BC), Socrates was widely lauded for his wisdom.
One day an acquaintance ran up to him excitedly and said, "Socrates, do you know what I just heard about Diogenes?"
"Wait a moment," Socrates replied, "Before you tell me I'd like you to pass a little test. It's called the Triple Filter Test."
'Triple filter?" asked the acquaintance.
"That's right," Socrates continued, "Before you talk to me about Diogenes let's take a moment to filter what you're going to say. The first filter is Truth. Have you made absolutely sure that what you are about to tell me is true?"
"No," the man said, "Actually I just heard about it."
"All right," said Socrates, "So you don't really know if it's true or not. Now let's try the second filter, the filter of Goodness. Is what you are about to tell me about Diogenes something good?"
"No, on the contrary..."
"So," Socrates continued, "You want to tell me something about Diogenes that may be bad, even though you're not certain it's true?"
The man shrugged, a little embarrassed. Socrates continued, "You may still pass the test though, because there is a third filter, the filter of Usefulness. Is what you want to tell me about Diogenes going to be useful to me?"
"No, not really."
"Well," concluded Socrates, "If what you want to tell me is neither True nor Good nor even useful, why tell it to me or anyone at all?"
The man was bewildered and ashamed. This is an example of why Socrates was a great philosopher and held in such high esteem.
It also explains why Socrates never found out that Diogenes was having it off with his wife..
back to the top