Scroll down to the start of the month
Close this window to
return to Mike Rudd &
Bill Putt's home page
Sunday - then more on Monday!

1) Warren and Marg Sellers meet the McClatchys 2) AES' Paul Monger and son Cooper

3) The boys line-up with fiddling Lance O'Reilly

gig report
Manningham Club Sports Bar 25.10.09
St Francis Xavier College 26.10.09
The never-ending weekend!
27.10.09 - We did the Manningham Club first back in August and everybody did their part in promoting the gig, but this Sunday arvo there was no mention of us on the billboard out front and no posters, so I wasn't too surprised that we had about half the crowd. Disappointed, but not surprised. My son Chris and the Vermont St crew turned up, as did the Drs Sellers, the McClatchys (pic 1) the Birds, Simon Gardiner and Martyn Sullivan, as well as Adam and Kerry from Choclatté - and I met Paul Monger (pic 2) from the AES agency for the first time. I've mentioned how nice it is to have a gig so handy to

Camberwell, but its viability might be imperilled without yer basic audience numbers.
Lance O'Reilly (pic 3) booked us to play a set at the St Francis Xavier College in Berwick on Monday, but I'd forgotten that he'd transferred to the junior school since the last time we were there and was waiting patiently in the senior school's carpark when Bill phoned wondering where I was. Fortunately I was well early, so the appropriate adjustment was made and Robbo was also put in the picture. We played a forty minute set in the Sports Hall (it was too windy outside) and then loaded out in world record time (fifteen minutes!) before adjourning to the library and chatting to some year niners about the art of song-writing for another forty minutes. Lance invited us back to his office and we chatted about this and that until Lance looked at his watch and said we'd better get out before the mums in their four-wheel drives arrived to repossess their off-spring - and we just about made it too..
Another birthday party!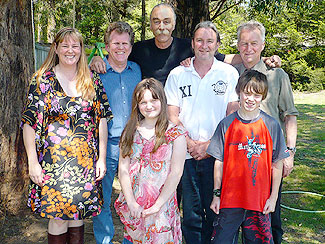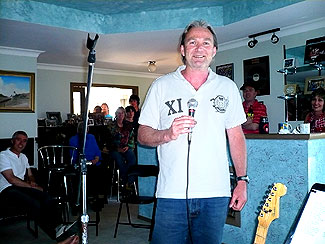 1) Pam, Phil, Cailey and Lachlan Sheppard with Spectrum 2) Birthday boy Phil Sheppard asks for more..
gig report
Carsick* Phil's 50th
24.10.09 - Bill limped into Cockatoo at 12.30 after Robbo I had been there for over an hour setting up in the Sheppards' (pic 1) front room. Car trouble again, but before long we were playing our first set with Phil (pic 2) happily soaking up proceedings from the 'band' couch. Some of Phil's friends shared in Phil's enthusiasm for Spectrum and watched and listened for the entire afternoon, while others drifted in and out as the mood took them, but everybody piled in when it came time to bring in the cake and congratulate Phil on his impending 50th birthday. They all joined in with I'll Be Gone and Esmeralda - and then it was over. It was a fun afternoon, the Sheppards' front room sounded good and everyone we spoke to said they'd thoroughly enjoyed the music.
I rang Bill when I got home and he'd made it back to Strathewen OK, but he'll have to borrow Rosemary's car to get to the Manningham tomorrow.
* Phil's a Seasick Steve fan..
The For Blues' Sake #3 concert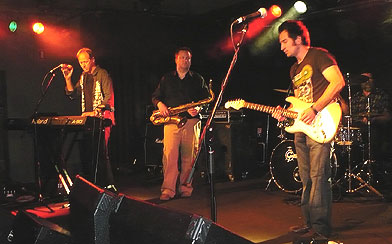 1) Hey Gringo with their flash new southpaw guitarist 2) Phil Para plays Rick Brewster's custom guitar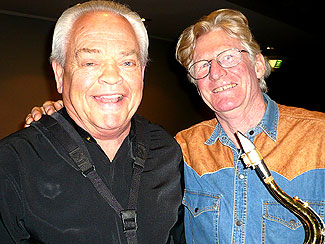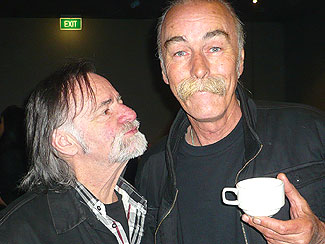 3) The irrepressible Jimmy Sloggett and Phil Manning 4) Bassists Wayne Duncan and Bill have a meeting of minds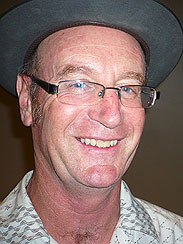 5) The Angels' Rick Brewster and the Pump 6) Craig Horne of the Hornets fame
gig report
For Blues Sake #3 Sandbelt Hotel 23.10.09
Belted at the 'Belt
25.10.09 - The evening started inauspiciously when I had to return home after loading in my amp and guitar at the Sandbelt and discovering I'd left my pedal board behind. Luckily there was plenty of time to indulge such laxity and the opening band for the third in the series of For Blues' Sake concerts, Hey Gringo, (pic 1) was still in mid-set when I got back. I popped out to the bar to get myself a G&T and met with Alana and Jenny, but found the out-front sound level was excruciating and scuttled back-stage as quickly as possible - Daz added to my concerns when he said the on-stage sound for the Gringos was also dicy.
The show was running behind - there weren't many people in the room early on - and while we waited for our set I chatted to Jimmy Sloggett, (pic 3) who told me his embarrassing embrasure story that only another sax player could truly understand, and Craig Horne, (pic 6) who apparently has a very obliging agent in NZ whose contact details he promised to give me.
Then it was our turn, and apart from (my) leaden tempo for Gee Whiz (Jimmy Sloggett joined us for that and Comin' Home Baby), I think it went OK - although the unnecessary PA level was out of our control.
Because of our early start the next day, I left before Vika Bull took the stage with The Hornets and missed the Phil Para/Rick Brewster set altogether, (pics 2 & 5) but Robbo said a lot of the audience had also left by then.
I still think the FBS concept is good, but not finding its audience this time around has to be concerning. Let's hope that Roadsong's Heather Para isn't too discouraged and finds the right formula next time around.
For Blues' Sake #3
22.10.09 - The For Blues' Sake concept was pioneered by our keyboardist, Daryl Roberts and now it's been taken up by Roadsong's Heather Para. It's a good idea and, as you can see, (pic) it's a pretty enormous line-up for just one night's entertainment. I reckon you'd have to like at least one act on the show, probably more, and it's only $20.00. I'd hate to see it languish for want of a few punters, so make an effort to support it, won't you? It's tomorrow night (Fri.) at the Sandbelt (the old Southside Six) 630 South Rd Moorabbin and it starts at 8.30.

1) Mike drapes himself over Frank Hayes at The Lomond 2) Bill with friend Stephanie and Craig at St Andrews
gig report
The Lomond Hotel 17.10.09
St Andrews Hotel 18.10.09
Trouble brewing in the city
The first thing I noticed when I arrived at the Lomond on Saturday night was the bloke with the numbered badge standing at the door. So it's true - they've been compelled to hire security, whether it's appropriate or not. I've received a series of e-mails in the last few weeks apprising me of this new requirement for security in licensed venues where entertainment is being provided and I've not wanted to believe it, but I have to believe my eyes. Thank goodness it looked like we were going to have a fair-sized audience, because with a pub the size of the Lomond, (i.e. small), it could easily become an issue and I've been told that several small-ish venues in the city have simply abandoned putting on entertainment altogether.
As it turned out, we had a better than average crowd and it was a most enjoyable night. The security guy actually offered to help me load out, which is a first in all my years on the road. All became clear when he introduced himself to me as one of The Crazy Baldheads.who recorded a techno version of I'll Be Gone on the I'll Be Gonz album. Could providing security at benign venues be another income avenue for out-of-work musos? I'm sure there'll be much more on this issue over the next few weeks.
St Andrews is an opportunity for us to reconnect with our keyboardist, Daryl, and so a very satisfying afternoon of fully realised Spectrum music ensued. Bro' Dick had invited me to drop in for a meal on the way home, which made for the perfect end to a fun weekend.
Judith Durham and Spectrum on YouTube!
13.10.09 - I know a lot of people will be thrilled to see this, (Mike Swan for one), but I've finally managed to procure and upload to YouTube the version of Summertime Judith Durham recorded with Spectrum at the taping of Wrokdown back in June. Check it out now on the Videos page!
Where's Wayne?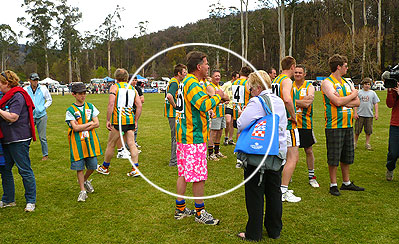 1) Wayne Bisset can't help standing out in a crowd 2) The man himself - Wayne 'buttocks' Bisset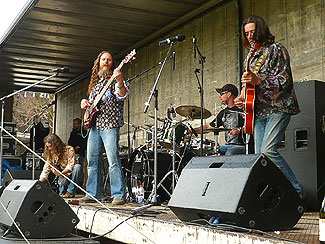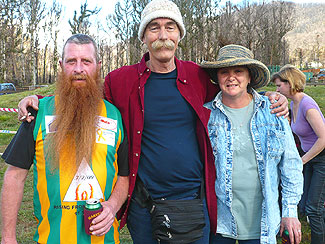 3) Local band Old School rock it out 4) Bill with a couple Wayne Bisset's neighbours
whom we've met before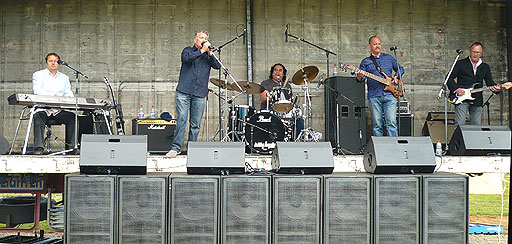 5) Ross Wilson and the Urban Legends launch into their first song
gig report
Rising From The Ashes Marysville 11.10.09
A win for Marysville
12.10.09 - Wayne Bisset (pics 1 & 2) organises the pub vs pub match every year, but this year it had more than the result of the footy match riding on it, with a concert being put on immediately afterwards to help raise local morale and some much needed funds. We arrived just before the final hooter and Buxton had won the match handily ('as usual - they take it seriously'). I went over to the centre of the ground to have a word to Wayne and he said he'd been 'cleaned up' in the first five minutes of the game and was complaining of sore buttocks, but he thought that was more likely from wicket keeping the day previously - Wayne's very pro-active on the local scene.
At this point the skies darkened ominously and some rain began to fall, which may have been the signal for some prospective concert-goers to leave, because when the music started, Wayne lamented that there could've been a thousand more basking in the sun now flooding onto the oval.
No matter, the music went on regardless, and local band, Old School (pic 3) started off proceedings efficiently enough, although I found the sound out front to be very harsh compared with the stage sound.
Rochford Wines, famous for their A Day On The Green shows on their estate near Healesville was a sponsor for the concert and their wines were liberally featured in the tent that comprised the 'Green Room'. I met with Rochford's Business & Developmental manager, Graham Taylor, and he asked me what I thought of their wines. I said I liked them and asked if there were there any pinots. He said there weren't but he gave me his card and said he'd happily deliver me a couple of bottles. O joy!
Came turn for our set and I must say I enjoyed it, but I suspect the on-stage sound wasn't matched by the sound out front, and the FOH sound disconcertingly dropped out altogether at the end of Second Coming.
We went out the front at the start of Ross' set, (pic 5) and while the mix came together soon after the first song, the vocal sound was so harsh as to be unbearable. Nevertheless the band was playing great and the crowd was bopping happily to Ross' selection of DC numbers as we finally drove out of Gallopoli Park and headed homewards.
Incidentally, on the way home I rang Tim Gaze to congratulate him on the birth of his son. I forgot to ask Tim the baby's name and when Bill asked me I said he was called 'Baby Boy' Gaze. Bill thought that 'BB' Gaze sounded quite auspicious..
Party, party!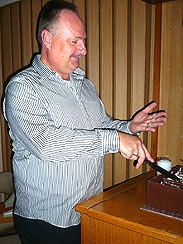 1) Paul Stewart cuts the delicious cake 2) Spectrum tragic Allan Burton and Strathie Bill
gig report
Paul Stewart's 50th
12.10.09 - Paul Stewart (pic 1) chose the Beaumaris RSL to celebrate his 50th, and a charming old weatherboard building on some prime real estate overlooking the Bay it is. Paul made sure we ate well and had hired some lights to add to the atmosphere, and then he and his old school friends (like Allan 'Burt' Burton) (pic 2) proceeded to enjoy the music on offer, although it has to be said that the bulk of party-goers were fairly mystified as to what on earth they were on about.

1) Colin Rochford is all go at the party's start 2) Robbo and his new friend Regina
gig report
Col's 60th party
10.10.09 - In another galaxy, many light years away, Colin Rochford (pic 1) celebrated his 60th birthday. Actually it was last night in the Manhattan's Soho Room, which is a bitch of a load in but nice once you're there. Everyone got into the future theme and Robbo got a new fan. (pic 2) Lovely night!

Max demonstrates the value of product placement
Mike visits the Son of Crawdaddy Show
6.10.09 - Melanie told me it was going to be a phone interview, but Max Crawdaddy (pic) left a message on my phone that indicated he expected me in the Triple R studios at 10.15 last Thursday night, so I happily complied. Max's Son of Crawdaddy show is heard on Triple R every Thursday night from 10.00 till midnight and is essentially a blues roots show, but Max somehow manages to squeeze Spectrum into the format. He opened with Good Morning Little Schoolgirl, (which reminds me that I'll have to get some more No Thinking CDs pressed as we've run out), and later played Xavier Rudd and Gee Whiz. Bill caught up with Max at the Rock of Ages concert - he said he'd enjoyed Some Good Advice..


1) Madder Lake's Mick Fettes struggles with a 1lb microphone 2) ML's Brenden Mason

3) Jim Keays' Masters Apprentices 4) Jim Keays shows off his mic technique (see large pic)

5) Jeff Duff fronts the enormous chart-reading Kush 6) Jeff serenades a stray dancer from the audience

7) Ted checks the parking
gig report
Rock of Ages concert 2.10.09
Mordialloc Sporting Club 4.10.09
From the Rock of Ages to Mordialloc
5.10.09 - When we finally arrived at The Palms at Crown for the sound check there was nobody to be seen and we wondered if we were at the right place or on the right day after all, but first Chris and then a host of other sound and stage crew appeared and we were efficiently sound checked before we knew it.
Then there was the interminable wait till the show started, which gave me the opportunity to fix my ailing G harp (crucial for I'll Be Gone), and experiment with a modicum of alcohol to see if it calmed my errant brain, (see the Semaphore Workers Club gig report). Then, after the opening set from Blackfeather, (with the ubiquitous Daryl on keys), Spectrum was on stage for its thirty minutes of attention .
I was a little calmer as it turned out and there were no major dramas - apart from a key on Daryl's keyboard being broken, which he managed to adroitly skirt
around, (although the pianist with Kush wasn't so lucky).
After our set I was free to take in the rest of the acts and absorb the atmosphere in the room. It seems we had played there before (as Ariel) as Bill had claimed, but it was quite a different room then - flat and uninteresting as I recall. There are 'booths' now, with tables and comfy chairs arraigned in amphitheatre fashion and everybody gets a good view of the stage. I saw most of the Madder Lake set from the back of the room and moved down to the front in time to sing along with 12lb Toothbrush, which went down like the hit it was. Mick Fettes (pic 1) was in buoyant mood and went 'flying' around the stage as is his wont at regular intervals, and even came back to trade quips with our host Ted Lethborg (pic 7) when the Madder's set was over.
I managed to get a seat right up the front in the Jim Keays set thanks to Brett Marriott, and that turned out to be the best position for sound, which I thought tended to get a little muddy towards the back of the room in the Madder Lake set. I thoroughly enjoyed the Masters - Jim was funny and singing as well as ever and looked in good health, and his band was punchy and looked the part, so you couldn't really quibble that there were no original Masters Apprentices onstage apart from Jim himself.
Kush was the last act on the night, and you could argue that had Jeff Duff not been otherwise occupied earlier in the evening, (with the Ray Charles tribute show as part of the Fringe Festival), it would have been more appropriate to put Kush earlier on the bill, before the Masters for instance. Nevertheless, it was a vintage (and polarising) Jeff Duff performance - his voice remains as strong as ever, he's ever the showman and he's in pretty good shape, but it's perhaps a sign of the times that somebody requested he put his clothes back on after he'd stripped down to his rather startling one-piece girly bathers.
It would be uncharitable to mention that the eight-piece band was struggling to stay tight in the tricky bits, so I won't, but to the boozy cheers of a very satisfied full-house of Aztec Music demographic baby-boomers, Jeff carried the night kicking and screaming to its slightly weird conclusion.
By contrast, (and thank goodness the projected trip to Ballarat on Saturday night didn't come off), yesterday the trio returned to the Mordialloc Sporting Club after nearly a year's absence. We caught up with some old pals, (like Rob Judd), the Doctors' Sellers turned up from the other side of town and, needless to say, I was as calm as a cucumber all day and even allowed myself some moments of semi-virtuosity as a result. Of course, it wasn't perfect, but as Paul Hester used to say; when all's said and done, it's the struggle that counts.
back to the top