Scroll down to the start of the month
Close this window to
return to Mike Rudd &
Bill Putt's home page
Aztec Music's really big gig!
27.8.09 - It's a fair way off yet, but it's something to be looking forward to.. I'm getting enquiries from interstate about it already. Starring Jim Keays' Masters Apprentices, Madder Lake, Kush, Spectrum and Blackfeather, this is an Aztec Music roster show not to be missed!
Check the full flyer for more details - you can book at Ticketek already.

Dave Graney gives me the Machiavellian evil eye
Breathing Space Too
The King of Pop interview
26.8.09 - Dave Graney e-mailed me a few days ago to ask if I wouldn't mind coming into Triple R a week earlier than originally scheduled, and, naturally, I didn't mind. Dave and Elizabeth McCarthy host the Banana Lounge Broadcasting show every Tuesday arvo from noon till 2.00 and, on this occasion at least, were getting into the minutiae of Australasian rock history, of which, of course, I'm an example. Dave (pic) was dressed impeccably, this time as a plush leather lounge suite, and Elizabeth was sporting a hand knitted lilac beanie, so I felt quite under-dressed in my worn corduroys and Target bomber jacket. I'd brought along some fave music tracks as per Dave's suggestion, but
we spent too much time meandering down half-remembered by-ways to play my curious selections. However, Dave sportingly played three tracks from the EPs along the way, which nearly made up for their nearly poisoning me with some very salty (!) Dutch licorice before we'd even got under way.
An hour had passed and we hadn't arrived in the current century by the time we drew stumps - maybe we'll cross that bridge when the next in the Breathing Space series of EPs is released.

Mick Newman with Elaine and Jeff Edwards on Sunday

gig report
Manningham Club Sports Bar 23.8.09
Spectrum debuts at the Manningham
24.8.09 - I made a special effort to let people know about the Manningham Club gig on Sunday for a couple of reasons: 1) it's less than twenty minutes from my place, and 2) it's not very far from home. Works for me. Anyway, I was very pleased with the turn-out, both in quality and quantity. The family was represented by Kath, Geoff and Molly, Terry, Marie, Samuel and Sacha (probably, although I didn't actually see her), and, of course, my actual son Chris, who came with the Vermont St crew, plus Martyn Sullivan, Simon Gardiner, Wazz and Marg Sellers, Roger and Rachel, Natasha and Kate - and it went off.

1) Kate Blanchfield with big hair and friend 2) The Great Gadsby and Leslie Avril point and make fun
3) Marilyn Rudd's not my sister either..
Mike & Bill do the Chicken Mary Show
19.8.09 - One of these days we'll do a live-to-air and not stumble and bumble our way through it, but it wasn't to be last Monday on Gary Young's Chicken Mary Show. It was subscription day (Spectrum signed up for another year) and Gary once again invited Bill and me in to play a 'couple of tunes'. I experimented with not wearing headphones, which I think was better overall, but with the studio door open and all the chatter and noise from the phone room filtering through it was difficult to hear what I was playing. Mind you, we got a rousing reception from everybody when we finished, so that was good. And I met Marilyn Rudd (pic 3) for the first time and I don't think we're related. Another song perhaps?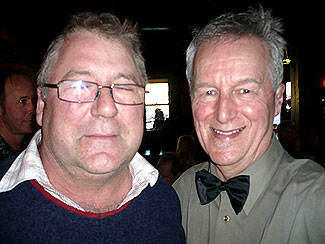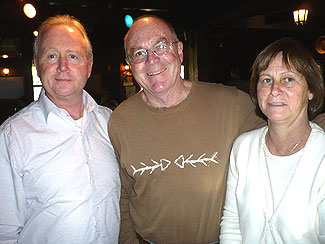 1) Dave's frankly not convinced 2) Paul Murphy (left) introduces Ken and Rosemary lately from the Hunter Valley
gig report
St Andrews Hotel Sun. 16.8.09
St Andrews springs a leak!
17.8.09 - It was a blustery day with the occasional shower on Sunday, and when we arrived there was a leak in the ceiling over the stage, right about where the drum kit was to be set up. I knew it wouldn't do any good, but I had a go at gaffering up the offending cracks - and, as I thought, it didn't do any good. If anything it made it worse. St Andrews is St Andrews, and it's never bad, but the audience were the stars on the day, right down to Barry Murnane requesting Health Kick, having cracked a rib doing yoga, (!). Oh, and I sold out of copies of Breathing Space Too - again.
Breathing Space Too
EP goes into JB stores!
17.8.09 - When I saw Aztec's Ted Lethborg after the 5 Decades of Cool show the other night, he was very pleased to tell me that the EP had been sold into the JB network of stores. It's been selling very well anyway, and so it's now likely we'll have to go into a second pressing. Nice problem to have!
There's a new Sunday arvo gig coming up this Sunday arvo (my favourite time) at the Manningham Club in the Sports Bar. (pic) It's quite a massive complex, but you can easily sail past it without even being aware it's there, so I'll dig up a Google map when I send out a reminder this week.
5 Decades of Cool

1) Ross Wilson writ large on the Palais billboard 2) Boz, the fold-back engineer and occasional tea-maker

3) Hanna being Hanna 4) I did a paparazzi on Jimmy Barnes , but he recovered rather well

5) Ross and Jimmy rehearse Rockabilly Women - the fold-back was redundant 6) The Boss rocks out

9) I was starting to bug the Wolfgramms - can you tell? 10) James Black and Bongo discuss iPod technology

11) A well satisfied crowd claps along to Eagle Rock*

gig report
5 Decades of Cool epic goes off spectacularly
15.8.09 - There was a rehearsal at the Palais on Thursday, but I'd anticipated that the soundcheck on Friday might be a little more complicated and planned on not going home before the show. This made for a long afternoon, but also gave me an appreciation of the effort that Ross was personally putting in to the show. He had quite a number of guests apart from myself, but being the one constant (apart from drummer Haydn) meant that he was on-stage for the duration - of the rehearsals, the soundcheck and then the show itself. I conjectured that had I been in his position I would have been a mental and physical wreck, and that would've been before the show even got under way.

The Party Machine soundcheck was uneventful, but I'd forgotten about Jimmy Barnes being on the show and I managed to surprise him with a sneak pic attack, (pic 4) which he took in good spirits. I watched him run through his paces with Ross (pic 5) and I can tell you that all the jokes about Jimmy not needing fold-back are true.
After the soundcheck I wandered off to grab a burger in Ackland St, and about twenty minutes before I was due to go on I tuned Bill's bass (thanks Bill) and stuck my (only) plectrum under the strings. About five minutes before I was due to go on stage I put on the guitar again, only to discover to my horror that the pick had disappeared! I was quite panic stricken, but borrowed stage manager Julia's torch and eventually located it on the dark back stage floor with a couple of minutes to spare.
I'd been chatting earlier to Brenden Mason, who was there as part of the Asylum video crew, and I jokingly mentioned how easy was it was to miss notes on this unfamiliar and over-sized instrument, and bugger me, I found myself playing half a tone down for about a bar before I picked it up in Virgins, the first Party Machine number! I don't think anybody noticed, and thankfully the next number, Woman of The World, went (mostly) OK. I think a lot of people were surprised that Ross invited me to sing I'll Be Gone - I know I was - and it was a very generous gesture.. Mind you, I think a lot of people were more surpriised to see me playing bass - Aztec's Ted Lethborg wasn't aware that I played bass with the Party Machine, for instance.
To sum up; I'm sure Ross Wilson followers, casual and dedicated, would've been well pleased with the concert. It showcased Ross' various talents admirably, and I think you'd be carping if you objected to the absence of the full Daddy Cool line-up for instance. Sure, Ross' extremely capable MD, John McAll was replaced by James Black on keyboards for the Mondo songs for 'authenticity's sake', but, in any case, whatever you think, it was Ross' call and Ross is the Boss, after all.
The 5 Decades of Cool could be viewed as a retrospective on an ongoing career - that Ross has made a successful musical career for himself in a country that is historically mean to its artists must be a source of considerable pride, and even moreso that it's not been at the expense of his musical ideals.

* If you were there, try and pick yourself out in the large pic taken by the slightly inebriated tambourine player.
Breathing Space Too
Reviews, interviews and other news..
13.8.09 - I missed the Billy Pinnell rave on the Denis Walter's 3AW show on Tuesday arvo, so I'm not sure what was said and if a track was played - if you heard it you might let me know. In the meantime, we're accumulating bulk interviews and radio appearances. Of the interviews already done you can listen to an interview I did with Michael Pursche from his 'Sitting in a bar in Adelaide' show and a very relaxed interview I did with John Broughton goes to air Tuesday week August 25th at 10.00pm on 3SER 97.7fm or streaming online at www.3ser.org.au. Bill and I are to make an appearance on Gary Young's Chicken Mary Show on Triple R next Monday the 17th at about 3.00 or shortly thereafter and we'll have our guitars with us, so we'll probably play a couple of tunes.
We have the first published review (of both EPs) to contemplate from Martin Jones in this month's Rhythms. (If you've not come across Rhythms before you should check it out at your local newsagent). There's another on-line review from the kids at TheDwarf.com.au and while they're still admonishing us for not being serious enough, by comparison with the review for the first EP it's almost a bloody rave-up. (Incidentally, there are excellent pics taken by Carbie at our last show at the Lomond Hotel you can access form the Dwarf site).
I'll let you know about some more upcoming interviews soon.

1) Hanna's busted collar bone 2) Ross does the Eagle Rag
5 Decades of Cool rehearsal
11.8.09 - I misjudged where the rehearsal room was from my Google map and had to walk a couple of blocks carrying Bill's bass, but at least I got a couple of hours free parking, and, anyway, the room was worth the walk. I don't get rhapsodic about rehearsal rooms as a rule, but this one is an exception - you can get the gist of it from the pics.
Like me, Hannaford (pic 1) was at a loose end waiting for the Party Machine numbers, and I didn't know whether his collarbone had mended enough to play guitar, but he managed quite OK as it turned out. Playing Bill's bass is another trip, but I think it'll be all right on the night...
The trio goes slightly potty in Foster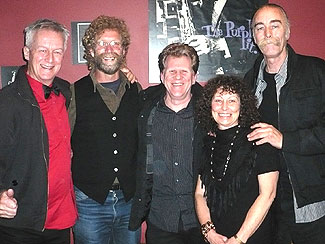 1) The Rhythm Café's Michael Blyth stands on tip-toes 2) Frank and Theresa standing in for the absent Shirley
gig report
The Rhythm Café Sat. 8.8.09
The gang's all here, but where's Shirley?
10.8.09 - The last time we were in Foster was back in February for Mary Ann Ahern's birthday party, so it was good to hear from The Rhythm Café's Michael Blyth (pic 1) that the Aherns had booked a table for the show that night. (Thanks for the T-shirts, Paul). Michael has been saying for ever that he wants to sell the place, so I was rather surprised to find that he was still there when I rang on spec a month or so back. He told me then that that he'd broken his right arm while pruning a tree and wasn't sure if he'd be able to play his sax with us this time around, but when we arrived the plaster had gone - and the master blaster was back!
Our friend Shirley, who always comes to our Foster shows, wasn't able to make it this night and we missed her, but her friends Frank and Theresa (pic 2) bought an EP for her, so I hope that's some consolation for not being there in person.
We stayed up late after the show and Robbo and I ate a family-sized bar of chocolate between us as we watched the cricket and the first half of the Wallabies v Springboks match, which might help explain why I didn't sleep a wink that night.. When will I learn?
Xavier clip up on YouTube
7.8.09 - Well, it was a bit of a learning curve, but I've cobbled together a clip for the de facto single from the Breathing Space Too EP, Xavier Rudd Is Not My Son for YouTube, which you can also view on the Videos page. After the initial frustration, I quite enjoyed the process, so I'll get started on another project smartly so I don't lose the skills.
I heard from Billy Pinnell the other day, and he's planning to play a track from the EP on 3AW's Denis Walter show between 12.00 - 4.00 on Tuesday arvo. I think I mentioned that Denis has recorded a version of I'll Be Gone - how mainstream can we get, I wonder?

1) The incontrovertible evidence of interstate popularity 2) Roger and Weird Harold
Breathing Space Too
More chart action for EP!
3.8.09 - Our publicist got in touch this morning with the news that BST has inched up another place on the 3D Radio 20 + 1 chart and is now nestled on #9, that most propitious of numbers. Where will it end?
There's been a happy ending to the ongoing saga of Weird Harold, who was
sold today to Roger (pic 2) for an undisclosed price and has now left the building. Harold (an Oberheim DMX) has been languishing on the Classifieds page since the inception of this website, and is an absolute classic piece of musical furniture that played.. when he felt like it. (If you'd like to see/hear him in action, check out the WHY clips on the Videos page). We're sad to part with this chunky slab of history, but glad that he's gone to a good home.
Fi's Big Fun Night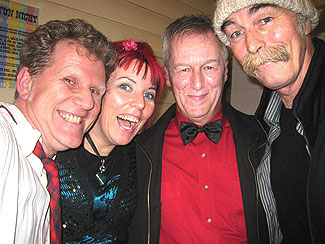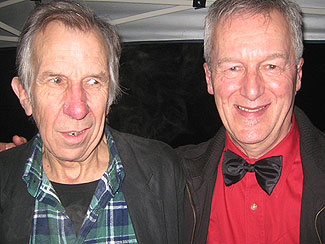 1) The trio poses with the Fun Night hostess Lil' Fi 2) Hugh McSpedden's not sure if he's too pleased to see Mike
gig report
The Big Fun Night Arthurs Creek Hall Sat. 1.8.09
Red shirts all round at Arthurs Creek
2.8.09 - It was Lil' Fi (pic 1) who had the notion of reuniting the people affected by the Black Saturday fires with some of the artists who donated their time to the various bushfire benefits earlier in the year, and it all came together at the Arthurs Creek Mechanics Hall on Saturday night. Arthurs Creek is about half an hour past Hurstbridge on the St Andrews side of town, and the road's hairy enough on a dark, damp night, even without kangaroos - we had one pop out of the bush and hop along the road in front of us for a while. (This way, boys, it seemed to be saying).
When we arrived at the Arthurs Creek Hall, Robbo spotted Bill's torch at the gate and we were soon loading our gear into the Green Room behind the stage, bustling with belly dancers, children with fiddles (and hobby horses), various musicians and volunteer kitchen staff. Bobby Bright said there must've been a sale on red shirts, because he and I and Leslie Avril were wearing 'em.
To cut a long story short, it was a hugely successful night, with acts as diverse as you could ever wish to see strutting their stuff to a good natured and appreciative audience. It was good to catch up with Hugh McSpedden too, (pic 2) and at one stage in our set Bill drew my attention to the images of us past and present that Hugh was projecting on the wall behind us.
Well done Fi - and we all wish you and Dirk the best of luck when you move back to NSW in the next few weeks.
back to the top