Scroll down to the start of the month
Close this window to
return to Mike Rudd &
Bill Putt's home page

1) Mick Newman's pic catches the band hard at work in the first set
gig report St Andrews Hotel Sun. 28.6.09
The St Andrews pub rocks on..
29.6.09 - Any concerns about numbers being down at the St Andrews pub due to talk of a recession were emphatically dispelled yesterday arvo when the full-sized version of Spectrum lurched into their first set at just after 3.00. (pic 1)
It was actually reassuring to feel slightly jaded from the exertions of the previous night, (see gig report below), although by the end of the afternoon I was cursing the fact that Bill (pic 4) was unable to help with the load-out (scroll down for more)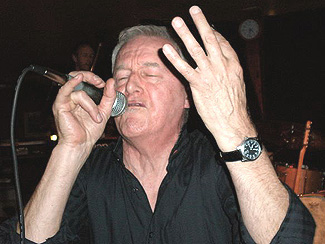 2) Mike goes for his own jugular in the blues set (Newman) 3) Tony brought along the grand-kiddies to be initiated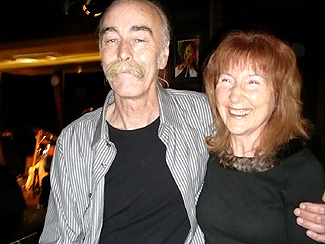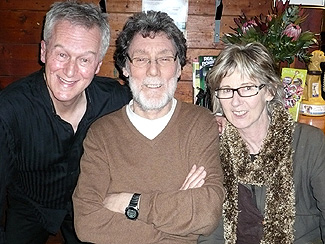 4) Bill being snapped with LWTTT fan Bridgette 5) Mike welcomes new chums Warren and Marg Sellers to Oz
because of his sore foot. (Bill managed to skewer his foot on a four-inch nail on Friday evening at Rosewood). There was the usual nucleus of Spectrumites in attendance, plus some actual mites being baptised in the faith, (pic 3), but the prize for the couple who travelled the farthest to attend goes to ditch-crossers, Warren and Marg Sellers, (pic 5), who only arrived in the country on Friday night. They're settling in Melbourne after countless decades of clinging on for dear life just out of Windy Wellington, so it's quite possible they'll be showing up on these pages again.
Party, party..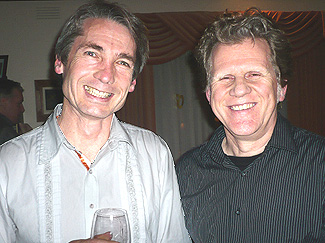 1) Malcolm Ebb looks forward the the night with daughter Rebecca 2) Party guest John chats with Robbo
gig report
Malcom Ebb's 50th
29.6.09 - Regular readers might suspect that Malcolm Ebb (pic 1) has graced these pages before. A former harp student of mine, at crucial moments in his life he's been moved to hire Bill, Robbo and me to help mark the occasion with our musical accompaniment. We were reminded that Malcolm's origins are in Sydney as there were a few Sydney people in the guest list (pic 2) and a few more who didn't show due to swine flu nervousness, but overall there was a good turn out to mark the occasion of Malcom's 50th. It required restraint and a bit of strategy on our part not to dominate proceedings early on, but once the formal part of the evening had been dipensed with, everybody relaxed, let down their hair and rocked out till past midnight. We're looking forward to Malcolm's 60th..
Breathing Space Too launch delayed
24.6.09 - The Breathing Space Too EP's release has been delayed by a week. The launch will now be on Thursday July 16th at The Basement Discs 24 Block Place (off Little Collins St in the city) at 12.45pm. The fabulous Jimmy Sloggett will be still be Spectrum's special guest.

1) Bill Melanitis is a Tiger supporter 2) The kids go ape on perc.
gig report Frankston RSL Sun. 21.6.09
The Franger lives up to expectations
23.6.09 - I made sure that we weren't playing outside when the agency rang, because over the summer months we've been playing in the beer garden at the Franger, but I had no idea where we'd be setting up this time around. I discovered we were to be in the new section they've been building ever since we've been playing there, which is quite a large, rectangular space with a parquetry dance floor. (pic 2) It seemed pretty live acoustically when we were tuning up, and I was a little concerned we might be asked to quieten down, but as it turned out the acoustics were very
complementary and it was a most satisfying afternoon musically-speaking. There was a table of people there from the night before at the Wrokdown taping, and Bill's sister Pat turned up with a couple of her friends, and all in all it was a very friendly crowd. Bill Melanitis (pic 1) brought his muscles along as requested and helped with the load out, which was most appreciated, because outside or in, the load out at the Franger is a bitch.
Spectrum kicks off the new series of Wrokdown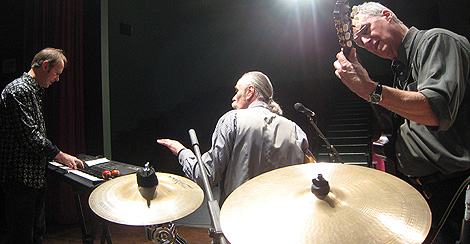 1) The brains trust works out a chord for Judith Durham's version of Summertime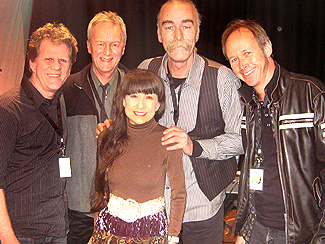 2) Mike struggles to co-ordinate his brain with Daz's harp harness 3) Spectrum poses with tiny Judith Durham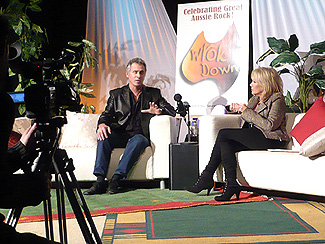 4) Wrokdown producer Anita Monk has a word to Wendy Stapleton 5) Bongo Starkie tells Wendy the axe story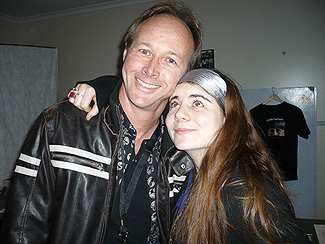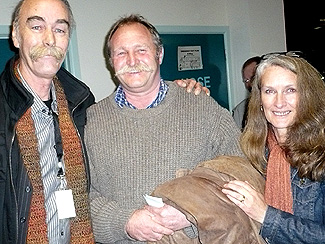 6) Alana Galea tells Daryl he'll never be chopped liver to her 7) Bill on foyer with Stephen and Sarah Ramsay
gig report
Lilydale Secondary College Arts Cntre Sat. 20.6.09
Wrokdown taping
23.6.09 - It was always going to be a big day and we arrived at Lilydale Secondary College at a tear-inducing 2.30 on Saturday arvo. I'd asserted we could back up the principal guest Judith Durham singing Summertime, and apart from some excrutiating minutes working out a couple of chords, (pic 1) the actual performance was quite lovely and Judith seemed delighted with our part in it.
Spectrum was going to perform Xavier Rudd at the end of the night, but with Wrokdown producer Anita Monk's collaboration, we managed to get a couple of runs miming to the recorded track - which may feature on a self-produced film clip at some stage. (Bill brought his camera too). I tried Daz's harp harness (pic 2) for one take and tied my brain up in knots - I don't think I'll ever master that particular skill.
I went out into the audience and heard most of Judith Durham and Bob Starkie's segments with Wrokdown host, Wendy Stapleton, (pics 4 & 5) and both were very illuminating, with Bob's recounting of the famous axe incident utterly rivetting. Judith is such a gentle soul and so tiny and frail, but she radiates generosity and is totally dedicated to her various causes and it was an honour just to meet her, let alone back her up.
Then it was my turn to be interviewed and I prattled on aimlessly for a while before thankfully being joined by Bill for the second part of the interview. We finally got round to playing Xavier Rudd live at about 10.00 - and then naturally had to finish off with I'll Be Gone, for which the audience all joined in, including my 'niece ' Alana, (pic 6) and the Ramsays, (pic 7) who'd come all the way from the other side Geelong.
Such dedication is truly appreciated. I'll let you know when the shows are due to go to air on Channel 31, (the channel I can't get here in Camberwell, darn it!)

Ted is thrilled to get the master
Breathing Space Too
Master delivered
16.6.09 - The processes involved in releasing a CD are destined never to run smoothly, but at the moment it looks as if we're on track. I dropped into Aztec Music today to hand over the Breathing Space Too master to an overjoyed Ted Lethborg. (pic) He stated that they hadn't missed a deadline yet, so the odds are either that 1) they won't miss this one, or 2) they're overdue and they will miss this one. (Read all about the Breathing Space Too tracks).
In other news, just in case you haven't checked out the Videos page lately, there's a couple of new and exclusive clips of WHY performing Woman Of Steel live on the Daryl Somers Show, and a song you'll not be familiar with called Percy Grainger on Hey, Hey It's Saturday back in 1984. WHY keyboardist Tony Fossey sent me this and a number of other rare bits of archival footage he assembled whilst he was with WHY, Spectrum and The Heaters, and I'll
progressively stick 'em up on YouTube over the next few weeks.. Bless 'im, I say, and all the other anally retentive archivists, otherwise you'd never believe a word I said, and I would've forgotten it all anyway..

Robbo McTubby and Allan survey the cake cabinet

gig report The Wild Thyme Café Warburton Sat. 13.6.09
The Wild Thyme Café rides again
14.6.09 - It's been a while between sticky dates, but last night Bill, Robbo and I made it back down the Warby highway to rediscover the delights of the Wild Thyme Café, the world's most intimate gig. I was apprehensive on a couple of counts: 1) my thumb had still not recovered from its encounter with a rose thorn and 2) I was taping the All Blacks and the Wallabies games and I wasn't sure I'd put in the four-hour tape.
It's been a lean couple of months, so I might have equally been concerned as to whether we'd remember our repertoire, but happily everything came back more or less reliably. Our host, Allan Seppings, (pic) was as welcoming

as ever, and it was good to catch up with some old friends, including Baz and Pam, Broc O'Connor and Narbethong's Wayne Bisset, who took the opportunity to re-stock his entire Spectrum/Ariel CD library, which had been lost in the fires. He says that all he needs now is a CD player..
Breathing Space Too
It's coming!
12.6.09 - I popped into The Basement Discs today, after having a pre-emptive birthday lunch with bro' Dick, (see A Separate Reality) just to let them know that things are on track for the Breathing Space Too EP launch on Friday July 10th. Ian McCausland has sent through a pic of the cover art, (pic) which looks damn fine to me, and I told him so.
An exclusive offer to our readers
It probably isn't technically an exclusive offer, but it got your attention, didn't it? We're taping an episode of Wrokdown at the Lilydale Secondary College Performing Arts Centre, 17-19 Nelson Rd, Lilydale, from 5.00 - 10.00 on the evening of Sat. June 20th. If you'd like tickets to this, please e-mail Anita Monk and let her know how many tickets you'd like. (Bongo Starkie and Judith Durham are on the same show - I wonder if Judy will sing her version of Advance Australia Fair?) You might like to bring along some memorabilia, like old Spectrum LPs or posters, for us to sign. You never know, you might get your head on the telly!


1) Greg Macainsh 2) Alex Legg prepares to launch into his song wihile Headley looks on
Late night radio*
7.6.09 - You may have read that I was invited by Triple R's Headley Gritter to appear on The Party Show at midnight last night/early this morning. I'd invited bro' Dick over earlier to watch the Wallabies v Barbarians match and we's shared a couple of very lovely, but very garlicky pizzas, and so I was very conscious that I
reeked of garlic - and not only that, I felt might have to evacuate at any given moment. In other words, in perfect condition for The Party Show. The other two guests were Greg Macainsh, (pic 1) whose beard confused me momentarily, and Alex Legg, (pic 2) whom I hadn't had the pleasure of meeting before, but who told us that he was a native of Aberdeen who had moved to Melbourne from the UK six or so years ago.
I had asked Robbo to have a listen to the show because I was planning to get them to play Xavier Rudd, (which, thanks to Wrokdown's Anita Monk, they did), but, of course, Robbo fell asleep at the critical moment and woke in time to hear Headley back-announcing it.
The show was a riot, just as I predicted, and as we steamily exited into the cold, East Brunswick air at a few minutes after 2.00am, Headley insisted I get him a copy of the EP when it's released to play on the show, so I had fun and got a guaranteed play for the new release. Hooray!
* Some of you might remember this as the title of a Daniel single
back to the top