Scroll down to the start of the month
Close this window to
return to Mike Rudd &
Bill Putt's home page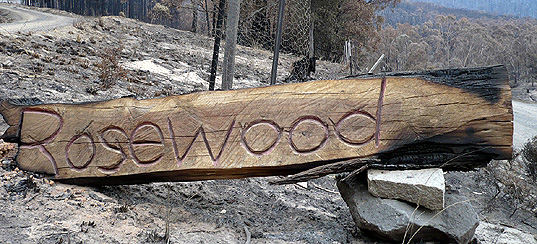 Bill's on YouTube
3.5.09 - A lot of people have asked after Bill's well-being since the fires, and I hope everybody is aware by now that he's safe and sound. By way of a record of the disaster and its impact on his immediate surroundings, you can now check out Bill's visual and musical homage on our Videos page.

Jon Royle thinks seriously about playing a track..
A right Royle evening
1.5.09 - My interview last night with Jon Royle at Port Phillip Radio's 98.7FM began inauspiciously when I realised that my studio clock was half-an-hour behind and I had to abort my studio virus check and charge off into the night to the far-off Peninsula suburb of Moorooduc. I arrived armed with George Martin and a CD of two of the BST tracks that I'd quickly mastered that afternoon so I could hear them played on air, Sensible Shoes and Silicon Valley. The interview was supposed to be between 10.00 and 10.30, but before we knew it it was 11.45 and we'd been burbling on haphazardly with barely any music played. It was fun. I just managed to play Meanstreak, which I hadn't prepared. Don't know why I chose that one
Mt Beauty Music Muster

1) The rather damp and misty view from the motel 2) Andy Baylor and the boys swing out the Settlers Tavern

3 ) Bill and Robbo at breakfast 4) Phil Manning has a glass of white for his breakfast

5) Damien Howard and the Ploughboys at the Bogong Hotel
gig report
Spectrum at the Mt Beauty Music Muster
27.4.09 - Quite a few years ago I went to Dinner Plain, but I've never been to Mt Beauty, even though it's in the much the same same vicinty in the foothills of the Great Dividing Range near the border of NSW. We drove there via Myrtleford and the Happy Valley Hwy and drove through miles of eerily attractive fire-devastated bush - the blackened trunks and the singed blood-red leaves of the eucalypts made for a very affecting bushfire memorial drive.
Mt Beauty is described as an alpine holiday resort and has an abundance of European trees, so it was genuinely autumnal-looking and quite attractive in a shortbread gift-box kind of way. It was raining when we checked in at the Mountain Creek Motel, (pic 1) and it continued to rain in varying intensities until we left the following evening, by which time I'd have to say the novelty had pretty much worn off..
Our first assignment was at 3.30 and was for just Bill and me. We had to deliver a workshop entitled Life On The Road, (aptly at the Senior's Centre), to whomever cared to turn up, and while it was a modest crowd when we started, it built up respectably and everybody seemed intensely interested in our weird and wonderful stories. It's the sort of thing we can do till the cows come home and I'm sure we enjoyed it just as much as our audience.
Before going back to the motel we checked out the Settlers Tavern where the evening's gig was, and caught a few numbers by the Andrew Ferguson & The Influence, (Andrew's brother James is our mate Jo Kelly Stephenson's husband). Andrew apparently started off as a drummer, but now fronts the band as singer/guitarist, and has a voice rather reminiscent of Steve Forbert (Romeo's Tune), which comparison he's undoubtedly sick of hearing, and a guitar sound and restrained technique far beyond his years. In one of the programme curiosities, they were due to play again at the same venue just before our set, and I wondered if the evening would see a repeat of the restraint or another more pushy version of the band. I also began to ponder what our own approach might be, given that we only had a forty-five minute set.
We adjourned to the Bogong Hotel, which was handily positioned just across the road from our motel. The dining room was all booked out, so we were herded into the bar for a counter meal, where I had a chat with George Batrumlis from Ruth Rohan & Tango Noir while we waited for our fish & chips - Ruth very sweetly gave me a copy of their CD, (which I'm listening to now - nyaah Robbo and Daz).
When we arrived back at the Settlers it was raining quite hard, which complicated our load-in. The Muster has a system where the artist uses their own backline and the Muster provides the PA - and only fifteen minutes is allowed for the changeover, which can get a bit tricky when one group of musicians is trying to get off as you're trying to get on. In this case it was the Influence again, and they had a Hammond/Leslie combination to manœuvre off the stage, but we managed OK. In the end I compromised with the set-list; we started off fairly low key with a couple of instrumentals (Manuela and Little By Little) with Bill on his nylon-string (always a bit dodgy when you've had no time to sound check), and put IBG about half way into the set, from which point it got a bit more frantic - even a little bit noisy.
However, by the end of our set the dance floor was full and there were cries for more as we ferried our gear off the stage, so I guess we'd been appropriate enough. Andy Baylor's Cajun Combo (pic 2) were on after us and we paused for a moment to listen the King of Swing do his thing before heading back to the motel for cups of tea and chocolate.
True to my first-day-on-the-road tradition, I barely slept a wink, but I managed to rise reasonably intact nevertheless. I'd heard Daryl leaving for Melbourne sometime before 8.00am for his Hey Gringo show at the Croydon Hotel, so the remaining Three Amigos had a fine breakfast at Treats, just a few yards from Settlers.(pic 3) before going for a drive around the 'pondage' and beyond, eventually arriving back at the Settlers again.
Robbo and I went in to check out Greg North, the bush poet 'champion', who copped a standing ovation after his rendition of The Man From Snowy River in a plethora of well observed accents. The actual 'poetry' is ritually stylised doggerel and pretty lame to my city-slicker ears, but I enjoyed Greg's performance nonetheless, especially his occasional excursion into the surreal.
In the meantime, Bill had been accosted by Phil Manning (pic 4) and we all had a little chat in the very fresh air (4.4 degrees according to the local radio) until Bill's fingers started to turn blue and we trotted meekly back to Treats and had a minestrone each for lunch.
Our last performance was at the Bogong Hotel, and Robbo and I chatted to Ploughboys' Tony O'Neill and his ball-breaking son Declan, (Declan managed to fire the white ball off the table and directly at my scrotum!), and toasted our feet in front of the fire while Bill dozed in the van until The Ploughboys (pic 5) took the stage and we could load our gear in to the foyer at least. I had a listen to Damien and the 'boys and enjoyed what I heard immensely. There's an identifiable musical thread that runs through the Howard clan and Damien's no exception, but it's all good, and the Damien version manages to be dreamy rather than bland, with just a hint of bluegrass bleeding through the Celtic singer/songwriter veneer. The kids getting up and 'river dancing' with their mum was the visual icing on the musical cake.
Our being the final act on the Music Muster programme necessarily meant that a lot of the out-of-towners were leaving or had already left for home, so the crowd, such as it was, mostly consisted of locals. We weren't about to burst their balloon by being unnecessarily intense either, so we played it fairly low key, with the two or three blues tunes being the modest exceptions. Being the last act on the bill meant that we could play more than the prescribed forty-five minutes though, so we managed to sneak in an extra fifteen minutes before finally calling it a festival.
We drove the long way home via Wodonga - it was dark and there was wind and rain and I was concerned that there'd be a likelihood of fallen trees on the Happy Valley Hwy - later confirmed by Daz who'd gone that route in the morning. Apart from taking five hours, the only drama was my discovering the KFC in Wangaratta had run out of chicken!!! But at least the sky didn't fall on our heads..
I hope we get another crack at the Mt Beauty Music Muster next year - we'll make a point of staying for the Thank You party, even if it's just to see how Phil Manning winds up..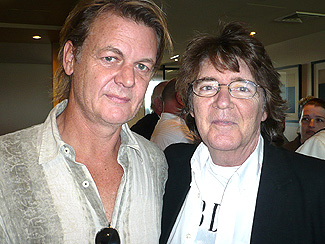 1) Paul Norton and Jim Keays, looking pretty damn fine 2) Marcie & The Cookies providing some Sweet Inspiration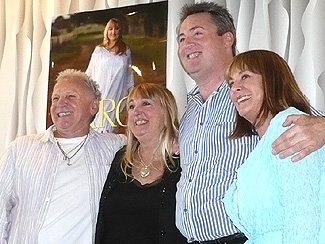 3) Marcie and Normie sing 4) Normie, Marcie, Brad Webb and Denise Drysdale cop it sweet
Marcie Jones' book launch
21.4.09 - When I finally got round to looking at Brad Webb's e-mail, I was intrigued to find an invitation to Marcie Jones' book launch set for today at the Essendon Football Club's Legends Bar. Although I've run into Marcie (and the Cookies) a number of times over the years, I don't really know her that well, but I get few enough invitations to anything these days, so I was inclined to go along and check it out.
Starting time was 11.00am, and I got there more or less on time and found my way to the Legends Bar, which was indeed replete with legends as advertised, but probably of a different persuasion to the ones envisaged by the Essendon social committee. Some of you know of my diffidence when confronted by these social occasions, so I was pleased to be intercepted by Paul Norton (pic 1) as I plodded uncertainly into the crowd, and we had an interesting natter, during which Paul told me of his involvement with Dobe Newton's solo album project, which has finally come to fruition after about ten years gestation. (That made me feel slightly better about my own procrastination).
I had just discovered to my annoyance that they'd run out of tea cups, when Brad Webb (pic 4) welcomed us to the launch and introduced his co-MCs, Normie Rowe and Denise Drysdale, the former reminding us that he and Marcie were engaged before he went to Vietnam, which I vaguely remembered, and how many times they'd consummated their relationship in the back of Marcie's mini, which I found a bit startling really.
The Cookies then flew to Marcie's side and they performed an a cappella version of Sweet Inspiration with the kind of verve and assurance that only comes with forty years or so under your girdle, and then Marcie sang two of her own songs with the assistance of backings on Murray's iPod - and a little bit of vocal help on the second song from Normie.
I bought a copy of the book and got Marcie to sign it for me, and as the chattering decibels rose to a dull roar, I took my leave. I came, I saw, I talked to some, I mentally noted that others of my vintage remained extant, and I left early - what more do you want?
PS - A PS of the non-sequitur variety, but Daz pointed out that The Heaters' Australian Girl video is up on YouTube, with Mike's porno moustache and campy twitching to the fore. Check it out on the Videos page.
Robbo's Byron shots

1 ) We're having lunch and who's that on the next table? It looks like the Veronicas to me..

2) Robbo's ex-Fudd mate and now CW's bassist, James Clarke 3) Ayo's drummer, Jermaine, meets Mr McTubby..

4) The Blind Boys of Alabama manage to find the spotlight 5) The Blind Boys with Daz and Robbo - or somebody..

6) Robbo with Zappa's drummer, Joe Travers 7) Daz and Robbo with Zappa Plays Zappa's Dweezil Zappa

8) Spectrum's crowd as seen from Robbo's kit
Robbo's Byron photo album
20.11.09 - Well, thank goodness somebody had their wits about them, otherwise you'd never know Spectrum had been at the recent star-studded Byron Bay Blues Festival!
F'rinstance, when the boys arrived on Friday we got some lunch tickets and settled down to a very nice lunch in the Artists' tent - and the diminuitive Veronicas were on the next table with their friends, Carney. (pic 1)
And then Robbo's old mate from The Fudd days James Clarke (pic2) dropped by after his set with CW Stoneking (I saw a bit of that - really intriguing), and so it goes. Thanks Robbo!

Mike gets a little too familiar with Professor Luckhurst
gig report
The second instalment of the Classic Double
20.4.09 - It occurred to me as I wrote it that I might be in danger of getting what I wished for at the end of the Lomond review, (below), but I needn't have worried - we're talking about the St Andrews pub after all. Not only did we have a musically relaxed and enjoyable arvo, but we had some special guests as well. Wally Bishop brought along Benny and Di Gallagher, (and Rosemary of course), and my peripatetic wine-making friend, Chris Kay, brought along Mary, (pic) who is professor of modern drama at York University. She requested Having A Wonderful Time, but had to take a phone call when we played it, fending off none other than Oz megastar, Huge Ackman.

1) Yes, that's an actual coffee! 2) Wendy from Qld bought some CDs - hooray!
gig report
The Lomond
19.4.09 - This is actually the first Lomond we've done this year, remembering that we had to abort our last sceduled appearance there on Black Saturday. Just before the first set I marched up to the bar and ordered a cappuccino, (pic 1) which is the only coffee to have passed my lips since I unilaterally put an embargo
on its consumption, I've forgotten precisely how long it was now, but months ago anyway. I had only a couple of sips, (it was very nice too), but that was enough to get me through the night. Whatever, it turned out to be a most enjoyable evening. I can only hope that the St Andrews gig is half as much fun.
1) Lisa Miller and friend 2) Mick Newman brought The Unrealist down for us to sign!
gig report
Crudd & Pump at The Basement Discs
18.4.09 - Not entirely in jest I suggested Bill and I should go in by tram to do our spot at The Basement Discs today. It's always a bitch to park in the heart of the CBD, and we could get away with taking just the two guitars - so that's what we did.
It worked pretty well too -
we arrived right on time - only to find Lisa Miller on stage (pic 1), and to discover the show was running well behind, which gave us time to grab a bite while we were waiting. I suppose the bulk of the people had already been and gone, but there was still a good-sized crowd on hand when we finally dawdled onto the hallowed red stage, and they gave us a mighty reception, so I'm certainly not complaining.

Daz, Ben Harper and Robbo. Hmm.. Quite a band..

Byron postscript
15.4.09 - Daryl just sent me the pic (left) of him and Robbo with Ben Harper. Robbo had taken so many pics at this point that his battery had expired, but he's promised to send a wad of shots, which of course I'll share with you.
After my thinking that I'd got everything under control with the bureaucracy (see story below) the lads had a very difficult time of it with officialdom on the Saturday and owe a debt of thanks to my Tweed Heads contact, Edwin Mitchell, for ferrying them around at critical moments, including taking them to the airport. As it turned out, their flight was delayed and they got home very late, but they had fun anyway.
The Easter weekend goes off in all directions

1) Mr Cadd surveys the first MOTE rehearsal 2) Ohad does a rap version of Krusty the Clown

3) Tim Gaze watches me eat my raisin toast 4) The Blind Boys hope they're getting into the right shuttle

5) Mud, mud, glorious mud at the Byron site 6) Benny Gallagher plays his melodic folk-pop in the adjacent tent

7) Watermelon Slim & The Workers do a crowd-pleasing set before Spectrum take the stage

8) Robbo goes slightly troppo 9) Daz inspects his substitute keyboard with misgivings

10) Entertainment in the Caddmobile 11) Tim Gaze with old Shud compatriot, Peter Howe at the sound check

12) John samples his own curry 13) New mum Robyn Loau and Tim at sound check

14) Tim and Pete's last song 15) Tony Naylor looks pensive 16) John Grant sports a colourful shirt

17) Lior is accosted by an excitable group of young fans 18) Ohad is pleased to have scored some girls too



19) Playing poker is a doddle for these pooches..
gig report
Byron Blues and the Cassegrain Winery
MOTE @ Byron - Thurs. 9th, Spectrum @ Byron - Fri. 10th MOTE @ the Cassegrain Winery - Sat. 11th
14.4.09 - Quite a few people have expressed surprise that Spectrum hasn't been on the Byron Blues Festival bill before now, but it hasn't been for lack of (sporadic) trying over the years. My involvement with the Morning of the Earth concert at this year's festival encouraged me to put in another Spectrum bid, and happily this time we were accepted.
Because I was leaving early for MOTE rehearsals in Sydney it was a bit complicated logistically, but when I left Melbourne last Tuesday I felt that most of the critical details had been taken care of, apart from the quite

important detail of transporting the band from the airport to the festival site.
I'd decided to take the Skybus shuttle to the airport, and while I was waiting for the No. 70 tram I got a call from my mate Pete Dacy, wondering if I'd be interested in putting some harp on another version of I'll Be Gone, this time curiously enough by Dennis Walter. (Yes, that Dennis Walter!)
Having not used the Skybus shuttle before, I'd allowed for a substantial margin of error and so was at the airport in plenty of time - by contrast my travelling companions, the Bootleg Family's Tony Naylor and John Grant, only appeared after I'd boarded the plane. The MOTE tour manager, Tim Peterson, met us at the Sydney airport and took us to the (almost fully) refurbished Sebel, just a block away from the AIM rehearsal studios in Surry Hills. It was good to meet up with the old gang again, and the first rehearsal went pretty smoothly, with Tony and John slotting in seamlessly. Really, the only musical element that we missed in this streamlined version of the original show, (or that Tim Gaze in particular missed), was the percussion - the orchestral elements being almost more trouble to amplify than they're worth, (although having some attractive young female string players cluttering up the stage was a pleasant visual bonus).
We tried on the MOTE tour caps, (pic 2) which we'd somehow missed out on the first time around, and when the rehearsal was over, Brian (pic 1) met the Melbourne contingent at the Sebel for a drink and gossip, and that was the end of the first day.
The next morning I wandered into town and found an Internet café and then drifted back to the Sebel to meet up with Brian to go to lunch. This is when I discovered that the Sebel's refurbishment is still very much a work in progress and I had to abandon my room because of the incessant noise of drilling, but thankfully I found a little café next to the hotel that made raisin toast (pic 3) and had a cuppa while I waited.
Brian eventually arrived (in his Jag) and took Tony Naylor and me to the Lord Dudley Hotel in Woollahra, (which was apparently the advertising haunt in the '80s), where we had a scrumptious and highly entertaining lunch with Brian's old mate, Graham Forsaith, an avid guitar collector who apparently owns a yacht in which he ferries paying clients around the harbour over the summer months, .
The second rehearsal was even smoother than the first, apart from an interruption by an irate music teacher who'd double-booked our rehearsal room. MOTE's MD, Jamie Rigg, (pic 10) was clearly annoyed but sorted it out fairly quickly - Jamie spends most of his time teaching at AIM and is more than happy to find an excuse to get out of the place.
The next day we flew to Brisbane and while at the airport I made some enquiries about a hire car for the boys, but came up with nothing. I rang Robbo and asked if he could make some more enquiries, but got a call from him later saying there was absolutely nothing available. I finally heard back from the transport manager at the festival and he said he could make a shuttle available, but that it would cost us $100.00 to get to the site! In the absence of anything else I had no choice but to accept.
The MOTE ensemble checked in at the Ramada in East Ballina, some forty minutes south of Byron, just as the Blind Boys from Alabama were getting into a shuttle to go to festival. (pic 4) Although the MOTE show wasn't on till 10.30 that evening, I decided to go to the site early and try and sort out any loose ends for Spectrum and cadged a shuttle ride with Tim (Gaze) and Charles (from Atlanta, Georgia), the Blind Boys' manager.
It had been raining heavily that afternoon and the site was an absolute bog. I was wearing my ancient thongs, but they got sucked off by the glutinous black mud (pic 5) within a few steps. (Half their luck!)
I met up with the Byron production crew's Annabel Rattray and discovered that there was some fine tuning that had to be made, well, to just about everything - she'd even issued my Morris guitar with a laminate! (pic 20) - but I was reasonably satisfied I'd sorted it all out by the time the rest of the MOTE cast and crew arrived for our show on the Crossroads stage.
Despite the wet conditions there was a huge crowd on hand and the show went very well, although some major adjustments had to be made on the fly by producer/director Amanda Pelman so we could fit into our allotted time of eighty minutes.
The next morning I had to check out of the Ramada and got a lift with the MOTE crew to Spectrum's more prosaic accommodation at the Beach Resort. I cadged another shuttle lift to the site, this time with the taciturn Pugsley Buzzard, and so was on hand when the lads arrived at the site in reasonably good spirits after having been picked up at Coolangatta airport as arranged. It was good to met by our old friend Wally Bishop, and I popped over to the Jambalayah Stage before our show and caught a few minutes of his mate Benny Gallagher's (of Gallagher & Lyle) show. (pic 6)
And then, finally, it was Spectrum's turn. I'd made sure that all my sounds were right in our sound check and I was pretty happy all the way through the set, but for some reason Bill's guitar amp was replaced at the last second and he ended up with a woofy guitar sound that was indistinguishable from the predictably boomy kick drum sound.
Nevertheless, we were making a good fist of it - until we got to Launching Place Part ll that is. I had a momentary lapse of concentration/brain explosion and unilaterally excised part of the arrangement. Normally we'd be able to cover it without any trouble, but there was so little on-stage communication that the song almost ground to a halt before we got back on track.
We did recover and completed the set without further incident, but the vibe wasn't quite what it might've been. The intention was to then go to the CD tent for a prearranged signing session, but when we got there the staff professed to know nothing about it and so we aborted in confusion and beat a hasty retreat.
We met up with Julie Rhodes, an old Tassie friend from thirty years ago who now lives in the region, and Bill and I decided to forego any more musical sightseeing in favour of being driven back to the Beach Resort by Julie and having a chatty meal, which is precisely what we did. Robbo and Daz arrived back a few hours later still buzzing from the shows they'd seen, but even then I didn't really feel that I'd missed anything. (Sigh! I'm getting old..)
I was picked up in the Caddmobile (pic 10) the next morning by Amanda and Brian with Amanda's two children (Austin and Olivia), plus Jamie Rigg, and taken to Port Macquarie - a highlight was stopping off at Fredos pie shop on the way (the pies actually lived up to the hype).
The second MOTE gig was at the Cassegrain Winery and was outdoors - a miniature Day on the Green. During the sound check, Tony Naylor and bassist Vic Rounds pointed out the Indian guy sitting in front of his curry stall, presumably eating some of his own wares (or not) and suggested I should take his photo. So I did. (pic 12) (Even less relevant is the doggie pic I took at a pit stop on the drive back to Sydney, (pic 19) but it's kinda cute).
They'd had 700 odd pre-bookings, but the conjecture was whether there'd be a strong walk-up or not, especially given the unpredictable weather. By the time we got back from fish & chips at our digs at Cold Comfort Farm, Tim Gaze and Peter Howe were just finishing off their support spot (pic 14) and there was a very handsome crowd pressing to the front of the stage. Tim and Pete were followed with a solo spot from the ever-gorgeous (but ever the back-up singer) Robyn Loau, (pic 13) whom some might remember singing back-up (with three others, mind you) on the Long Way To The Top tour. She has a brand new baby girl that she's very proud of and brought on the tour with her - the little girl is absolutely beautiful and behaved impeccably throughout and we're all thankful to her for mummy's spectacular new bustline. Robyn possesses a very pure upper register, (I can never work out whether that's the equivalent of a bloke's falsetto), used to great effect in her version of Kate Bush's Wuthering Heights, which most people tend to shriek. I've never appreciated the song for just that reason.
Then it was the full jacket version of the Morning of the Earth show, repleat with intermission and visual fillers, and, I had the premonition, for perhaps the very last time.

20) That's Mister Morris Nylon..
Although I suspect the Cassegrain audience was too well heeled to be truly representative of the surfing community, there was a great vibe pinging back and forth between them and the MOTE cast on stage, and the young stars (Lior and Ohad) attracted an excited giggle-fest of girls after the show. (pics 17 & 18)
The next morning I met one of the roadcrew, (Oscar), at the desk. I asked him how he was. He replied solemnly he was glad to be alive. I didn't quite get it until he explained that the rest of the crew had left about 5.00am and he'd just heard that the truck had overturned near Raymond Terrace. Nobody had been injured, but he reasoned that someone might have been injured had he been in the mix. The back of the truck had ripped open and all the equipment had spilled out - about a million bucks worth, with all the projectors and sound equipment.
When I heard this I thought to myself, Well, that's it. If there'd been the slightest doubt about it before, this unfortunate incident had probably ensured this was indeed the last ever performance of the Morning of the Earth.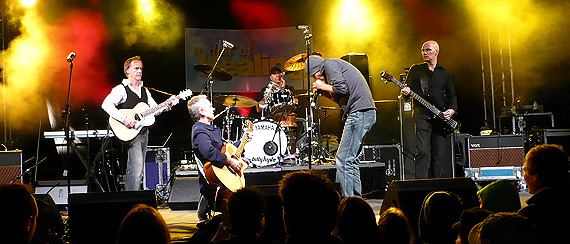 Boom Crash Opera put on a bravura performance in spite of an equipment malfunction
gig report
A Day of Healing at Eltham
6.4.09 - I was already feeeling anxious about the upcoming week, so last night's guest appearance with Bill at the Day of Healing concert at Alistair Knox Park in Eltham was a welcome diversion. Our spot time had been put back twice already, so I wasn't that surprised to find that it had been put back again - Bill errs on the fantastically early as a norm - so I checked out Boom Crash Opera's (pic) set while I was waiting. BCO's guitarist Peter (on his knees in the pic) introduced himself to me later and said their piano had blown its brains (probably due to the generator power) and they were busking it with their keys' player on guitar, but you wouldn't have known it out front. They gave a good-humoured and generous performance and the crowd responded volubly to every song.
(Bill had seen Daryl Braithwaite earlier and said he was pretty good too).
BCO were followed by a predictably emotional Kate Ceberano, accompanied by a singer/guitarist whose name I failed to note, who tapped into the crowd's willingness to sing along - and then the kids from Strathewen, Marysville and Middle Kinglake Primary Schools mounted the stage and sang a song, which was inexplicably unamplified but moving nevertheless, and then Bill, Celia and I were presenting Bill's Valley of Ewen song, again backed up by the inaudible choir of kids.
Despite the cool and occasionally drizzly conditions, there was a good crowd in attendance and I'm sure everybody had a good time. The organisers would've been pleased overall I should think. That's definitely the last benefit we're doing though..
Incidentally, Peter confirmed that BCO did a version of IBG and that there might even be a video of their performing it floating round somewhere, so I urged him to stick it up on YouTube - I'd like to see that!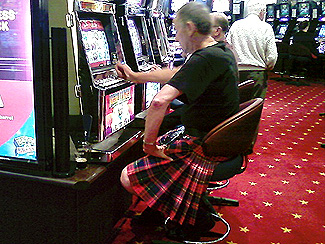 1) The police band practices before the show 2) What does a man in a kilt do after the show? Now you know..
gig report
The pipes (and drums) are calling..
5.4.09 - Robbo had been asked to do a 'rock' drum solo for the Rats of Tobruk Memorial Pipes & Drums Ringwood Competitions night at the Ringwood RSL, and not being the drum-solo-of-any-type type, had requested that Bill and I accompany him for a fifteen minute set last night. Not necessarily as simple as it sounds, as we had to be there at 5.30 to set up our gear (incl. PA) and hang round till 8.30 for our spot, then wait till the evening was over to load out. It was made a whole lot more pleasant when Robbo offered to buy us a meal after the load-in, so we adjourned to the Pancake Parlour and ate ourselves silly before waddling onto stage burping and farting at about 8.45. It wasn't the most relaxed set I can remember and not everybody in the room approved of our playing this blatantly Sassenach music on their pipes and drums night, but the people that counted were grateful and Robbo got his laminated certificate, so it was OK by us Jimmy!.

Mike takes a bow - or does he? Another Dean Jones pic.
Montsalvat Postscript postscript
1.4.09 - I asked Dean Jones, (who took the pic of me bowing or crying, I'm not sure which), to send me some more info about his upcoming exhibition at Montsalvat's Long Gallery. (see March Stop Press)
Dean says: 'The group of Musicians I photograph often is the Sunwrae Ensemble. They are to launch their third CD Autumn Never Fall, with me to feature my 'Artists of Montsalvat', a collection of portraits taken on 4x5 film, (black and white) in the Long Gallery. Difference is I build the cameras.' (Check out Dean's website) The Exhibition is from April 21st to May 11th. Opening Sunday April 26th - Sunwrae launch is at 2.30pm.
back to the top