Scroll down to the start of the month
Close this window to
return to Mike Rudd &
Bill Putt's home page
Record company endorsed file-sharing company launches at MIDEM
28.1.08 - Some of you may not even realise there's a whole section on this site dealing with the issue of file sharing - but there it is. I even played a minor part in this particular company's development a couple of years ago - you can check out the story if you're interested. You may not even know what the term 'file-sharing' means, but I can tell you it's probably the most important issue for song writers and publishers since the concept of copyright was first introduced. There's a whole generation that has never known anything other than down-loading songs for free from the Internet. Robbo tells me the story of the launch was on telly last night, and it got the following mention in the Herald Sun too.
And there's another article about file-sharing from MIDEM to check out - entitled 'Record labels rethink digital rights management at Midem'
QTrax throws down gauntlet
A RADICAL online music service offering free song downloads will launch today. File-sharing site QTrax, funded by advertisers and backed by the pop industry, will begin with five million songs - similar to online music store iTunes. And its Melbourne pioneer says he plans to eventually deliver about 25 million free songs. The site, launched in Cannes, France, with stars James Blunt and LL Cool J, could signal the death knell for CDs and challenge iTunes.
"This will profoundly change music " QTrax chief Allan Klepfisz said. "Once the genie is out of the bottle, the industry won't turn back. It's time for free music."
Big record companies, which have sued file sharing or peer-to-peer sites, back QTrax, which has licensing agreements with EMI, SonyBMG, Universal Music and Warner Music.
Mr Klepfisz, 52, of Camberwell, has been working on QTrax for eight years, first in Melbourne and then in New York. Artists and record labels were supporting QTrax to stem a losing fight against stolen music, and QTrax would compensate artists, unlike illegal music download sites, he said. Record companies would get an equal split of advertising revenue and royalty fees from Qtrax.
After launching, download free music from www.qtrax.com

Nui Te Koha - Herald Sun 27.1.08

..and then in The Age the next day..
Free music downloads service hits snag
A revamped online file-sharing service that promised to offer unlimited, free music downloads from all the major record labels hit an apparent snag on the eve of its planned Monday debut after one company denied it had given the service permission.
Qtrax touted in a press release on Sunday that it was the first internet file-swapping service to be "fully embraced by the music industry," and boasted it would carry up to 30 million tracks from "all the major labels."
New York-based Warner Music undermined that claim, declaring in a statement that it "has not authorised the use of our content on Qtrax's recently announced service."
Universal Music Group and EMI Group PLC later confirmed they did not have licensing deals in place with Qtrax, noting discussions were still ongoing. A call to Sony BMG Music Entertainment was not immediately returned. read more

..and for some even more jaundiced reportage from ZDNet's Rupert Goodwins read and check out Wikipedia's synopsis In the meantime, why not have a look at the QTrax site and make up your own mind?
Australia Day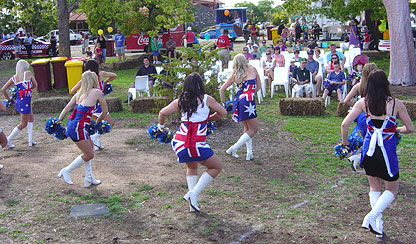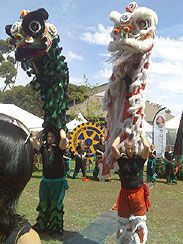 1) The Brave Babes perform their routine - just for Spectrum 2) The Chinese Lions dragons go high-rise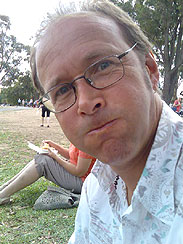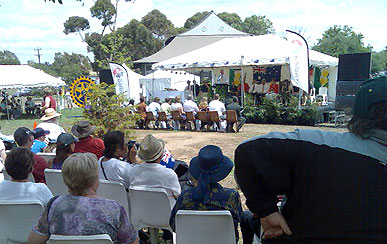 3) Daz does Mr Potato Head 3) The point of it all - new Australian citizens are inducted
gig report
Spectrum celebrates Australia Day at Lake Weeroona Bendigo
27.1.08 - I set the alarm for 6.00am - and was still awake when it went off six hours later, which obviously wasn't the way it was meant to go. Bill had stayed over night at my place and we did actually manage to leave Robbo's just before 8.00 and sailed uneventfully up the Calder arriving at Lake Weeroona at round 9.45. I'd forgotten what an attractive town Bendigo is, but I'd been blissfully unaware of Lake Weeroona's existence till now, probably because we've never got beyond driving half-way through town before. Anyway, there we were met by our Rotary contact Martin Ruffell and started setting up, to be joined a few minutes later by Daryl, who had driven up independently. (He's good like that). It was already pretty warm, although Joe, the sound guy, said it was even warmer last year at 42 degrees. We were pleasantly diverted by the Brave Babes (pic 1) and the Chinese Lions (pic 2) before playing the first of our three sets for the day, which seemed to go over okay.
At midday, and while the stage was taken over by the mayor for the official Australia Day formalities, I drifted off to find something to eat, and was joined by Daz and Robbo at the Baked Potato stall (pic3) and we watched the fifties' dancers strut their stuff while negotiating our way through coleslaw, whipped butter and baked potato in polystyrene containers with bendy plastic forks. Then it was back to work for another couple of sets, played to a dwindling but enthusiastic audience, largely composed, as it turned out, of Maldonites, and Maldonites looking to buy our CDs, (I'd forgotten to take our CDs to Maldon when we were there late last year), so we did a roaring trade.
By the time we'd loaded up the van, I was not only hot and sweaty, but starting to really feel the lack of sleep. I soldiered on anyway, tipping warm bottled water over my head to keep me alert (!) and delivered Robbo home in plenty of time to get to his precious Police concert. We stopped off at the Ashburton Safeway on the way home to buy some bottles of bitter lemon, for which I'd developed an unaccountable craving, and Bill left me glassy-eyed in front of the telly, waiting for Saturday night's double instalment of The Bill.
The Pardoners on Wrokdown this Saturday
24.11.08 - The Pardoners - that's Sam See & Glyn Mason by the way - are featured chatting with Wendy Stapleton on this week's episode of Wrokdown. (Saturday night at 9.00 on Channel 31). I would suggest this is unmissable, especially if you're related to the lads. For those of you (like me) who missed the first episode of Wrokdown featuring Mike sans Bill rambling on interminably to a concerned looking Wendy Stapleton, there is good news. Anita Monk tells me that Channel 31 is going to repeat the first episode on Saturday February 2nd! I'll remind you..
The other good news is that I've been in touch with the National Film & Sound Archive's Matthew Davies and they're going to re-dub the I'll Be Gone clip so we can sync it properly. O joy! O rapture!

1)Bill serenades early arrival Dave at the Limelight workshop 2) Sunni sketched us as we played
gig report
Mike & Bill's Limelight workshop
24.1.08 - The setting for the inaugural Limelight Kudos for Musos workshop was the Upper Yarra Arts Centre in the heart of Warburton, about fifty metres down from the Wild Thyme Café, our favourite little gig on the planet. Limelight's Dave Walker was thrilled to see us as we arrived (a few minutes later than planned) and guided us to the load-in chatting about the terrific response he'd got for the workshop concept. About twenty five people, aged from thirteen to sixty plus, (Dave was again thrilled with the broad demographic), sat up close and personal to Bill and me in the Arts Centre hall and absorbed all the anecdotes and advice interspersed with the odd song that we dished out. For our part, Bill and I thoroughly enjoyed ourselves and reckon we should be doing more of this kind of thing - afterall, what's the point of accruing this wealth of experience and information if we can't pass it on? This audience, at least, seemed genuinely interested in what we had to say, (and interacting with them during and after

Mike, Bill and Limelight's Dave Walker - pic Mitch Bear Lilydate & Yarra Valley Leader
the presentation they all seemed to be lovely people, which is a double bonus).
Anyway, Dave thought it all went very well and pronounced the evening a success. He also hinted this could be an on-going project on a regional footing, so I'll keep you informed. My next role in this particular exercise is to act as one of the judges for the Limelight songwriting awards - which I'm quite looking forward to, despite having had to relinquish a gig to accommodate it.


Overdue reviews
15.1.08 - Lou Ridsdale, Aztec's publicist, sent me most of the reviews that Spectrum Part One garnered on release the other day, so I've put a couple of them onto the Reviews page. I found the pic of Spectrum (left) looking very serious circa 1969 while I was cleaning up recently. It was one of a series of pics that bro' Dick took with his trusty Box Brownie, some of which appear on the Part One digi-pack. It's nice to see a pic of Bill without his moustache every now and then. And, yes, another reminder to sit down with the family in front of the telly on Saturday night to watch the first episode of the indefatigable Anita Monk's Wrokdown..
We're back!

1) Crudd & Pump have a surprise guest snoozing on the drums at St Andrews 2) Hamish really dug the music

3) Hamish's top possie
gig report
The New Year has officially begun..
14.1.08 - As I suggested in the mail-out, the classic double of the Lomond and St Andrews hotels signals the year of 2008 has truly begun. A big crowd was in attendance at the Lomond on Saturday night, which quite surprised me - usually things are a little quiet in town at this time of the year. A couple of people had heard Rocket Girl on the radio that day promoting the Wrokdown show (premiering on Channel 31 this Saturday) and the audience was very receptive, so we had a fun night. The gig at St Andrews was supposed to be just Bill and me, but Robbo said he wasn't doing anything else, so we invited him up as our special guest. It turned out to be a relaxed session, with the squadrons of frisky flies fornicating in the sunlight filtering onto the stage being the only minor drawback. I looked up to see half a dozen youngsters sitting on the floor (including Hamish (pics 2 & 3)) just lapping up the experience. You don't see that anywhere else..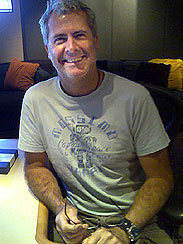 1) Stevo Williams at Flagstaff 2) Hughie McDonald and Brod Smith in uptown Kew
Mike fiddles while Victoria burns
10.1.08 - You may remember that last July I had every intention of restriping the old I'll Be Gone clip with the stereo edit of the song in time for the Part One release. Things got a bit behind and it didn't happen, but I had every intention of finishing the project this month. Coincidentally I had an e-mail from Graham Owens, who actually appears in the clip standing next to Nicky Campbell in the studio sequence, and with whom I later worked on the Daniel album. He's now living in WA and was interested in getting a copy of the IBG clip, so I picked up from where I left off last July. Only there was a problem. The music on the clip sounded too fast this time - and after making a comparison, I found it to be significantly faster than the original mono version, and faster again than the stereo version! I popped into Flagstaff Studios yesterday and spoke to Stevo Williams (pic 1) to see if he had any suggestions. This may or may not be a solveable problem, but moves are under way to find out one way or t'other. Nothing's easy!
First thing in the morning I went to Anita Monk's place for a photo session to promote the Wrokdown series, (beginning on Channel 31 on Saturday week (19th) at 9.00pm), and from there to Hughie McDonald's studio in Kew to dub some harp (and some harmonies) on yet another version of I'll Be Gone, this time recorded by John Schumann. Also at the session was Brod Smith, (pic2), and we had a lot of fun playing duelling blues harps on the track. We're in discussions about an alternative version to the Cotton Keays and Morris tour with ourselves, Brod and Phil Manning. I'll let you know how that all turns out.
back to the top