Scroll down to the start of the month
Close this window to
return to Mike Rudd &
Bill Putt's home page
A weekend of contrast

1) A swan glides past the Rainforest Room 2) Robbo eats his last de-tox lunch during the load in at the Boat Shed

3) Joanne and Greg Blunt pose with Spectrum (see large shots) 4) The view from the back door of the shed

5) Greg with his daughter Tenille before the show
gig report
A joyous Willy celebration
27.11.06 - The highlight of the Mike & Bill gig at the Zoo's Rainforest Room for the Frontier Software Xmas party on Saturday night was former harp student Malcolm Ebb's playing his harp with Bill and me at the end of the night - that's if you don't count my accidentally driving into the Zoo proper earlier in the day trying to find the place! The real delight of the weekend came the next day, and not just because Bill and I were reunited with Robbo and Daz for a rare-ish outing of the quartet version of Spectrum either. Let me enumerate the ways: 1) The ambience of the boat shed was a pure delight - the intricate detail of the tools and boats and general workshop detritus tickled the
eyeballs (see the large pics). 2) The sound was warm with a studio-like clarity, which was as good for the audience as it was for us. 3) Greg is a boat-building gentleman and a serious patron of things he likes and identifies as genuine and sincere - sort of like himself, really. 4) The audience had that hand-picked quality and honestly wanted to be there. They were prepared to concentrate and appreciated the subtleties that we persist with, but are so often lost in general indifference. Look, I could go on and on, but suffice it to say that it was a mutual love-fest and we were all winners - let's hope we can repeat the exercise in the not too distant future.
gig report
Canapés and cheese nearly spoil the party
20.11.06 - Anthony, our honorary soda-jerk for the Kennedys' 100th birthday party on Saturday night, offered me a selection of tidbits in the middle of one of our sets - and I picked out a tempting prune-wrapped-in-bacon morsel, but soon realised my mistake when I choked on it in the first verse of the next song, much to the cruel amusement of the unusually high proportion of sadists in the crowd. Bill and Enza nearly choked in turn laughing at me, but apart from this inglorious moment, the reunion of Bill and me with Enza on a warm night in Elwood was a hit with everybody, and I promptly invited Enza to appear with Spectrum at the upcoming St Andrews gig next month, from which Daryl has had to withdraw due to family commitments. Hooray!
Yesterday's (Sunday) gig at the Curly Flat Winery was also pretty special. We set up in the actual 'cellar' this time instead of the restaurant, and the acoustics in this rather large brick and concrete edifice were just exquisite, not to mention we didn't have to cope with the rather delicate conundrum of playing to a dining audience. We played a number of fairly short sets with a 'magical mystery tour' type selection of all our styles and eras (as suggested by our host, Phillip), and I have to say it worked wonderfully well, and allowed us to fraternise with friends, old and well, older. Even my dentist Bernie and his wife Michelle turned up, and I was surprised to learn we share the passion for pinots! It's funny what you find out about a bloke when you're not desperately trying to avoid choking on your own spittle.
The afternoon at the winery was going so well that Jeni asked if we wouldn't mind playing an extra set or two, and bribed us with a couple of bottles each of Curly Flat's finest product. How could we resist? This time, however, it was the cheese platter that sent me over the edge, and Silicon Valley was a chronological puzzlement as a result, and Bill and Robbo had to be physically woken up after several of my seemingly endless preambles. All in all though, it was a cracker of a day, (geddit?), and one which I might hope becomes an annual tradition..
(I apologise for the singular lack of pictorial evidence - my mobile phone crapped out on Saturday and it seemed to blow out yet another fuse in my ageing brain).

Watch out girls - Nic is loose!
Back-catalogue and Matt Finish news
16.11.06 - It's official - Aztec Music have got the go-ahead from EMI to licence the Spectrum Part One and Milesago albums, so with a possible release date as early as March in the New Year, the squeaky wheels on the Breathing Space project have been replaced with skates and the blow torch has been applied to various body parts. Not quite as much breathing space as we thought..
Enza Cadenza made a silky return to the Accidental Music Studio a couple of weeks back to slot in some luscious vocals, and Nicolas Lyon (pic) has been adding skads of delicate fiddle on various tracks over the past couple of days, with even more to come. Speaking of Enza, we're actually rehearsing in the morning for an upcoming gig on the weekend, which I'm hoping might be a foretaste of more live things to come..
BTW, I spoke to Rob Prior today and he says that the Matt Finish dates have been replaced with the Corner Hotel and the Basement respectively. (see website)
Another Liberation launch

1) Steve Romig pours honey over troubled waters 2) Jim and the band let fly in the nicest possible way

3) Jim's life flashes before him
gig report
Keays unlocks a softer, gentler Jimbo
16.11.06 - After my teaching commitments last night, I headed out into the unseasonal (is there such a thing these days?) wintery conditions to attend the Jim Keays'/Liberation launch at Manchester Lane in the city. I was accosted at the door by fellow Debonaires Dom Barbuto and Adrian Barker, and indeed the audience inside seemed to be largely constituted from that august group of right ravers. Steve Romig (pic 1) was on stage as I walked in, so I surmised that I hadn't missed Jim Keays' set with whomever he might have with him - I'd even speculated he might get up alone and do a solo spot. Bobby Valentine invited me to sit at his table as the show commenced, and it turned out that Steve Romig was playing slide in the Keays' band with another guitarist and drummer. Initially it sounded a bit like somebody had turned the power off in mid-set and left the band struggling with no amplification - the arrangements of the old Masters' favourites
were left pretty much the same, only without bass and amplified twang. Jim kept up his usual swagger, highlighting the drama that would've been there had there been a knob to turn up to eleven, as well as telling us of his Spinal Tap misadventures with a toppling space capsule when presenting A Boy From The Stars at the Myer Music Bowl, but the highlight of the night was inevitably the best song they ever wrote, It's Because I Love You, which was saved for the regulation encore, and apart from an effective cover of Dylan's Highway 61 Revisited, best survived the transition from crushing crescendo to mezzo piano.
* See Jim's website or Liberation's website for info on Jim's acoustic CD 'Resonator'.
An even Shorter Note - Matt Finish gigs off
14.11.06 - I've just got off the phone with Rob Prior, (brother of MF's drummer John Prior), and it looks like the gigs with Spectrum and Matt Finish at The Palace in Melbourne and the Enmore Theatre in Sydney are off. Matt Finish will go ahead with plans for a Basement gig to replace the Enmore Theatre, and it's still possible there might be a replacement gig in Melbourne, maybe at the Corner Hotel, both of which will be without Spectrum, and both of which I'll let you know about as I get the info.
Damn shame - I was looking forward to those, and I know from the response we got when I mentioned it at the Lomond, a lot of you will be disappointed too.
Fun (of sorts) in West Melbourne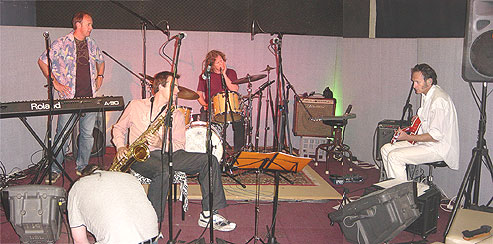 1) The Gringos in rehearsal (with Robbo) wonder what Paul Gadsby's on about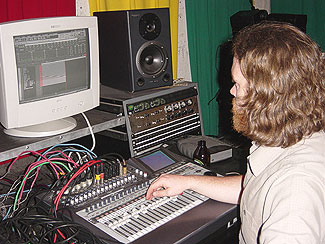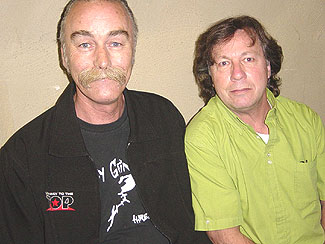 2) The Sound Vault's Matt looks busy at the console 3) Bill tries to look alert with Balckfeather's Neale Johns
Hey Gringo live at the Vault
11.11.06 - It seemed a long day, but mind you, all the elements of a long day were well in evidence - i.e. many hours spent in one place with much of the time spent doing not much at all. There were compensations, including a rare opportunity to appreciate the fine playing and wry humour of Paul Gadsby and the tootling of Gringo's regular sax-player Sean, not to mention catching up with old friends and acquaintances, and of course the prospect of yet another release from Hey Gringo propelled by the irrepressible Daryl Roberts. Most of the set ended up being played twice, and for the most part I thought it sounded better the second time around, but, perhaps recklessly, I eschewed the opportunity to reprise Daryl's and my song, (Limbo Man), my judgement being hopelessly skewed by the latter part of the evening.
And the result is...
9.11.06 - First let me say that it's been a most rewarding exercise. The feedback has been constructive and informative, and I shall now feel confident in sending out the Spectrum gig guide advisories - once a month! Yes, that's the verdict - and by a handsome majority of three to one! The good, and perhaps unexpected thing, is that the guides will actually become more regular, as I now know what you want. As some people suggested, when something extraordinary happens - like a late cancellation for instance - I'll let you know about it poste haste, and without waiting slavishly till the end of the month. I'd like to thank everybody who participated, and we'll speak soon!

Ted is surprised to see us
The people have voted! (mostly)
8.11.06 - Most of our Victorian readers will have received our latest mailout, and there has been a strong response to the poll on whether you prefer to receive your Spectrum gig guide weekly or monthly. I'm hoping that the balance of the e-mails will be out by lunchtime tomorrow and I'll make the official announcement then. It's almost as exciting as the Melbourne Cup!
Last week I made an appointment for this Thursday with Aztec Music's Ted Lethborg to get updated on any progress with plans to release Spectrum's back catalogue, only I must've written it on the wrong day in Outlook and Bill and I rolled up twenty four hours early! Fortunately affable Ted made himself available for our wide-ranging discussions, and even offered to make my favourite coffee - and it was very good! (pic) I'm happy to report there is good news in the offing about Spectrum Part One and Milesago, and as soon as I hear back from Ted I'll pass it on to you. *check the Aztec Music site for more info
Wambamalamma..

1) Daz mugs while Marcus Alexander tries to slip away 2) Paul Gadsby and Bill pretend they aren't bass-players

3) Diana and the Wolfegang seduce the Crossing Café audience 4) Diana sings Happy Birthday to herself

5) Bob the Painter paints the scene 6) The finished painting with the two bands on stage



7) Whiskas comperes the Outlaws' arvo 8) The winner's kiss
gig report
Triple-cone tutti-frutti weekend for hapless old bastards
5.11.06 - Happy Guy Fawkes night.(Long forgotten here, and tonight may well be the last time they celebrate it in NZ, or so my Kiwi mate Tony tells me). It was a pretty whiz-bang weekend for Spectrum too - and even longer if you count the 'rehearsal' we had on Thursday at the Nighthawk for this Friday's Hey Gringo recording at The Sound Vault. (pics 1 & 2) I'll come back to that.
We figured four hours drive to Deniliquin, and got away from Robbo's at about 1.30. Robbo had been on a de-tox regime since the previous

Mike and Bill comfort Susie Seale on her birthday
Saturday, (it's a long story, and it involves a white witch!), but a persistent chest infection had obscured any observable differences in his demeanour. However, we were soon going to find we had a brand new Robbo in the Pod!
In any case, the drive to Deniliquin was pretty uneventful, except we had two vehicles on the run with Daryl added to the mix for the couple of gigs away, and Bill swapped to drive with Daryl at Heathcote to see if Daz's seats were more comfortable for his recovering back. (They weren't).
The Crossing Café's Chris Bodey made us most welcome when we arrived and supervised a snappy load in so the Deni Municipal Band could lay a brass salvo on the early diners on the verandah - all part of the Deni Spring Blues
Festival going on over the weekend.
After a fine meal, (well, Robbo was confined to vegetables), Bill, Daz and I went back to the motel and rested up a bit, while the ubiquitous Robbo played a set with The Wolfegang (pics 3 & 4). When we came back, we discovered that Bob the Artist had begun painting a record of the evening's proceedings in real time (pics 5 & 6), which shows that Deni is keeping up with the latest trends in the big smoke without even trying. Spectrum's set went down well, and it was good to catch up with a few old friends, as well as having Paul Murphy and Kathie from Aztec Music coming up from Melbourne especially for the weekend.
The next morning, Bill and I were shocked to find Robbo the first up and full of energy, not to mention good vibes! This is a new and disconcerting version of Pod Boy - I wonder how long it can last? We had breakfast with Chris and Brett back at The Crossing Café and took in a concert by local sixteen year old guitar prodigy Shane McGrath (as part of the Blues Festival) before heading off to Shepparton for the unknown quantity of the Custom Bike & Car Show at the Overlander Motel.
On arrival in Shepparton we made contact with James, the Shepparton PC Doctor, before having a pleasant lunch at the Lemon Tree Café and heading down to the Overlander. When I was doing the booking with Whiskas, I hadn't quite been able to picture what a Custom Bike Show and concert would look like at a motel, and I hadn't tumbled to the fact that this was an Outlaws' show either. Nonetheless, Whiskas and the other leather lads made us very welcome, and I was pleased to find that the PA was a sensible size and being run at a sensible volume, not to mention that the weather was sunny but not too warm, despite a flukey wind.
We did two sets, interspersed with a prize-giving ceremony for the best bikes and cars on show, (pic 8), but the most energetic crowd reaction was reserved for the bikes burning rubber as we started the second set (we played Sleepwalk as an ironic backdrop). Despite the crowd giving nothing away, we got a couple of offers of future gigs to contemplate, so I guess we did OK, and Whiskas was keen to make Spectrum at the Bike Show a tradition, so we might very well be looking at a repeat next year.
To top off the weekend, Bill and I had been engaged to play on Sunday arvo at Susie Seale's birthday party in Donvale, and in the event we spent a very pleasant afternoon playing and chatting to all and sundry. Some of our old mates were there too: Richard and Di Hauser and their guitar-shredding son Nick (who was a toddler the last time I saw him) and Martyn Sullivan, (who played bass with us in the Mike Rudd Quartet and Quintet), not to mention Brecon Walsh and his mum Ruth. Susie's mum Nellie sang Summertime with us, and the only bummer was when both my F harps decided to clag out definitively at the same moment, thoroughly emasculating the blues set!
It's Monday now, and I'll have to go down to Camberwell to see if the banks - and Gusto - are open, before trudging back home and finishing off my overdue essay for Mike's Pith & Wind. It's on Asparagus, which funnily enough, in yet another example of feeble synchronicity, came up at as a topic at the dinner table with Diana Wolfe

Ash Wednesday (second from right) with Jab in the late '70s

Ash Wednesday gets in touch
2.11.06 - As I suggested he might, Ash Wednesday, (whom I ran into at the Bar Open gig last Sunday), got in touch and gave me some contact details - you can read his e-mail on the Correspondence page. You may or may not remember him from the Models' days, but he also featured in a band called Jab, (pic) whom I helped produce in the late '70s for an album called Lethal Weapons on Mushroom's Suicide label. I thought I'd retired from active playing then, but it turned out I was just 'between bands'.

back to the top