Scroll down to the start of the month
Close this window to
return to Mike Rudd &
Bill Putt's home page
Top Notch gesture
30.5.06 - I was surprised when I went to the post office box today - there was a bulky envelope addressed to SPTB care of me. I thought initially that maybe one of us had left something at the motel, but when I opened it over my morning jasmine tea, I discovered an intriguing little black cardboard box inside with a note from Jo at Top Notch Productions. So, the note is generic, and it's only a key-ring, but it's a classy key-ring and it's very much appreciated gesture. Thanks Jo, Simone and Michelle and all the staff at Top Notch - we had a ball!
Howler?
26.5.06 - Gary Hall sent this clipping from the Your Say section in yesterday's (Wednesday's) Herald-Sun TV guide. My Queensland rel's were of the same opinion, but I suspect that the song's recent appearance on the One Hit Wonders episode of the same series probably excluded it from consideration. Still, a nice sentiment from everybody concerned.
See more on this subject on the Correspondence page

Peter helps Bill with his phone
Mike and Bill go corporate
23.5.06 - Peter Barber (pic) occasionally braves the unpredictable patrons and the smoke-clogged atmosphere of the Lomond Hotel just to catch a few bars of Spectrum rummaging through their musical memory-bag, and was looking for a way to surprise his international colleagues at dinner last Monday night, when he thought of hiring Bill and me, thereby killing two birds with the one duo - i.e. surprising his colleagues and listening to us in a non-threatening, smoke-free environment. We don't do a lot of work on a Monday night, so there was the potential for some sort of senior calamity, but we made it to the charming Holgates Hotel in Woodend in good time and fulfilled our charter to general satisfaction. For our part, we were impressed that this bunch of Spectrum novices picked up on the Esmeralda routine so quickly, but Pete pointed out these guys, being consummate international travellers, were probably pretty snappy yodellers in yer average karaoke bar. I can dig it.
French Island follies


1) MD Jeff Burstin tries to freak me out 2) Wayne Duncan plays the Old Man o' the Sea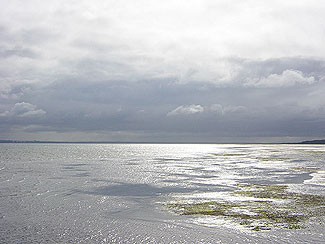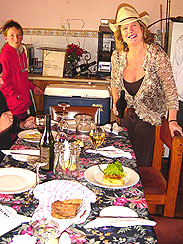 3) Arrival at the French Island jetty 4) Leslie Avril makes us welcome in the Green Room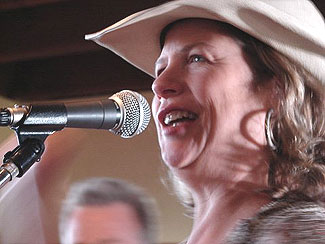 5) The crowd waits patiently - Richard & Mary discuss sandwiches 6) Leslie does her shit kickin' cowgirl thang



7) Intermission - and the crowd sucks in the subtly nuanced landscape and the ever-freshening French Island air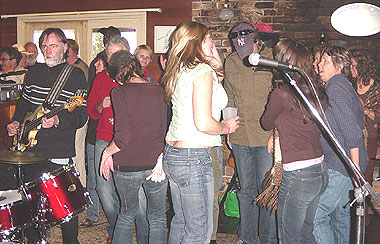 8) The crowd goes apeshit - and Mary revives her Stylist dance 9) Mike blows the inevitable I'll Be Gone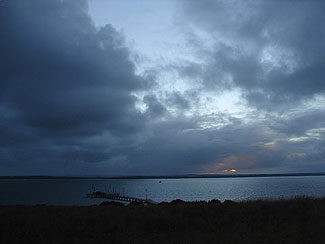 10) Aurora Kurth and our host, Stephen May 11) Rain clouds loom ominously over the jetty after the gig

All's well that ends in chaos..
24.5.06 - You might've noticed I don't get a whole lot of solo gigs, and I still manage to get myself a little wound up when they do come along. Stephen May mooted the idea for this particular gig on his home territory of French Island over a meal at Southgate some months back, and although Bill and I had played there some years ago, I could barely remember anything about it, except the ride home from hell on the ferry, which was late and we were cold and wet to boot, but that couldn't possibly happen again, so I reasoned that all I had to worry about was the performance itself, and as I had plenty of time to prepare, I accepted the date without hesitation.
Richard and Mary picked me up at ten o'clock on the Sunday morning as planned, and we duly arrived at Stony Point an hour early, at least partially due to Richard's hundred kilometre misconception about the ferry's departure point. We had a snack down the road at one of those curiously soul-less places that manages to look inviting from the outside, before parking at Stony Point and getting the requisite ferry tickets.
We clambered on board the ferry without incident, despite the crewman that welcomed us on board muttering darkly something about exceeding the maximum load, and safely crossed the narrow strip of oily grey water to French Island chatting to Wayne Duncan and Jeff Burstin. (pics 1 & 2) The venue for the gig was the first building you come to about a hundred meteres from the jetty, and the weather was sunny, (pic 3) so Richard, Mary and I elected to walk up, rather than use the courtesy bus provided.
To cut to the chase, the gig itself went swimmingly. The advertised starting time had to be revised back as the ferry was late from Phillip Island, but what can the definition of a captive audience do but adjust to this rustic conception of time and simply enjoy themselves? Certainly not construe it as an omen for heaven's sake! Anyway, my instrospective musical ruminations were received with due concentration and acclamation, for which I was relieved and not a little grateful, but the mood needed a reboot, and there was one cowgirl in the room wearing just the right style of boot-scootin' arse-kickin' boots - I'm talking about the inimitable Leslie Avril!
And the girl delivered in spadefuls. Even with an intermission the mood kept spiralling upwards in a dizzying succession of erratic elliptical loops, until the room pulsated with people jostling the band for party room and bum cheeks twitching in sympathy from those glued to their seats. It was fun I tells ya!
But now it was time to go. The ferry to Phillip Island had already left and our ferry was due at quarter to six, so, in fine spirits and chatting happily about the afternoon's events, we wandered down to the jetty to assure our possies, just in case the maximum load thing reared its ugly head again.
Of course, the inevitable happened. The ferry was nowhere to be seen at quarter to six and rain clouds were drifting towards us through the gathering gloom, propelled by an icy southerly wind. We huddled together for warmth and played silly games and sang sillier songs, but nothing could disguise the fact that we were getting wetter and colder. I visited the rest of the band members, sensibly and warmly ensconced in the courtesy bus, to see what was going on, but confusion reigned inside the bus as surely as it was sleeting down outside, so I reluctantly resumed my spot with Dick and Mares and silently rued not bringing my Driza-bone while trying to ignore the fact that my corduroys and fleecy jacket were soaked and soddenly clinging to my back and the back of my legs.
The cold was seeping into my skull and my brain was actually starting to hurt (I should've brought my beanie as well) when somebody spotted the ferry sneaking over the bay towards us - and we were saved!
So, we had an adventure. I jumped straight into a hot shower and thawed myself out after Richard and Mary dropped me off at home, and everything was back to normal. It was fun, wasn't it? All I have to do is to try and remember to dress appropriately next time and everything will be OK. Hooray!
Tropical fun for Spectrum Plays The Blues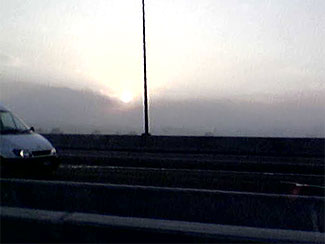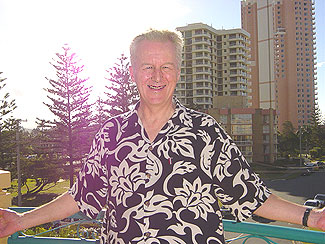 1) Crossing the Bolte Bridge in a Melbourne smog 2) Mike checks in to Broadbeach's balmy autumn temperatures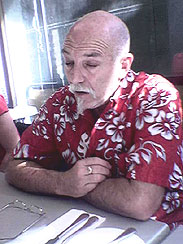 3) Geof-with-one-F contemplates a business lunch 4) Mike and Adelaide expat, Ray Hogan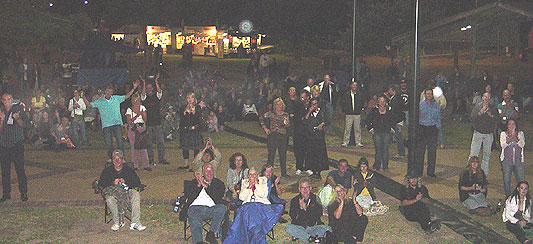 6) The well-nigh sated Kurrawa Park crowd smiles and waves for the camera at set's end
7) Former Spectrum roadie Jim Murray 8) Mike's T-shirt caused an airport security flurry
SPTB at Blues on Broadbeach
20.5.06 - This gig's been in the pipeline for some months now, and I've been getting e-mails from Jo and Simone at Top Notch Productions asking for this and that and sending me details of accommodation and radio interviews and the like all the while, so when the day finally came, I should have been ready for it. Nevertheless, I managed to have a very broken night's sleep on Thursday night and was awake well before the alarm went off at 6.30 on Friday morning, feeling like shit. Melbourne was cold and smoggy as befits the time of year, so despite my jaded disposition, it was very pleasant to arrive in Broadbeach with the temperature in the mid-twenties. The accommodation at the Antigua was not only very comfortable, it was only a couple of minutes walk away from the stage we were due to play on that evening in Kurrawa Park, not to mention the mall where Bill and I met with the ubiquitous Geof-with-one-F for lunch, where we discussed the options for a more comprehensive Spectrum return visit to Canberra in October.
After a bit of a lie-down, Bill and I sauntered down to the stage, where we were pleasantly surprised to find Robbo already there setting up (that'd be a first) having flown up with Lil' Fi and the gang the day before. We had a leisurely sound check and I had time for a bit of a chat to regular Queensland correspondent Ray Hogan and Pam Cleary who was in Queensland on holiday and had brought her mother Nancy along to see the show.
It must have been the warm weather, but I felt unusually energised during the set, and got myself quite hot and bothered stomping about the stage - the born-again Dutch Tilders remarked on how wet with sweat my tropical shirt was when we came off stage. We got a great reception for the main part, with the exception of one wit who requested a Paul Kelly number early in the set. Only in Queensland..
The Cafarellas naturally arrived late and only caught a few bars of our last number (the same number they heard on the LWTTT tour, strangely enough) but were able to hang around and share a reunion over a meal at a local restaurant. I noticed at lunch that the service at these establishments seemed to be fairly, shall we say 'laid back', but my top service moment was that night, when I suggested I'd like a sauvignon blanc to my charming young waitress, and she responded with "Would that be red or white, sir?'
I got back to my motel room in time to catch most of the Eurovision Song Contest instalment, but couldn't stay the distance, and after packing and setting the motel radio and my mobile alarms, gratefully fell asleep. Bill and I walked out of the motel in the morning just as our shuttle bus arrived and we had an uneventful trip to the airport. All of the bus passengers bar two were flying Virgin, so when we pulled up at the terminal and the driver called out that Virgin people should disembark, the entire busload trundled out and stood around waiting for their respective bits of luggage. It was as he was taking out Bill's and my luggage (first fortunately) that I asked the driver just where we could find the Virgin terminal.- and he did the most magnificent double take as he realised we were actually parked outside the Qantas terminal - so everybody got back on the bus. Everybody that is apart from the Qantas couple - and Bill, who decided to walk the extra fifty metres.
I was wearing a T-shirt that Jenny had brought back from Israel (pic 8) with the Coke logo in Hebrew, and I suppose I should have known I'd get singled out for special attention as a result. I wasn't anally probed mind you, only given the once over with the explosives wand, but I know it was the logo that did it. It gave me the faintest hint of what some people might have to endure on a daily basis just because they're 'different'.
Bill arrived in his seat a few minutes after I did, and I presumed he'd been chatting a bit further with Renee Geyer, whom we'd encountered just before the boarding announcement, but he eventually explained that he'd had an incident himself. When asked to produce his boarding pass before embarking, he'd pulled out the boarding pass from his journey up - and realised he'd thrown away the wrong ticket! They printed a replacement for him on the spot, but I think he pulled off the Dick of the Tour award with that final stroke.
Hey! It was great fun, and I'm looking forward to another spot (or two) next year. Come to think of it, a fully-fledged Queensland tour wouldn't be such a bad idea..

The Prince Albert crowd mills around a bit..
A prince among gigs..
13.5.06 - There was a point during the second set I think it was, when I surveyed the smoky chaos before me and thought to myself, 'I'm enjoying this gig!' I never played the dark, satanic pubs in Lyttelton, but I imagine they wouldn't be too much different from this - in fact, I got the distinct feeling of some spiritual connection. Think the Lomond, but moreso by a factor of 50% - more smoke, more bonhommie, less inhibitions. I've never been told so repeatedly and so insistently that my pockets weren't being pissed in, but to be fair, everybody was having the best time. Even the band fired up like a bunch of ruined teenagers and played three blinding sets, leaving the beer-sodden crowd baying for more. We'll be back!
SNIPPETS


Broadbeach ringtone scoop!
8.5.06 - To mark the Broadbeach Blues Festival, participating artists have contributed a few bars to be downloaded as ringtones. Spectrum's donated Hey! Good Lookin' - check it out

Spectrum at the Prince Albert this Friday
9.5.06 - Robbo's been raving about this gig that he's been playing with his 'other' bands for ages, but it's our first time. Nice to be playing over in the west for a change too - hope some of you westies can make it..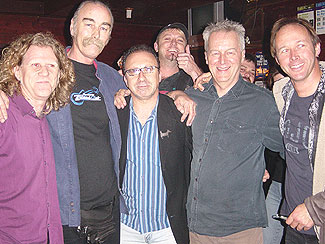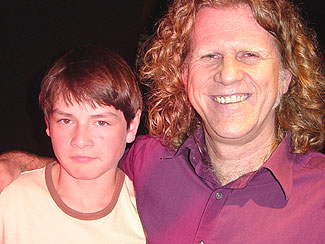 1) Spectrum kidnaps Elliot Goblet for the regulation band shot 2) Robbo with Wilson, one of his drum students
St Andrews makes a change
8.5.06 - It seems the rage at the moment - no sooner had the Lomond added a stage, than St Andrews does the same. In this case there has been a substantial change wrought, with the stage being set back towards the kitchen, leaving the punters with more room to fraternise and dance, and the band with less risk of meltdown in their old possie next to the fireplace. While it looks so much better, the on-stage sound is a little bit of a problem, but hopefully that'll be rectified the next time we get there with the addition of acoustic tiles to the ceiling above the stage. The crowd appreciated the change anyway, and we all had the usual riotous time. Elliot Goblet (pic) was a notable addition to our regular crowd - check out his website if you're in the corporate entertainment game..
Iain Ross' supplementary shots from SA

1) The lads enjoy a damn fine meal including the world's best quiche 2) Iain studies Bill's cheating chords closely

3) De band plays de blues as only Spectrum Plays The Blues does 4) Bill looks mildly interested in something
5) Mike goes apeshit on harp 6) Hey! Wassamatterforyou? We'll do a friggin' encore..
Some more pics..
3.5.06 - Some people don't quit with the generosity. Iain Ross is one of those people and to that end supplied the above shots. I'm not kidding about the quiche - it was about the best quiche you could hope for in your lifetime. And then there was the '93 Pauletts Riesling - if you thought quiche and riesling were for faggots, then I'm on fire baby!
Spectrum's SA mini-tour

1) Val and Iain Ross wonder if I've had too much riesling 2) Tony McCarthy has definitely had enough..

3) The Astor filled to the gunwales with happy punters about to get an encore they didn't ask for.. and loving it!

4) Geoff likes a Bossa Nova..
Adelaide - city of dreams..
2.5.06 - I've come to detest the formula of having to drive vast distances to ply one's trade, so I wasn't looking forward to the hike there and back to Adelaide over the weekend, but I was pleasantly surprised on a number of counts this time round. We deliberately arrived the day before our first commission - a fiftieth birthday party being shared by three blokes and an imaginary friend - so giving ourselves the best chance of being well rested from our journey. Not a bad strategy, as it allowed us time to accept a very kind invitation to head out to the wilds of Gumeraccha after we'd set up at the Bowls Club, and share repast with Iain and Val Ross and spend an altogether very pleasant afternoon. The fiftieth birthday party wasn't at all bad either, and our hosts went out of their way with cake, coffee and booze supplements secreted at our accommodation to make us feel welcome. So far, so good.
On Sunday afternoon we'd arranged, through the good offices of an Adelaide
friend, Geoff Miller, and his good advertising friend Benton Bock, to play a speculative gig at the Astor Hotel in the city. I'd been able to get an oblique mention in during an interview on The Bald Brothers' show on 5AN, but otherwise all the promotion for the show was done through e-mails from this website and threatening text messages from Geoff and some other friends. Our audience is pretty elusive at the best of times, but the combination of these very modern techniques seemed to work pretty well, because I was stunned to look up just before we started and find the room was chockers - and even overflowing into the front bar!
As well as this impressive array of punters, there were a number of musical luminaries present: John Schumann and Mick Wordley from the Anzac Day show, Rose Tattoo's Rob Riley, The Twilights' John Bywaters - the list went on and on - well, for about one name longer.. Anyway, we were chuffed to have an attentive audience and played accordingly, and we got into that audience/band feedback loop and it just kept on getting better. Mind you, by the time we'd finished I was thoroughly exhausted, but quite satisfied. We sold a heap of CDs and had some lovely chats - it was all very nice.
It was after we'd packed up and I went outside to open the van, which I'd thoughtlessly left parked on the footpath, that I discovered it wasn't there. Oh consternation! It crossed my mind that Bill must've moved it, but where? I looked over the road - and saw the van, with its rear all smashed in! Gasp! Not the new Mitzy! My mood plummeted - what an absolute bummer to end the gig! I staggered over the road to check the rego with my heart pounding - and found to my relief it was someone else's Mitsubishi. Phew! One of the minor perils of owning a totally ubiquitous vehicle.
Ever since I've known him, Geoff Miller has been trying to get us to come out to his place and have a meal with him and his Korean wife, Ju, and tonight was our very last opportunity to catch them before they graduate to parenthood. What a treat! Ju created the most fabulous spread, and we ate and we drank and we talked and we ate.. And we ate and drank and talked until we could eat and drink and talk no more. Thanks Geoff and Ju.
One more night in the Comfort Lodge, (the absolute embodiment of Powell's Court, for those of you who know that famous doss house), and we were driving back to Melbourne. Even that didn't seem to be as bad as usual - the new van is a breeze to drive long distances - and I'm in relatively good shape today. Hooray! I'm actually looking forward to our next trip over to Adelaide in June.
back to the top