Scroll down to the start of the month
Close this window to
return to Mike Rudd &
Bill Putt's home page
I'll Be Gone in another movie
30.9.05 - I was perusing the Age in the Starpark Café yesterday morning, as is my wont, when I nearly choked on my jasmine tea. I was reading Adrian Martin's review of a recent local release, The Magician, when I came across this mention (left) of The Song in the closing sentence.
Well, I've simply got to see it now. Come to think of it, I do remember being contacted about I'll Be Gone being used in some low budget movie, but it's gratifying that it's getting some sort of profile. David and Margaret quite liked it, but they are notoriously soft on most Oz movies, unless they're horrendously bad. check review

1) Spectrum flies by the seats of their pants (photo courtesy of John Cross)
Weekend gigs rock!
26.9.05 - The headline doesn't really come close - the two gigs were so different. On Saturday night Spectrum was at the Limelight Lounge (pic) in Geelong, and there was a very good sized audience, despite it being Grand Final night, and by the time we got to the end of the night the joint was rocking and most of the crowd was up dancing and demanding more.
Sunday evening saw Robbo at St Andrews and Bill and me at Fishy's Café in Mornington. read more

2) Limelighters wait pensively for Spectrum to start 3) Mike looks too comfortable with the Geelong granny set

4) The sun sets over our equipment at Fisherman's Beach 5) The Fishy's room from the stage - cool eh?

6) Bill Jackson asks after our health at Fishy's
Weekend gigs rock! (cont.)
We've never played at Fishy's and never met the people there, although Glyn Mason and Sam See play there regularly and Glyn recommended we give it a go.
From the first moment we got there and met Fishy's Bill Jackson (pic left) and family, and then Pete Orton and Roberta, we were made to feel welcome, which was just as well, because there was quite a long interval between the set-up and the first set. We're not used to using other peoples' PAs either, so that gave us a bit to think about.
Anyway, the room was soon full of happy diners and the audience gave us a really warm reception when we did finally get on, and Bill and I gave them just a taste of what we can do - and got a brilliant reception.
Spectrum in Geelong and Mike & Bill in Mornington this weekend!
19.9.05 - So, things have been quiet lately, but we're looking forward to breaking the gig drought on Saturday with Spectrum at the Limelight Lounge in Geelong, and then Bill and me on Sunday at Fishy's in Mornington for the very first time. It's good to have found a gig in Geelong we can recommend in the Limelight Lounge, and we're hoping that Fishy's will prove to be viable on the opposite side of the Bay. For some reason, gigs on the Peninsula have been few and far between, which is odd seeing we suspect there is a large contingent of hippies lurking in the area. Use it or lose it, you laid-back Peninsula dudes!
Call Fishy's Restaurant to book on 5975 2286
Whoops! I missed this bit!
14.9.05 - Bill found this (left) in last Sunday's Sunday Herald Sun - a whole piece on the McCausland exhibition, with a photo of Bill, Robbo and me and all! You know, you can still go down to the River Bar (good food there, too) and check out the collection. You'll be amazed at how cheap they are. Check out the whole article
'Could be famous one day' pic
12.9.05 - You can tell already that it's out of date, but Alana brought the pic (left) along to the Lomond and I thought I'd better print it. It was taken at the Gringo gig at the Rainbow a couple of weeks ago, and, of course, features Ross Wilson and Alana as well as a hirsute me.


Check out what Mark had to say to Paul Stewart about us on page fifteen..
Holden DVD on sale today
12.9.05 - While things are relatively quiet gig-wise, it's nice to garner some publicity - any publicity, really. Some might say that this mention in the Sunday Herald Sun fits the 'any publicity' description, but then they don't know the real Mark Holden.
Well, who does? I haven't received my copy of the DVD yet, but Bill's got one of his Twang songs on it (Short Term Memory Loss Blues), and there was a host of Melbourne's finest backing Mark, so it's gotta be good.
SNIPPETS
Kevin Borich
8.9.05 - I've refrained from reporting anything about Kevin's current brush with cancer in the absence of hard information - mind you, there've been plenty of unsubstantiated rumours. I finally found some reliable information and you can check it out at Undercover News

Kerryn Tolhurst
8.9.05 - You'll remember I mentioned Kerryn Tolhurst recently in relation to the Lawson recording. Greg Quill has alerted me to the fact that Kerryn has been profiled in US Pro recording Bible, Mix Magazine. A very interesting story it is too. Check it out on Mix
Spectrum album taking shape
7.9.05 - Yesterday at AMS we did some groundbreaking work with Robbo. (pic) We were doing some drum overdubs on a couple of tracks and, for the first time, recorded bits of Robbo's kit live while simultaneously midi-ing some other bits. No, it's not much is it, but it worked for us. Have I mentioned we have a working title for the album? Breathing Space. It works on so many levels, but mostly on the one level that counts. I like it.
McCausland gets recognition

1) Bobby Bright and the man of the moment, Ian McCausland 2) Jim Keays shares a thought with Bill

3) Bill and Phil - or round the other way.. 4) ''Who, me?' Molly makes himself at home

5) Gavin Wood and Mick Hamilton 6) Ed Nimmervoll helps out Molly 7) Ian receives the Molly Award

8) Gudders lets rip
Industry honours Ian McCausland
7.9.05 - Last night I met up with Bill and the Robbos at the River Bar at Southgate to check out an exhibition of Ian McCausland's work. We'd been in the studio in the afternoon putting down some drum tracks, and just as we were winding up I got a call from the Herald Sun's Alan Howe making sure we were all going to be there - apparently Alan had been responsible for putting the show together for Ian.
When Ian Meldrum and Michael Gudinski arrived I knew there was something up, and sure enough, the Herald Sun's Paulie Stewart introduced Molly, who spoke before giving Ian the Molly Award, and then Gudders, who gave a speech about how important Ian had been to Mushroom in the early days.
As I was chatting to Bobby Bright and Phil Manning, I became aware that my right foot was becoming increasingly painful. I don't know how it happened, but it seems I sprained my foot just standing around. I hate being old..

Guilt by association or all publicity is good publicity..?
Andy Collins' Tales of the Old North
5.9.05 - You may remember that we played alongside Andy Collins at the Thredbo Festival last year. Well, since then, young Andy has been all over the place geographically speaking, and in a commendable effort to brighten up a dull month news-wise for Spectrum, has sent me this cautionary tale to share with you from the land where Rock was born.
'I arrived at the Bronco Inn, Spokane, for a sound check after a six-hour Greyhound bus trip from Seattle, and there's my poster for the gig right next to a WANTED poster for some desperado called Hush offering a $2500 reward. (pic) Then a couple of local soaks served me up about 'Shrimps on the barbie' and 'Paul Hogan's a wimp'
and 'What's all this about Fosters being Orstralian for beer', and 'Do you really all drink it?' and 'What direction does the water go down the toilet bowl in Australia?' and 'Is the Queen sort of like your President? ' etc. etc., and I knew I had me a live one!!
Then the promoter pulls out the PA and proudly tells me it's probably older than I am. Unfortunately, he was right, and it sounded less than good. I wrestled with it for the next half hour and got the best sound I could, reminding myself that 'when you've finished paying your dues in this business, you're finished in this business', that the bluesmen of old had had to contend with a whole lot worse than this, and that I would just have to soldier on. We headed off to a truck stop so I could get cleaned up and changed, and the promoter paid the $6.50 so l could have a shower. I looked at myself in the mirror and had to laugh.
Back at the Bronco the jukebox is blaring in the backroom, the TV is playing today's baseball game in the bar and the place is starting to fill. I don't even ask for them to be turned off or turned down 'cause I'm going in with both barrels smoking and I'm not going to worry about a thing.
The promoter introduces me and I launch into Mess of the Blues, and by the end of the next song the jukebox goes quiet and the baseball flickers silently and I've just about got 'em in the palm of my hand; the midrange,
honky, boxy old PA morphs into a hard edged blues machine and two hours later it's slaps on the back all round and big blonde American babes wanting to be photographed with me and welcome to the US of A.
Next night it was Kettle Falls just up near the Canadian border and, not surprisingly, the PA gives up the ghost halfway through the first set. A local radio announcer comes over and starts berating the promoter for supplying such a lousy, unprofessional PA - and I also chip in and tell him that it just wasn't up to scratch, but I hadn't said anything because I didn't want to offend him five minutes after I had met him.
Fortunately he took it the right way (he provided a new PA the next day), and in the meantime someone went and got a powered Yamaha speaker and I put the vocal through that, things got a whole lot better and the show went on.
Meanwhile the local DJ takes every opportunity to mouth off at the promoter for the rest of the night, and things started to heat up as the beers went down. By the time I had finished the gig the promoter had just about reached the end of his tether - and then the stupid bastard DJ comes over and asks the promoter if he would like to go outside and settle it.
Show down in Kettle Falls. The promoter jumps at the invitation to hit the idiot and duly shuffles him outside and knocks him to the ground with a big left hook. DJ looks up and says ' l didn't think you were going to do that '?? He was a real idiot!!
A little later the DJ staggers back in and tells the promoter he's going to get him back one day, but the promoter unwisely ignores him - and duly gets king hit with a forearm to the mouth; the promoter goes down.
The DJ tries to make his get away, but a couple of the promoter's buddies tackle him to the ground and proceed to work him over, but good.
End of stupid bastard.
Shoot, it was just like the good old, wild old days on the Barbary Coast in Cairns!! Many more adventures later I flew out of New Orleans - four days before Katrina arrived. Lady luck was good to me.'
Check out Andy's website
Calling all musos!
3.8.05 - I got this the other day from Ray Moon, Secretary of the Musicians Club of Victoria. 'Hello. If you are a musician or you know one or more musicians, we'd appreciate it if you would read and pass on the attached pdf file. It is a promo for a new LateNite Session on Saturday nights 12 midnight - 4am specifically designed for musicians to relax after their Saturday night gig. House rhythm section this week is Rob George on drums, Ian Mawson on piano, Jeremy Kellock on sax, James Clarke on bass, plus mystery guests and, hopefully, you! If not, maybe another Saturday, eh?'
Bugger! I'll have to read the PDF now. I presume he's talking about the Noise Bar in deepest Brunswick. Anyway, what about that! Jeremy Kellock (aka Jeremy Noone) - I haven't seen him for years! Yep, I've checked - it is the Noise Bar, 291 - 293 Albert St opposite the railway station. Be there, or be somewhere else.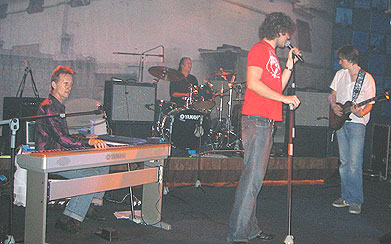 1)Sam (left) and the band wonder where the hell they are 2) Hongdan and Ying Ying - aka the hair crew
3) The awesome portico of the Icehouse blues club 4) The roadcrew heads off to another gig in downtown Beijing
Exotic gig location winner!
2.9.05 - The last mailout provoked some interesting responses, none moreso than from Sam McNally, whom some might remember as achieving his minute or two in the sun with Stylus, but who now it seems, is prepared to travel to the ends of the earth to ply his craft. He writes: 'I'm sitting in a 12th story apartment in Beijing China.. I'm here with one of my bands, Blues Solution, at a brilliant new blues-themed club called Icehouse.. ...Hah! Not as glamorous as you might imagine. However, the Chinese people, and particularly the Beijingers, are the best people, just wonderful. And.... who would've thought a lad from Mentone would end up here.'
Well, Sam, you're a winner on my website anyway! Bill's jealous, and he hasn't even read this yet! Maybe the Chinese are ready for some inner-eastern Melbourne music..?

Henry materialises during the session
Schumann's Lawson CD realease date announced
1.9.05 - When I opened the mailbox yesterday, I got one of those mysterious slips of paper that announces you've received either a ubewt parcel, or a registered letter from the government saying you're about to be deported. That it turned out to be the former was some cause for relief, (I'm an anxious soul), and that it turned out to be John Schumann's Lawson CD, was cause for actual celebration. So, hooray!
OK - so, then I had to have a listen, having so far heard only the tracks I played on, and them not in their entirety. (Ah, recording - it's a funny old business). I was pleasantly surprised at the contemporary musical interpretation, where you might reasonably anticipate a determinedly bush ballad approach, as well as the intelligent exploitation of the guest artists' various talents, including but not
confined to singing, as a counterpoint to Schumann's somewhat relentless vocal approach. (Takes one to know one..)
There's some very tasty playing in evidence, not the least from the producer Kerryn Tolhurst, who must have quite a weighty CV of Australian artists he's produced by now. You'll have fun identifying Shane and Marcia Howard, Russell Morris, Rob Hirst, Brod Smith et al who are given prominence on all thirteen tracks.
Whether the concept of marrying Lawson's words to Schumann's music works, is a question that you, the listening public, will ultimately answer, but in the meantime the project's guiding hands have reason to be very proud of their work. Certainly, Schumann is the right man to attempt it. I'm personally very honoured to have been considered as a participant.
Oh, the release date? Should be in the shops by the 20th of this month. It's a terrific looking package, too - so, go out and buy it!
back to the top