Scroll down to the start of the month
Close this window to
return to Mike Rudd &
Bill Putt's home page
Spectrum in the Limelight
30.5.05 - Despite the unforgiveably lame header, not to mention the out of control Collingwood supporter in the audience (pic), we actually had a super night at the Limelight Lounge, downstairs and right in the centre of Geelong. We've been anxious to find somewhere - anywhere- half decent in Geelong for ages, and this seems to fit the bill. Management is friendly, if not downright enthusiastic, and a lot of old friends from the area turned up to make us feel welcome. Special mention goes to Wayne's World, who made a special point of coming to see us on the final leg of his world tour.

1)Mike hangs on grimly (see bigger shot)
Mike's moonlight flit to Christchurch
28.5.05 - It was just a whim really, but when I saw that a CD was being released with an old Chants' track on it (see CDs of the month) to coincide with New Zealand Music Week in Christchurch last Tuesday (the 23rd) I thought it might be fun to be there. With a Spectrum gig in Geelong on the following Friday I had only a four day window, but my old Art School buddy Tony Brittenden, who lives just out of Christchurch, made it clear that I was more than welcome to stay with him, so I thought, what the hell?
So, at 4.00 on theMonday morning after the Hey Gringo launch I was at the airport to catch my flight to Christchurch. On Tuesday I borrowed Jan Brittenden's car and drove through the fog up to the Sign Of The Kiwi basking in bright sunlight at the crest of the Port Hills. There I met Tony Waine and Thierry Pannetier, the architects of the Christchurch The Music project, plus a number of the artists that had songs on the CD. Ray Columbus was being his generous self with the attendant media reps when I got there, and had to be interrupted to allow the

official launch to get under way. Jordan Luck sang the anthem Christchurch to open proceedings, (well, I'm led to believe it's an anthem - I'd never heard it before), and Tony Waine told us why he thought the project was important. The mayor of Christchurch, Garry Moore, then said a few words, before Ray inevitably seized the opportunity to say a few more words in front of the camera.
Devonshire teas were then offered, prompting an investigaion of the local plumbing on behalf of this column. And it was over. Well, the official part was over. I gave the still effervescing Ray a lift down to the bottom of Hackthorne Rd, (which excited Jan considerably to think that Ray Columbus' bottom had been sitting in her passenger seat), and drove to Sumner, where I had a lunch before going down to Minnie Bagoes for a sound check.
The Hitchhiker's Guide to the Galaxy says that a 'sound check' is musicians' code, somewhat akin to 'band meeting'. A sound check is supposed to be for the benefit of the the musicians as well as the sound crew, with the musicians getting to the venue at an appointed time and checking that their instruments have survived the tender ministrations of the roadcrew, as well as perhaps rehearsing a new song or two. In fact, it's a torture developed by the roadcrew to exact revenge on the band. The appointed time for the sound check is accurate to within a day. The sound of the bass drum is a priority and the vocal sound comes a very poor last. If there is time to rehearse anything, it's a miracle. If the sound guy is happy with the sound at sound check, it's axiomatic that it sounds like shit when the band starts playing, until everything is changed by the third or sixth number, depending on his or her competence.
So, nothing new then - except I didn't really know the guys I was playing with, and they didn't know the song I was singing. Luckily they were cool guys, with Alan Cattermole on drums, Tony Waine himself on bass, and Phil Jones and his son Elmore on guitars, and it was a pretty simple blues song I'd chosen to sing. (I Wanna Know). The only hitch came before we started and Phil's son's guitar wouldn't work for about five minutes, but once we got into it, it swung along OK.
The same band backed local heroes Jordan Luck and Simon Dark for their set, and they had the crowd eating out of their hands. Jordan in particular was revelling in the attention, and is the closest thing I've seen for a while to a regulation pop star. There's always been something different going on in the NZ music scene, and I think their peformance encapsulated at least one aspect of that difference.
Ray Columbus played his song using a backing track - after a bit of a chat, of course - and managed to engage the fairly disparate audience, but the big surprise of the night was the appearance of Pete Nelson and the Castaways. I used to go and see them quite a lot before they went to Sydney in about '65, and aside from looking older of course, they radiated some cohesive group identity perhaps missing from some of the other performances. (Mind you, I always thought that the Skye Boat Song was a pretty naff single, and it still sucks).
I nearly forgot. I didn't notice it at the time, but New Zealand has brought in the no smoking thing into pubs and clubs, and while there are obviously ongoing adjustments being made in the industry, the benefit was evident that night. Nobody enjoyed it any the less because of the absence of pervasive and invasive cigarette smoke that night, and most people - especially the musicians I would suggest - were extremely grateful. Bring it on!
Anyway, it was a fun night, and I had a much needed break from my usual routine. Many thanks to the Brittendens, of course, but also to Tony Waine and Thierry Pannetier for giving me the excuse to make the trip.

Christchurch The Pics

2) Tony Waine, Ray Columbus and EMI's Thierry Pannetier 3) Ray tells it like he thinks it is

4) Damien and Jordan Luck vibe up for their rendition of 'Christchurch' the song 5) Jordan
on photo call at Minnie Bagoes. Jordan had the crowd in the palm of his hand

6) Bill Direen sang in tongues 7) Surprise guests Pete Nelson & the Castaways swap recipes

1) Dazzle isn't frazzled
Hey Gringo 'Three' CD launch
27.5.05 - I'm sorry this isn't hot off the presses, but I've been away in New Zealand for a few days. (More about that in the next issue of the Bloody Newsletter). Last Sunday saw Hey Gringo, aided by superstars Ross Wilson and Spectrum and propelled by the tireless Daryl Roberts, launch their latest CD, Three, to an enthusiastic bunch at the East Brunswick Club Hotel. It was a good-natured night, with a notable performance from 'the Boss', who knew all the words to his two Gringo songs and finished up with a cool version of Hound Dog, with me adding the odd lick or two. Spectrum hadn't played You Know What I Mean together before, so that was fun too..

2) The Boss even impresses himself 3) Daryl leads Spectrum from the rear
Good news on the back catalogue
20.5.05 - I get about an e-mail a week about the Spectrum back catalogue, so I'm happy to report there has been a breakthrough, of sorts. And the sort is The Rat, Gil Matthews, (pic), who contacted me a little while ago trying to find a contact for the Band Of Light, but mentioned in passing that he would love to release the five Spectrum / Murtceps' albums. So Bill and I met Gil yesterday at the AV Channel in Wellington St Collingwood and 'did lunch' at Gil's local, and Gil outlined his plans for the releases. And I must say it all sounded very attractive, particularly after a glass of Pinot Noire. More news to come.
Spectrum back in the saddle
16.5.05 - I've just been reading some enthusiastic reviews of Cream's reunion performances in London, (thanks to Chris Taylor), and while Spectrum's gig at St Andrews yesterday (Sunday) didn't quite fall into that category, it certainly felt like thirty years since we'd last played together. It was fun having Daryl on the 'boards again, and you'll remember of course that we're playing with him again this Sunday at the Hey Gringo Three CD launch (see the gig guide for details).
The Gaze-bo in town
12.5.05 - I was innocently gazing (ha!) out the window of the Richmond Hill Larder after polishing off a satisfying breakfast with management, when I saw a pair of ears with Tim Gaze (pic) attached striding purposefully towards town. I frantically banged on the window to get his attention and we had a very pleasant little chat. He's down in Melbourne on guitar duties with Jimmy BARNES - in fact, they're doing a show at the Casino tomorrow night (Fri. 13th). He lives in Ipswich these days and is happy doing the odd tour and doing the odd bit of recording. He remembers Ariel's A Strange Fantastic Dream fondly, almost as much for the frantic few weeks we spent rehearsing the material as the actual record. Too little time is spent rehearsing these days according to Tim. I've almost forgotten what a rehearsal is. I'll ask Bill..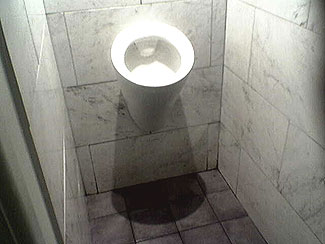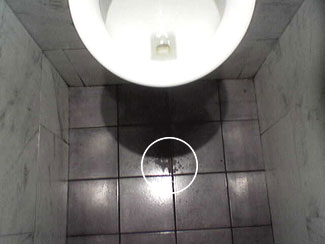 Modern Wonders - Part Three
11.5.05 - The modern urinal, whichever way you want to pronounce it, can be a piece of art. (In fact, the modern obsession with the banal as Art was ushered in with precisely that observation). A classic example can be found at that most respected South Yarra eatery, Harveys, to which I was fortunate enough to be taken this morning. The first pic (above) gives you some idea of the aesthetic sensibilities that have brought to bear. This is an adult urinal - in fact, the urinal stands so high one has to check in case it turns out to be a basin, and a child would have great difficutly presenting at a safe trajectory. No matter - Harveys is a very adult establishment, and there is the standard child-friendly booth alternative. Neverthless, (and here comes the beef), there are plainly some blokes, even well heeled blokes, who cannot help leaving their mark somewhat wide of the mark (pic two). I'm sorry, but this simply isn't good enough. While a public education campaign seems a little over the top, a discreet reminder at eye level wouldn't hurt. Failing that, an electric shock administered to persistently errant pissers seems entirely appropriate.
Stovetop to launch second CD
8.5.05 - Simon Burke may never play for Hawthorn, but Simon's band Stovetop is a band well worth checking out, if your taste runs to those old-fashioned virtues of musicianship and good songs. Stovetop's new CD, There There, is due for release in June, and if we're not working, I'll be there there. Check out the Stovetop website to listen to some samples of their work and see where they're playing in the meantime.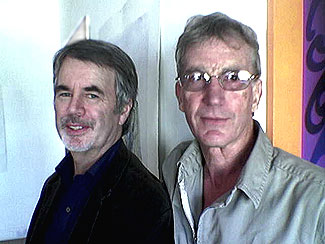 1) Richard and Stephen May 2) The unwanted cacophany of the Fed. Square entertainment v. the in-house PA
The Stephen May May exhibition
7.5.05 - If you're at a loose end and find yourself in town this month, you could do worse than visit Stephen May's exhibition at the Stephen McLaughlan Gallery, level 8, room 16 in the Nicholas Building, 37 Swanston St. (The building is an absolute treasure and worth visiting anyway). Stephen's an old mate of my brother Richard (pictured with Stephen), and elected a number of years ago to decamp from Warrandyte to live the bohemian life on French Island. His work reflects the ambience of his island home, with solitary silhouetted figures accenting the dominance of the landscape. Maybe.. (see Stephen May's White House )
At Richard's suggestion I met up with him at the gallery this arvo and we chatted to Stephen (and Stephen) and another old mate, Gary Young, between sipping some glasses of white something-or-other. We then visited Fed. Square, (it'll always be Bedrock to me), and lunched at the Chocolate Buddha, desperately trying to ignore the inordinately large (in every way) Gospel ensemble attempting to ignite the passions of the bemused spectators. I believe this entertainment was part of the Umbria Jazz Festival, as was the following imported blues band. What either of them quite had to do with jazz specifically eludes me, but undoubtedly somebody will make it clear to me in days to come.
Ross Ryan & Friends at Hardimans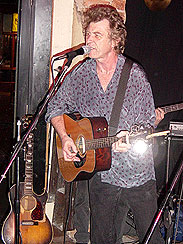 1) Ross claims 'It Ain't Me, Babe'. 2) Ross searches for that chord while the band sympathises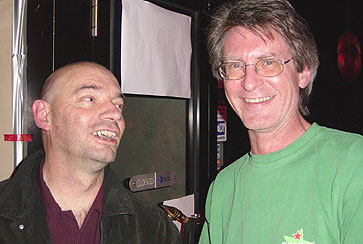 3) Bill plays one of his three notes for the song 4) Broc remembers when he had hair like Stuart's
Ross Ryan's Hardimans' concert series debut
7.5.05 - If you were on Ross' e-mail list you were probably there, or at least thinking about going there. After slaving away in the studio for four years to produce the politically correct, One Person Queue, Ross has decided that the next album will be recorded live, thus reducing recording time by a factor of 90%. The gig at Hardimans last night (Friday), was the first in a series, and as such wasn't actually recorded, but the intention is to record the subsequent shows and select the best performances for Ross' next CD release.
The band, having got used to rehearsing in the round and suddenly confronted with the prospect of playing in a triangle, were initially a little hesitant. Spectrum's Robbo was invisible at the apex of the triangle to the rear. 'All I saw was bums all night', he sighed. And quite a few bums too - at times there were eight bodies on a stage that could obviously take eight, but hardly comfortably. (see a large pic of Bill with the band)
The sound took a while to settle down, but by the end of the first set was sounding a little less precarious. Ross is a great front man, whether with a band or solo, and his genial banter always gets a few laughs and relaxes the audience. Nevertheless, the band was understandably a little edgy, this being the first set on the first night, but started to shine when the sound settled down. With an accordian, dobro, lap-steel, two guitars, bass and drums sharing the stage, the prospect is for a rich instrumental sound.
Some of the song selections were unexpected (Under The Boardwalk), and some of the arrangemnts of Ross' better known songs (Pegasus for instance) helped breathe new life into them. I'm betting that next week's show will be considerably more relaxed and should be great fun. A 'must see' show - afterall, you could be on the next Ross Ryan album!.
Ross Ryan & Friends will be performing Fridays May 13, 20 & 27 at Hardimans Cafe Bar Restaurant 521 Macaulay Road Kensington. Shows start approximately 9:00 ph. 9372 1340
More info: www.coathanger.com.au/connie/index.html#hardimans
Cornish surprise
4.5.05 - Well, I knew you wouldn't go, so when I got the text message from Bill Dettmer (pic) asking if I'd like to blow some harp with him and his band at the MBAS jam night last night (see story below), I knew I just had to go. It worked out well in another way too - Bill's planning a special night in July, (July 2nd), using the same band, and so I got to hear a couple of his snappy new songs that he'll be showcasing on the night. As they say - watch this space.
MBAS jam nights under threat
3.5.05 - The Melbourne Blues Appreciation Society's latest Bluesletter paints a grim picture of the current state of play with the Tuesday night blues jam at the Cornish Arms Hotel, saying that the more than fifteen year old tradition 'might be cancelled at the end of May due to lack of support from musicians and punters'. If just a few of our readers whip down to the Cornish Arms tonight we might be able to save this blues institution from annihilation by apathy. And if the rest of us clap our hands and repeat, 'I believe in fairies', Tinkerbell will live..
Modern Wonders - Part Two
2.5.05 - Continuing the somewhat grotesque theme on Camberwell's lavatorial underworld, I'm compelled to mention the very public conveniences in the Camberwell carpark, situated behind the legendary Chocolate Box, whose toilets garnered such bad press last month. It must be my habit of taking coffee in the area that has me scuttling panic-stricken to the nearest bog, but in this case I was quite pleasantly surprised. A skylight afforded good lighting and the toilet seat was in place. The only disappointment was the toilet paper (pic), which offers the bare minimum of comfort, and the complete absence of hand drying equipment.
back to the top