S P E C T R U M S P E C T R U M S P E C T R U M
M I K E R U D D B I L L P U T T . C O MM M I K E R U D D B I L L P U T T . C O MM M I K E R U D D B I L L P U T T . C O MM M I K E R U D D
stop press r

August
gig report / The Indelibles are back at the St Andrews pub - and loving it! 12.8.18

Mike and the chaps revel in the new St Andrews ambience and playing to a full room!
The Indelibles road-test the 'new' St Andrews pub
13.8.18 - When Maria and I arrived at St Andrews, we found that although the pub looked the same from the outside, inside was absolutely chock-full of happy diners - even the function room, normally reserved for storing hi-chairs, was fully occupied.
In fact, it was only when some of the diners left that some space was found at the tables for the Spectrum entourage and long-term followers returning to the pub to see if the new management had wrought the changes necessary to win back the pub's disenfranchised regulars.
There were more surprises for the band too - there was a handsome looking PA in place, so we didn't have to bring our own in. Mind you, we had to get it up and running and while we managed that, it's a work in progress. The stage has been modified too and sounds a lot tighter. Daz introduced his new Leslie speaker to us all - and it was good!
It was great to see the room humming. It seemed all our friends turned up and all had a good time. All in all it was a lovely afternoon for the band, welcoming old and new friends to a rejuvenated St Andrews' pub.
gig report / Spectrum and Madder Lake at The Flying Saucer Club in Kingston 10.8.18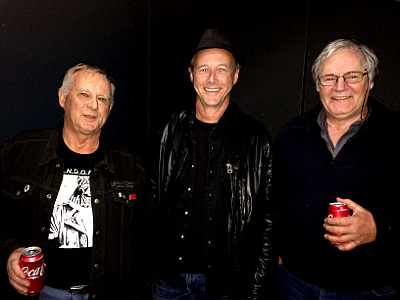 1) Brenden Mason lays down a Madder groove with Madder Lake 2) L-R Mick Newman, (who's indeed a new man) Daryl Roberts and Danny from Tassie
The double bill strikes again!
11.8.18 - There are no photos of Spectrum at this quite noteworthy gig because Maria and Deb, our two regular intrepid photograhers, didn't attend. Nevertheless, the double bill Spectrum / Madders combination drew some positive energy from The Flying Saucer Club show last night (Friday) and the near capacity audience appeared to thoroughly enjoy the bands, the room and the concept in general. This bodes well for the upcoming shows at The Spotted Mallard and Way Out West Roots & Blues Club at the Newport Bowls - see the Gigs page for details.
(BTW, I think I may've played at the Kingston when it was known as the Moorabbin Town Hall, possibly with The Party Machine, which would make it a cool fifty years ago. Or maybe not. Anyway, I don't think it would've been in the same room because I remember it as being very large with a parquetry floor. By contrast the room last night wasn't particularly large and was very well appointed with dining tables - the food was very good I was told - and seating appropriate for the age-group both bands have to accept they're playing for, i.e. the over-fifties. Nothing wrong with that, of course, but no sooner had I expressed the thought that one of these days somebody might keel over at one of our gigs, than somebody actually did keel over and an ambulance was called - I was told later that he was OK and I hope that he's back home by now and relaxing in good health).
We were prohibited from sound-checking between 5.30 - 8.00 so Spectrum had to go without and accept with what we were dealt. In truth it wasn't too bad, but the chaps on both sides of the stage suffered from having Rudd blasted at them very loudly from their monitors for the whole set. I ripped out my ear plug after the first couple of songs as I couldn't get a stage balance, which was regrettable as Rudd was blasting at me from my monitors for the whole set too.
As far as the actual performance went I had a couple of uneasy moments and led the chaps astray in Rock Critic, which is difficult enough to pull off when it's played correctly, but depite those misgivings the audience seemed to love it and our regulation jam with young Keaton was the icing on the cake - Brenden demanded and got a Standing O for the budding young superstar.
During the interval I conned Steve Georgiou into buying me a G&T and retired to the Green Room to play with my iPhone when Alana Gee suddenly appeared at the door advising me that my appearance onstage was being urgently requested by Madder Lake! The sound proofing is so efficient I didn't even know they'd were playing, so I rushed downstairs and grabbed a harp and joined the band which had been in a holding pattern in the Badlands song for some time, and dellivered some frantic harp licks.
Amazingly that seemed to go off OK and the Madders weren't too scathing, or maybe I didn't quite understand the commentary. Anyway, I did a couple more tunes with them before begging off the Nah, Nah song (12lb Toothbrush) and clambering thankfully into the Mitzi and heading into the badlands of Moorabbin for the hour-long drive back to Mt Evelyn.
M I K E R U D D B I L L P U T T . C O MM M I K E R U D D B I L L P U T T . C O MM M I K E R U D D B I L L P U T T . C O MM M I K E R U D D