S P E C T R U M S P E C T R U M S P E C T R U M
M I K E R U D D B I L L P U T T . C O MM M I K E R U D D B I L L P U T T . C O MM M I K E R U D D B I L L P U T T . C O MM M I K E R U D D
stop press r

February
gig report / 1st BASE (The Mike Rudd trio) plays at the Adelaide Fringe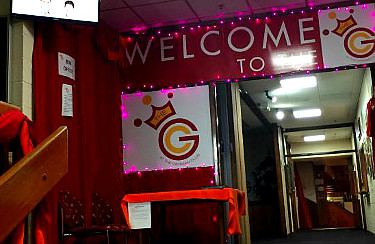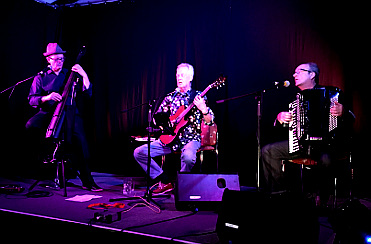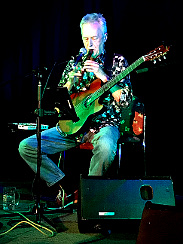 1) The entrance to the German Club at Adelaide Fringe time 2) Jeremy, Mike and George consult each other telepathically 2) Mike and the recorder do Superbody
19.2.18 - So, the solo Art Gecko gig (gig report below) with its atttendant nerves and tentativeness could be regarded as the first brushstrokes in a bigger picture to be fully realised the following weekend at the Adelaide Fringe. (The two 1st BASE Life after Life shows at the German Club). The shows were the subject of repeated emails, FB entries and interview mentions from me and the Rob Pippan Productions' crew and I was hoping that relocating the show to the smaller and friendlier Clubroom and having it on consecutive nights might not only suit us playing-wise but perhaps entice more people to sample our wares on the evening of their choice. Hmmm..
George, Jeremy Maria and I flew in to Adelaide just after midday on Friday and went straight to the GC and sound-checked comprehensively. We were assured that the settings were stored on the desk and could be revisited when the stunt magician's show (!) that preceded us in the Clubroom had concluded - but that didn't happen and we had to sort the sound out again before we could invite the audience in to take their seats, which meant we started about fifteen minutes late - not my usual style.
I started off the set a bit shakily too, but having George and Jeremy to lean on soon started to relax me, to the point that I was caught by surprise when the sounds of piano music from the bar next door started to seep through the door, adding to the muffled but unhelpful sounds of the Bald Eagles seeping in from upstairs. We had to cut the set short by a few songs, but I was happy that the bulk of the set had got an airing at least.
Before the Saturday night show I had a few words with Peter Colls, whose PA it was, and the problems we'd experienced the previous night magically evaporated, meaning we could concentrate on playing - and enjoying the music. I was so relaxed that I became perhaps a little too expansive with my chats about the songs and so was caught totally off-guard when a disembodied voice from the back of the room informed me that there was time for only one more song. I counted ten songs remaining unplayed and managed to negotiate two songs instead of just the one, but it was still disappointing.
Drat! We were having such fun too! (I shall have to get a clock to put on my android so I can better calculate how to time the set). It wasn't just the three of us on-stage that were having fun either. The people that crowded the stage after the show loved it and Rob Pippan's girls, Jasmin and Melanie said the talk from the crowd on the way out was very positive. Long-time Spectrum followers Richard and Adrienne Moore, with whom M and I chatted at length after the show, were clearly impressed and the overall verdict was 'great show, shame about the underwhelming numbers in attendance'..
We crammed our gear into the Uber ride-share and cruised back to the accommodation buzzing with excitement, mixed with relief on my part that I'd finally rediscovered my mojo - whatever that is. Perhaps it was the excitement or perhaps it was just the coffee I'd had with the Moores, but I barely slept that night. It actually turned out that none of us had slept very well, so perhaps it was the excitement after all.
gig report / Mike plays at Tinno's 64th and an Art Gecko soirée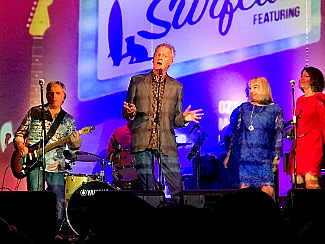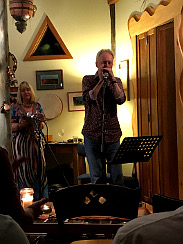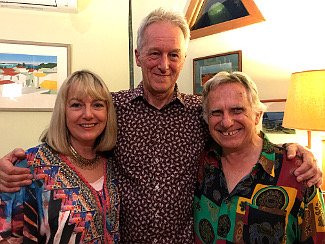 1) Mike does what he does with Tinno and Julie at Lizotte's 2) Mike and Julie do it again for Art Gecko 3) Jullie, Mike and Mark 'Tinno' Tinson
12.2.18 - It's been a quiet year so far, far too quiet for this old codger, so it was with relief, mixed with quite a deal of apprehension on my part, that Maria and I boarded the Jetstar flight to Newcastle for a couple of appearances that represented a 200% improvement in my playing fortunes for the year so far.
The first appearance was at Mark 'Tinno' Tinson's 64th birthday bash (pics 1 & 3) and the release of his auto-biographical book (Too Much Rock 'n' Roll) held at Lizotte's, where Spectrum played a few years ago, again at Mark's behest. Mark's wife and fellow performer Julie picked M and I up from the airport and took us to our digs via Stockton where we drank in the view of the CBD from across the harbour.
Julie picked us up again later to take us to Lizotte's where Mark had assembled a host of musicians that he'd played and recorded with over the years to present a review of songs he'd written or covered in various bands, including his stab at fame with Rabbit, who shared Ariel's producer Peter Dawkins in the CBS days. Even if you weren't familiar with all the songs it was good fun and we met and were reacquainted with some interesting people in the process, including Bob Spencer and Les Hall (TMG) who were seated with us for dinner - FYI Lizotte's is a music and food gig and is the brainchild of chef and music afficianado Brian Lizotte, Mark 'Diesel' Lizotte's brother, and is a fantastic music-friendly room that has its origins back in the late 19th century.
I was the pleased with the way my two (predictable) songs went, especially as we didn't have any rehearsal beforehand, and I felt far too comfortable with the luxury of two backing singers (pic 1) - I want some of those all the time! (See a review and clip of IBG on the Newcastle Live site).
M and I ventured into the world of Uber to get back to our accommodation and liked that experience so much we used Uber again the next morning to have a look at the Newcastle Art Gallery on Civic Square. Uber über alles!
After a day of sight-seeing we were picked up again by the always cheerful Julie and taken into the hills about an hour south of Newcastle. There we were greeted by Tinno who had arrived earlier to set up a PA in the very interesting-looking home and the creation of its owners, Col Amerie and Rosalie Amy, who were hosting the Art Gecko soirée that I was playing with Tinno and Julie.
I took some time making sure I was comfortable in the sound check and that my new Ditto pedal was going to be cooperative - Tinno is obviously very experienced with providing sound so I was very relaxed with that.
Everybody brought a plate ('It's all about the food' joked Rosalie) and so after Tinno and Julie's set there was a break to sample the delicious-looking food that had arrived - and then it was my turn. I was extremely tense and a bit concerned that my voice might be unpredictable - which it was to begin with - but as the set proceeded things began to ease up and I felt almost - but never completely - relaxed. The crowd was very attentive and indulged my occasional fluffs - I had to restart Superbody for instance - and the seventy-five minutes or so disappeared in a sweaty flash and all that was left was to play the inevitable I'll Be Gone (this time a capella, apart from the tambourine and harmonising that Julie provided) with the audience providing the rhythmic handclaps.
Then it was Julie again driving us back to the accomm. - the long way home this time - and a very decent sleep.
The next morning, both Mark and Julie this time picked us up and took us to The Source Café on the banks of the Hunter in Maryville to have a hearty breakfast (where Mark introduced me to the ¾ cup of cappuccino - forever to be known, by me at least, as the Tinno) after which Mark's friend, Steven Pickett (Newcastle Live) arrived, brimful of ideas about in-depth interviews and future live gigs in Newcastle. Excitement plus!
M and I were taken by our hosts to the airport after one last spin around the scenic points of Newcastle and arrived in good time to catch our flight home. When I finally sat down and buckled up I opened Tinno's book and started reading - and I'm still reading..
M I K E R U D D B I L L P U T T . C O MM M I K E R U D D B I L L P U T T . C O MM M I K E R U D D B I L L P U T T . C O MM M I K E R U D D