S P E C T R U M S P E C T R U M S P E C T R U M
M I K E R U D D B I L L P U T T . C O MM M I K E R U D D B I L L P U T T . C O MM M I K E R U D D B I L L P U T T . C O MM M I K E R U D D
stop press r


October
gig report / Spectrum at 3MDR benefit at the Sooki Lounge in Belgrave

Deb took this monochrome shot of Spectrum at the Sooki Lounge
3MDR Big Gig
29.10.17 - As I confessed to the punters on hand to support the 3MDR radio station Big Gig at the Sooki Lounge in Belgrave (formerly Ruby's where Daryl reminded me he played his first ever gig with Spectrum), I don't just make mistakes these days, I make colossal mistakes. Today for instance, I rolled into Emerald thinking that would be the logical spot for a gig for a radio station based in Emerald without actually checking before I left home whether in fact that was the case. Luckily I had just enough time to scramble to Belgrave and arrived right on the dot of 2.45, the assigned set-up time.
But it didn't stop there. The sound on stage at Ruby's was very live with an exceptionally frisky bottom end and that hasn't improved with the change of name and I pressed a couple of buttons that I shouldn't have in my more panicky moments. And then I knocked over my guitar and stand and mislaid my keys when we were leaving the stage and I got even more panicked - Broc found the keys in full view on the front of the stage thank goodness.
Despite all this I think we did OK. Another year, another Big Gig benefit done and dusted..
gig report /
Spectrum trio at the Frankston Guitar Festival 20th anniversary show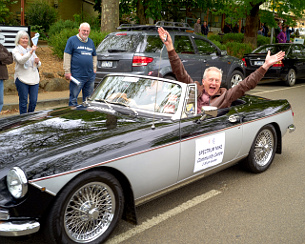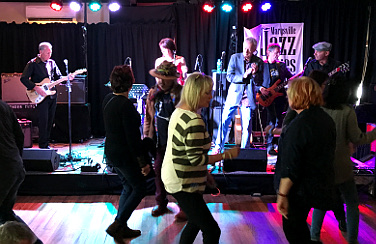 1) Mike sees Peter Lamont filming the big parade 2) Mike, Broc and Robbo help out Bev and Leigh's Eva to Diva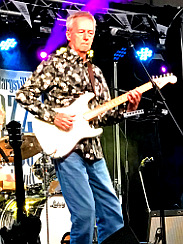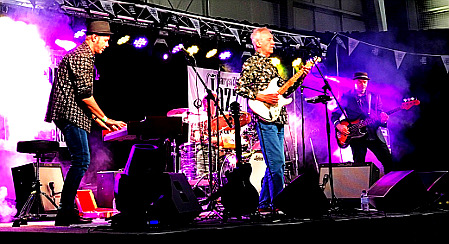 3) Mike tries out his skull shirt 4) Spectrum at the vast Community Centre Stadium on Sunday afternoon 5) Not Keaton again! Keaton's got some new chops (Lamont)
The Marysville Jazz & Blues Weekend
23.10.17 - Beverly Fraser actually made reference to the fact Spectrum had been at the Marysville Jazz & Blues Weekend from the very start - but that was only three years ago, so by comparison to most of the established festivals the Marysville J&B Weekend is in its infancy - by not calling itself a festival I suppose it's not in the comparison game anyway. Marysville's a laid-back family-orientated get-together which, until this year's appearance by patron Russell Morris, didn't feature any big stars as such. While it still young as festivals go I'm convinced it has a future - well, I hope it has a future, because I know a lot of folks as well as me have enjoyed the experience on a number of levels.
Maria wasn't feeling very well - she still isn't - and she wasn't sure she would be able to come up with me until the very last second on Saturday morning, but come she did and I'm really glad she did anyway. We arrived in time to check in to our Vibe Hotel accommodation before I leapt aboard my handsome grey and silver liveried MG, (pic 1) owned and driven by Lionel from Broadmeadows (who'd not been to Marysville before) and we tootled our way down the main street getting a lovely welcome from the Weekenders lining the street along the way
Maria and I had a lunch of sorts before I joined Bev and Leigh's Blue Like That band on harp for four numbers (with Broc and Robbo comprising the rhythm section) at the vast Community Centre Stadium. I was intending to join the lads at the Geoff Acheson show too, but I discovered The Wobblies were taking on the ABs live on the telly (rugby) so I missed out on a typically great show apparently.
After a fab breakfast at Fraga's with Peter Lamont and Greg (after our complimentary breakfast bombed out at the Vibe) we trotted down to the Crossways Hotel and I joined Bev and Leigh's Eva to Diva band (with the usual Spectrum suspects on board) to blow some harp for a couple of numbers. (pic 2) Maria and I returned to Fraga's for a delish cheese platter, this time tastefully accompanied by another Marysville peformer Joe Talia on his sweet-sounding National guitar.Then we were back at the Stadium again, this time for Spectrum's assigned Sunday arvo performance.
We were following the retiring Lloyd Spiegel and the stadium was a good three-quarters full, but by the time we started our ninety minute set a good part of the crowd had headed off for some place less cold and cavernous. Of course that was disappointing, but the crowd that remained gave us a great reception. However, I think we all agreed we would've preferred the beery intimacy of the Crossways for our contribution.
So, another Marysville Weekend done and dusted. This weekend we're at Emerald for the 3MDR show - see you there!
gig report /
Spectrum trio at the Frankston Guitar Festival 20th anniversary show

The view from the tiny stage at Beach 162 behind the Premier kit that Robbo brought for the gig
The opening salvo for the Frankston Guitar Fest.
9.10.17 - Billy Dettmer was worrying that nobody would turn up at Beach 162, the venue he'd chosen to host the 20th anniversary show for the Frankston Guitar Festival that he had a such a big hand in presenting late in the 20th century, but the signs were already good when Broc and I arrived. For a start the weather was good, which counts when you're playing under canvas in the Garden Bar, and there were already people of the right vintage chomping into the excellent pizzas from the house kitchen. So what if we'd not played note since early in the previous month and we hadn't done a trio gig since 2016?
And so it was that we all had an enjoyable evening together tickling our memory cells and exploring the relms of trio-dom.
M I K E R U D D B I L L P U T T . C O MM M I K E R U D D B I L L P U T T . C O MM M I K E R U D D B I L L P U T T . C O MM M I K E R U D D