September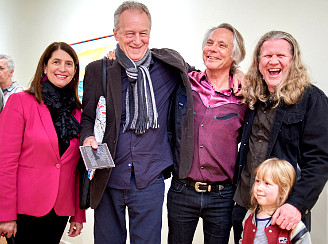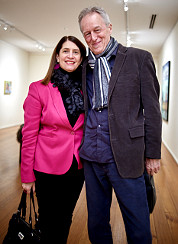 1) The odd couple - Mike and Stew 2) M&M, Stewart Macfarlane, Robbo and Keaton 3) M&M, the shot (pics Peter Lamont)
Lust for life - Stewart Macfarlane's latest show
6.9.17 - It was pissing down all the way into town, which didn't worry me particularly until I realised that I'd left my brolly at home. Fortunately it had eased off considerably when we were looking to find a parking space and we walked in to the Australian Galleries dry in every respect. I resisted the impulse to grab a glass of something quite ordinary on the grounds that I'm still recovering from the lurgy that so inhibited my performance at the Corner on Friday - and against expectations I enjoyed that aspect of the night so much I might make a habit of it.
We immediately came across Robbo and Keaton, (pic 2) followed in quick succession by Peter Lamont and the artist himself, Stewart Macfarlane. (pics 1 & 2) I thought Stewart's new paintings were even more luminous than usual and M commented on how they came up so much better than the invitiation. M wandered off to have a look at the exhibition in the next room - and came back in company with the her 'cousin' Gina and husband Gerry who were coincidentally there to see that exhibition.
Later we wandered across the road to have a look at the exhibition there, which we also enjoyed, and then back to Stewart's show to have the pics taken before Stewart gave me his latest CD and we headed off home.