S P E C T R U M S P E C T R U M S P E C T R U M
M I K E R U D D B I L L P U T T . C O MM M I K E R U D D B I L L P U T T . C O MM M I K E R U D D B I L L P U T T . C O MM M I K E R U D D
stop press r

July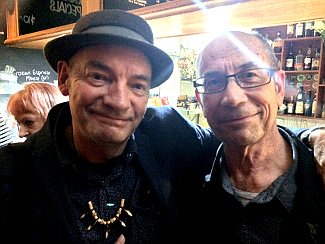 1) The good old Lomond hosts the Lomond Acoustica on a Wednesday night thanks to Rod Claringbould 2) Broc and felow bassist Barry Tiplady (Ruckus, Tim Gaze)
Mick 'n' Broc's surprise show at the Lomond Acoustica
Wed. 26.7.17 Mick 'n' Broc at the Lomond Acoustica
27.7.17 - When Rod Claringbould, the gentleman who originated the Wednesday evening acoustic sessions all those years ago, rang me a few weeks ago to see if I'd be interested in playing another Acoustica show at the Lomond Hotel, I agreed without hesitation and we both thought that was that. But yesterday afternoon when I was running through the songs that I was planning to do, I was overcome with a sense of frustration and rang my neighbour, Spectrum's bassist Broc O'Connor, to see if he would be up for a spot with me that very night. Broc was indeed up for it so I let Rod know the new arrangements.
We arrived to find a healthy crowd installed (pic 1) and when Ray Moon finally arrived got ourselves set up in time for our official start time of 8.15. I'd decided to use my Kelly plugged directly into the PA instead of the Morris nylon-string guitar and to do a selection of our eclectic covers by way of preparation for our upcoming gig with 1st BASE at the Skylark Room (see the Gigs page).
It seemed to go very well too - Ian Collard for instance, who was next up, said he loved every one of the songs we played. Broc was revelling in the freedom to improvise and as a result I only had the bare minimum of guitar and harp to distract me. Mind you, I struggled to read the lyrics in the gloom but will set them up for my tablet for the next time. So, a good result. Let's hear it for frustration!
July

Deb snaps the old man ripping out a hot lick on theStrat at the Chicken Shop
More Light of Day fun at the Chicken Shop
Sat. 22.7.17 Spectrum at the Chicken Shop for the Light of Day Festival
23.7.17 - You'll remember that I drove home on Friday night to nurse my partner Maria, which of course meant I had to return to Ocean Grove on Saturday evening to join the chaps for Spectrum's show at the Chicken Shop. We were all looking forward to it too as we've had a really nice time there the previous couple of gigs, starting with the corresponding show at last year's LoD Fest.
I'd concocted a radical set list just for the hell of it, not wanting to play any of the songs we'd played the previous night (except for The Song of course). We started with Launching Place Part ll, followed by Jamaican Farewell and Rock & Roll Scars and moving quickly into Silicon Valley. No country for old men.
It was as bold as it was beautiful and I think it had people gasping for breath, although that could be just the hot and cramped conditions in the room. Keaton had to be woken up for his spot and then it was out into the crisp night air..
July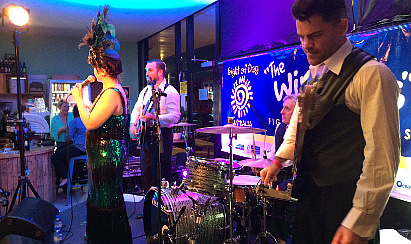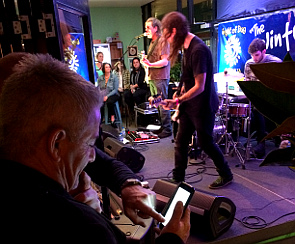 1) Deja Vu! Dreamboogie strut their stuff in Ocean Grove 2) Dirty Soul preceded the Spectrum set at the Driftwood Café
Spectrum sizzles at the Light of Day Winter Festival
Fri. 21.7.17 Spectrum at the Driftwood Café for the Light Of Day Winter Festival
22.7.17 - Back into the realityof a Victorian winter, plus a significant drive to reach the seaside township of Ocean Grove from Mt Evelyn through Melbourne's Friday night traffic. I'd left in plenty of time, so even after a three hour drive I was early enough for a casual check in at the Artists' reception, with time to nonchalantly eat some of the free nosh on offer as well as decant my gear into the silver caravan outside the Chicken Shop opposite the Driftwood Café where we were due to kick-off at 9.45. I was surprised to see Dreamboogie (pic 1) setting up at the Driftwood Café after running into them recently at the Humpty Doo Blues Festival. They sounded better in the small environment too, even though Robert Dillon (yes, the same Robert Dillon that played drums with The Heaters) confided to me that the fold-back sounded really woofy on stage. (It did too).
Dirty Soul (pic 2) was on next and I kinda liked them too, but I was glad I was wearing my ear plugs.
I'd had time to write a special Driftwood Café song list and I think the choice worked well enough, although I had a couple of tunes too many and we had barely enough time for The Song, followed as it was by a dynamic drum solo from five-year-old drum prodigy Keaton Robertson.
Then it was into the van for the drive back to Melbourne (via Queenscliff!) to tend to my injured partner Maria as best I can. Another couple of drives and Spectrum's annual commitment to the Light of Day cause is done and dusted for another year. See you at the Chicken Shop tonight!
July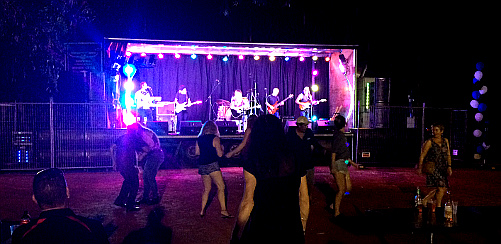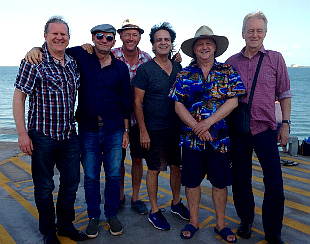 1) The Giants play on their home turf at the Humpty Doo Blues Festival 2) Robbo, Broc, Daz, Peter Leslie, Martin Fisher and me at the Wharf
The Humpty Doo Blues Festival is alright with me
Sat. 8.7.17 Spectrum at the Humpty Doo Blues Festival
10.7.17 - What a terrible thing it is to be uprooted from a typical Melbourne winter's day and be put on a jet plane up the top of Australia and be subjected to pleasantly warm temperatures all day and all of the night - as well as get to play a set of your own music (and blues) with yer mates to a receptive Festival crowd! Even worse, you have enough down time to be taken by Peter Leslie (pic 2) an old mate of Broc and Robbo's into the township of Darwin to have a very pleasant lunch of Barra, salad and chips on the Wharf and meet a fellow Kiwi who is also a musician (and a lawyer) who has a predeliction for oysters and a passion for rugby amongst the other fine things of life. (Martin Fisher pic 2)
This exquisite torture was organised at the behest of The Giants' Stu Woods, who brought us up to the NT last year at about this time to play at the Blues Festival at the Noonamah pub, just down the road from this year's venue at the Humpty Doo pub. Stuart is a long term fan of Spectrum (and subsequent outfits) and is in a position to indulge his musical preferences from time to time and fellow old boy Matt Taylor and Spectrum are the grateful beneficiaries of his largesse.
Really the only slight inconvenience was the late night/early morning flights there and back (and Jetstar's recent imposition of a $25 - $50 charge for the carriage of guitars), but all the rest was just varying degrees of enjoyment.
Mind you, our drive to Darwin for lunch did feel like an escape of sorts. The airport was the closest I'd been to the township, so driving into the CBD was like all my Australasian Post memories coming to life. We met up with Martin Fisher at the wharf and sat down to a civilised meal and equally erudite conversation.
The Friday night had been light on for a crowd and Daryl's 'solo' set was played to practically nobody, but fortunately there was a respectable crowd on hand when Spectrum took the stage on Saturday night. Of course we were a little bit rusty, having not played at all since our SA trip in May, but there was enough good stuff to keep the punteres - and onlooking musos - ecstatically/reasonably happy.
We got back to a chilly Melbourne airport at 6.30am on Sunday morning, sadly missing the 'blues explosion' that Stu had planned to wind up the festival - and the unseasonable NT warmth.
M I K E R U D D B I L L P U T T . C O MM M I K E R U D D B I L L P U T T . C O MM M I K E R U D D B I L L P U T T . C O MM M I K E R U D D