S P E C T R U M S P E C T R U M S P E C T R U M
M I K E R U D D B I L L P U T T . C O MM M I K E R U D D B I L L P U T T . C O MM M I K E R U D D B I L L P U T T . C O MM M I K E R U D D
a separate realityr

July
1) At Dick's, who cocks his snoot at his elder and betterer brother while Maria contemplates another one of her fabulous shortbread biscuits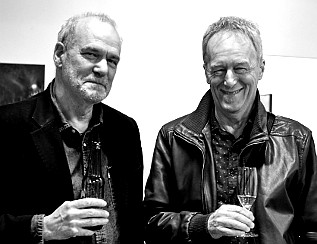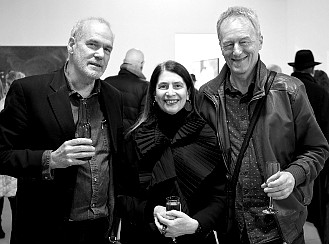 2) One of Tony Irving's film noir paintings from Beyond the Twilight Zone 3) Artist Graeme Drendel and Crudd 4) Graeme again with M&M at the Lindberg Gallery (Lamont)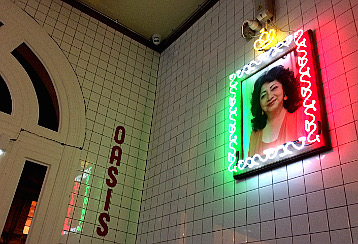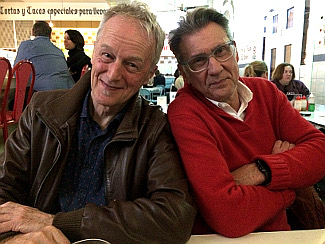 5) The corner of the Hotel Jesus Mexican bar that will forever be ours 6) Maria snaps the two cuddly guys over the table
A coupla days in the life of M&M
18.8.17 - It was last Monday that we popped over to Dick's place in Warrandyte North to finally pick up the hampers of goodies that the Sellers' donated to us before they left for the Land of the Long White Cloud. Dick's on his Todd while Mary's away in Arnhem Land and and was cooking pikelets in our honour when we arrived. He was quite glad to see us (I think). He's coming over to the Mount tomorrow night to see by how much the ABs beat the hapless Wannabes on the telly in the Red Room.
Last night (Thursday) saw M&M poodling into Collingwood to catch the opening of Tony Irving's Beyond the Twilight Zone exhibition at the behest of Hand Made Films' Peter Lamont. (pic 6) M and I both liked the work in general and the one shown here (pic 2) in particular, but no bargains to add to our collection tonight. Peter was already there and chatting to another well-known Victorian artist, Graeme Drendel, (pics 3 & 4) who recognised me as a ghost from his early days in Ballarat, when Spectrum played at the Miners' Rest Community Hall to fuck-all people. He's also played in bands apparently before settlimg on painting as a way of not making a lot of money. Peter showed me a sample of Graeme's work on his phone later and I really liked it a lot. Peter also introduced us to another high-profile artist, David Milne, who mentioned in passing that he'd been commissioned to paint a portrait of Mick Gatto.
We did get to speak to the artist of the moment briefly, although the chatter was getting to the threshold of my tolerance and my attention started to wander somewhat - which was when I realised the room was stacked with (mostly male) artist heavyweights.
We decided it was time to eat and Peter led us to the Hotel Jesus, a Mexican bar cum resataurant (pic 5) in Smith St where we ate a selection of allegedly Mexican dishes that defied my experience of standard Mexican fare. The bar was noisy, of course, and I didn't understand a word of our authentic-looking waitress' recommendations - which may explain why I didn't recognise any of the food that arrived in front of me.
Peter's very good company and we enjoyed chatting the chat in the Hotel Jesus and then even more chat on the way back to the poodle. If this is living when there's no work about, then it's not too bad I suppose..
July

1) Maria in a buying mood next to Sandie and Philippa 2) Hither and Thither for the studio 3) Phil's Drifting Blues
Two Phils at the Print Gallery
13.8.17 - I've met Philippa Riddiford, Phil Manning's other half a number of times so I knew she was an artist, but I've never been to an exhibition of her work before now. Maria received an invitation for us to go to her current show's opening at the Printmaker Gallery in Fitzroy on Friday night and we somehow managed to turn up right on time, which meant we were the first to arrive by some fifteen minutes - with the exception of Philippa's friend Sandie (pic 1).
M was struck at how much more vibrant the colours were in the flesh and that may've
encouraged her to buy a couple of the smaller prints - and then for me to buy one for myself !! Unheard of extravagance from me of course, but then I heard from Laneway's Vincent Donato that he had also bought one of Philippa's works! I think my pic (pic 2) will suit the studio and maybe even provide some much-needed inspiration.
Phil (Manning) eventually started playing some gentle blues (pic 3) but by now M&M were starving and had to rush out into the night and find a nearby Thai before Maria fainted.
July

1) THE KISS after the tying of the knot in front of the assembled witnesses 2) THE KISS in close-up
Broc and Kathleen tie another knot
12.11.17 - Two days have passed and I've finally managed to send Broc the crucial videos from Saturday's celebration, which means my iPhone is free at last! This was THE first WEDDING of the year - and it had everything. The radiant bride, the groom, the merest hint of drama, a cast that hasn't been assembled since Broc's 60th at the same venue two years ago, the music - especially Keaton's duo with Broc - the disappearing heating and even more. The nuptials were conducted smoothly and with appropriate decorum by the celebrant (pics) and before we knew it the quite important banquet and the music part of the gig were under way.
M I K E R U D D B I L L P U T T . C O MM M I K E R U D D B I L L P U T T . C O MM M I K E R U D D B I L L P U T T . C O MM M I K E R U D D