Archives glitch
27.11.04 - I didn't realise what I was getting into.. Archives users will be disappointed for a few days - at least. In the course of website house keeping I've managed to get myself into a bit of a mess, and it's going to take a while to rectify the problem. Sorry. Twiddle your thumbs impatiently in the meantime.

1) Fi reassures the audience while Bill checks the key..

What the PA did on its day off..
22.11.04 - With no more St Andrews gigs till the New Year (!), what to do on a lazy Sunday arvo? Why not take the PA up to its favourite venue and put it to use with the swingin' Lil' Fi band? I mean, Robbo was already there playing drums, (Lil' Fi badly cut her hand in a gruesome domestic incident we won't go into here, and so is unable to resume drum duties for another month or so), and Bill was anxious to sit in on lap steel, so why not?
The PA was very happy too - it's not often it gets a girl to amplify - so I jumped up a couple of times and stood in on harp so it wouldn't get too confused.
Or, is that too happy? Anyway, it sure made for a different take on the usual Sunday arvo at St Andrews.


2) Dirk Dubious, Robbo and Fi 3) Bill gives his impression of a man with his eyes open
Torquay Golf Club 50th un-birthday celebrations go off!
21.11.04 - In the nicest way possible of course. Michael and Marina Haughton (pic) were kind enough to invite us to their respective 50th un-birthday celebrations held at the Torquay Golf Club on Saturday night last. The party was attended by like-minded persons of a similar vintage for the most part, with a few notable exceptions in the child dept. Serious Young Rhys (pic) showed a diconcerting liking for the drums, (disconcerting for Rhys' parents anyhow, with the the dreaded Xmas season almost upon us), and Robbo lent him his djembe to accompany our first set, which he did with some flair. All in all, a fun night was had by all.
Songwriting blitz at AMS
19.11.04 - Last week I had Ross Wilson over for an arvo of feeling our way round the collaborating process, yesterday it was Ross' longtime writing partner Eris O'Brien's turn (pics) in the hot-seat. Both days were good fun too, with the prospect of at least one song on the way - to somewhere..
Now, the next thing I've got to do is hassle Pete Dacy for the balance of Spectrum's Secret Sound Studio sessions so we can get that new album under way.
What the other half is doing..
17.11.04 - Ross Hannaford has an exhibition of his artworks coming up at fortyfivedownstairs, 45 Flinders Lane Melbourne. The show will be run in conjunction with an exhibition by Ross' wife, Lorraine Austin. Opening night for both exhibitions is Monday 29 November, 6.00-8.00pm The exhibition runs from Nov. 30th till Dec. 4th. Gallery hours: Tues - Fri 11.00am-5.00pm, Sat 12.00-4.00pm
Gerry Hale and the Innocent Bystanders had so much fun last month they have decided to do it again on Friday 26th November at the Czech Club. Doors open 7.45pm. And they'll be live on on ABC radio 774 after the 8.00pm news with Derek Guille on Thursday 25th November.
Siemen's Stereo Hearing Aid Hearing Aid bash

1) Rod Quantock has a serious moment and then.. 2) delivers the gospel according to Siemens


3) Joanne the Siamese twin 4) Daz chalks up brownie points with management

Siemens' ball left hanging
14.11.04 - Last night was one of those mysterious 'private' gigs that now and then deprives the public at large of seeing Spectrum at their local, well, local. I guess you could describe this one as the archetypal corporate gig. It had all the essential ingredients - i.e. a corporation, (to whit, Siemens), Rod Quantock as the MC, extra musicians (in the shape of Daryl Roberts on keys and Jenny K on falling off the stage), plus, rated as the most useless of all rock music conventions next to the dreaded band meeting - a sound check.
Some of the audience even pretended to know who we were, with one knowledgeably requesting Golden Miles..
MOR at the Ding Dong Lounge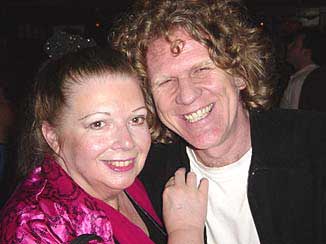 1) Harvey's son Gabe follows in dad's footsteps 2) Robbo meets an old friend
in Val Sparnaay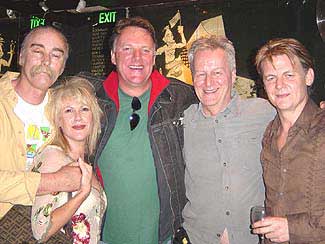 3) Bill, Wendy Stapleton, Wilbur Wilde, Mike and Paul Norton 4) Somebody knocked Sandy as she took this one..
Mighty Oz Rock premiere
11.11.04 - Jenny's girls all got sick at once, so there was a late change of plan and, instead of going with Jenny I picked up Bill as my date to go to the Ding Dong Lounge and catch the Mighty Oz Rockers inaugural show. We met up with the psychologically reconstructed Wilbur Wilde out front and had a bit of a chat before ascending the stairs leading to the Ding Dong Lounge. Talk about déjà vu! There were far too many old heads in there to relate, but how about Issy Dye, LWTTT's Wally Bishop, Wendy Stapleton and Paul Norton, just to name a few. We'd scarcely time to say howdy to anybody before the band was being announced by our hostess Sandy Kaye and they launched into Crowded House's History Never Repeats, a faintly ironic choice for the opening number. There was nothing faintly ironic in the choice of songs for the rest of the set, which was absolutely what you'd expect from a band bearing the MOR monicker. (Mind you, the abbreviation of the band's name is laden with irony). As this over-qualified group nonchalantly reeled off hit after Aussie hit, I was transported back to Bombay Rock circa 1982 - the VIP Lounge of course - and the room began to spin eerily.
By 9.30 I realised I was actually starving, so with the strains of Howzat! still ringing in our ears, Bill and I made our exit and went over the road to the Spaghetti Tree and had an enormous Italian-free meal. Afterwards, Bill went back to the Ding Dong to fraternise and cadge a lift home, while I struggled back to Camberwell nervously with the van only able to muster up parkers for lighting.
Rick Murphy and me.
The search for Geof Crozier - part two
9.11.04 - WA writer, Rick Murphy, duly showed up at my place today, (after first going to the wrong house), and we chatted about the elusive magician for about an hour. Rick knew Geof very well, having grown up with him, and had some funny stories to tell about Geof's career, relationships and the whole damned thing. There aren't too many facts available and I didn't help much, having lost the precious letter Geof sent me after he came back from the USA.
Rick was philosophical and said there was a certain poignancy in that anyway, which I thought was quite diplomatic. Should be a fun book when it happens - get in touch if you have a Crozier story to tell..
Cameron wants to know where his T-shirt is..

No Thinking T-shirts a hit in Nippon!
5.11.04 - Sales of No Thinking T-shirts have gone through the temple roof in old Japan as the craze for everything No Thinking turns the nation upside down. Ever since the Emperor was seen wearing one when at a recent Elton John concert, the Volcano Records warehouse has been ransacked of every size in the striking white Ts. News of this craze was brought by the Castles, Mark, Waki and son, Cameron, (the Thorpedo), and family friend, Midori (pic). The Castles are in Melbourne to catch up with relatives and recover from the Olympics, where Cameron represented Japan in swimming and basketball. They're taking a container load of freshly printed No Thinking T-shirts back to Nagoya with them.
A couple o' shows while Spectrum snoozes..
4.11.04 - October was humungous, but November is obviously a time for contemplation. I got these two gig reminders from Bob Starkie and from a Kevin somebody (?) respectively, so I'm passing them on for your consideration. The Bongo gig is at the Pint on Punt, 42 Punt Rd Windsor, but I'm not sure about the details for the Kev gig, so I've e-mailed Kev's Jennifer for more info. I'll let you know more when I do..
5.11.04 - And now I do have some more info about Kev's gig. I'll let Jenny talk the talk: My boyfriend (Kevin Welgus) and I have built a recording studio that we finally finished this year. It is on the second
floor of a factory in Oakleigh. The studio is built in the middle of the factory space and at the far end is a very cool live venue/lounge. We have a very large stage, lighting, PA, desk etc. The beauty of having the live area and studio together with an audience creates a great live recording of excellent quality with a true live feel...
..About every three months we have a Jam night which the next is on Saturday. It is a bit of a mix between a jam and set bands and is always a great night. We have recorded a couple of these nights. When I say we I mean Chris Thompson (you may know or heard of him) from Martin Street Studios and triple JJJ producer/engineer. Chris has recorded a few people at Guruland. You may also know the guy who designed the studio, John Sayers. Check out his web site www.johnsayers.com There are some photos on his site of Guruland under construction and a plan of the studio.
Wow! John Sayers! I went to school with John and he was the engineer on the early Spectrum albums. Unfortunately it seems John's site is out of commission, so I'll have to wait to find out what he's up to. In the meantime, if you're the adventurous type, why not check out Guruland on Saturday?
The search for Geof Crozier

1.11.04 - More than two decades after his last most puzzling disappearing act, research has started for a biography of the magical illusionist, Geofrey Crozier. I'm being interviewed about my personal recollections next week, but I'm sure some of you out there have tales of being enchanted by Geof's innovative rock and roll magic show at events like the one on the poster (pic). If so, I'm sure Rick Murphy would love to hear about it. Get in touch with Rick at this address:

docklands14@bigpond.com
We were wrong..
1.11.04 - In last month's Stop Press in the article headed Robbo the Hero, it was alleged Robbo's mum, Margaret, was choking on a vol au vent. Solicitors for Mr Peter Robertson have asked that the true facts be presented. It was a samosa.
A bridge too far..

1) Ned Kelly's spooky wagon wheel at the Vine 2) Woongarra Motel's Leon ponders the
stage conundrum with Bill and Robbo

3 & 4) Happy diners on the bridge oblivious to the entertainment

A big weekend in the bush for Spectrum
1.11.04 - Well, Roctober 2004 is history now, but it has to be said that I'm history too, after the frantic final phase. On Saturday we headed of to the historic Vine Hotel, just outside Wangaratta - which was in the throes of hosting its annual Jazz & Blues festival. As Spectrum have been repeatedly denied an appearance at this festival, (we know who you are), there was a certain pleasure in backdooring the festival, and we had a fun time roaming around the cellar where Ned Kelly used to hang out.Next morning we arrived at Pfeiffer Wines promptly at 10.00 am, despite having lost an hour of alleged sleep through the inconsiderate introduction of
daylight saving that morning, only to be confronted with the most curious of all set-ups, which made next the five hours (!) of playing almost redundant. Pfeiffer Wines are located in Wahgunyah, fortunately only five (pfeiff) minutes from Rutherglen where we were accommodated. They have a very picturesque custom where patrons actually dine (under cover) on a bridge. Carp and turtles frolic in the waters below and the whole scene is very, well, picturesque. Unfortunately for us, we were stranded in no-man's land high on the embankment, playing to neither the diners nor the small crowd of onlookers that percolated in from the surrounding countryside. We made our own fun of course, but it was a frustrating and tiring day, not helped by the omnipresent dust and the swarm of pflies that persistently badgered me for my autograph.
| | | |
| --- | --- | --- |
| Just a quick reminder that the Oz tribute supergroup Mighty Oz Rock, featuring Mick Pealing and Ariel's own Harvey James, will be appearing at the Ding Dong Lounge, (level 1 / 18 Market Lane in the city), Wednesday week (the 10th). It's open to the public - better check with Sandy Kaye about door prices on 0418 314 681 if you're interested. Ask Harvey to play I'll Be Gone.. | | |
back to the top