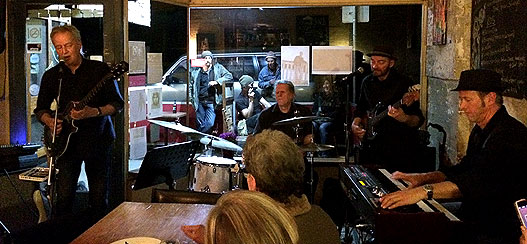 The intimate surrounds of the Wild Thyme Cafe had the audience spilling onto the footpath
2) David Skewes
(
Gravias)
gig report

Sat. 9.8.14 Spectrum at The Wild Thyme Cafe Warburton
Sun. 10.8.14 Hey Gringo at The Cabana Lounge with guests
Time no object at the Wild Thyme..
11.8.14
- Robbo was a tad late getting to my place so I was already a bit under the hammer loading in and setting up for a 6.30 start when a rangy looking chap in a red track suit sought to have a word. I was initially tempted to postpone the conversation - but when he introduced himself as David Skewes I nearly fell over. I rehearsed with David when I was putting Spectrum together back in 1969 and I remember being devastated when he packed up his Hammond and Leslie and went home. (Although we might've been rehearsing at his place now that I think about it). Anyway, David and I chatted over the night and he told me he'd gone back to Perth and played in a WA band called
Innocent Bystanders
who toured the east coast in the mid '80s.
Despite the cramped conditions I was glad we weren't playing outdoors and it was nice to have Daz back in the line-up after a series of trio gigs. I suppose the highlight of the night came after I'd said goodnight at 9.30 only to be fronted by the owner who rather tersely asked if we were going to play till 10.30 or not. I suppose I was in a good mood and so I agreed - and the
last
last set turned out to be a lot of fun too. In fact, the audience had been rather tested with the catering which had left quite a lot to be desired, but in the end patrons, staff
and
band managed to maintain a positive mood and the night ended well.
*See and hear a vid from the night of I Wanna Know
On Sunday I took Maria and Chris down to the East Malvern RSL, aka The Cabana Lounge, where Daz's band Hey Gringo was playing the arvo shift. They had a young clarinet player doubling up with their regular sax player, but he had another sax commitment at 5.30 so Daz had invited me to sit in on the last set. Chris thoroughly enjoyed the music and even threw in a line or two of his own for good measure in
Louie, Louie.
Mae Parker promised Spectrum a gig there in October, so we'll see you all there then!
Daz and the band give Mike some vocal backing to a half-remembered tune or two.. (Gravias)