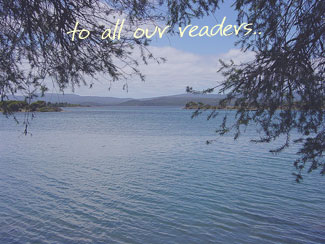 Just pass your mouse over the image (the beach at Mallacoota) to get a New Year's greeting from Spectrum
Another year, another feature..
3.1.05 - I know, I know. This issue is very late, but I plead end of year pressures etc. - especially the etc. The new Correspondence page, mentioned in last month's Stop Press, now has an official link on the More Links column. Fans of Bill's Zippo Blues clip will be ecstatic to find that it's included on the Demos page.
Mike's Pith & Wind - Resolutions
This year is different. Last year, (and the year before that, now that I come to think of it), I managed to run away to New Zealand for a couple of weeks and ignore the fact that my world at home was effectively being run by a skeleton staff of impostors. If there is an up-side to being stuck at home, post-Xmas sales is just about all of it. Mind you, a lot of my favourite cafés being closed means I've been compelled to try somewhere different for coffee, and, oh joy! I've discovered a substitute coffee house that isn't all that bad.
Being away on holiday means that you don't have time to get so depressed that you take the New Year's resolution ritual seriously. Being at home with no distractions means you are forced to review your barely functioning lifestyle and to maybe consider some positive alternatives - i.e. the dreaded New Year's resolution. Well, that's the way I feel anyhow. And the first resolution's already appeared, almost involuntarily, as described in this month's Stop Press. Bloody New Year's Eve gigs. I can't remember one that could have been described as going off, in the positive sense anyway. And, although I was more or less prepared for the worst, the Marlo gig was still disappointing. It's not

MORE LINKS!

STOP PRESS................................

All the very latest news, gossip and pics

ARCHIVES.....................................

Find all the back-issues of the Bloody Newsletter and Stop Press

HELPFUL LINKS...........................

Some helpful links to Spectrum's favourite people

MIKE & BILL'S DEMOS................

Have a listen to Mike & Bill's demos of new songs

CLASSIFIEDS................................

You wanna learn guitar or buy a classic piece of equipment? Check the classifieds

FREE DOWNLOADS....................

Give us your thoughts on the file-sharing conundrum

BOOK SPECTRUM.......................

How to book Spectrum for that special function

CORRESPONDENCE....................

E-mails to the editor on any and every subject

ODD SPOT
3.1.04 - I was sent this link by frequent correspondent, Rocky Granat. I find it amazing this went to air, especially in the UK, but I'm assured it did. I seem to remember some local kids' TV shows in the '60s and '70s were famous for the occasional double entendre, but this takes the cake. check it out