S P E C T R U M S P E C T R U M S P E C T R U M
M I K E R U D D B I L L P U T T . C O MM M I K E R U D D B I L L P U T T . C O MM M I K E R U D D B I L L P U T T . C O MM M I K E R U D D
booking
How to book

There's half a dozen Mike Rudd options to choose from listed below. If you'd like to book one of them please contact Mike per email or speak to him directly on (03) 9736 1164 or 0411 103 818. Prices and availability of the various options available on request
#1 Mike Rudd's Indelibles r Spectrum reloaded

Peter Robertson, Broc O'Connor, Mike Rudd & Daryl Roberts
This is the very same band that was known as Spectrum until just now and is the band that can recreate the original Spectrum, Murtceps, Ariel, WHY and Heaters' songs just for you. With songs like I'll Be Gone, Launching Place Part Two, Going Home and Fly Without Its Wings, Ariel's Jamaican Farewell, Rock & Roll Scars, Red Hot Momma and Worm Turning Blues, Murtceps' Esmeralda, Some Good Advice and We Are Indelible, you'll be in Spectrum heaven.
But wait, there's more! The Indelibles (pic) will also treat you to a set of more recent songs from the Breathing Space EP series like Rocket Girl, Silicon Valley and Xavier Rudd is Not My Son, followed by a set of crowd pleasing blues from the Spill - Spectrum Plays The Blues and No Thinking CDs, including classics like I Just Wanna Make Love to You, Good Morning Little Schoolgirl, I Ain't Superstitious etc. Inevitable? Probably. Irresistible? Undeniable. Indelible? Certainly!

(pic Dale McCabe) See large pic
back to the top
#2 Spectrum to Ariel featuring Glyn Mason

Spectrum to Ariel's Glyn Mason, Peter 'Robbo' Robertson, Daryl Roberts, Broc O'Connor and Mike Rudd in a time tunnel
Spectrum to Ariel
It was Laneway Music's Vincent Donato who suggested to Mike Rudd that he put on a special one-off concert on at Melbourne's famous Caravan Music Club. The concert would be based around Laneway's re-Visionary album, an eclectic collection of Mike's songs culled from Spectrum, Murtceps and Ariel albums that Laneway planned to release simultaneously with the concert.
So the concept of Spectrum to Ariel was born, with former Ariel stalwart singer, guitarist and songwriter Glyn Mason being added to the Spectrum nucleus and with a repertoire of songs from the various Spectrum, Murtceps and Ariel albums plus a brace of largely neglected singles released by Rudd's bands over the decades. Singles like Ariel's Disco Dilemma and Glyn's It's Only Love, Murtceps' Indelible Shuffle and Spectrum's But That's Alright - and that's just a few. You forget how many singles Mike's bands released.
Now, with satisfyingly successful Spectrum to Ariel gigs at Melbourne's Caravan Music Club, a Brian Cadd show at the Palms at Crown and a recent appearance at the Semaphore Workers Club in Adelaide under thieir belts, the Spectrum to Ariel chaps are looking round for more mountains to climb. Why not gig at your place? Get in touch and I'll tell you why.

(pic Peter Lamont)r Read the Spectrum to Ariel bio
nback to the top
#3 Mike Rudd's 1st BASE with George Butrumlis and Jeremy Alsop
I had a dream - and the dream was 1st BASE, with piano accordion meister George Butrumlis and ace bassist Jeremy Alsop complementing my nylon-string guitar and other bibs and bobs in essentially the same repertoire as I perform on my own. If the reaction at Spectrum Ariel's re-Visionary concert is anything to go by, there's an audience out there for exactly this kind of sophisticated acoustic fare. George's lyrical playing and instinctively appropriate harmonising combined with Jeremy's knowing and equally tasteful double bass flesh out the musical palette and enliven my admittedly quirky songs.
Mike Rudd.

(pic Peter Lamont) 1st BASE bios and a live review

Mike Rudd's 1st BASE - George, Mike and Jeremy
nback to the top
#4
Mick 'n' Broc
rrMike Rudd & Broc O'Connor
Broc O'Connor & Mike Rudd
Mick 'n' Broc have barely played together as this is written, but already there are signs that this is going to be a winning combination. As well as being Spectrum's exemplary bassist, Broc O'Connor has previous form on the six-string guitar with a multitude of bands and when not on Spectrum duties has a thriving business playing his beguiling chops in bars and restaurants till the cows come home. Mike has seized on bits of Broc's solo repertoire and chosen some classics to add his voice to - classics like Georgia on my Mind, At Last, Ain't Misbehavin', Dock of the Bay and a bevy of Beatles' tunes including Can't Buy Me Love and Yesterday.
Adding these to Mike's own retro-Spectrum and current solo songs and his own choice of covers makes for fascinating and entertaining listening.
Could be the ideal format for your birthday or any other celebrations.

Check out the official bio for more details.
back to the top
#5 Mike Rudd
playin' wid himself

Mike Rudd - alone at last!
Throughout his long performing career, Mike has preferred the comfort and safety of 'the band' format, but things are about to change. Mike sees playing solo as an opportunity to tackle songs that, for one reason or another, don't get played in the group setting. Outrageous songs like Excuse Me Just One Moment from Murtceps' Warts Up your Nose album and Confessions of a Psychopathic Cowpoke, from Ariel's A Strange Fantastic Dream album which of course was famously banned from airplay by the FCB* when on release. *Federation of Commercial Broadcasters
Naturally the solo repertoire isn't just comprised of controversial songs - there are some damn strange and just plain beautiful songs in there as well. Songs like Superbody, from the Spectrum Part One album, the Ariel single I Can Do Anything, and the haunting Kneedeep from the Living on a Volcano CD.

Read a review and some feedback about Mike's solo performances




nback to the top
#6 Spectrum rrthe original and..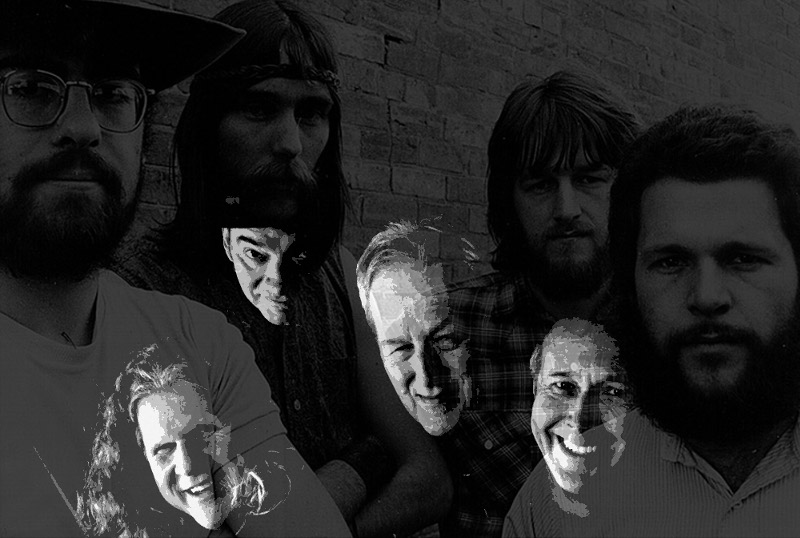 Today L - R - Peter Robertson, Broc O'Connor, Mike Rudd & Daryl Roberts 1971 L - R Lee Neale, Bill Putt, Mike Rudd & Ray Arnott
Discuss - is Spectrum dead?
The original Spectrum played around Melbourne and beyond between 1969 - 1973 when it was known chiefly as a sit-down-and-listen-to concert band, playing at venues like the Thumpin' Tum, Berties and Sebastians (oddly known as Discotheques) and the occasional riotous TF Much Ballroom event.
When pub gigs came into vogue in Melbourne, The Indelible Murtceps was devised to cope with the more visceral demands of pub audiences and happily co-existed with its big brother Spectrum, occasionally even playing a support role in the bigger concerts.
The popularity of Spectrum's national number one single, I'll Be Gone, put the band in front of many more people than an outfit retrospectively dubbed as a prog rock band might've expected, but Spectrum doggedly pursued its own musical course, to the point of not including I'll Be Gone on its first album, Spectrum Part One.
You will hear echoes of the original Spectrum in all the contemporary configurations listed below and, while it's still a useful reference point, the fact is that Spectrum as it was known back in the '70s, doesn't actually exist any more.
Don't be disheartened though. If you really want a genuine, purely Spectrum-Murtceps contemporary recreation, let's talk. In the meantime, if you'd like a stimulating concert-type reappraisal of Spectrum and beyond there's always the Spectrum to Ariel outfit to consider, (below) with former Ariel stalwart Glyn Mason added to the lineup.
And there's much, much more, so rather than me rabbiting on, check out the list above. (See official bio)

Mike Rudd
back to the top
M I K E R U D D B I L L P U T T . C O MM M I K E R U D D B I L L P U T T . C O MM M I K E R U D D B I L L P U T T . C O MM M I K E R U D D