CD reviews & live reviews
I'd allowed these two pages to languish in the dead zone up till now as everything contained therein is so last century, a bit like the word 'therein'. We've not released a CD since I've forgotten when and now the format is virtually deceased and nobody's bothered reviewing the band playing live since - well, you can check the dates for yourself. All the crucial and not so crucial links have passed their due-by date and I've lost a couple of reviews as a result, but there's still some useful and encouraging words to lift the spirits.
THe most recent CDs are at the top and you can access the various releases from the links above.
You can also access the live reviews page via the links above.
Breathing Space As Well

..Soul Man is the best piece of music I have heard for years to be honest, and that is not because of the subject matter. There is just something about the way Soul Man was arranged and presented…to me, almost perfect combo of voices, instruments, and lyrics. From the first time I heard Soul Man, I have been trying to describe the sound. All I can say is that the live sound is really BIG, it is full, it was very tight…while my opinion does not count, I'd like to see an entire album with the same lineup and all original numbers, and maybe some new ones to make the best use of the lineup.

Brian Lewis Los Traxx Records 20.6.12
Breathing Space Too

Last year, Mike Rudd made the promise that in lieu of a full length CD, Spectrum would release a number of EPs of new material under the collective title of 'Breathing Space'. The first volume was good but perhaps a little too smooth and if not exactly humourless, the wit was a bit obvious in a double entendre kind of way.
Now, with 'Breathing Space Too', the quirkiness in words and music makes a welcome return, mixed with the brooding kind of lyrics Rudd has been known for, especially on the final track Meanstreak. While no direct comparisons can be made with their classic 'Milesago' album, there is thankfully still something essentially Spectrum-like about this EP.
While all seven tracks are new recordings, some of the material dates back to the Eighties, such as the amusingly bizarre Sensible Shoes and the post-modernism of Silicon Valley. The opening track Xavier Rudd Is Not My Son is far more recent, and has the trademark harmonica work and wry personal observations - it could be a modern Spectrum standard, I suspect.
The line-up of Rudd, Bill Putt, Daryl Roberts and Peter "Robbo" Robertson has been around for several years now, which would explain the excellence of the playing and the way it easily gels together. A few guests flesh out the sound a bit, including Jimmy Sloggett's jazzy sax on Hotels Motels, and the cover art is as clever as one would expect from Ian McCausland, who has done a lot of work for the band over the years.
After all this time, it's nice to know Spectrum is still around and recording. This EP gives plenty of reason to suspect their race is far from run, and it will be interesting to see what direction the next Breathing Space instalment takes.

Michael Hunter - db magazine Issue #475

Read Ed Nimmervoll's blurb in JB Hi Fi's MAG, or for another perspective, try The Dwarf
Breathing Space + Breathing Space Too
Having just received Breathing Space Too, the second in a planned four-part EP series from Spectrum, I suddenly relised I didn't review the first one, Breathing Space. So let's round up part one and two in one hit.
Prophetically, Breathing Space opens with a spacey groove 'Second Coming'. Indeed, as most will know, Spectrum's original incarnation was only around for about four years into the early '70s. With Peter Robertson and Daryl Roberts joining Mike Rudd and Bill Putt, the band is back, gigging and recording and sounding great.
Breathing Space offers sixc original compositions, though as Rudd admits none of them are brand new, just that 'none of them have been given the opportunity to breathe in the creative environment of the studio.' And though it's a mixed bag of music, somehow that Putt/Rudd combined personality shines through it all. Even when they're doing their best Santana tribute (with more than a little assistance from Tim Gaze) on 'I Play My Guiitar'. Gaze also contributes to the ethereal tribute to Paul Hester, 'Star Crazy'.*
Breathing Space Too immediately sees a little more of that Spectrum humour creeping back in with trhe opening track 'Xavier Rudd Is Not My Son', a story about a couple telling Mike Rudd that they love his son's music after a gig. The seven tracks on this second EP are all Rudd compositions, ranging from the light-hearted country feel of 'Xavier Rudd...' to the oddly '80s pop sounds of 'Hotels, Motels' (it reminded me of Mondo Rock for some reason), to the floaty psych rock of 'Hot, Hot Day', to the reverb, surf guitar of 'Silicon Valley', with a strong focus on vocals throughout.
Both EPs are adorned by fantastic artwork from Ian McCausland who was resoponsible for Spectrum's Milesago album.

*I don't think so..

Martin Jones - Rhythms Aug. 2009

back to the top
Breathing Space

Here's a band I never ever expected to hear from. Spectrum was one of those quintessential Australian acts from the late '60s to mid '70s who had a decent following and a range of radio hits to boot. Now some three decades on they re-emerge from the wilderness and back onto the scene. Unfortunately, a lot's changed in the music industry since Spectrum had a number one hit with 'Ill Be Gone' (a gem of a tune), and it's fair to say it hasn't been kind to them in the time since. 'Breathing Space' is their new EP but to be blunt, it sounds like a middle-aged act, whose having one last crack before the pension cheques kick in. The music is of the variety of those modern, upmarket venues, where food is the number one priority, music merely an afterthought. I don't want to be too harsh here, partly because this band served the Australian music scene well and helped it to flourish, and also because I love their hit song, but music is music and I'm a music reviewer. I can't call this a mid-life crisis because, well they're too old for it but I can call it average, and that's exactly what it is. It sounds dated, is uneventful, uninspired and just plain dull. They might find favour with the over 55's but to the rest of the music buying public, I can't see them ever being more than a band which had one or two big hits and now sound nothing more than a bad lounge cover act. Steer clear!

Mark Rasmussen - Mediasearch 2008
Breathing Space is the new release from contemporarily unknown, historic heroes, Spectrum. Mike Rudd's latest release sees him continue with his crew to make possibly his least ambitious release to date. This 28 minute EP eases itself upon you with the bluesy riffs of opener Second Coming. The song shifts about with its repetitive licks and uninspiring melody in an attempt to create a 6 minute jam session. It not a bad song, but it's not a good one. It's this unfortunate mantra that becomes universal of this ultimately disappointing release.
The mid section is cluttered with outdated guitar solos, unimaginative lyrics and bosanova beats that quite honestly feel more like they would belong as the inoffensive soundtrack to Sims, or a 90's Microsoft program. I'm being too harsh, but this is just because of the amount of potential that this music had to begin with. You realise just how disappointing this release is once you come across the closing track Star Crazy. Dedicated to the memory of Paul Rester, Star Crazy is without a doubt the cream of the crop. It is a great song that invites sensations only felt from the most successful of 80's driven prog bands. Reminiscant of Genesis at their best, with perhaps some early Bowie quirk; Breathing Space is an regrettable place for this song to live.
For an EP, Breathing Space is far, far too diffused. Are they a blues band? Are they a progressive 80's band? Are they a Latin band?! Who knows. All I know is that they are better than this.

thomas 24.4.08
And here's a reminder from Wayne Reid that not all the crits were bad..

Hey Mike,
The two CDs arrived today. I picked them up from my PO Box on the way to work. We don't have any programs on Fridays, so no oldies. I was hosting a Camera Club for Seniors, but not expecting anyone til 10am... so, I had my first listen this morning at work. I felt like ringing all the Camera Club attendees & telling them the meeting was off, so I could get right back to listening to more. I sound a bit like a groupie, don't I? Just have to say, though: THANKS. I don't know why or how, you keep doing it...but we are so grateful that you do!!!
So far I haven't played Milesago, though I am hanging out to. I have just kept on playing the EP. It is SO good that you have finally put some of those songs together on CD. Having heard them many times, live, I was a little bit apprehensive. You know, they might not come across as I remembered them. Sometimes when you hear new songs live several times before hearing them on record, you can get used to a certain something about them, but then on record, it's just not captured. Well, you bloody well nailed them all! Just great! If the future EPs are anything like Breathing Space, you won't be able to get away with a later Best Of...they will ALL have to go on a double or triple set!

Wayne Reid 11.4.08
back to the top
Milesago

Anyone under 40 reading this, and coincidentally wondering why their stash of herbal medication suddenly seems a little short, it's OK, your parents just need a small attitude adjustment in order to listen to Spectrum's Milesago properly..
Milesago followed the band's big hit, I'll Be Gone, and the accompanying Spectrum Part One album by a little under twelve months, but both the earlier album and this one were a long way from the pop classic-ness of I'll Be Gone. Chief architects of the band, Mike Rudd & Bill Putt were rarely less than gleefully experimental, often travelling well beyond the boundaries of experimentia, so Milesago isn't always easy - music from the edge rarely is - but mostly it's very rewarding listening, particularly if you're able to put your head into the same space its creatorrs were inhabiting at the time, (see opening paragraph).
The radio-friendly opener, But That's Alright, held enough echoes of I'll Be Gone to get the punters through the gate, but these crafty old rock wizards then embark on two discs worth of early Frank Zappa crossed with early British psychedelia - albeit with a slight Australian naivety: Loves My Bag, What The World Needs Is A New Pair Of Socks, Mama, Did Jesus Wear Makeup? plus the four-part mini-epic The Sideways Saga (comprising The Question, The Answer, Do The Crab and Everybody's Walking Sideways).
weird, wacky, brilliant musicianship, (especially Lee Neale's keyboard work), and so 1971 you can almost taste it.
Milesago has just been re-issued by Aztec Music, in a remastered 2CD, deluxe foldout package, with extensive liner notes, bonus tracks, plus complete, original Ian McCausland artwork.

Kim Porter - Forte Magazine 10.4.08
Spectrum was among Australia's most sought after live bands in the early 1970s led by singer and guitarist Mike Rudd, but they were no slouches in the recording studio as well.
Their second full-length album, Milesago, sAnyone under 40 reading this, and coincidentally wondering why their stash of herbal medication suddenly seems a little short, it's OK, your parents just need a small attitude adjustment in order to listen to Spectrum's Milesago properly..
Milesago followed the band's big hit, I'll Be Gone, and the accompanying Spectrum Part One album by a little under twelve months, but both the earlier album and this one were a long way from the pop classic-ness of I'll Be Gone. Chief architects of the band, Mike Rudd & Bill Putt were rarely less than gleefully experimental, often travelling well beyond the boundaries of experimentia, so Milesago isn't always easy - music from the edge rarely is - but mostly it's very rewarding listening, particularly if you're able to put your head into the same space its creatorrs were inhabiting at the time, (see opening paragraph).
The radio-friendly opener, But That's Alright, held enough echoes of I'll Be Gone to get the punters through the gate, but these crafty old rock wizards then embark on two discs worth of early Frank Zappa crossed with early British psychedelia - albeit with a slight Australian naivety: Loves My Bag, What The World Needs Is A New Pair Of Socks, Mama, Did Jesus Wear Makeup? plus the four-part mini-epic The Sideways Saga (comprising The Question, The Answer, Do The Crab and Everybody's Walking Sideways).
Weird, wacky, brilliant musicianship, (especially Lee Neale's keyboard work), and so 1971 you can almost taste it.
Milesago has just been re-issuetands as one of Australia's seminal rock'n' roll albums. It is atmospheric and full of psychedelic dalliances made possible in the post Sgt Peppers world.
Most importantly, the sounds of this re-released and re-mastered Aztec project are still fresh, playful and exploratory pieces of music. Wacky cover art and cheeky play on words of Spectrum, which famously surface in tracks like Mama, Did Jesus Wear Makeup? and What the World Needs Is A New Pair Of Socks. Spectrum famously named their disco alter egos the Indelibe Murtceps (Spectrum in reverse).
Two bonus tracks on disc one, from the Sunbury Pop Festival, serve as a time capsule and explains their powerful live legacy. The impromptu jam in I'll Be Gone is tantamount to the pulsating rhythm of Iggy Pops Lust for Life.
The cover art and loving recreation make this a must for fans of progressive rock and music fans generally.

Barry Kennedy – Whittlesea Leader 20.5.08
back to the top
Spectrum Part One

Right now, somewhere in Australia, someone is listening to a radio station playing Spectrum's I'll Be Gone. It is one of the universal truths you'll find if you drive long enough through the Australian countryside. It was released in 1971 and has become something of an anthem for the Australian babyboomers - witness a couple of thousand of 'em singing the song back to the band at the Long Way to the Top concert in 2002 - and the duo at core of this band, Mike Rudd and Bill Putt, count as two of the diehards of Australian rock, continuing to tour and perform to this day.
Spectrum may have penned a classic radio hit but they also represent the pioneers carving a path away from pretty-boy pop into psychedelia and progressive (read: extended instrumental solos) rock; long-haired hippies expanding their horizons, developing their musicianship and protesting the Vietnam War, turning on wide-eyed audiences to sounds and lyrics far removed from the standard boy-meets-girl, baby-baby music they'd grown up with.
I'll Be Gone may indeed turn up somewhere on your radio every five minutes or so, but you'll not find many (or any) of the rest of this album anywhere else. You get 12 tracks and a 24 page booklet of notes and interviews by acclaimed historian Ian Macfarlane and superb reproductions of gig posters from the era in case you weren't born at the time. Aurally, you get three versions of I'll Be Gone - the Australian and German singles as well as the original demo that was cut of the song; a far more countrified stroll, sans signature harmonica riff.
But what of the songs you haven't heard from this band?
It's not the harmonica that gets you with these tracks - it's that swirling organ over the plodding bass and wandering guitar lines that makes you want to paint murals on your panelvan and head off to a hippie music festival; opening with the Ross Wilson-penned Make Your Stash, we get an idea of the - ahem - culture these guys were working within. The 12 minute instrumental Fiddling Fool is classic psychedelic freak-out music, but it's the appearance of songs such as the two-part Launching Place, written while waiting for the rain to clear from a doomed music festival up the Warburton Highway east of Melbourne and its 'psycho-psychedelic' part 2 remake, and the uber-rare You Just Can't Win, (of which only two or three copies exist on the original 7 inch acetate) which make this album lots of fun to listen to.
Kick the kids out of the house, light a fragrant candle, turn it up loud, go barefoot and sit cross-legged on the floor to properly enjoy this album.

Jarrod Watt 29.8.07 ABC Ballarat
back to the top
No Thinking - Spectrum Plays The Blues

Mike Rudd and Bill Putt were the foundation of Spectrum in the late '60s and early '70s, and they resurrected the concept in the '90s for a gig on the ABC TV show 'Hessie's Shed' with ex-Crowded House drummer, Paul Hester. After settling on current kit-man Peter 'Robbo' Robertson, Spectrum recorded the 1999 album 'Spill'. Guest artists included Men At Work's Colin Hay and that harmonica maestro Chris Wilson.
"The initial impetus was so that we could use it as a demo for playing at blues festivals, because we're kind (of) limited playing at Mike Rudd and Bill Putt festivals."
Since, like many of those '60s bands, the basis of their sound was the blues, Mike and Bill decided to revisit some of the classics. The majority of tracks on the latest release are also blues standards or blues interpretations of well known songs, with a couple of originals to top off a tasteful album.
Once again there is a gang of guests on 'No Thinking', including Mondo Rock frontman, Ross Wilson. He first got together with Mike shortly after the demise of Mike's NZ band, The Chants. From 1967 to 1971 they played together first in the Party Machine and later the experimental Sons of The Vegetal Mother. Ross is backing vocalist on the rhythm n' blues track 'Good Morning Little School Girl'.
'Spoonful' and 'I Ain't Superstitious' are two of the standout classics. In the intro to the live recording of Willie Dixon's 'Spoonful', Mike tells the audience how back in the '60s nearly every band in Melbourne was doing extended versions of the song when he first arrived from NewZealand.
There is a rollicking version of 'Heartbreak Hotel', made famous by a bloke called Elvis Presley, while 'She's A Woman' takes a Beatles song and gives it a solid black an' bluesin'. The Gershwin show tune, 'On Broadway' is also given the treatment.
Guest musicians on accordion and banjo, along with the toe-tapping snare drum and sweet slide-guitar transform 'She's A Woman' and 'Hey Good Lookin' into a zydeco and rockabilly feel respectfully.
Sweet as treacIe vocal harmonies and some lovely piano from Mal Logan mesh well together on the very laid-back 'Summertime'.
This pair of self-confessed old hippies first got together on August 15, 1969, and while Spectrum may be best known for the 1971 hit 'I'll Be Gone', I reckon it will be a long, long time before these blokes will be gone!

Peter Dawson - Macedon Ranges Guardian 2.7.04
I remember scouring record stores in Melbourne in the '70s trying to pick up a copy of' '60s album Warts Up Your Nose by The Indelible Murtceps.
Of course, The Murtceps was the commercial incarnation of the seminal Australian band Spectrum, and there's probably not an Oz Rock compilation that doesn't feature the classic I'll Be Gone.
After all this time Spectrum is still going strong, although now under the moniker of Spectrum Plays The Blues.
This year sees the release of the band's latest album No Thinking, which features a swag of classic blues tracks given the full treatment by Rudd, Putt and Robertson.
There's really only one thing I can say about this album - get it!
It's a ripper and deserves as much exposure as is possible. The live tracks at the end are a real highlight but there's not a weak song, performance or moment on the album.
It transported me back to the '70s one more time - if you're old enough to remember that era, then do yourself a favour.

Tony Francis - The Warrnambool Standard 22.7.04
Returning to the recording studio five years after its highly successful Spill album, the rejuvenated Spectrum trio comes up with a varied smorgasbord of blues, pop and jazz on the CD No Thinking - presumably referring to the style of music they enjoy creating. Mike Rudd and BiIl Putt must be joined at the hip - they've been playing togelher since Spectrum's original 1969 incarnation and through multiple group changes. Drummer Peter "Robbo" Robertson, a later arrival, came aboard for Spill. Blues standards again feature, including Sonny Boy Williamson's Good Morning Little Schoolgirl and a Willie Dixon double, I Ain't Superstitious and Spoonful. But the mix of songs has been expanded, embracing rock favourites such as Marvin Gaye's I Heard it Through the Grapevine and Elvis's Heartbreak Hotel, plus the Hank Williams country classic, Hey, Good Lookin'. The Beatles' She's a Woman is one of the album's best tracks (enhanced by Daryl Roberts' accordion and Peter Somerville on banjo), along with an atmospheric, jazzy rendition of Summertime, featuring vocals by Rudd and Enza Pantano.
The surprise packet, I Know There Was Another Man There, is Rudd and Putt's ruefully humorous take on their music business experiences.

Mike Daly - The Saturday Age 7.8.04
Mike Rudd's voice is the Spectrum brand.
'Someday I'll have money' he sang, hopefully, in 1971, and every Australian knows the words that follow and the gentle nasal intonation that delivered them. Sadly, for Mike and his generation, that 'someday' never came.
But his enthusiasm for making music that was awkward to market - funny shaped pegs for which they have yet to manufacture holes - never dimmed.
He and long-time colleagues Bill Putt and Peter Robertson are at it again on No Thinking. Is it the blues? Yes and no. The standards - Spoonful, I Ain't Superstitious - are honest enough as is the amiable bluesy treatment on Hey, Good Lookin', Heartbreak Hotel and On Broadway.
What makes No Thinking irresistible is the charmingly rearranged She's A Woman and Mississppi-speed Summertime

Pete Best Sunday Herald Sun Inside Entertainment 20.6.04
back to the top
SPILL - Spectrum plays the Blues

With their uncluttered approach, spacious instrumentation and innate sense of rhythm, the blues is perfectly suited to fall under the spell of these two veterans. But this is no ordinary blues album.
It should come as no surprise that Rudd and Putt would be able to come up with such a quality release - talent will always come out in the end. But here is an album that will drag in the long-time nostalgia buffs, the curious and, most importantly, the die-hard blues fans.

Brian Wise - Rhythms - March '99
Those living treasures of Australian music, Mike Rudd and Bill Putt, are never less than interesting and are more often compelling ... not copying or amplifying, simply giving their readings of the classics.
And what readings. The first and last are simply brilliant and would be the high points, but for Rudd's beautiful Manuela or the pair's Lowdown Summer Blues. Putt dictates the pace with his big bass sound, while Rudd is sublime whether it be his vocals, his guitar work or his harp playing. A couple of guests - Chris Wilson and Colin Hay - serve only to highlight Rudd's extra gifts.

Lee Howard - Sunday Herald Sun - March 7th '99
Listening to Spill, from vocalist/guitarist Mike Rudd, bassist/guitarist Bill Putt and friends in another revived group known as Spectrum Plays The Blues, I was reminded of a much-loved blues compilation LP I have from the mid-'60s. Like so many of their contemporaries, Rudd and Putt have played together in various incarnations for around 30 years and from their early days explored rhythm and blues. So here they are returning to the source and doing a damn fine job, from feisty covers of standards such as Big Joe Williams' Baby Please Don't Go, Robert Johnson's Crossroads and a couple of Willie Dixon staples, to some blues accented originals.
Rudd and Putt's affection for the music is palpable and they wisely resist the temptation to force vintage wine into new bottles. Instead, there's a plethora of acoustic and electric riffs, with nice slide from Bill Putt, Mike Rudd's powerful vocals and mouth harp (Chris Wilson also blows up a storm on Howlin' Wolf's Sittin' On Top of the World), plus drummer Peter "Robbo" Robertson, Mal Logan's keyboards and Putt's bass. Vocalist Colin Hay chips in on three tracks, including a superb, wordless accompaniment to Rudd's instrumental, Manuela.
If you liked their last CD, Living On A Volcano, you'll find this even more enjoyable, precisely because they have avoided repetition. Both CDs should be available in records stores specialising in roots music
They close with the classic Louie Louie, a killer version, thanks to its instrumental understatement. With pros like these, less is always much more!

Mike Daly - The Age Green Guide - April 8th '99
Three Decades ago Spectrum rocked the charts with I'll Be Gone. The sounds they produced in these early days were in a class of their own and remain fresh and unique. If you're not familiar with this side of Spectrum, imagine Jefferson Airplane/Starship with a bit more chunk, or Lou Reed with a Folky edge. If I had to put a tag on their early music, I'd call it Power - Rockin' / Folky - Blues, with a dash of Psychedelia.
From the first track of Spill, I realised I was in for some Great Blues. By track number two, I believed that Spectrum can play the Blues as good as anyone. By my third listen, I was of the opinion that this album stands tall alongside greats, like Eric Clapton's From The Cradle, B.B. King's Blues On The Bayou, and Bob Dylan's Time Out Of Mind... (no longer available)

Al Smith 10.10.2000
back to the top
Living On A Volcano - Mike Rudd & Bill Putt

Mike Brady rang recently to enthuse about a CD he had just produced for Mike Rudd and Bill Putt. I'm used to enthusiasm from producers and musicians, but after listening to Living On A Volcano, I'd have to say Mike underplayed his hand, if anything. It's a captivating album from a musical duo who have been part of the local musical scene since Spectrum in the late '60s.
The 14 tracks are so gently melodic that they worm their way into your consciousness gradually, rather than leaping out at you. But their sense of musicianship and enjoyment are qualities no amount of high-budget corporate promotion can buy.
Rudd, whose vocals have a definite McCartney-ish feel, began this project a decade ago, teasing out melodies on a synthesizer keyboard while wife Helen Rudd wrote the lyrics. The majestically moustachioed Putt added acoustic guitar chords, but the journey to the present disc has been traumatic, involving a scrapped first album and, a year ago, Helen's serious illness.
The final product, with vocal help from Enza Pantano, is highly recommended to anyone who loves adult pop music. It ranges from the gentle catchy title ballad and its dreamy siblings, Having A Wonderful Time and Dancing At Midnight, to the lovely, ambient instrumental Indian Summer, on acoustic guitar, keyboard and harmonica – my favourite track.
The album has been issued independently in a limited pressing, but I'm told it's available in good record stores. I'd be surprised if a major company doesn't pick the album up soon.

Mike Daly The Age Green Guide 8.2.96
A captivating album from a musical duo who have been part of the Australian scene since Spectrum in the mid-'60s. The 14 tracks could actually be described AC/Ambient for their gentle melodicism that laps rather (than) leaps into the listener's consciousness. It works as background; it works as foreground. From the gentle samba of the title track to the lovely ambience of the instrumental Indian Summer, the songs defy the odds of not being abler to be pigeonholed into any category to emerge as beautifully commercial.

The Music Network 27.2.96
Living On A Volcano is a mature, deceptively simple collection of songs that belong together, sharing a thematic unity and stylistic cohesion that seduces the listener into keeping laser to disc.
The songs seem to share a weary optimism while an undercurrent of menace or brooding hints at some kind of unease. Explorations of relationships, the tensions and ironies inherent, and song structure that is almost song classicist – think Brian Wilson, the Paul McCartney of Yesterday – sews the whole thing together. Helen's lyrics explore the tender aspects of the above, while Mike's tend to a resignation to the arbitrary nature of these things.
The important thing is that they are placed within musical settings that are entirely appropriate, the mood of the music reflecting the sense of the lyric. This is sophisticated music played with affection and attention to detail, finely crafted adult pop music.

Steve Hoy - Rhythms Feb. 1996
back to the top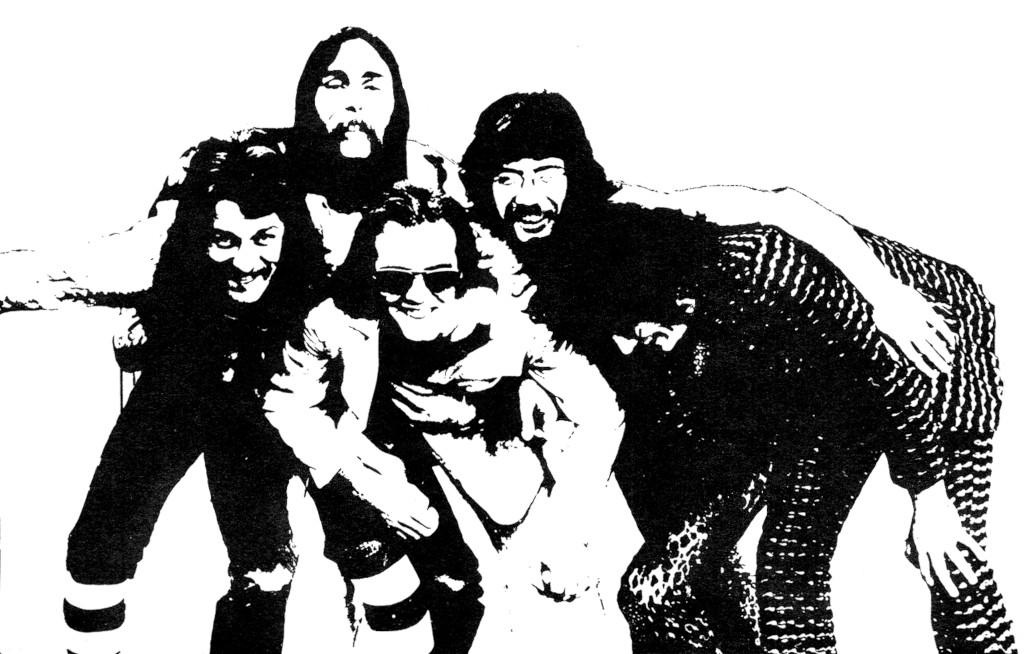 Ariel circa 1973 - Mike Rudd, Bill Putt, Nigel Macara, John Mills and Tim Gaze bbbbbbbbbbbbbbbbbbAriel circa 1973 - Mibudd, Bill Putt, Nigel Macara, John Mills and Tim Gaze
A Strange Fantastic Dream - Ariel

The music was fantastic. Mike Rudd was strange. Still is. Who else could have written Confessions of a Psychopathic Cowpoke?
"I like to mess around with strangers," drawls Rudd, "Strangers bein' the way they are." What happens to Rudd's strangers is unpublishable.
Ariel was to explore Rudd's progressive rock ambitions and this was their extraordinary first step.
Tim Gaze was on board with Rudd's mate Bill Putt in perhaps their most powerful combination. At the same time Led Zeppelin chanced their arm with reggae (D'yer Maker), Ariel showed precisely how it is done with the exuberant Jamaican Farewell.
Gaze's explosive riff and Rudd's seldom examined lyrics set up a great rock moment.

Pete Best - Sunday Herald Sun Sept. 2002
A Strange Fantastic Dream and Rock & Roll Scars - Ariel

Music-lovers looking to update vinyl copies of their favourite albums with CD re-releases can eventually obtain even the most obscure international titles via countless overseas catalogues or the Net.
Due to the longtime negligence of some Australian record companies, many local albums- particularly those recorded during the '60S and '70s when gifted writers arid performers were creating innovative ground-breaking music - are impossible to obtain. One of many unique talents to experience the frustration of this neglect of our record history is Mike Rudd.
None of the fine Spectrum/Murtceps albums released by EMI records between 1971 and 1973 are available in their original form. Unfortunately Rudd suffered a similar fate with his next band Ariel: their first two albums, both released in 1973 by EMI, were eventually made redundant. However, due to the tenacity of Rudd and his management, master tapes were eventually located of A Strange Fantastic Dream and its follow-up Rock & Roll Scars, both available on Rare Vision, the label of Rudd and longtime collaborator Bill Putt. The uncompromising, adventurous songwriting that was so admired in Rudd's Spectrum material caused a furore when the first Ariel album hit record stores. Three tracks were immediately banned from radio play, the Spectrum-ish 'Chicken Shit (I Need a Fix of Chicken Shit), a country-styled 'Confessions of a Psychopathic Cowpoke' (a story of mayhem and necrophilia), and 'Miracle Man' written by guitarist Tim Gaze (ex-Tamam Shud and Kahvas Jute) that apparently offended some members of the medical profession.
Gaze was one of two musicians (drummer Nigel Macara was the other) recruited by Rudd to join himself and former Spectrum members Putt (bass guitar) and keyboard player John Mills in a line-up that would hopefully achieve the international success that eluded his former band. The album's first single, a rare Rudd collaboration (he completed Gaze's original idea) was the riffy, rocking 'Jamaican Farewell', winner of the pre-ARIA FACB Award for Single of the Year and Rudd's biggest hit since 'I'll Be Gone'.
The solid rhythm provided by Putt and Macara, plus Mills' array of keyboards including the newly acquired Mini-Moog, were used to great effect on 'Garden of the Frenzied Cortinas', the album's longest and most Spectrum-like track. The interplay between Rudd's fingerstyle electric guitar and Gaze's blazing lead, in addition to Rudd's innovative arrangements and quirky lyrics, made for an innovative, accessible album that made the national Top 10 and garnered praise from legendary English DJ John Peel.
His endorsement resulted in EMI arranging for the band to record their next album at Abbey Road Studios in London. Only problem was, the band had broken up!
Gaze, Macara and Mills were out, leaving Rudd and Putt to pick up the pieces, which they promptly did, hiring ex-Dingoes drummer John Lee and guitarist Harvey James (ex- Mississippi) for Ariel, Mk ll.
Buoyed by their pending trip to the UK, the four musicians convened in Sydney to record 'The"Jellabad Mutant', Rudd's projected science-fiction concept album, in preparation for the demos to be polished at Abbey Road prior to the album's release.
What release? EMI Australia rejected the demos as 'unsuitable' on the eve of Ariel's arrival in London.
So here they were, booked into Abbey Road (oh yeah, EMI had also slashed their budget, giving them one week to record and one more to mix) with nothing new to record and with a band that was barely months old.
As he had done many times before and would continue to do throughout his 40-year career, Rudd rose to the occasion delivering the vibrant 'Rock & Roll Scars', made up of re-recorded versions of Spectrum and early Ariel material with three new songs he'd somehow had time to write.
Blessed with an exceptional lead guitarist in James, Rudd arranged many of the songs to accommodate his first keyboardless band.
'Keep on Dancing' (a Top 20 single in Australia), 'Rock & Roll Scars', 'Real Meanie' and 'Men in Grey Raincoats' are brilliantly conceived guitar, bass and drums rock'n'roll, full of diving rhythms, enthusiastic vocals and fiery guitar solos.
Of the older songs, Spectrum's 'I'll Be Gone', with its Tommy Steele meets the Goons intro, 'Launching Place Part ll' (Part I was 'I'll Be Gone' B side), 'We Are Indelible' and 'What the World Needs (Is a New Pair of Sox)' fit comfortably into their new guise.
What a treat to be able to revisit these two essential albums, re-mastered with additional sleeve notes from Ariel's original producer Peter Dawkins.
Also available is the long lost 'Jellabad Mutant' album recently released on Rare Vision.

Billy Pinnell - Rhythms magazine March 2004
The Jellabad Mutant - Ariel

The cover of the fresh issue of Jellabad. That's Oliver Leonard in the starring role, about to unleash wild mutant mayhem with his white Strat! He also provided some spaced-out artwork for the CD release
As part of an on-going series of compact disc reissues of seminal Rudd/Putt-related albums, comes The Jellabad Mutant, which was never officially released before now. Lovingly remastered from the 1974 Peter Dawkins-produced demos, recorded at EMI Sydney; the integrity and sound quality of these rudimentary tapes has been brilliantly captured for the digital medium by Martin Pullan of Edensound in Melbourne. Martin also worked sonic wonders for the previous two Ariel CD reissues, A Strange Fantastic Dream and Rock & Roll Scars. There are also a couple of bonus tracks – a "Mutant Medley" taken from a live-to-air Double J broadcast from May 1976 as well as both sides of a 1975 single produced by respected musician-producer Rod Coe and originally released on EMI's "progressive" Harvest imprint. These two latter tracks – "I'll Take You High" and "I Can't Say What I Mean" – while not being part of the Jellabad story proper, represent the only officially-released recordings of the classic, uber-hot five-piece Ariel, and display the "3-guitar attack" that Mike and Bill enthuse about in our interview. It's perhaps a measure of EMI's cavalier treatment of the band by this stage that master tapes of these two songs could not be located for the reissue! At Mike's request, your humble writer was able to supply his vinyl copy of the single. But after Pullan waved his magic wand over them, the listener would never know that these tracks were sourced from a crackly 45!
The Jellabad suite itself – vaguely inspired by the Christmas '73 coming of Kahoutek's comet, with a tincture of The Day Of The Triffids for good measure – concerns the arrival in a refrigerated capsule at the fictitious Victorian town of Jellabad, of an abstractly-drawn mutant figure who seeks to become part of the human race. Shades of Superman and similar pop-sci-fi tales, but in Rudd's deft compositional hands, this story's different.
The mutant gets adopted by an elderly, childless couple, assumes humanoid form and sets about implementing its sinister plans. Without giving too much of the labyrinthine plot away, the mutant eventually does away with his adoptive parents, but not before entering the brain-space of a hapless down-at-heel musician (by plying him with a "pot of tea").
The opera's theme is compellingly drawn by Rudd's typically perverse lyrics – by turns oblique, poignant, sad, outright hilarious and sometimes endearingly puerile (witness "The Hospital"). Supported by some fine ensemble playing that alternately rocks ("The Train", "Neo-existentialist Greens/Medicine Man/The Letter"), waxes gentle ("Cinematic Sandwiches") and just plain swings like a mutha (my favourite, "The Funeral"); it seems ludicrously criminal in retrospect that this body of work was rejected by the then-powers-that-be.
Mike Rudd laments in the liner notes to the Mutant CD:
It's interesting to speculate what might have happened had we been allowed to proceed with the Mutant with an intact budget (EMI slashed the budget for Rock & Roll Scars adding to the pressure) and with time to reflect and be creative with the raw material you hear in the demos. I regret I didn't go into bat for it at the time. We had a fabulous opportunity with the best technical assistance any band could have wanted. But I didn't sell the dream, even to myself.
Lament ye no longer, punters, for now we have the opportunity to hear what might have been, and it's as worthy as anything in the Ariel canon. Seek it out and "use your imagination"!

© 2003 Paul Culnane for Foffle Zine
back to the top
Chants R&B - Live '66: The Stage Door Tapes

I'm defying my own policy here and reviewing this from an advance cassette, but hopefully it'll exist on vinyl by the time you read this, 'cos you gotta HEAR this for yourselves. It's is one of the WILDEST, most exciting LIVE albums I've ever heard - like Kick Out the Jams, James Brown Live at The Apollo and Five Live Yardbirds rolled into one big, sweaty ball of pure Punk R&B ENERGY. OK, OK, I'm not trying to make a case that this here LP is as SEMINAL as any of those esteemed pieces; just that on one hot, muggy night in October 1966 at The Stage Door in Christchurch, New Zealand, a group called Chants R&B tapped into that same power source and by some miracle it was captured undiluted on tape.
Some of this material was already released on the Stage Door Witchdoctors album of a couple of years back, but most of these 16 tracks appear for the first time (and a couple of the live tracks from Witchdoctors aren't on here). The sound quality is crude, but NOT cruddy, muddy or bloody awful, in fact it probably sounds a lot like it sounded if you were there that night: LOUD, raw and slightly unbalanced.
Their versions of songs like the "Land of 1000 Dances," "1'll Go Crazy" and "Hold On, I'm Coming" are hotwired to crazed extremes, full of screaming, fighting, shouting vocals with instruments wailing and colliding in all directions without ever losing that vital groove.
Like hungry cannibals they savage the Graham Bond Organization's "Train Time" and the Poets' "That's the Way It's Got To Be," and their searing treatment of "Don't Bring Me Down" is the greatest Pretty Things cover version I've ever heard. They even manage to turn the Four Tops' "Baby I Need Your Loving" into a tribal death stomp.
When bassist Martin Correr (sic) ripped into the superfast intro to the Artwoods' "I Feel Good" I swore for a second it was the Damned's "Neat Neat Neat" if that gives you any idea of what I'm trying to communicate here in my overamped, inarticulate way.
You probably can't afford to buy everything that gets a positive review in Ugly Things, but make sure you beg, borrow or steal enough loot to bag THIS beauty, y'hear?

(MS) Ugly Things