Scroll down to the start of the month
Close this window to
return to Mike Rudd &
Bill Putt's home page

1) Brian Cadd volunteers to go next 2) Mark Holden is continuing to live in the moment

3) The ageless Terry Dean 4) Bobby Bright with Ronny Charles
gig report
In North Melbourne Tonight Sun. 30.10.11
In North Melbourne Tonight
31.10.11 - After a quiet arvo at the Arcadia, Bill and I were (almost) looking forward to hob-nobbing with a galaxy of Melbourne's finest at the annual In North Melbourne Tonight charity gig on (the eve) of Melbourne Cup Eve. The new locale at the top end of Victoria St is by far the best venue so far from every stand point and by the time Bill and I got there things were humming. We saw Ross Ryan outside and then ran into Brian Cadd (pic 1) Mark Holden (pic 2) Terry Dean (pic 3) and Bobby Bright. (pic 4) Check out the big pic and see how many celebrities you can pick out.


Dave and Maree were surprise guests at the Arcadia
gig report
Arcadia Hotel Sun. 30.10.11
A snoozy arvo at the Arcadia
31.10.11 - When I dropped off the posters a few weeks ago I was disconcerted to see the smallish stage was almost consumed by an enormous PA suitable for a room three times the size of the actual room we were to be playing in, so I determined to get there early to sort out any potential problems. As it happened we needn't have worried - the owner, Michael Clarke, quickly sorted out the PA for us and Bill and I had time to have lunch and wait for Robbo to turn up.
Gordon was there from the old Stagedoor days and Dave and Maree (pic) made it from Santuary Lakes. None of the people that said they were going to be there turned up..

Well, bother me, a complete stuff up. Bother. Bother..
gig report
Burvale Hotel Fri. 28.10.11
Life imitates farce
28.10.11 - I was about five minutes away from the Burvale when I got a call from Bill. He told me there was another band setting up and nobody seemed to know what was going on. I said to go and see Doug, the manager. I walked in as Keith and Andrea were asking the security guys whether Spectrum was playing tonight and I had to break it to them there'd been a foul-up and we weren't doing the gig. The Trollops (pic) arrived and we decided to hang round for a bit and have a drink with them (and Peter Carolan) before heading home, but the house music got so uncomfortably loud I had to leave after the second G&T..
Let's hope that Sunday's Arcadia Hotel gig fares better.

Phil Manning dropped in for a glass of wine at St Annies

gig report
St Andrews Hotel Sun. 23.10.11
And the big news at St Annies is..
25.10.11 - It was a hellishly humid Sunday arvo and even when Helen turned on the air con at St Andrews it really didn't make lot of difference. We sang Happy Birthday to Matt who, I was informed by a slightly annoyed relative, was out of the room at the time, and we tried a revised version of Soul Man and Brunswick St, but everything seemed to be slightly out of synch - until we got to the blues set and then it all fell into place.
And then we got another shock when Helen revealed that they'd sold the pub! Apparently it's been bought by a local, so the gigs booked into the New Year should stand, but you never know with these things..
Kissing the Station Hotel goodbye..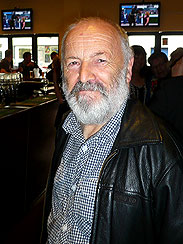 1) Barry Charles summons up his harmonic voices 2) Ed Nimmervoll cruisin' at The Station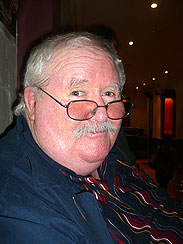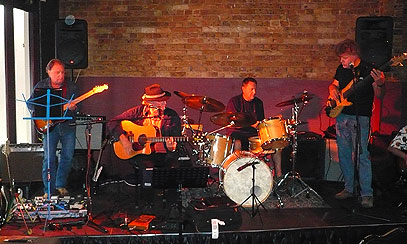 3) Matt Croke was allowed out for the day 4) Winchester with Chris Stockley (left) and Barry Charles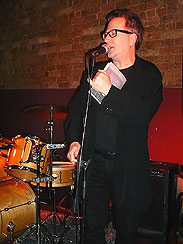 5) The Mick Elliott band with bassist Ian Ferguson on vocals 6) Robert Lloyd reads his smokers' poem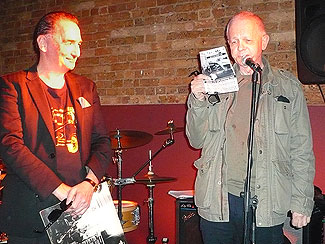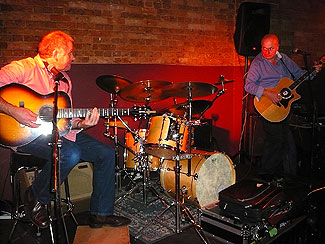 7) Laurie Richards watches David Pepperell read his Station tract 8) The Pardoners locate across a crowded stage
gig report
The Station Hotel Farewell Sat. 22.10.11
Last stop at The Station Hotel - crying all the way to the bank..
24.10.11 - I'd forgotten about Mark Barnes. At the last Station reunion he'd bailed Bill and me on the footpath outside the pub and roundly abused us for having anything to do with it - amongst other things. I could've pointed out that if Lena Blomfield and I hadn't organised it, it wouldn't have happened at all, and the same went for this farewell reunion, ostensibly the last before The Station succumbs to another inner city apartment development. Anyway, Mark was there again and apparently got stroppy over the course of the afternoon, (he had another go at Bill), and had to be ejected two or three times, but seasoned Stationeers said that this was pretty much par for the course.
Musically speaking, Barry Charles (pic 1) opened proceedings and then morphed into the band Winchester that included Chris Stockley (plus life-size pedal board). The Mick Elliott band (pic 5) had been drafted into the program at late notice (thanks to Chris Stockley) and, despite the lack of rehearsal, managed to sound better that the last time they played there.
Robert Lloyd (pic 6) read a poem from his collection that resonated with the smokers in the room and Laurie Richards tried unsuccessfully to auction a framed Station flyer before chaperoning David Pepperell onto the stage as he read a piece about the Station written circa 1976. (pic 7) This was all pretty spontaneous stuff and I thought in the spirit of The Station as we'd like to remember it.
Then the on-again-off-again Pardoners, (Sam had been advised not to play but said he felt up to it), rendered a flawless set that approached the sublime from nearly every aspect. (pic 8) The vibe in the room had lifted and the gauntlet had been thrown down to Spectrum to justify our status as last act of the night.
I thought we did OK too. Glyn guested on some harmonies, we rocked the joint and everybody seemed happy, perhaps with the exception of Mark Barnes.
We'd packed up and Dr Sellers had suggested that we should find somewhere to eat - which was when I discovered my wallet was missing. We searched high and low, but it bloody-well stayed missing as these things do and I drove home (without a meal) to report the loss to my banks. Unfortunately I was holding the band's fee for the night's performance and I had the feeling that even if I did get the wallet back, the money would no longer be there. And, as it turned out, I was right. The curse of Someday I'll have money lives on..


9) Spectrum plays at the Station Hotel for the last time (pic Mick Newman)
Rod and Bill camp it up outside the Clifton Hill Hotel
gig report
Clifton Hill Hotel Wed. 19.10.11
Acoustic sessions are go
20.10.11 - There was only a small crowd on hand to witness me actually buy a couple of drinks at the bar. (!) The pot of Coopers Red went to Ray Moon whose birthday it was, which still left me as the second-oldest male in the room ogling the barmaid. The orange juice went to Bernd Rohrmann who struggled down to Clifton Hill on his bike, notwithstanding a back condition that left him barely able to walk, and the lemon squash went to Bill. I shouted myself a G&T and pretended there were more audience members than performers in the room. Being a balmy night we stood outside with Rod Claringbould afterwards (pic) and chatted - and then went home.

My Crudd & Bilge Pump howl at The Barking Dog (pic John Cross)
gig report
The Barking Dog Sun. 16.10.11
The duo's Barking Dog day arvo
17.10.11 - The signs weren't all that good when we had to assemble part of the stage ourselves before setting up, but once we were over that hump, things started to pick up. We'd never played The Barking Dog before - in fact, I don't remember playing anywhere in West Geelong before, but there was a sizeable (and knowledgeable) crowd on hand, which continued to build up as the day went on.
After the gig Bill and I retired to another (quieter) pub down Pako St with the Ramsays to watch the RWC semi final.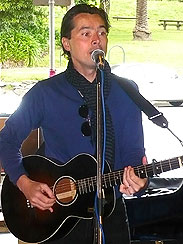 1) The star of the show - Ian presents his daughter Lily 2) Jules Boult gave his time for Lily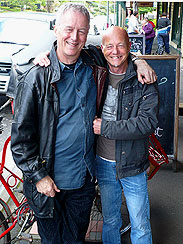 3) Darcy tries to deflate Mike's tummy 4) Alan Seppings explains the object of the arvo
gig report
Benefit for Lily Wild Thyme Café Sun. 9.10.11
Warm hearts in Warby
10.10.11 - Robbo got a call from the Wild Thyme's Alan Seppings about the benefit they were holding on Sunday arvo for Lily (pic 1) whose mother so sadly died recently. As it turned out Robbo was occupied with a Lil' Fi gig at the Willy RSL so I volunteered Bill and me to do a set in the early part of the day. The weather was looking a bit hostile when we arrived, so the first part of the day was held indoors, with Bill and me appearing after young Jules Bolt. (pic 2) I'd brought only George (Martin) along with me, but the blend with Bill's nylon-strings worked quite well, I thought. We got a rousing reception anyway, so I guess we did something right.
About an hour later the weather was good enough to relocate outdoors and we left shortly after Alan re-launched proceedings to the larger crowd that had turned up by that stage. (pic 4) Darcy (pic 3) managed to miss our set, but it was good to catch up again. I'll give Alan a ring this week and set up another Spectrum date at the Wild Thyme. Hooray!
back to the top