Scroll down to the start of the month
Close this window to
return to Mike Rudd &
Bill Putt's home page

1) Anita Monk and Ken Murdoch let it rip (see large pic) 2) The entire cast assembles on stage for the finale

3) Lena Blomfield, Chrissie James and Glyn Mason

Wrokdown's fundraiser rocks!
1.5.11 - This isn't strictly a gig report as Spectrum wasn't directly involved, but chances are that Spectrum will be involved in the next Wrokdown event at the Caravan Music Club in a couple of months time. I had my son Chris with me and I couldn't quite work out whether he was enjoying himself or not, so we didn't see everything, but Saturday night was an all Aussie music affair, (apart from the finale), and the house band, led by bassist Gavin Carroll and augmented by a work experience horn section, was exemplary and occasionally stunning. Wrokdown's Anita Monk and Ken Murdoch led from the front on vocals along with guests Micks Pealing and Hamilton, Ronnie Charles and Bobby Bright. See you there in June..
Some Easter eggs for Spectrum..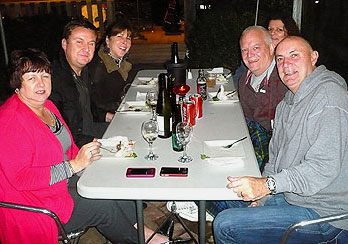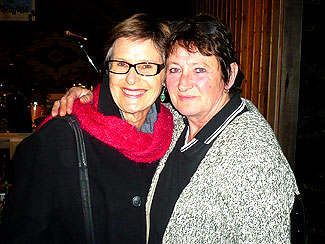 1) Ingrid (left) and David Norton (right) braved the chill night air 2) Jill from Magnetic Island and the Birre's Judith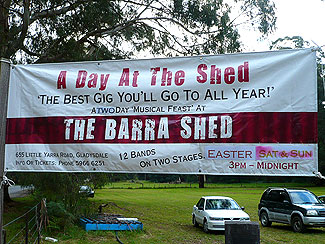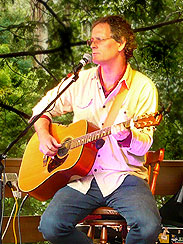 3) The banner out the front says it all 4) Greg Champion holds court at Gladysdale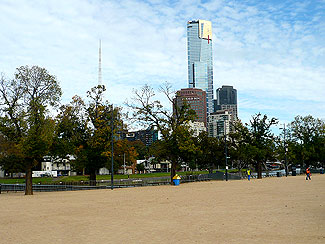 5) The crowd goes berserk at the Relief Concert 6) Heather and Ron Glover take in the band at St Andrews
gig report
Café Birre Birrregurra Fri. 22.4.11 Barra / Pinnacles Festival Gladysdale 23.4.11
Christchurch Quake Relief Concert Birrarung Marr & St Andrews Hotel Sun. 24.4.11
Three cold-hand gigs and some some hot, sweet love..
25.4.11 - Given the way the year's panned out so far, this last weekend has been an extraordinary bonus, not just for the number but for the diversity of gigs. It began with a night in Birregurra, a small town just out of Colac some two hours west of Melbourne. Bill and I, and then the trio, did a series of gigs there at the local pub in the late nineties and it was there we first met the Ramsays and their young son James (Little Jimmy) who created his own legend by dancing on the table tops to our music - I hasten to add out of youthful exuberance and not for profit. Steve, Sarah and Long Tall Jimmy Ramsay were at Café Birre on Friday night, (Good Friday) but there was to be no dancing on the tables this night. Perhaps Café Birre's owner and chef Judith (pic 2) had told me when we were discussing the gig some months back, but at any rate I was shocked to discover that were playing al fresco, particularly as the night was, to say the least, on the chilly side.
The chill factor was probably instrumental in the lower than expected turn-out, but there were some nice surprises, one of them being my pharmacists from Camberwell (pic 1) who decided to break their journey to Lorne and take in some Spectrum music, and the other being that Judith's cooking prowess belied her bluff country woman exterior - the rockling was quite exquisite. There were some very nice people who did make the effort to come out and brave the elements and even the youngsters who migrated over from the pub later on in the night seemed to enjoy themselves without causing too much fuss. The band did manage to sort of enjoy themselves despite suffering from freezing extremities, and we really appreciated the tea and home-made Anzac biscuits Judith provided for the journey home.
The next day (saturday) Bill and I had been asked to play at the Barra / Pinnacles Festival in Gladysdale, a charming orchard settlement a few minutes from Yarra Junction off the Warburton Hwy. We played there a couple of years ago and we quite enjoyed it then, but for some reason that I can't quite put my finger on I enjoyed it much more this time around. Perhaps it was listening to Champs' droll set, (even his pointless songs have got a point), and later conversing with man himself, (pic 4) or perhaps it was just that I appreciated the laid-back nature of the festival with its rural version of the TF Much Ballroom in the famous Barra Shed.
Anyway, our set seemed to go down well and the Barra kids sold a few of our CDs, so it was all good. Maybe we'll do it again next year and you'll see your way clear to making the hour and bit journey to Gladysdale and enjoying the best little country festival around.
I set off quite early the next morning (Sunday) for my solo spot at the Christchurch Quake Relief Concert. The good thing was that I saw the re-formed MiSex perform a complete version of Computer Games as part of their sound check and they sounded, well, bloody awesome. Another good thing was that I sang my OMG song that I wrote especially for the event. The less than good thing was that, not only was it quite cold on stage and I sang my songs to virtually nobody, (pic 5) but I managed to leave a perfectly good guitar lead behind in my rush to make it to St Andrews on time. I'm going to pick up the lead tomorrow and I'll find out then how the rest of the day panned out. I hope they made some money for the cause.*
St Andrews was just the tonic I needed. There was an unexpectedly good crowd in the room and they were in a fine mood all day, but they finished the day in exultant form and we all ended up hot and sweaty. Now that's the way a rock & roll gig should be..

*PS - I picked up my recalcitrant guitar lead from KJ this morning and she said the crowd hadn't actually built up much throughout the day, which sounds a bit sad really. Not only that, but MiSex's sequencer had a meltdown during the actual performance of Computer Games, which means that my private audition was the one to die for..
Easter bunnies
11.4.11 - After fuck all gigs since Christmas, a huge Easter weekend is coming up for Spectrum and parts thereof. Keep your eyes open for Mike at the Christchurch Earthquake benefit gig on Easter Sunday at 12.20!! Tickets/info map
I'll Be Gone on Adam Hills' show
11.4.11 - I've not seen the show before, but I believe there's a segment where an old song is given the treatment by some guest musicians. This week it's I'll Be Gone (hooray!) being worked over by Alex Lloyd and the Pigram Brothers, (who are IBG specialists). I'll record it..

No dozing in front of the telly for Lyn and Heather
gig report
Ferntree Gully Hotel Fri. 8.4.11
Home from the hills..
9.4.11 - The Ferntree Gully Hotel is where the plains meet the Dandenongs, so you'd expect there to be some folk from the hills there on any given night, but it's not class or cultural concerns that keeps the mountain people at home dozing in front of the telly on a Friday night - it's age. Not that I'd usually mention the Trollops (pic) and age in the same paragraph, but they were (nearly) the only people in the room who might've seen us in our hey-day. Still, it was fun to be playing and very gratifying to have a succession of young men approach us at the end of the night and mumble their heartfelt appreciation - and we did have to do an encore. You missed an enjoyable night..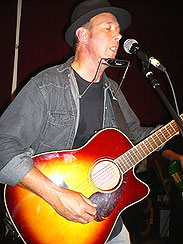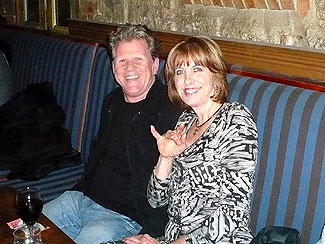 1) Meet the reinvented WOS Daz on guitar 2) Robbo and Heather were waiting for me..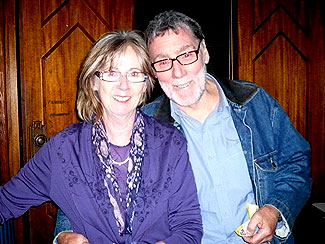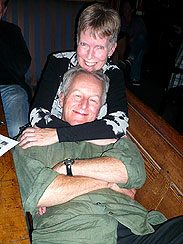 3) The professors' Sellers' walk in the room 4) Mike finds Maree's lap to rest his weary head
gig report
Wesley Anne Northcote Fri. 1.4.11
Wall of Stone CD launch
2.3.11 - I was there because I had been invited to play and there were quite a few Spectrumites in the room, so I guess it qualifies as some sort of gig to open our April account. The venue for the latest Daryl Roberts' CD launch was the Wesley Anne (House of Assembly) in Northcote, which turned out to be the same venue the trio worked at a few years ago when it was known as Fio's. It's quite an atmospheric space with stripped back stone walls (!) and lots of candles, and the three piece Wall of Stone band had already begun playing when I finally walked in the room after finding a park three blocks away .
I spotted Robbo and Heather first (pic 2) and then turned around to be surprised by the Sellers' (pic 3) walking in behind me - and then it eventually dawned on me that most of the people in the room were known to me from Spectrum gigs.
Even though I'd listened to the CD it was still a surprise to see Daz playing guitar, (pic 1) and again, despite Daz warning me, I was unprepared for just how young his WOS band is - the bass player in particular looks about thirteen with a few major growth spurts yet to come.
Nevertheless they were all perfectly proficient players, and when Daz eventually reverted to keyboards and Sean-the-harnessed sax player and Joe the guitarist were added into the mix it all sounded quite full. I duly got invited up to the stage and performed Hey Gringo's Limbo Man, (a song that has potential as a Spectrum song now that I've been reminded about it), IBG and Louie Louie, before retiring to the bar next door and ordering an entrée of napoli meatballs as I was becoming a little light-headed. (pic 4)
In the end, a cheerful night was had by all, CDs were sold and I'm sure everybody wishes Daz and the other Stoners all the very best for the CD's success. (Go to Daryl's MySpace page for more info)
back to the top