Scroll down to the start of the month
Close this window to
return to Mike Rudd &
Bill Putt's home page

1) Crudd & Pump ply their craft at the Whispering Hills Winery. Where were you?

2) Wine afficienado Chris Kay arrived by taxi 3) Alice (who went to Berties) and Max with half of the dynamic duo

4) A dolphin disports itself under the San Remo bridge
gig report
Whispering Hills Winery Sat. 19.3.11
Westernport Hotel San Remo Sun. 20.3.11
A tale of two gigs
21.3.11 - Well, I warned you not to come crying to me after the event and the Whispering Hills Winery gig was every bit as idyllic as predicted. It's a shame you couldn't be there - it's only 30 odd minutes from town - and there is research being conducted to see if the concept could be improved. Maybe we'll try a Sunday arvo next time. Anyway, the weather was perfect, which made for a very pleasant experience if you were seated at a table outdoors. Chris Kay (pic 2) is a Whispering Hills habitué and thought the afternoon a qualified success, the qualification being the dearth of experienced Spectrum people in the room.
The next day might've gone a lot better had I actually read my own gig guide before we left. For some reason I had it in my head that the Westernport Hotel started at 4.00 and as a consequence we were there a couple of hours earlier than we needed to be. What do you do if you arrive in San Remo a couple of hours ahead of time on a gorgeous summer day? Well, first I had lunch and then mooched around the docks checking out the dolphins disporting themselves under the bridge as the tide roared in (pic 4) and then went back inside and had a bit of a lie down before eventually deciding to load in. In the event there were barely half a dozen people in the room who were actually there to see us and we struggled to maintain our enthusiasm. Phil told me that Brod (Smith) and Dutch Tilders had virtually nobody in the room either, but oddly that didn't comfort me and I was in a darkly philosophical mood as we drove home under a swollen moon.

1) The Trollops and Robbo pose while Bill munches his pizza 2) Robbo introduces his friends, the Hadleys

3) Mike is always happy to see Wrokdown's Anita Monk
gig report
The Fleece Thurs. 17.3.11
Curiouser and curiouser - The Fleece rocks on
18.3.11 - To have a regular gig is rare enough, but a regular gig on a Thursday night has to be considered an aberration. Perhaps it's because we're not often in town, but for whatever reason the formula seems to work when Spectrum's at The Fleece and the crowd is very receptive to boot. Have I mentioned the stairs? Loading in and out is tiresome for us old blokes, which just proves we have to have something to bitch about I suppose.
It was St Patrick's Day of course, and Daryl was pleased he didn't play at an Irish pub for a change. That I wore my green shirt was pure coincidence, despite my alleged Celtic ancestory..

1) 'One shirt, two heads,' says Mike 2) The Trollops, plus two ring-ins, molly-coddle Dr Wazz

3) Melissa danced with us once
gig report
St Andrews Sun. 13.3.11
The boys are back out of town
14.3.11 - Had I realised that it was a long weekend when I was booking it, I might've had second thoughts, so I was pleasantly surprised when more than a half decent crowd showed up at St Andrews yesterday. The delight was compounded when we got to I'll Be Gone and the audience practically blew us off stage with the fervour of their singing and we knew we were amongst friends.
Mind you, the day started badly when after Chris and I had communed at Choclatté I realised that I'd left my harps at home and we had to double back and retrieve them - then, as we were setting up, Bill observed that the Trollops had arrived and I thought he was talking about my lunch and I said 'I didn't order scallops' and he said 'what?' and McTubby fell about laughing.
To cap off a most satisfactory arvo, Stan ghosted in looking as well as I've seen him for a year or so and the Sellers' invited Chris and me home for a meal. Hooray!
Pete Laffy's last gig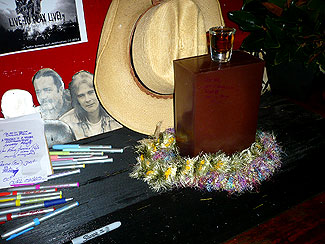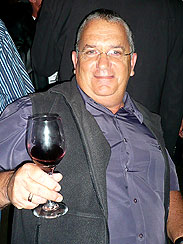 1) That's Pete in his urn with the Hawaiian lei round it 2) The Foss and his red were there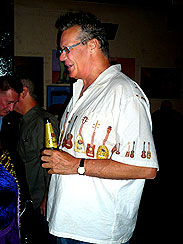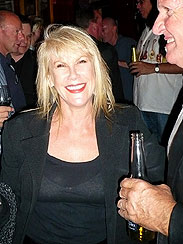 3) Alex Formosa makes an inscrutable gesture 4) Big Bobby Valentine 5) Wendy Stapleton's smile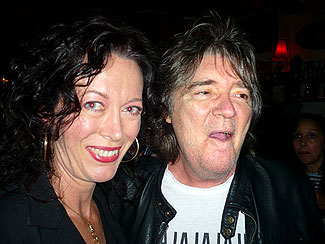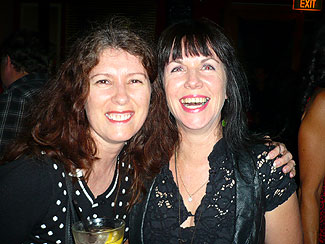 6) Karin Keays and an unusually distracted Jim Keays 7) Lisa Robbo and Tracy are clearly having too good a time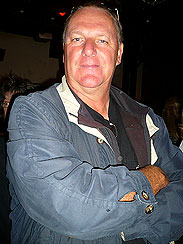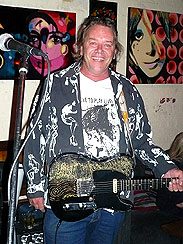 8) Wilbur Wilde's calling you Bill 9) Shane Laffy wearing Pete's shirt 10) Mae Parker lets us have it

Peter Laffy's Memorial night
3.3.11 - I didn't make it to the Espy on Saturday night, so I was determined to make it to the Fad Gallery in Chinatown last night and pay my last respects. When I got there I half recognised a group of people standing outside with the smokers, but it wasn't till I was about to shake hands with him that I realised I was looking at Tony Fossey, (pic 2) who of course played with Bill and me in The Heaters and the '84 Spectrum reincarnation - and WHY now that I think about it.
And so we moved inside. Noisy places aren't my favourite environment, in fact they're a bit of a trial for someone who hasn't correctly identified a consonant for years, but after fortifying myself with a couple of G&Ts I felt a little more relaxed and chatted with Alex Formosa, (pic 3) Bobby Valentine, (pic 4) Jim Keays (pic 6) and the irrepressible Wilbur Wilde (pic 8) before the Robbos (pic 7) arrived.
I'd ducked outside to get some air before Bobby V gave us a fine eulogy on his mate Pete, and then Shane Laffy sang a very touching song dedicated to his brother and the band began to play. Not that they were particularly loud but I only lasted two or three songs before I started to feel that it was time I should be leaving. Dom had assembled a crowd of chaps to be photograhed in the lane and I snapped them candidly as a parting gesture. (see Facebook)
I think I told you that Pete once claimed I was stealing his riffs, a comment I'll treasure as much or more than an outright compliment, being from a man who gave his heart and soul to rock and roll without losing the art of being a true gentleman.
back to the top