Scroll down to the start of the month
Close this window to
return to Mike Rudd &
Bill Putt's home page
Way Out West and INMT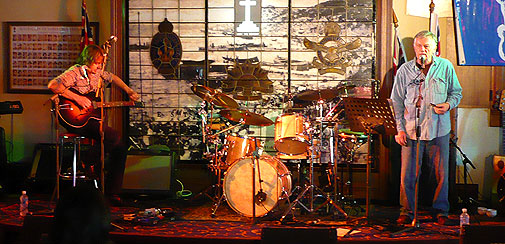 1) Matt Walker and Brod Smith interrupted by Robbo's drums at the Willy RSL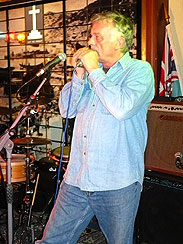 2) Brod does Brod 3) Rob 'the Count' Rowe and Mr Morris Nylon chat on the patio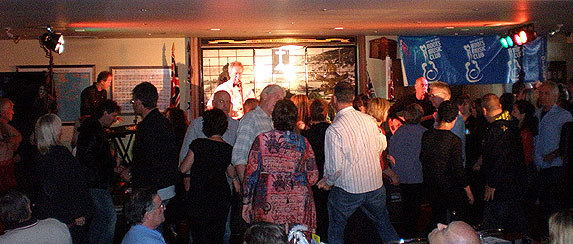 4) The happy crowd take to the floor in Spectrum's splendid set at the Willy RSL
(Newman)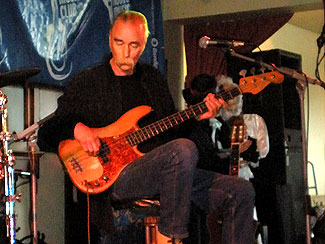 5) Mr Morris Nylon goes ape in Some Good Advice 6) Bill looks positively languid in the same song (5 & 6 Newman)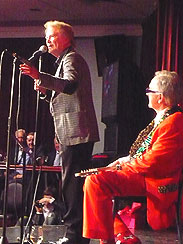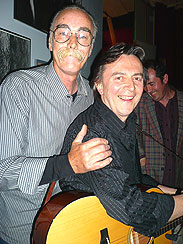 7) Colin Cook and Tony Cavanagh 8) Terry Dean and Bill 9) Terry Dean and harpist Anthony Hurry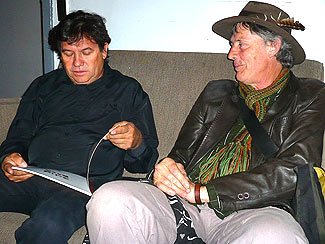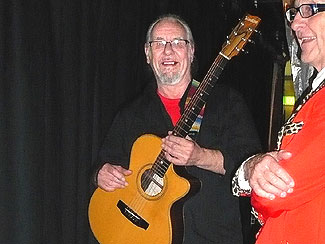 10) Steve Pigram reads Shane Howard's kids' book 11) Bobby Bright tries to look bright and happy before his spot
gig report
Way Out West Willy RSL and In North Melbourne Tonight The Comics Lounge Sun. 31.10.10
From the sublime to the gorblimey..
2.11.10 - It seems ages since we last did the Willy RSL, so we were lookuing forward to meeting up again with Rob, (pic 3) Wendy and Ernie - plus all the Willy regulars and a couple of Trollops. The fact that it was a costume or Halloween party somehow eluded 90% of the audience though, but Spectrum made a token effort at least, with Robbo a crowd favourite in his kilt, and Daryl as Chopped Liver and me as my alter ego, Mr Morris Nylon. Bill had wrecked all his Strathie Bill clobber in the previous night's rain and managed only the boots, but got points for just being there, having to navigate through a forest of fallen trees round Strathewen.
Brod and Matt 'Steve Buscemi' Walker (pic 1) opened proceedings with a laid-back set that drew rapturous applause. Brod's particularly pleased with his new harp amp which has a fascinating provenance that I've forgotten but which I'll find out for you.
Then it was our turn. I blended our usual three sets into the one long (90 min) set, so it could've been a little confused, but actually I was pleased with the way it ran. The crowd liked it too and obligingly got up and danced at just the right time. (pic 4) Everybody seemed happy and I'm sure we'll be back at the Willy RSL before too long.
Bill and I had to go to the Comics Lounge for the annual In North Melbourne Tonight bash to perform IBG. This is the first year for INMT at the Comics Lounge and Athol Guy said it was a timely move as it was all getting too big for the Polish Hall. Naturally the show was running well behind and Bill and I had a considerable wait before our two minutes of fame, so we brushed shoulders and chatted with most of the host of celebrities and entertainers in various stages of pre and post-stage tension in the interim, including Mark Holden, Lisa Edwards, Vicki O'Keefe, Russell Morris, (who was very nervous about singing the Seekers' The Carnival Is Over, especially with them all being in the audience), Paul O'Gorman, Colin Cook, (pic 7) (who showed me that his teeth had stuck together with chewing gum), Terry Dean, (pic 8) Anthony Hurry, (pic 9) Shane Howard and Steve Pigram, (pic10) Bobby Bright, (pic 11) and a host of others.
By the time we finally got on for The Song, Bill and I were so drained that we elected to slink away before the final shebang, which was a shame as it was probably a lot of fun too. Tonys Cavanagh and Healey and the rest of the organising committee can be justifiably proud of gathering such an illustrious ensemble for INMT and the new venue is a considerable improvement, but the sound arrangements remain painfully inadequate and almost all the performers were rattled by it - somebody suggested they should have a benefit for a new PA - and one can only hope that it's fixed by the time this worthy and uniquely Melbourne curiousity comes round again.
Rock of Ages 3

1) Part of the crowd at last night's Rock of Ages 3 concert at Palms at Crown -looks like a good turn out too..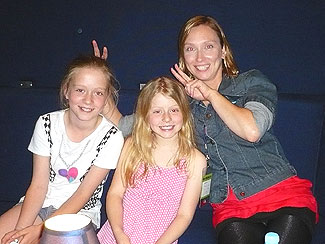 2) Adele Spencer with a couple of Ted's offspring 3) Jan and Barry McCaskill pose quietly with Bill before the gig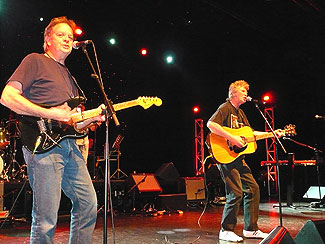 4) Brenden Mason does a run through with Ross Ryan 5) The Clefs' Les Stacpool with Bill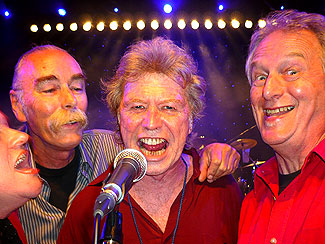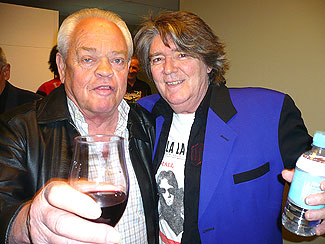 6) Jan McCaskill, Bill, Ross Ryan and Mike do the na-na-na-nahs 7) Jimmie Sloggett and Jim Keays offer their drinks


8) Tony Buetel and Greg McCainsh 9) Gloria and Linda are caught in Dom and Mike's shoot-out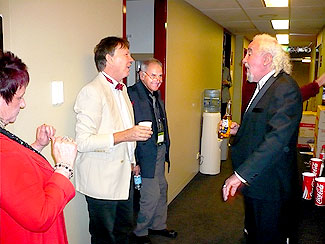 10) Steve Fraser and Ian McFarlane discuss rock history 11) Billy Field and Barry McCaskill shout at each other
gig report
Rock of Ages 3 at Palms at Crown Fri. 29.10.10
Rock of Ages 3 - the gig
30.10.10 - Aztec Music label manager Ted Lethborg has been uncharacteristically tense for the last week or two. Pre-sales for Rock of Ages 3 hadn't met the targets set by the previous Rock of Ages concerts and there was muttering about the Casino's new advertising program having been less than effective, to the point that there was real concern the room might not provide a decent vibe for the bill, which, by definition, had a certain air of predictability about it. Not that efforts hadn't been made to make RoA 3 different from its predecessors, with the Gil Matthews' house band (The Unnatural Act) being created to help move things along and provide an element of coherence for the eclectic mix of '70's survivors on display.
Really there was no need to worry. The crowd rolled up (pic 1) and they were more than ready to trade reminiscences with a very chatty Barry McCaskill and Levi Smith's Clefs who opened the show. Of course, it's always a delight to see Les Stacpool (pic 5) in action - I'd forgotten he was a Clef. Whenever I see Les play the word 'sinuous' comes to mind to describe his guitar lines that never finish quite where you expect, (Les coined the word 'sinuousity' when I told him that), but I enjoyed the Clefs' set overall much more that I was anticipating.
In fact, that applies to the whole evening really. There wasn't the usual disparity between the sound check and the actual performance sound, which helped quite a bit, and as far as Bill and I were concerned, The Unnatural Act acquitted themselves with distinction as the house band, with Gil commenting about We Are Indelible that, 'It doesn't get much better than that'. And there were some fun moments too, like when Ross Ryan, Jan McCaskill, Bill and I rushed onto the stage to do the na-nahs in Madder Lake's 12lb Toothbrush. (pic 6)
There was a boisterous crush of people back stage at the end of the night and Bill and I were happy to hang around and bump into some characters we saw at the last Rock of Ages' concerts and some we hadn't seen for years, like Tony Buetel (pic 8) for instance. Roll on Rock of Ages 4! (See more great pics on Oriana's Facebook page)
Rock of Ages 3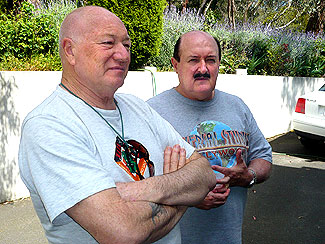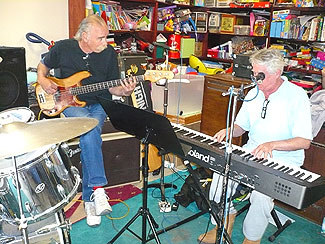 1) Billy Kristian and Gil Matthews reminisce about the good times 2) Bill and Warren Pig Morgan are Indelible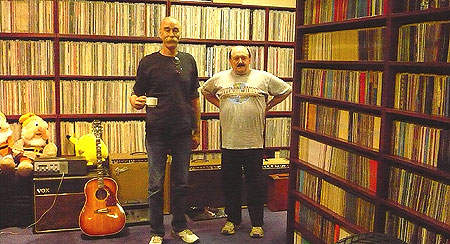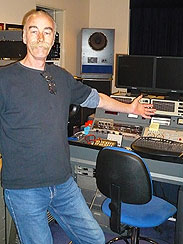 3) Gil showes Bill a part of his enormous collection of albums 4) The studio where Gil re- mastered Milesago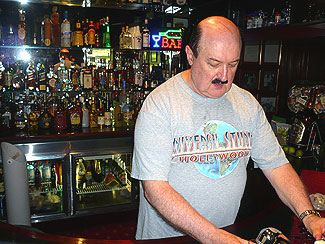 5) What every home should have - a five Ferrari garage 6) Gil serves up tea and coffee from his bar of bars
Rock of Ages 3 - the rehearsal
27.10.10 - It's a bit of a hike to where Aztec Music boss Gil Matthews lives in Mt Eliza, but Bill and I were more than happy to travel there today to rehearse our small part in the Rock of Ages 3 show with Gil's Unnatural Act band, especially given what we'd heard about Gil's home. At first glance you'd be hard pressed to imagine that it's a home at all - the scale of the place from the gates onwards is simply breathtaking. If you'd told me it was a public building, perhaps a museum for instance, I would've accepted that, apart from the fact that it's in Mt Eliza, of course. Anyway, Gil was more than happy to show us round the place; his enormous record collection, (pic 3) his mastering studio, (pic 4) his Ferrari garage (or showroom), ((pic 5) and finally his bar to die for. (pic 6) I told Gil it gave Bill and me something to aspire to, and I imagine he understood that I was being ironic.
As we arrived we saw Ross Ryan leaving, and half way through our rehearsal Blackfeather's Neale Johns arrived, so it must've been a busy day in Gil's wife's garage where we were rehearsing. Brenden Mason (Madder Lake, Blackfeather) was there as part of the UA band and was commenting on how much work was involved, especially with the Billy Fields' material. Billy hasn't played in public for a few years apparently and they're only getting the one rehearsal with him on the day of the concert.
With Bill taking the bass duties in our two songs, ace bassist Billy Kristian (pic 1) (The Invaders, Max Merrit's Meteors) was temporarily redundant and was taking the occasional snap to keep himself occupied. I asked him about Ray Columbus and he said that Ray had now retired from performing due to ill health, and then we chatted with Warren about the various musicians who had given music away altogether - a few with quite some prejudice.
Despite Bill and me not really being rehearsal people, we enjoyed the rehearsal for what it was and the afternoon in general. While I reckon Friday night's Rock of Ages 3 show is going to be quite spectacular, it won't hold a prayer to Gil's Mt Eliza mansion.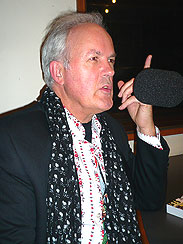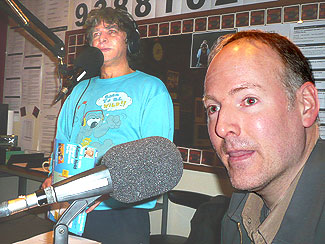 1) Greg McCainsh talks Claptrap 2) Headley oversees Jeff Jenkins posing a question
Mike on Headley Gritter's The Party Show
24.10.10 - At 3.15 on Fiday arvo I got a call from Headly Gritter asking if I'd be interested in popping down to Triple R at 11.45 on Saturday night to participate in another episode of his occasionally riotous The Party Show. At 11.30 I pulled up in Blyth St behind Greg McCainsh's car (pic 1) and we strolled into the studio together to be greeted by Headley (pic 2) in his inevitable aqua-marine sweat shirt. I believe Greg and I were on the show together the last time, as was the third guest, Jeff Jenkins, (pic 2) writer for the popular TV series, My Generation. and with half a dozen book titles to his credit, including appropriately the Skyhooks history Ego Is Not A Dirty Word.
There was an array of phone guests too, including Michael Chugg, Dutch Tilders and Jim Keays, who happens to be on the bill with Bill and me this coming Friday night at Palms at Crown for the Rock of Ages 3 concert.
I managed to remember to mention that Spectrum's playing at the Willy RSL next Sunday and Brod Smith's playing on the bill with us. I reckon he might be able to shed some light on Headley's legendary Lithgow Leaper.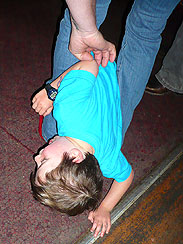 1) Caterpillar boy does his thing 2) Caterpillar boy wonders what he's got himself into
gig report
St Andrews Hotel Sun. 17.10.10
The trio flexes its muscle at St Andrews
18.10.10 - Daryl, (or Dabble as we now like to call him), couldn't make this one, so we had license to go to a few places we hadn't visited for a while repertoire-wise. There was an unusually large crowd on hand as a birthday party was in progress when we arrived, and later on they proved themselves by singing along as lustily as any crowd I can remember. Mind you, the Trollops were in attendance and made sure any newcomers were up to speed.
Caterpillar boy was disporting himself horizontally on the dance floor as caterpillar boys do, (pic 1) and I took the opportunity in the blues set to tower over him with mic in hand - and although I resisted the temptation to utterly intimidate him, he remained a little unsure of me when dad took the group photo. (pic 2)
This week is diappointingly devoid of live gigs, so I guess we'll all catch up again at the Willy RSL Halloween Special on Sunday 31st.
Spectrum goes inner-suburban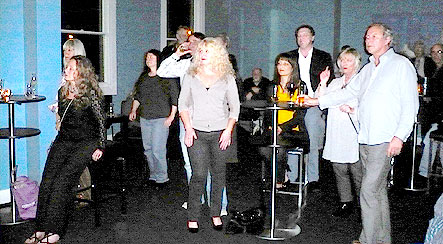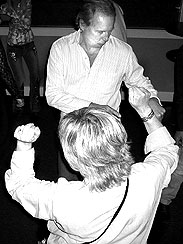 1) Another Fleece gig and another gorgeously trendy Fleece crowd 2) They actually got up and danced too!
(Wazz)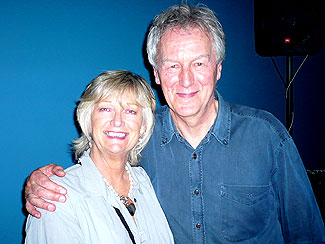 3) Mike looks far too happy, and Newton's Law decreed Bill had to suffer 4) Mike poses with a happy punter (Wazz)
gig report
The Fleece Hotel Sth Melbourne Thurs. 14.10.10
The Fleece - bliss in South Melbourne
15.10.10 - Today seems to have reverted to wintery conditions, but last night at the Fleece it was warm and humid and we were glad of the ice cold sodas that came with our Fleece-type pizzas. We never work on a Thursday night and it's a thing of wonder that the Fleece continues this provocative course - but the odd thing is that it seems to work and there was a healthy group of well-appointed punters in the room for our third Fleece appearance.(pic 1) There were some familiar faces in the audience too, including Diane Buettel and Marilyn Rudd for instance, and there were also some there who've made it a ritual to see us there since running into us by accident the first time round. (pic 4)
For the players the sound there is a little odd, which I believe I've remarked on before, and a low-mid accent made Bill's night less than perfect, but only an astute Bill spotter would've been able to penetrate his perennially inscrutable facade. We combined the second and third sets, which was a bit of a marathon and we were glad of the help provided by the staff to disgorge our gear from the first floor (via the bloody stairs) and onto the pavement. I'd better get in touch with Julie and see when we might get back there..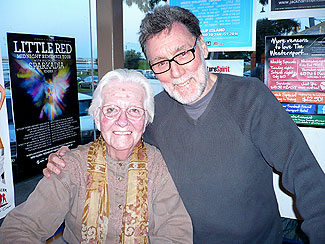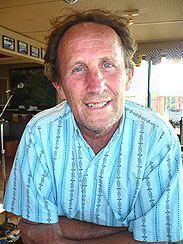 1) Shirley and Dr Wazz had a good old chin wag 2) Phil knew a lot about Spectrum
gig report
Westernport Hotel Sun. 10.10.10
Crudd & Pump do San Remo
11.10.10 - I turned on ABC Classic Radio this morning to hear the opening strains of Jupiter from Gustav Holst's The Planets, which took me back to a conversation Bill and I had with Phil (pic 2) at yesterday's gig down at the Westernport Hotel in San Remo. Phil was eager to know if I wrote Make Your Stash and if I knew about its classical precedent, not an uncommon question from people who know our music, and on this occasion we had a knowledgeable crowd in the room. I was delighted to see Shirley (pic 1) arrive as we were setting up - she'd come all the way from Foster and was planning to stay overnight, (that's what I call dedication!), but there were a number of other familiar faces in the room and they all joined in heartily at the appropriate moments and requested their favourite Spectrum songs when they felt like it.
This is not the first time Bill and I have done the Westernport, but it was probably the most fun. The duo format can be difficult when the audience is not familiar with our oeuvre, but as I said, this audience was a bunch of Spectrum-heads, and those that weren't were either good listeners or very polite. I was even able to perpetrate a four-number sampler of my solo repertoire, which nobody was expecting but which seemed to go down well
I had the added bonus of Dr Wazz (pic 1) to chat with on the way there and back, which was quite timely as Bill hadn't slept the previous night and just wanted to snooze. I'm now hoping we might do another one or two forays down to San Remo over the summer.

Lena talks turkey with the Station Hotels' licensee
gig report
Sally's 50th b'day party Eltham Sat. 2.10.10
GF2 fails to impact on Sally's party
4.10.10 - Nobody imagined when Sally's birthday party was being planned that there would be two consecutive Grand Finals, meaning Pies' tragic Robbo would be moving heaven and earth to be at both of them. At least with Robbo recording at my place on Thursday he was able to leave his kit with me and so could waltz in with thirty minutes to spare and be set up right on time. (Mind you, the Djembe suffered terminal skin damage in the process so he might be regretting that right now).
Anyway, it was a terrific party, starting with the Kinrades' fabulous grandscaled mudbrick house in a lush bush setting, through to the guests, all decked out in their best '70s gear.
The djembe wasn't the only instrument casualty however, with my mic lead dying during the speeches, strange alien noises intermittently coming from my amp and my nylon-string producing only a sad, farting noise, (flat battery most likely). Despite losing the plot on a few occasions we had quite a deal of fun, and while a number of the guests were clearly mystified as to who and what we were about, (same as it's ever been), our hosts and some of their more musical guests were obviously delighted.
Sadly I left my camera at home, so there are no party pics to regail you with, but there is an explanation for the pic I've included. I ran into Lena Blomfield at Rudd HQ recently and we discussed the lapsed Station Hotel reunion idea and agreed it was too good an idea to be abandoned. With that in mind we went to the Station and had a chat with David Farquhar, the licensee. (pic) A date was decided upon - the arvo of Sat. Nov. 20th - and Spectrum will be playing, with several other musical guests to join the bill. If you used to go to the Station in the '70s and '80s, get in touch with Lena on Facebook and let her know you're interested in coming.
back to the top