Scroll down to the start of the month
Close this window to
return to Mike Rudd &
Bill Putt's home page
Spectrum's birthday special

1) It was the Rudes' Sam's actual birthday 2) Marg Bird and bro-in-law, Geoff McClatchy

3) Nearly birthday girl, Heather Bass 4) The Trollops and their favourite band (pics Bass)

5) Chugalug Chris! (mouse over pic)
gig report
St Andrews pub Sun. 19.9.10
Another St Andrews gig, but with a twist..
20.9.10 - It was a very different start to our semi-regular Sunday arvo at the St Andrews pub this last Sunday, with the internationally acclaimed Rudely Interrupted taking over our stage to lay a set of Rude music on an unsuspecting audience. (Actually, 'unsuspecting' is not quite accurate because there were quite a number of Rude fans in the room to see their heroes). The occasion was their bassist Sam's (pic 1) birthday, (Rohan explained Sam claims that every day is his birthday), but it was also an opportunity for The Trollops to celebrate Heather's (pic 3) impending birthday, so it really was a birthday special as advertised.
Mind you, there was nearly trouble when the Rudes' drummer busted his snare drum a few songs in, but Robbo blithely lent him his snare drum - and we all held our breath in case it got pulverised as well, but it lasted the distance. Anyway, I think everybody was impressed with Rudely Interrupted and the concept of having
special guests at St Andrews is something we may entertain doing again.
My son Chris (pic 5) came along for the afternoon and was very happy to see his uncle Geoff there (pic 2) and I was pleased to see that the Drs Sellers put in another appearance as well. We played a few songs in the retro set that we haven't played for a while, like I'll Take You High, But That's Alright and Disco Dilemma, and the Sellers and The Trollops combined to set the floor alight and danced the evening away. (pic 7)


6) Mike waves to Wazz across the dance floor 7) Dr Wazz cheerily waves back (pics Bass)
The music goes round my head
16.9.10 -This looks interesting. The writer, David Johnston, occasionally got in touch to ask the odd historical question of me and Bill and has now released the book - I must get myself a copy! He sent me the following blurb:
The music goes round my head has as its starting point the Beatles' impact on Australia and how musicians then reacted to this here. It follows through to when pop began to diversify into rock, progressive, m.o.r. and teenybopper sounds and moved out of local dances and unlicensed inner city discos into pubs, festivals and fully staged concerts.
The book's focus is the music of the era (not so much the fashions, lifestyles, etc.), and covers not only the well known artists from the time, but numerous others less well known whose music was often of equal, sometimes superior quality. 'Pop' was the essentially undiscriminating term for any music that was popular in any way - beat

music, r&b, soul, bubblegum, experimental and rock, but also the 'folk' of the Twiliters and the softer sounds of Kamahl. So its range is from the Seekers to the Creatures, and everything else in between - in some cases, beyond!
The music goes round my head pays tribute to those who pursued originality of style and composition; other issues that emerge are the large number of British (and other European) immigrants who were successful in Australian music, similarly, the waves of New Zealanders who tried their luck here to varying success, the emergence of 'scenes' in state capitals and rural regions away from the Sydney-Melbourne axis, attempts to succeed overseas, and, the limited opportunities for female artists (question - which now hugely successful Australian woman never recorded a single here?)
The book is a larger format 400 page locally printed paperback with gloss laminated cover and it is illustrated with more than 1000 margin size photos and other archival images. It's fully referenced and indexed, with an alphabetical list of all songs referred to. It also commences with a short preface that traces earlier popular music - folk, jazz, rock'n'roll - that was imported here from Britain, and then America from white settlement to 1963.
A limited edition of 1000 copies has been produced and 50% of the $40 price - a potential $20,000 - will be donated to Support Act, the Australian musicians' benevolent charity (I'm not making any money out of this - the total experience in producing it has been something money can't buy!) Packaging and postage on average will be $13 within Australia (overseas negotiable).
Advance copies are now available by e.mailing me at roundmyhead@gmail.com Payment can be by internet funds transfer or Paypal. A website www.roundmyhead.com will also be live later this week.
The Wagga Wagga
Jazz & Blues
Festival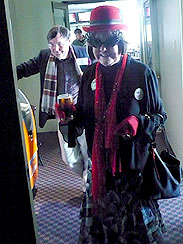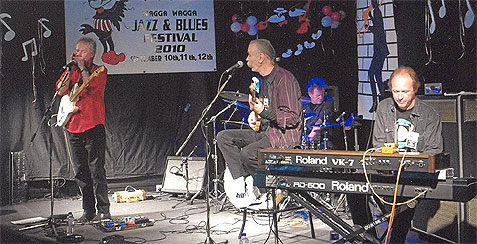 1) A Jazzer enters the room 2) Spectrum
plays 'the song' on the Home Tavern Hotel stage in Wagga Wagga (Neil)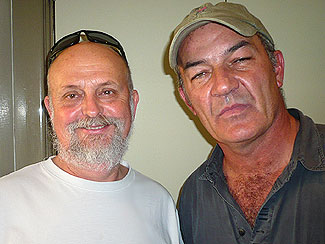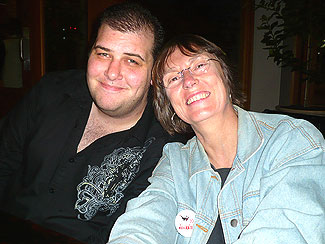 3) The ABC's Bill Brown and Festival organiser Roger Ansell 4) Lloyd Spiegel poses with my friend Jane
Greagg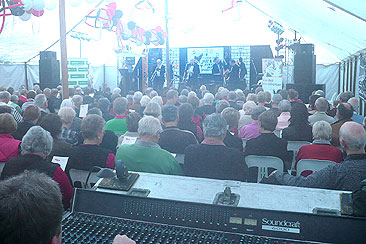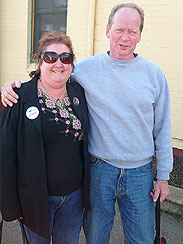 5) The Sunday morning service in the Gospel tent 6) Di and Ray show up again in Wagga Wagga
gig report
Wagga Wagga Jazz & Blues Festival 11-12.9.10
Spectrum ventures north of the border - again!
14.9.10 - First there was Newcastle - now Wagga Wagga! This one came out of the blue when Roger Ansell (pic 3) contacted me some months ago and asked if we'd be interested in appearing at the Wagga Wagga Jazz & Blues Festival. I couldn't remember at the time when we'd last played in Wagga, but Roger reminded me later that his band TODE had supported Ariel there and in Bathurst back in the mid '70s. (I can remember Bathurst, but I still can't remember Wagga Wagga..)
And so it came about that last Friday we loaded up the van with a minimal amount of equipment and the full complement of players - Daz had never travelled with us in the van before - and headed towards the NSW border, not quite sure if the floods were going to impact on our journey.
As it happened they didn't, and we made good time to Wagga and settled in to the Astor Inn, where most of the musicians were accommodated. At breakfast the following morning, Lloyd Spiegel (pic 4) said he's had some difficulties getting the sound worked out at the Home Tavern where we were due to play that afternoon, and the sound was remarkably flat on and off stage, but it was the same for everybody. For our first set we were a bit nervy however, and the flatness of the sound didn't actually offer any assistance, but by the last spot on the Sunday we'd got used to it and were able to relax a bit.
Bill and I had an interview planned with Bill Brown (pic 3) from the ABC on Saturday morning before our first spot that afternoon and we spent an hour or so in Bill's Town House room being gently interrogated about our early career in particular and our thoughts on the music scene past and present in general, which was fun but also quite draining.
The 'Jazz' in the festival's Jazz & Blues job description is of the Trad variety, and most of the audiences seemed to be composed of those gentle folk, (pic 1) with a sprinkling of blues enthusiasts and an even smaller minority of people who could vaguely remember Spectrum, but they seemed to be curious to find out what we were about and gave us a polite, verging on warm reception.
We got there early that night to catch Lloyd Spiegel and percussionist Arunachala's set and were duly gob-smacked with Lloyd's muscular virtuosity on the guitar. I'm looking forward to listening to his CD.
Our blues set was received pretty well too and so we were all pretty happy when we adjourned to the café across the road with my friends Jane (pic 4) and Maria to have a meal and wind down.
On Sunday morning we'd been advised that the Gospel tent was the place to be, (pic 4) but it was packed to the gills so I asked Roger where the old cemetery was so that I could follow up a tip I'd got that there were a few deceased Rudds stacked up there. (See ASR)
The Sunday arvo set was our most relaxed, but, like all of them was over all too quickly, (we played fifty minutes tops), and I said to Roger as we bade our fond farewells that we would've liked to have played just a little longer, but in all other respects we'd had a terrific time and we'd love to do it again. We would too..
back to the top