Scroll down to the start of the month
Close this window to
return to Mike Rudd &
Bill Putt's home page

Mike welcomes Tim White all the way from WA via NZ
gig report
Lomond Hotel Sat. 28.8.10
The three amigos back on home turf
31.8.10 - It's been a while since we were last at the Lomond and of course I miscalculated the time required to get from Mt Waverley so was a good fifteen minutes late in arriving, but we managed to start on time - and I didn't get another speeding ticket!
Because it's been some time I was able to observe that we've undergone a musical transition, chiefly down to Robbo's easing off on the intensity, probably aided by his adoption of the maple hoop on his snare which makes it a whole lot less competitive and allows the guitars to breathe. Whatever - it was a fun, relaxed night, with lots of friends in the audience. The Lomond is next in November.
Cheese on cheese at Lizotte's Restaurant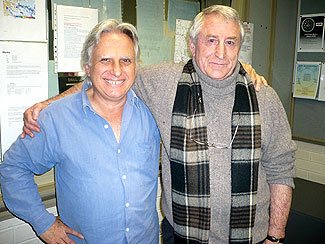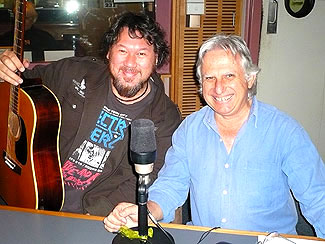 1) Mark Tinson and 2NUR's John McGann 2) Mark Tinson with Ngariki at ABC Radio on the Carol Duncan show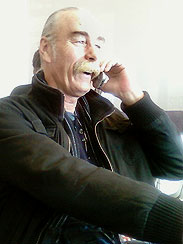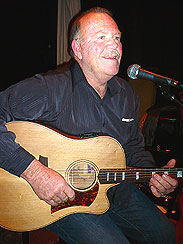 3) Bill's on the phone to Rosemary again 4) Daniel's Roger Pyke and 5) Jim Neal at soundcheck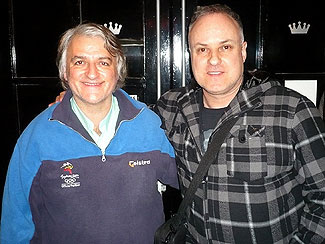 6) Daz and Roger Pyke in the foyer after the show 7) Collector George Papanicolaou and Matt Finish's Rob Prior
gig report
Lizott'e Restaurant Fri. 27.8.10
Taking nostalgia to Newcastle
29.8.10 - The last time we were in Newcastle was during the Long Way To The Top tour back in 2004, but it must've been thirty years before that again that Spectrum, (perhaps even the three-piece version of Spectrum after Lee Neale left), had played a gig in Newcastle, but whichever way you look at it it's been an awfully long time between drinks. The Lizotte's restaurant gig on Friday had been set up by Mark Tinson (pics 1 & 2) and Bill and I had flown up on Thursday to spruik the event with Mark on a couple of radio shows. The interviews weren't scheduled until the following day, but the first one was at 10.30 in the morning, so we were grateful to be able to get up at a respectable hour.
The second of the interviews was early in the afternoon at ABC radio with Carol Duncan, and while we hadn't expected to be joined by local musician and identity, Ngariki, (pic 2) he turned out to be as affable as his appearance suggests, not to mention a powerful performer and a songwriter of some mettle - he proved that by writing a song in ten minutes from a theme suggested by a listener and performed it live-to-air, repleat with the I'll Be Gone riff at the start!
When Bill and I finished off the interview with a shamefully shambolic rendition of Sitting On Top of the World, Ngariki sportingly joined in - and when we caught up with Ngariki after the show at Lizotte's he generously offered to drive the other chaps back to the hotel. Nice bloke. (Check out his MySpace site).
Robbo and Daz arrived from Melbourne just as the ABC interview finshed, so it was off to lunch followed by a soundcheck at Lizotte's. Mark lent me his refurbished Vox amp' for the night, and I got a pretty good sound from it right away - I was told it sounded great by several people after the show - but the organ was proving to be a problem and Daz decided regretfully to ditch it and go with the piano's built-in cheesy organ sounds.
As we were finishing up, Daniel's Roger Pyke (pic 4) and Jim Neal (pic 5) arrived for their soundcheck. I was delighted when Mark told me he was using them as a support - while I'd seen Roger quite recently I hadn't seen Jim since Daniel broke up. They sounded terrific as a duo too, which I guess is testament to the quality of the songs as much as anything else, and of course the crowd absolutely loved their home-town boys.
Then Spectrum took the stage, and apart from a dislocated start to Launching Place Part Two, it all went pretty well. It was a pity we didn't have a bit longer and it would've been nice to have the nylon-string guitars, (which we'd left in Melbourne for economy reasons), but apart from a couple of guys in the audience storming out when we declined to play Stash or Superbody, I think most people enjoyed what was on offer.
Bill and I went out to the foyer at the end of the night and chatted with some old friends, including Pam Cleary and Lyn Timmis who'd taken two trains to get there, Trevor Leeden, (who was mildly annoyed we didn't play his pick as Song of the Year in Hotels, Motels) and his Katherine, Rob Prior, (pic 7) the Pyke family, (Milli insisted I autograph her arm, which I was told was actually her second choice), and numerous others whose names I've


8) Robbo wonders what to have for breakfast..
forgotten and whom we hadn't seen since at least 1974.
Mark and Lee Tinson ferried us out to the airport the next morning and I got the impression Mark thought the exercise had been worthwhile. We certainly enjoyed ourselves, although I felt oddly melancholic throughout the trip, which may have been due to taking The Garden of the Finzi-Continis with me to read on the plane - Stephen Nelson, who designed the cover for A Strange Fantastic Dream, sent it to me after reading some correspondence I'd had about the inspiration for The Garden of the Frenzied Cortinas with an Italian mail-orderer.
Anyway, let's hope Spectrum can get back to Newcastle again before too long - because, let's face it, we mightn't have that long..

1) Bill makes a new friend early on 2) Martyn 'Rackman' Sullivan, Pam and friends

Mike and Wild Thyme staffer celebrate Allan's birthday
gig report
Wild Thyme Cafe Sat. 21.8.10
A Wild Thyme ends in hung Parliament
22.8.10 - I plainly wasn't thinking when I conspired with Allan Seppings (pic 3) to book the trio into Warburton's Wild Thyme Café on the nation's election night. In hindsight I realised that everybody goes out to election night parties - that's if they go out at all - so as we drove down the Warby Highway on a dark and rainy night I wasn't really expecting a large crowd, and sadly my expectations were met. It happened to be Allan's birthday too, but Allan and his staff certainly made the best of it - I don't think I've seen Allan so relaxed and joyful. And what there was of a crowd thoroughly enjoyed themselves, (pic 1 & 2) as did the band, and, in the end, that's what it's all about..
St Andrews rocks again!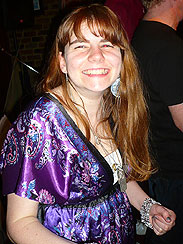 1) Mike models Jennie's purple fez with a full flirt of Trollops 2) Alana's all smiles before being traumatised


3) Max incites the crowd in a bid to become Spectrum's fifth member (Jennie)
gig report
St Andrews Sun. 15.9.10
A new star is born
16.8.10 - It seems ages since we were at St Andrews. (It was actually July 4th when I had my bad throat day, so perhaps I've expunged it from my memory). When we arrived there was a large crowd in for lunch, although because of the rain there wasn't the regular mob of bikies. The Trollops (pic 1) and Alana Galea (pic 2) had promised to be there and there were quite a number of other familiar faces in the crowd, but it was during the blues set I noticed a diminutive figure near the bar imitating all my moves. I played up to him, as is my wont, and ended up singing a verse of Hoochie Coochie Man right in his face. This would've brought a lot of four-year-old kids undone, but young Max simply became emboldened and ended up on stage (pic 3) conducting the band like a seasoned professional. I predict a big future for that boy!
With the Lizotte's gig in Newcastle coming up in a couple of weeks, I was keen to get as many retro-Spectrum tracks under our belts as possible, so the last set was a good sixty minutes worth of Spectrum gold, with songs like I'll Take You High, But That's Alright, Fly Without Its Wings and Some Good Advice getting a work-out.
We were packing up when I felt the need to put on my T-shirt - and Alana caught sight of my naked torso. As a result she claimed to be severely traumatised and made me promise never to do that again. The Trollops were disappointed I couldn't stay and have a meal with them, but I was on another promise to drop in and see Dick on the way home, Daz wasn't feeling too well, disappearing almost as soon as we finished playing, and Bill's Rosemary was at home unwell so he didn't hang round either, leaving Robbo the only candidate. Next time girls!
Fleeced again!

1) Anita Monk arrived just in time to help load out 2) Diane Buettel enjoyed the whole night

3) The audience is hypnotised into helping with the load out (Newman)
gig report
The Fleece Thurs. 12.8.10
Thursday night at the Fleece
13.8.10 - Our second Fleece date seemed like the perfect way to welcome Robbo back from Basel and break the gig drought - and it was. We were all pretty pleased to be playing again and it was nice to have Daz with us too. There were quite as few in the audience (pic 3) that had seen us the first time we played there in June, and after I bitched mightily about the load in, several of them actually pitched in and helped with the load out! We'll see you there again on October 14th - hooray!

1) Deborah gives my namesake Marilyn a big hug 2) Sound engineer Ray Moon teases me with his very own pizza

3) Mike shows up just as Rod is sorting out the money
gig report
Clifton Hill Hotel Wed. 4.8.10
Crudd's solo spectacular
5.8.10 - It was a cold and rainy night in Melbourne... It was too. Perhaps that was enough for you sensible people out there to decide it wasn't worth the effort going to the Clifton Hill Wednesday acoustic night session, but in any case there was a miniscule crowd on hand to see three acts, including Tom Bolton, who replaced Meg O'Reilly, the two-piece version of Not The Wolf, and me and my guitar, George Martin.
I enjoyed Tom and bassist Richard Grace's set and then plunked away haphazardly myself for at least 45 minutes, which was exactly the kind of work-out I was looking for.
Thanks Rod Claringbould, (pic 3) long may you prosper.

The Shepparton PC Doctor

No fix for the chronologically challenged
3.8.10 - I have to plead mea culpa to the misleading header on the latest mail-out, suggesting that Spectrum's playing at the Fleece Hotel this Thursday. In fact, it's next Thursday. I've never been good with dates.
Those of you who've been following my moving saga on the ASR page will be aware that my music computer hard drive bit the dust almost as soon as it arrived in Mt Waverley. I was very fortunate that my 'man', James Feldman, (pic) was in town last week to diagnose the problem and that he arrived again today to replace the errant hard drive with a new, much larger model. Lucky, 'cause James is domiciled in Shepparton, and it's not always convenient for him to pop into town. Anyway, I mentioned that for three reasons:. 1) I told James his photo would be on the website. 2) To remind you that there is such a thing as the ASR page and 3) to remind all you computer users out there to always back up - I might've lost all the work I've done on the next EP had I not backed up on my external hard drive.
back to the top