Scroll down to the start of the month
Close this window to
return to Mike Rudd &
Bill Putt's home page

1) Hippies play at a Sharpie gig 2) Hippies play in a photo booth
Good news, bad news..
26.4.10 - I was trying to find some other historical pics when these two turned up. The first one shows Spectrum playing at Lucifers in 1969 and is probably unique. Lee Neale is seen playing his Farfisa keyboard, which is no doubt back in fashion again, if I know fashion.
The next shot was taken in a photo booth in 1972 and was in that awkward transition period when Bill, Ray and I became a trio by default for a few weeks. We look pretty happy, don't we?
The bad news? The Manningham has decided to pull the plug on future Spectrum appearances at the world's most convenient gig. Bugger.
In other unrelated news, Trevor Courtney has sent me the CD of the Chants playing on Radio New Zealand back on the 26th of February. It's pretty damn fine and Tim Piper, Trev, Martin Forrer and I sound like we've never stopped playing together. Have a listen to the Chants' versions of Kingbee, Sitting On Top of the World and Dimples and I think you'll agree.
The duo heads south..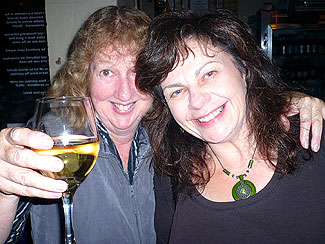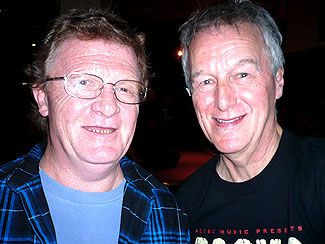 1) Lee (right) and friend warm up for the night 2) Andy is lulled into a shot by Mike, the phantom paparazzo
gig report
Westernport Hotel San Remo Sun. 25.4.10
Crudd & Pump on mercy dash to San Remo
26.4.10 - I don't get offers from the Pop Shop agency all that often, so I gather we were the only suckers left to do the Westernport Hotel last night. As I probably mentioned the last time we did this gig, it's really a job for the trio, 'cause in many ways it's yer typical noisy, boozy pub gig, but there's always a core group of wistful-looking baby boomers, (like Andy for instance (pic2) ), quietly appreciating what we're doing that make the hour and a half trip down the Phillip Island worh it.
I'd taped up my right ear to allay any further damage until I get it seen to, (since the SA tour I'm down to about 10% hearing), which caused a couple of very young boys some concern - I told them my ear had gone bad and the gaffer was the only thing holding it on to my head - and it made the gig an interesting aural experience for me. By 'interesting' I mean it was barely tolerable and particularly hard to judge volume and occasionally pitch, but I think I bluffed my way through. Lee, (pic 1) who Bill remembers from Portland a couple of decades ago, and her friend had fun dancing provocatively very close to our set up and, in the event, we were obliged to do a couple of encores, so I guess we must've done OK.
We're going to South Australia..

1) The Altschwagers turned up en masse 2) Kerry Philcox organised a raffle for Variety using our CDs as prizes

3) Spectrum with te Beach House Café's Ray Carroll, Angie and all the family 4) Val presents a smashing feed

5) Iain Ross and Daz consider life through rose coloured glasses 6) Another Angie at the Sandy Creek Hotel



7) The full band on stage at the full Semaphore Workers Club (comp. pics Hunter)
gig report
Beach House Café 15.4.10
Old Clarendon Inn 16.4.10
Sandy Creek Hotel 17.4.10
Semaphore Workers Club 18.4.10
Spectrum's SA Autumn tour a big hit
21.4.10 - I was hoping that the trip to Adelaide was going to be a success as well as fun, but in the event it was far more successful than I anticipated. For the first time since we used to deal with Joyce Washington at the CBA agency back in the '70s, we actually had an agent, (Peter Serk), who also
works with Phil Manning and Matt Taylor, and he got us into places we wouldn't have even thought of, starting off on Thursday night with the Beach House Café, an hour or so south of Adelaide at Encounter Bay. It's actually a Pizza joint, and there's no stage as such, so we had to be fairly imaginative with where we put everything, especially as we had a lighting tree as well, but it was great fun once we got going.
We had some friends turn up as well - the Altschwagers (pic 1) who have moved from nearby Kangaroo Island and my new friend, Kerry Philcox, (pic 2) who'd been corresponding with me since she found out we were doing the gig and who organised a raffle for Variety (for children with special needs) using our CDs as prizes. There was nearly a riot at the end of the night and we got called back for encore after encore - I gave up counting after half a dozen!
The next night was at the Old Clarendon Inn, and, unbelievably after all the fuss the last time we got lost, I 'Googled' myself and we took well over an hour to find the place rather than the suggested forty five minutes. Daryl and Robbo were (loosely) following the van and were singing 'Ask the Gonad Brothers' to the Leyland Brothers song every time we stopped to ask a native directions.
The gig was lovely though and a full house to boot - a group of Spectrum tragics (guys) were singing the 'we are, we are, we are' echo in We Are Indelible and I couldn't help thinking that we should introduce them to our very own Trollops back here in Melbourne. Well, maybe not..
Whenever we asked anybody about the next night's gig at the Sandy Creek Hotel, the response was confusing. There's a dog's home and a women's shelter there apparently and that seemed to engender some mirth, but we weren't being told something. On the way to Sandy Creek we dropped in on my SA mate, Iain Ross in the Adelaide Hills and had a relaxing hour or two accompanied by a smashing lunch provided by Val. (pic 4) Iain's son Jess provided us with another Google map but we managed to arrive safely at the Sandy Creek Hotel. There we met with the owner Karin Schneider and her daughter, who'd spent the past few days setting up several marquees and were very excited about having us there.
After we'd set up I met (another) Angie (pic 6) with tatts on her leg who's an old friend of Chris Bodey's*, but I also met a rather dubious biker in the bar who made some loud observation about how old we were, a line he persisted with over the course of the night. The mystery of the Sandy Creek Hotel was finally revealed, and the night unfolded with bikers glowering to the right, and Spectrumophiles nervously huddled on the left. And, of course, to cap it all off, it rained.
(I noticed that Matt Taylor's doing the Creek soon, but I'm sure his brand of blues will delight the bikers, rather than leave them mystified, as did Spectrum).
Finally it was Sunday, the day of the Semaphore Workers Club gig, the gig we fell in love with last time we came to Adelaide in September. (pic 7) Sure enough, by 4.30 the place was nearly full, and shortly after we started playing at 5.00 they had to shut the doors and put out the full-house sign. Comrade Dave Pearse tells us that since they opened twelve years ago they've only done that twice, both times for Spectrum.
By this stage of the tour I have to say I was feeling pretty tired and I was prone to sloppiness, but it was a distinct improvement on our last really sloppy appearance there - having Daryl with us allows us to pull off the retro part of the set far more convincingly and I felt far more comfortable as a result. You can see some of the songs courtesy of 3D Radio's Michael Hunter. Launching Place Part 2, Jamaican Farewell, (I forgot the first line - I never do that!), I Ain't Superstitious/Good Morning Little Schoolgirl, and Albatross.
I woke up the next morning feeling very run down and now I'm riding out a chest infection, but overall it was the best SA tour we've done. Spectrum's still bloody huge in Adelaide and we certainly love 'em in return!
* Chris Bodey ran the Crossing Café in Deniliquin
Baby, it's cold outside..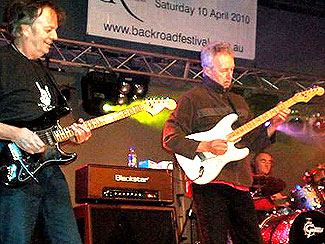 1) Sunbury again - Mike and Bill 2) Bren Mason and freezing Mike join Chain (pics - Newman)
gig report
Manninghamn Sports Bar 11.4.10
A cosy arvo at the Manningham
12.4.10 - Mick Newman turned up at the Manningham Sports Bar yesterday arvo - and he'd sent me the pics above from the previous evening at the Sunbury Back Road Festival. The first one of Bill and I (pic 1) must've been taken at the same time as the one that appeared in the hard copy version of The Sunday Age - revenge of sorts for their choosing not to print the pic that we set up on the Friday. (See Sunbury prepares to rock below).
The second pic was taken during the jam with Chain with Brenden Mason, by which time the wind had sprung up and it was bloody freezing. Robbo tells me that I was right up in the mix and that Bren was virtually inaudible, which is the opposite of the impression I had on stage, so I just noodled away obliviously trying not to get frozen to my strings.
But, to get back to the Manningham: by Sunday the cold weather had settled in with showers etc. but it was cosy enough inside. The Trollops weren't expected, so we were a little concerned about the size of the crowd - two ordinary crowds in two days might be a little demoralising. As it happened we needn't have worried. Not only did The Trollops show up, (hooray!), but Alana, Barry and Claire, Bridget and Dave Rolfe and Marg Bird, plus some people who'd been at the Sunbury gig the night before and the usual quotient of casual tourists all made the arvo a treat.
I'd left my wallet at home (Bill left his microphone at home) but that wasn't a problem for The Trollops and we had our traditional post-gig meal in the bistro. Altogether a nice send-off for our upcoming week in Adelaide.

1) Bernard rocks on 2) Jarrah Thompson's Asha flaunts her flute
gig report
Sunbury Back Road Festival 10.4.10
Sunbury - the reality
11.4.10 - Ah, what a bitch is reality. Bernard Lakey's (pic 1) dream of tapping into the spirit that drove the original Sunbury festivals rather nose-dived when only a few hundred punters showed up to savour a mixed bill that included some of the very same acts that had inspired the Sunbury generation in the early '70s.
Everything else went to plan and the staging and the amenities were testament to the effort that had gone into this to make the Back Road Festival a success - even the weather held off, although when the wind did spring up it got decidedly chilly.
As for Spectrum, we had a fine time. Since our appearance on the Rock of Ages show we've made some changes to our approach to playing on big stages and the band actually felt comfortable and relaxed. In fact, all the senior bands performed well and the crowd, such as it was, responded warmly. Of the assortment of younger bands on the bill I caught a bit of Jarrah Thompson (pic 2) and told flautist Asha afterwards that had she been at the original Sunbury she would've laid the audience waste. (She would've too).
There will be a post mortem and I guess it's conjecture at this stage as to whether there will be another Back Road Festival. I think it's obvious that while discomfort was a feature of the original Sunburys, we were all much youger then and that the Sunbury generation will no longer tolerate the faintest prospect of personal discomfort. And if it's a toss up between the footy and a rock concert in a (wind-blown) paddock, the footy will win. I can only say on behalf of the bands that we appreciate all the effort that Bernard has expended to try to create a community-based festival from scratch with the music and musicians that he loves. Re-jigging the formula might see a different result and if he wants to give it another go I'm sure there's enough goodwill out there to help make the concept a rip-roaring success next time around. (See Age review)

1) Phil, Jan, Kerry, Jack and Mike enliven the paddock
Sunbury prepares to rock..
9.4.10 - I popped down to the Sunbury Back Road Festival site this morning to be photographed by Craig, the Age photographer, with the Madders' Jack and Kerry, Chain's Phil Manning and Jan Preston's Jan Preston. The stage was taking shape and was looking less like the back of a truck every passing minute, but I hope the inclement weather that's being threatened holds off or passes harmlessly by - I don't fancy our chances if it turns nasty.
Anyway, all things being equal there should be a photo accompanied by a story in tomorrow's Age and I hope that a few people turn up to enjoy the day. Bernard and his enthusiastic band of helpers deserve a return on their efforts to involve and entertain the Sunbury community.
SLAM dunk..

1) Anne O'Rourke checks her SLAM paperwork 2) Ross Wilson combines being Mr Mom with political activism

3) Mike demonstrates his paparazzo skills to Nick Polites 4) Greens MLC Sue Pennicuik speaks on the petition

5) Choclatté's Max plus badge
SLAM delivers petition
8.4.10 - Anne O'Rourke (pic 1) has been assiduous in keeping Victoria's security/licensing issue to the forefront of local musicians' minds over the past few months and invited me along to represent the 60s' age bracket as SLAM presented a petition with in excess of 20,000 signatures to Greens' MLC, Sue Pennicuik, (pic 4) on the steps of the Victorian State Parliament yesterday. The petition urges the Legislative Council to act on the terms of the 'Accord' that resulted from the hugely successful demonstration held while I was in NZ and to 'institute a proper investigation into the causes of violence and drunkeness' that will inevitably find there is no relationship between those problems and the presentation of live music in licensed venues. (Age report) (See 2nd Age report)
This issue strikes home for Spectrum at the Lomond Hotel, which, as I've mentioned before, is compelled to hire two security personnel despite having no undue problems with its clientele in all the years we've been playing there.
Byron Bay Blues Festival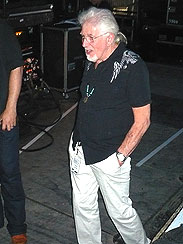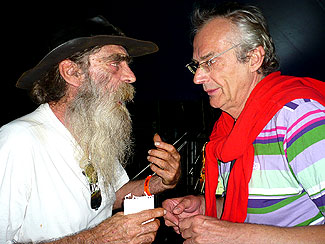 1) John Mayall ambles onto the Crossroads stage 2) Boris and Hannaford talk the talk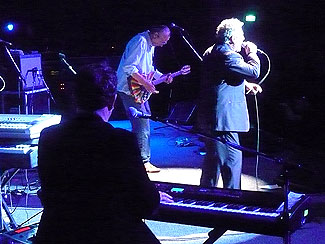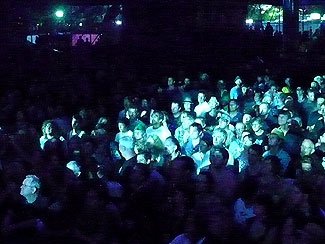 3) Ross and Ross and John McAll's back 4) The crowd
prepares to drop their collective daks during Eagle Rock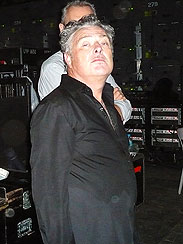 5) Il Duce of Earl before the encore 6) The Boss is utterly exhausted after the encore
gig report
Byron Bay Blues Festival Crossroads stage - 5.4.10
Mike and Ross lose their shirts at Byron
7.4.10 - I don't sleep well when I know I've got to get up early and so it was actually no trouble to rise at 5.00 on Monday morning, half an hour earlier than I'd intended. I must've been snoozing when Ross Wilson's band arrived at the Gate and so wasn't even aware they were on board until I saw Ross Hannaford going to the toilet. Horto met us at the Gold Coast airport and drove us to our accommodation at South Tweed Heads before picking us all up again after lunch and taking us down to the new Byron Bay Festival site, some forty five minutes away.
I took the opportunity to see John Mayall's set (pic 1) and a bit of Taj Mahal's set before the slightly compressed version of Ross' 5 Decades of Cool show took the stage. I'll Be Gone got a fantastic reception, which wasn't really matched until Eagle Rock, but the whole show went down extremely well. (I wasn't aware that there's a tradition of down-trousers when Eagle Rock is played - apparently this practice has half a dozen dedicated Facebook sites).
When I got back to the motel I realised that I'd left my black shirt at Byron, and today I heard from Ross that he'd left his favourite black shirt at Byron too! I think I must be a bad influence.
St Andrews by any other name..

1) The Trollops were in good form at 'St Annies' 2) Robbo and Daryl are sad they're not in more Stop Press pics

3) Michael Granat dropped in to say hullo 4) The doctors' Sellers and daughter Arna in her new Brunswick St outfit

5) Wazzer shows how it's done in NZ (pic - Heather Bass)

gig report
St Andrews pub 4.4.10
Easter Sunday at St Andrews
6.4.10 - I don't think Stan or I realised when we were doing the booking that our first gig back at St Andrews this year was going to be on Easter Sunday, and so it wasn't our biggest crowd, but it was certainly up there for enthusiasm.
I always enjoy playing there anyway, and having The Trollops in attendance (pic 1) means there's going to be some dancing to be had - even Dr Wazz joined in! (pic 5)
After we'd packed up, the Sellers, Bill, the Robbos and I joined The Trollops for a post-gig meal and discussed the hot issues of the moment - like, where's Mike's going to live now he's been cast out into the wilderness..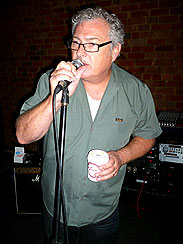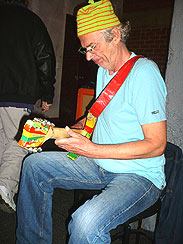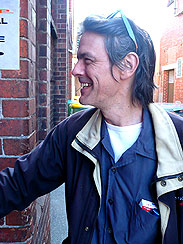 1) Ross outlines the program 2) Hanna concocts a lick 3) Chet finally arrives at the rehearsal studio
The return of Ross' Five Decades of Cool
1.4.10 - The morning after our Easter Sunday St Andrews' gig I'll be leaving on a jet plane for the Byron Bay Festival, but this year without the rest of the band. I'm to join up with the Cool entourage for an abbreviated version of the shows we did in Melbourne and Sydney late last year. Ross has cut one of my fave Party Machine numbers, Woman of the World, but favoured me by retaining I'll Be Gone. Hanna is lending me his Beatle bass for Virgins, which I'm looking forward to. I'll take photos, OK?
back to the top