Scroll down to the start of the month
Close this window to
return to Mike Rudd &
Bill Putt's home page
On the shores of Lake Weeroona..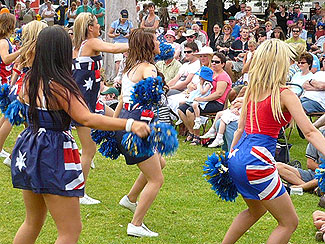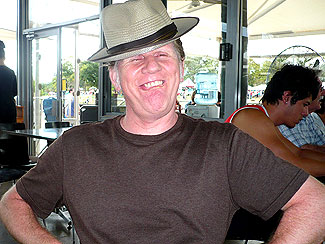 1) The basketball girls warm up the crowd before the citizenship ceremony 2) Robbo models his sun hat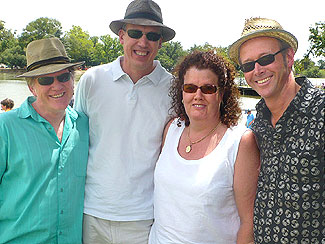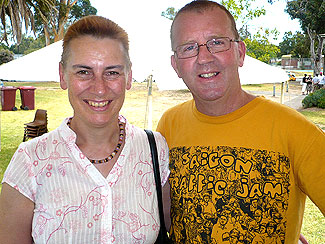 3) Robbo and Daz pose with Dave and Maree 4) Lancefield's Fran and Rob are back from central Australia
gig report
Lake Weeroona Bendigo 26.1.10
Spectrum's Australia Day in Bendigo
27.1.10 - This was the third consecutive appearance by Spectrum at the Bendigo Australia Day celebrations, but this year they'd (sensibly) moved the citizenship ceremony forward, which meant we had to leave Melbourne even earlier to be set up by 10.00. We didn't actually get away till 7.30, owing to a scare with the van showing it had virtually no oil, but we managed to arrive just after 9.00 and had plenty of time to kill before our first set just before midday. The Soundgarden's Dave and Maree (pic 3) were there again this year and we chatted over lunch about life after The Soundgarden and Maree's two singing canaries, Mike & Bill.
The second set was a little longer than the first and so we could stretch a little - and it sounded damn fine from up on the stage anyway. There were some old friends waiting to say hullo at the the end of the day, including Wayne and Robyn from Castlemaine, Kel O'Brien, who was instrumental in getting us the Drovers Arms gig in his hometown of Goornong, (Sunday 21st of March), and Fran and Rob, (pic 4) who are back from their sojourn in central Australia (amongst other places) and are busy re-establishing themselves in Lancefield.
Thankfully it wasn't as hot as last year and we arrived home only slightly the worse for wear. I have a suspicion the series may have ended, but in any event we've thoroughly enjoyed all three Australia Day concerts on the shores of Lake Weeroona, not least because they've given us the rare chance to touch base with our friends in the Bendigo region. Hooray!
Crudd & Pump are at it again!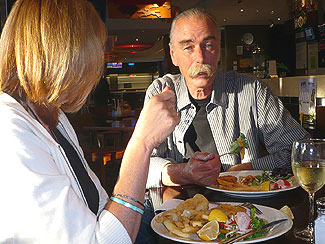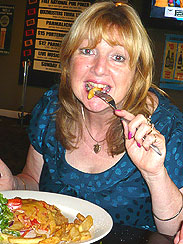 1) Bill lays a rave on Heather at the post-gig supper 2) Trollop No. 1 Jennie tucks in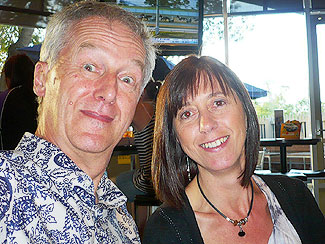 3) Di catches me just in time to pose 4) Mike catches himself by surprise with Lyn T.
gig report
Eltham Hotel 24.1.10
Mike & Bill play on The Trollops' home turf
25.1.10 - This was very much a speculative gig in the sense that (a) we'd not played at the Eltham pub before and (b) we were restricted to playing as a duo, which we've not done in a pub for quite a while. It was a gorgeous day and my eye wandered out to the sunlit balcony from the typically depressing Sports Bar ambience we were assigned - between two TV monitors showing the tennis and the cricket, no less! I was encouraged by the A3 and A4 handbills advertising us throughout the bar however, and the Trollops said that there had been an enormous banner advertising the gig draped along the front of the hotel over the week, so I was hopeful there would be a crowd of sorts.
It actually turned out to be quite a healthy crowd of sorts, with the full complement of the Matovinovic family (plus Mario) in attendance, Annie and Wayne, (who met at an Australia Day do in Geelong that we'd played at eight years ago almost to the day), and, of course, the full flirt of Trollops, whose home base turns out to be Eltham.
I opened the day with a selection of four solo numbers on George Martin before requesting Bill join me for a grab-bag of Spectrum material, some of which really responded to being left uncomplicated and with room to breathe. My voice felt all the better for the gig the night before and I felt unusually relaxed on guitar, so it was quite a satisfying afternoon all round, capped off with a friendly post-gig supper with The Trollops, (pics) which ended the arvo perfectly.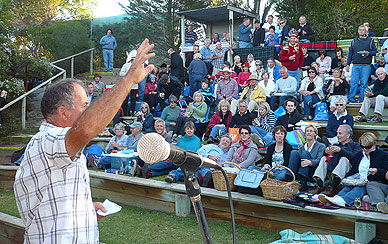 1) Jeff Dans explains how the show is going to go 2) Stephen, Sara and Little James Ramsay try to look interested
gig report
Minya Winery 23.1.10
The Minya Winery goes off - despite Google misfire
25.1.10 - This one's been in the works for a while, but we've never played at the Minya Winery before and local Stephen Ramsay (pic 2) suggested it might be a little difficult to find, so I took the precaution of consulting Google for directions before we left. Two hours later, after driving around in circles for nearly half an hour and being rattled to bits on prejudicially corrugated gravel roads, we finally arrived at the Winery - just seconds before our surfing keyboardist, Daryl, who'd left quite some time after us and had only the prevailing winds for navigation.
The venue itself is a natural amphitheatre picturesquely overlooking a lake, (from where the Winery takes its name - 'a place of many birds'), with a modest but adequate stage. We were greeted warmly by the Winery's owner, Jeff Dans, and by the time we'd set up we just had time for an open sandwich ('made from all-local ingredients') before Jeff was introducing the band to the booked out house (a feat equalled only by Deborah Conway apparently) and we were under way.
What ensued was a Spectrum communion of sorts - we don't get down the Geelong way nearly often enough and that seems to intensify the experience when we do. A large group from Jan Juc had a particularly raucous time, but it was all good fun. We ended up playing twenty minutes worth of encores, (one for my RocKwiz white jacket), and we were all thoroughly exhausted by the time they finally let us go
As we drove out of the Winery we passed a group of people optimistically waiting for a taxi - I wouldn't be surprised if they were waiting there all night given our experience finding the place. Now that we know where it is, I'm quite looking forward to the next time at the Minya Winery, and perhaps then we can get round to sampling some of their wines..
Sunbury set to rock once more!

1) The hills are alive with the sound of the Sunbury Divas - there's another forty of them on the day!

2) Festival owner and organiser, Bernard Lakey 3) Mother and daughter man the food table

4) Red Jane gets the Asylum treatment with Shane Laffy 5) Flowerpot men, Bill and Bren, take a gasper

6) Madders Bren and Jack ham it up for the camera
The Sunbury Backroad Festival promo
16.1.10 - I'd set the alarm for 7.00, anticipating that Bill and I would be leaving my place at 8.00, but as it turned out we went to plan B and hitched a ride to Sunbury with Madder Lake's Brenden Mason - and we still managed to get there early despite leaving thirty minutes later, missing turn-offs and driving right past the Lakey farm, the site for the Sunbury Backroad Festival on the 10th April.
Asylum TV was already busy filming when we arrived, (pic 4) but the Spectrum and Madder Lake segments weren't due to be shot till last, so we had plenty of time to chat to Bernard Lakey (pic 2) the man behind the festival, and soak up some good ol' fashioned country hospitality, with tea, coffee and home-baked biscuits. (pic 3)
As the name suggests, it's not the original Sunbury Festival site, but from what I remember of the original site, that's a good thing. Not that we got to see the actual site, but Bernard pointed to where it was just over the ridge, and the backdrop at least looked gorgeous. The Sunbury community spirit was very much in evidence and so we're all looking forward to a day filled with good vibes - as well as some good music.
Blues at the Black Ruby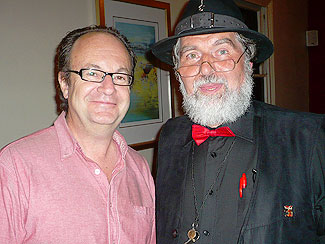 1) Jimmie Sloggett was in good form 2) George Butrumlis and Bernd Rohrmann
gig report
Black Ruby 14.1.10
The professor's final fling..
15.1.10 - This was going to be a picture-perfect repeat of Bernd's un-birthday celebration back in September at the same venue, but when I rang Enza (Pantano) a few weeks back I was dismayed to discover that she was going to be in hospital and so wasn't available. (I spoke to her husband Ronnie a couple of days ago and everything has gone well, thank goodness).
Bernd was keen to have accordianist George Butrumlis to come along in Enza's stead and play some South American-type tunes and he gave me George's e-mail address so we could organise a couple of songs to play together - which is exactly what we did. It worked so well I'm thinking of ways to incorporate George in some future projects..
Jimmie and Bill popped over to my place on Wednesday and we ran through a few tunes, but when I was writing the list I dropped most of the songs we'd rehearsed and opted for a more bluesy approach. I think that worked too, and Bernd was beaming blissfully through the night. Bernd is planning a trip to Antarctica next, so we'll look forward to hearing some fantastical frozen stories when he gets back

Daz wonders just what he's done to deserve this..

gig report
Village Green 3.1.10
Another decade begins auspiciously..
4.1.10 - It's sometimes better not to have expectations - our 'inaugural' Sunday arvo last week at the Village Green was such fun and I was rather hoping that the second time around it would be even better. And it was, but it just wasn't a surprise.. The Trollops had marshalled their full complement to celebrate Lyn T's birthday, (a 'flirt' of Trollops is the correct collective noun apparently), so I was able to redress the Daz-less pre-Christmas pic I took at the Manningham, (pic) and there were plenty of other familiar faces in the audience. My DJ nephew, Ric Cafarella, and, even more surprisingly, his uncle, Father Clem Cafarella,

plus some members of his flock, Peter Carolan and mates Terry and Bob, Edwin Mitchell from Tweed Heads, Craig Mattingley for the second week in a row - well, too many to mention really. The Robbos and I ate with The Trollops after the load-out - it wasn't till I got home that I realised that a Trollop had paid for my calamari. Sorry girls - I'll pay you back next time!
back to the top