Scroll down to the start of the month
Close this window to
return to Mike Rudd &
Bill Putt's home page
gig report
Village Green Hotel 27.12.09
Village Green a surprise coup
28.12.09 - I had no particular expectations, although this time of the year is generally pretty quiet, so I was pleasantly surprised when the room began to fill with expectant punters a few minutes before the scheduled start time of 4.00 - to the point that I was kicking myself for not getting Daryl in to join us a week early (he's playing with us next Sunday).
The room's purpose built, so has a bit more atmosphere than the Manningham's Sports Bar, with a commodious stage and a gigantic PA and
lightshow, both of which we sidelined by using our own PA and the bare minimum lights. The sound was quite adequate though and the audience was extremely receptive, generously applauding everything - even a couple of my harp solos! Jonathan Lister-Smith was down from Verrierdale to visit his son Josh and girlfriend Alice, Sue and Michael Sullivan were there, a skeleton crew from the Trollops turned up, Marilyn Rudd and friends put in an appearance and Bill Melanitis helped us with the load-out, so there was a fair contingent of old faces amongst the local Mulgrave-diggers. I'm really looking forward to next Sunday now!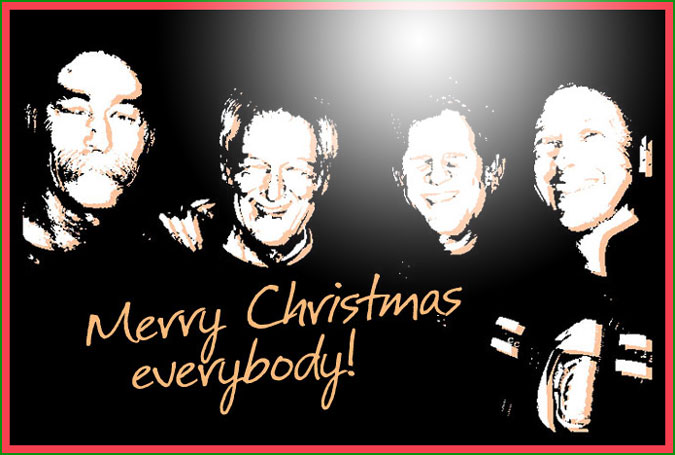 It's that time, apparently.. and an apology
11.12.09 - Yes, the cicadas started shrieking their annual warning on Wednesday (nicely complementing my tinnitus) and the stench of Christmas '09 has become overpowering, so I'm just going to have to suck it in and get used to it all over again.
And, as the headline suggests, I owe some of you an apology. The Contact page has been out of action for probably some three weeks now - it took me a while to suss it out - and while I have a boffin investigating the problem, any mail sent during that time has been lost forever in cyber-space. If you feel the urge to deliver a quick metaphorical kick to my groin, try this address: mikeruddbillputt@hotmail.com
Who said Rock was dead?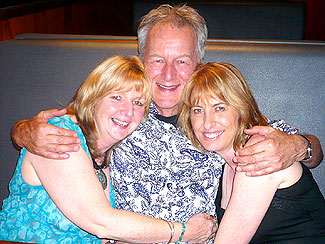 1) Hilary and Steve joined in The Trollops' shenanigans 2) A tender trap is sprung in the booth by Jen and Heather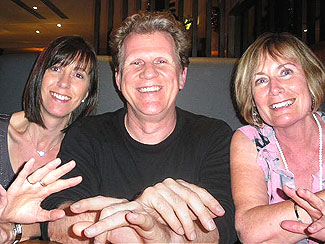 4) Jen and Heather drag Bill into the frame and damn the torpedos 5) Robbo's happily surrounded by Lyn and Di


6) Spectrum trio and Trollops at the Last Supper (see large pic)

gig report
Manningham Club Hotel 20.12.09
Spectrum and the Last Supper at the Manningham Club Hotel
21.12.09 - Last Wednesday Daryl and I (and Craig Horne) had a meeting with the management at the Manningham to try and sort out their chronic lack of advertising, and yesterday I noticed there were large signs at both entrances declaring that 'Blues Bands' are playing in the Sports Bar on Sunday afternoons, so things are moving in the right direction. Mind you, there was virtually nobody in the room when we started playing, apart from Steve and Hilary (pic 1) and the Trollops, but the room filled quite quickly after that and we had a fun afternoon..
I'd invited Daryl to play with us this time by way of celebrating our last gig of the year, and while it's scarcely practical from the point of view of staging, (and money), it's more enjoyable playing with keyboards, (which is the original Spectrum manifesto after all), and we got to play Disco Dilemma again and experimented with But That's Alright.
After we'd loaded out, (my favourite thing to do), we retired to the Manningham's bistro and met up with Jen, Heather, Lyn and Lyn, Di and Jane (pic 6) and had a jolly time eating and drinking and wishing each other Merry Christmas before finally heading off in our several directions home. Maybe we'll see the Trollops at the Village Green on Sunday - but only if they can tear themselves away from Jimi Hocking..
Hotels, Motels declared Song of the year
16.12.09 - Amidst the growing clamour and tension that marks this time of the year, (the inscrutable slogan Mars Your Day comes to mind), it's good to remember there have been some satisfying moments over the course of the year. One was the overwhelmingly positive response to the YouTube clip of Judith Durham singing Summertime with Spectrum, an out-take from the under-appreciated TV show Wrokdown, (it's on Channel 31), and then there's the recent episode of RocKwiz with palpably ancient Mike combining sublimely with the too-young-to-be-my-daughter Jess Cornelius in an electric version of Roy Orbison's Crying, (two combinations incidentally I would never have predicted in a fit), and finally there's the unheralded and slightly more underground accolade for one of my songs in the annual Legsyboy's Big Ones 2009 review.
To briefly explain: Trevor Leedon is a piece of the Melbourne puzzle that sits temporarily in Sydney pining for a good coffee and trying to mollify the children who just want to go 'home'. Each year for the past several he's produced a lovingly written appraisal of what he's listened to over the past twelve months called Legsyboy's Big Ones, and it's vital reading for somebody like me who doesn't listen to nearly enough stuff and who values Trevor's eclecticism and fearless opinions.
Anyway, it's fair to say the two Breathing Space EPs thus far have attracted 'mixed' reviews, and given the nature of the project, I'd expect nothing less. But occasionally I reckon the baby has been thrown out with the bathwater and something of value has been overlooked. It takes a reviewer of Trevor's perspicacity to alight on a particular song and find something in it the artist absolutely intended - and, in the process, restore this writer's faith in critical mankind. Read on:
Song of the year
Sometimes you hear something and a wave of nostalgia engulfs you even though the song has nothing to do with you. Does that happen to you? I bought this EP you see and when track 2 played it literally swept me up. It HAD to be a true story 'cos you simply couldn't make up the storyline (and it IS!), and it made me feel like I was part of it and the sound took me back and….I can't explain it and probably you won't be able to either. But if you go out and get a copy of Breathing Space Too and go straight to Track 2 (it wasn't meant to be like this, it wasn't even the single!) you can listen to "Hotels, Motels" by Spectrum and very possibly be overcome just as I was. Subjective? Absolutely! Biased? Absolutely not! Simply outstanding Mike (and I can declare that I emailed you as soon as I heard it with these very sentiments).
He did too - elatedly. Thank you, Trevor. I look forward to the resumption of normal transmission at Choclatté in the not-too-distant..
The return of the classic double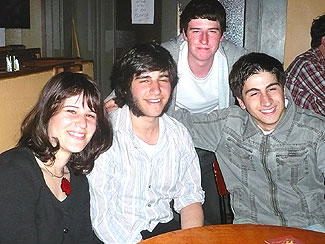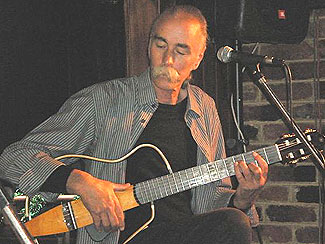 1) Charlotte and Michael Blane and friends at the Lomond 2) Bill is a study in concentration at Sangers (pic - Newman)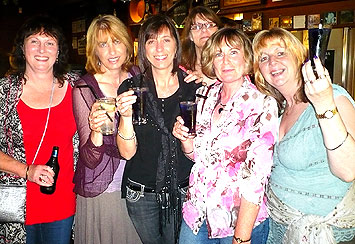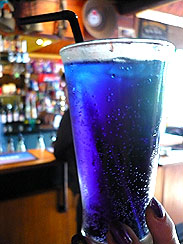 3) The Trollops contemplate life through coloured glasses 4) The blue part of the spectrum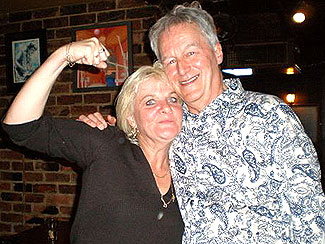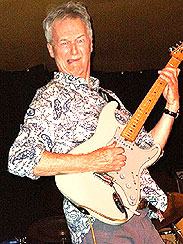 5) Fiona threatens Mike's shirt with girl-power 6) Mike gives Mick a grimace (pics - Newman)

gig report
Lomond Hotel 12.9.09
St Andrews Hotel 13.12.09
The classic double lives up to expectations
14.12.09 - It's the nature of the classic double to live up to expectations, so nothing's new I guess, depending on your expectations, of course. The Lomond was a little quieter than the last time, but there were some new faces there too, including my occasional guitar student Michael Blane and his sister Charlotte (pic 1) and the core group of Trollops, who were at St Andrews (pic 3) in strength the following day. Marilyn Rudd showed up with her Adelaide rel's and told me she'd seen my RocKwiz episode before she left for the Lomond and that it was pretty good too. (I still haven't seen it*).
I was late getting to St Andrews the next day 'cause I had to double back and pick up my phone and wallet that I'd left at home. Sigh! It was good to reunite with Daz though and we slipped Disco Dilemma into the last set again, which worked a real treat and we had to do two encores - by then some of the audience were literally dancing on the tables! Fiona (pic 5) nearly jobbed me when I refused to do a third encore and her partner told me as we were packing up that the first set was 'shit' but it got better. The perils of an expanding audience..
The Trollops refined the dance routine they'd been working up at the Lomond and started ordering a series of drinks in all the colours of the spectrum, (pic 4) which is probably steering a perilous course, but the Trollops prefer to live dangerously.
I met up with the Robbos at 1061 afterwards for some world's best practice pizzas (and pinot) for an extremely civilised conclusion to the weekend's proceedings. Next Sunday the Manningham Club (with Daryl) and that's (nearly) it for the year! Time to send out some Chrissy cards..

* I've seen it now - check out the songs and the whole show on the RocKwiz site
The Debonairs inhale the faint stench of Xmas

1) The reverend Ross Ryan and Robbo alliterate in harmony 2) Penny Dyer and Wendy Stapleton always in harmony

3) Mark Kennedy and Darcy sort out who's the shortest guy in the room 4) Diane Buettel and Mike await the food

5) Wrokdown's Anita Monk and Fi go slightly feral 6) Mae Parker and Steve Cross still have that loving feeling

7) Mark Holden does Turnbull
The Debs' Xmas luncheon
2.12.09 - If I was to miss all the Debonairs' luncheons (held the first Tuesday of each month to raise funds and awareness for the Support Act benevolent fund), the one I choose not to miss is the December luncheon. Spectrum has so few opportunities to socialise outside of gig situations that it's become a de facto band Xmas party with all the local music industry identities in attendance. Well, that's the plan, but it rather backfired this year because only Robbo (pic 1) and I were able to attend - Daryl's away (probably on holiday again) and Bill was detained up in Strathewen for family reasons. I find most social occasions daunting, not least because of my social handicap of forgetting people's names, but with a G&T under my belt I found the going easier - i.e. I didn't care any more.. So, I got the inside poop on Bobby Bright's painful sounding chest abscess, then briefly encountered Mark Holden doing his Malcolm Turnbull impression, (pic 7) had a long chat with Darcy (or vice versa) about his recent medical procedures, (pic 3)
before Diane Buettel (pic 4) invited me to sit at her table with Anita Monk and Fi (no surname), (pic 5) Mae Parker and hubbie Steve Cross (pic 6) and The Age's Patrick Donovan. I've not met Patrick before, so I thought it appropriate to lay my Melbourne-has-no purpose-built-entertainment-centre rave on him and suggested The Age take it up as cause célèbre. Well, at least he listened politely enough, although he was probably wondering as he did who the hell I was and when was I leaving his immediate vicinity.
As it happened I left before the appearance of the mince tarts and the drawing of the raffle, but I'd had a comparatively lovely time. The only question that was worrying me as I left (smelling of Wally Bishop) was; where the hell was Bobby Valentine?.
back to the top