Scroll down to the start of the month
Close this window to
return to Mike Rudd &
Bill Putt's home page
Mike joins Ross' big show in sin city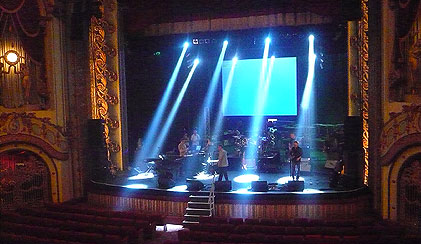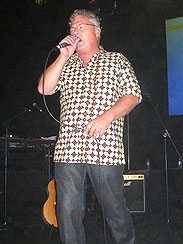 1) What a fabulous old theatre the State is - the stage lights go up at rehearsal 2) Ross Wilson lets one rip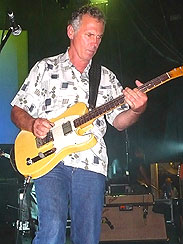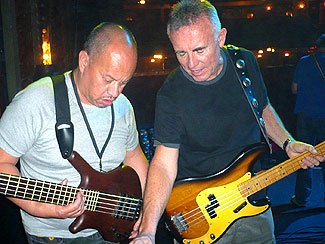 4) Bongo Starkie 3) Chris Paraha and Paul Christie discuss settings on Paul's amp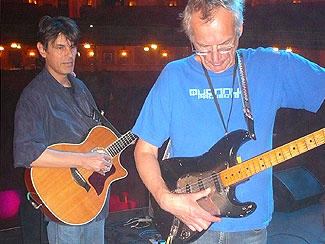 5) Ross Hannaford and Stuart 'Chet' Fraser tune up 6) Mike shows off Paul Christie's '59 Precision bass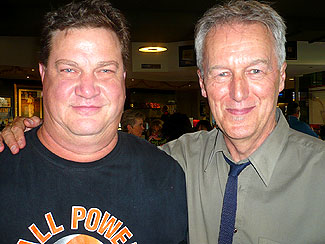 7) Greg Burgoyne offers Mike a lifeline at the Manningham
gig report
5 DOC at the State Theatre 28.11.09
Manningham Sports Bar 29.11.09
From Five Decades of Cool to Bulleen - the reality
30.11.09 - I didn't know who I'd be travelling up with on the flight to to Sydney on Saturday morning, but I met Bob 'Bongo' Starkie (International Man of Mystery) in the long-term carpark and then came across James Black, John McAll, Ross Hannaford, Chris Paraha and Hayden Meggitt in the Qantas lounge. Eric McCusker turned up from the 'trough' just as we were embarking and it turned out just about the entire cast was on the flight and there wasn't enough room in Horto's minibus to take us all to the accommodation at the Swissôtel, conveniently located directly opposite the State Theatre. ('Within crawling distance' somebody quipped).
I had barely enough time to settle into my 25th floor room and get a light lunch before it was time for the 3.00 rehearsal/soundcheck, which seemed to go smoothly enough - maybe even a little too smoothly as it turned out. I got acquainted with Paul Christie's 'baby', the '59 Precision, (pic 5) which played very nicely, and then had time to wander around the grand old lady that is the State Theatre (pic 1) taking snaps and enjoying the run throughs of the rest of the songs from the show - I guess because they were different I particularly enjoyed the 'Hooks songs, Ego and Horror Movie.
I came across my old Camberwell mate, Trevor 'Legs' Leedon, (still in his cricket umpiring gear), on the way back to the theatre just before 7.30 and we had a little chat before I scuttled down to the dressing rooms, (and was greeted by the doorman who remembered me from the Morning of the Earth shows), but when I got there I realised I'd left my phone back in the hotel room and I had to double back to retrieve it. (I'd arranged for some friends to call me if I hadn't appeared at intermission or after the show).
Ross seemed to be cool and collected - until the moment he was supposed to go on stage for the first song and he remembered he'd left his harp in his jeans' pocket back at the hotel. The fact that the hotel was so close was proving to be a blessing already!
The first set started a little later than intended as a result, but when I was called on stage things appeared to be running smoothly enough. I got a little lost in Virgins but managed to busk my way out of trouble; however, when Ross tried to fire up his guitar for Woman of the World he had to call Scottie on stage (to the audience's delight) to reconnect his various leads before he could kick the song off. Apart from that hiccup it was was good clean fun - then Ross re-introduced me for my rendition of I'll Be Gone, at which point I felt obliged to say a couple of words, but I hadn't really thought it through and garbled something completely unintelligible - even to me. Everybody joined in and sang at the appropriate bit and I left the stage happy, but later the Wolfies came into the dressing room complaining they had no foldback and apparently Hayden (the drummer) was having monitor problems as well.
During the intermission I went out and met up with Gus McNeil (IBG's publisher) and my old mates Pam Cleary and Lynnette Timms, and while we were chatting quite a few people from the audience introduced themselves and enquired as to what I was doing these days. I pointed them at the website, but my continuing lack of profile is galling to say the least.
The second set went a lot more smoothly and by the time I was called back on stage for the Eagle Rock encore, the room was rocking! I went to the after show party and heard tell of a possible third DOC show at the Byron Blues Festival. Must see if I can get an invitation to that one!
The next morning I was picked up and taken to the airport. I'd just said my goodbyes and thanks to Horto and was heading inside the terminal when I was accosted by a rather dishevelled looking bloke whom I didn't recognise immediately but who identified himself as Paulie Stewart - the very same Paulie Stewart of Painters & Dockers fame who recorded a version of IBG for the Gonz CD with the Dili All Stars. He said he was well and that was heading up to Dili and taking some guitars and other equipment with him and that the All Stars version of IBG was enjoyed by all the locals and that Spectrum should go up there and play sometime. And then he was gone, just like that - he's a bit of a whirlwind is Paulie.
The urgency to get back to Melbourne was for the semi-regular Sunday arvo Manningham Club Sports Bar gig, about which I was starting to have reservations, given that the management there don't seem to care about it one way or the other. However, The Trollops (see the gig report Another pleasant bally Sunday.. below) turned up again and had a rollicking good time, (Bill gave them a copy of the previous Manningham performance as captured by Ron Glover, who was there again too with wife Heather), my friend Dr Warren Sellers + step-daughter Arnya turned up, (we had world's best pizzas at 1061 later), as well as Greg Burgoyne (pic 7) who'd bought a copy of Milesago from the website just the week before and who said he was an electrician and would be pleased to fix the recalcitrant leads that had conspired to fail so entertainingly during the second set.. In short, and rather against expectations, I enjoyed the afternoon, but next time we'll bring Daryl along on keys and see the year out with a bang.


Hanna goes ape for Mike's probing camera at rehearsal
Wilson's Five Decades of Cool for Sydney
24.11.09 - They say that variation is good for one's ageing brain cells, in which case my brain is as fit as a fiddle given the variation it's been subjected to over the past couple of months. Today I went to the Ross Wilson 5DOC rehearsal in South Melbourne to run over my Party Machine bass bits with the band and Ross surprised Hannaford (pic) and me by presenting us each with a large framed portrait of the Party Machine, which was very generous of him.
The rehearsal went smoothly enough too, although I left before the DVDs of the 5 DOC Palais show were distributed. I didn't know about the DVD either - you can buy it from the Daddy Cool Store on Ross' site and relive Ross Wilson's retrospective before you've even lived it.
Someday I'll Have Money 2 slips over the border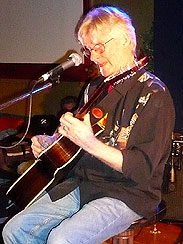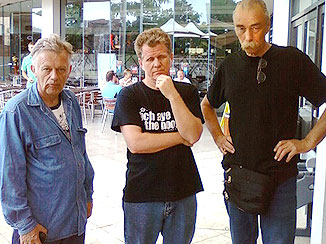 1) Phil Manning wows the SS&A Club 2) The guys have a premonition about breakfast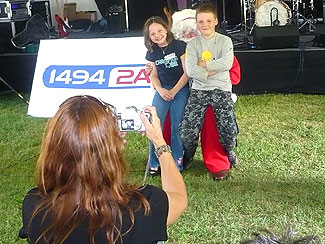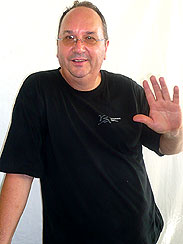 3) Santa Claus finds some true believers to sit on his knee
4) Tony Boon waves hello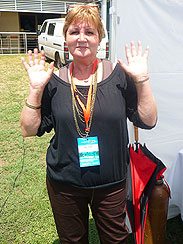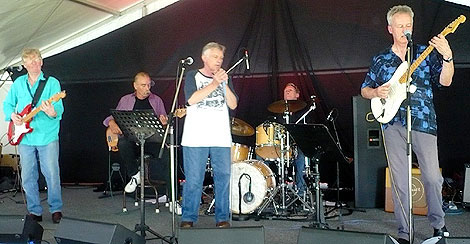 5) Deb Toner demos her mime technique 6) The SIHM band in full flight at the 2AY Christmas party in Wodonga
gig report
SS&A Club 21.11.09 2AY Christmas party 22.11.09
Someday I'll Have Money - the sequel
23.11.09 - When was it that we did the last SIHM tour? Well, whenever it was, we played the SS&A Club in Albury and so I might have told you then about the tiny stage in yer typical gaming room, replete with competing TV monitors, earnest pokies' addicts glued to their machines and a carpet that would drown out most bands on its own, so you've already got the picture. Add three exhausted Spectrum players from the Ferntree Gully gig the night before and you've got the recipe for a tentative and pretty rusty first performance that struggled to make an impact over the visual and aural cacophony just described.
We made the best we could of it and Phil Manning (pic1) wowed them with his rendition of Migrants Dance to open proceedings and Brod Smith sang and played his soulful blues harp in his Dingoes' and Big Combo hits and delivered some typically quirky raves - and of course we played Spectrum's Someday I'll Have Money - and we were warmly received by the crowd that turned up from all over the district.
The next morning saw a little sunshine break through the interminable rain of the previous day and we adjourned to the SS&A Club for breakfast in good spirits, but after waiting for more than an hour (pic 2) for our orders to arrive, tempers started to fray somewhat - we had a Christmas party gig to play for Radio 2AY in a marquee back in Victoria at the Wodonga Golf Club and we were supposed to be set up before midday, but we made it in plenty of time as it turned out.
The PA was the same as the one we used the night before, (as supplied by Tony Boon), (pic 4) but the sound was exponentially better than the previous night and the band was a lot tighter for the SS&A experience, so we enjoyed the afternoon's sets a whole lot more. (pic 6) Most of audience were young families (pic 3) and they struggled to place any of the material we were playing, but Deb Toner (pic 5) reckons she saw Spectrum play with Deep Purple at Festival Hall and was one of those who really appreciated the music.
At the end of the afternoon the five amiable old buggers that are SIHM packed up their instruments and told each other that they'd really enjoyed themselves and said that they should do it again sometime, but next time the agency should string a few more gigs together and have a proper tour - then they reckoned they really would have some money! (I think that's what they said last time too..)

Blair (left) and the boys get revved up for the last set
gig report
Flanagan's Bar Ferntree Gully Hotel 20.11.09
A turn for the better, to be sure..
21.11.09 - There was confusion from the outset with this gig, and the people at Flanagan's Irish Bar at the Ferntree Gully Hotel were totally unaware that it was Spectrum playing there last night and not the Joe Galea Band. This wasn't helped by the fact that I'd somehow forgotten to send them posters and it took Ray Brimfield's insistence (a harp student of mine) to get them to even put our name up on the blackboard. The stage wasn't really big enough for the four-piece and Daryl set up on the floor, but it sounded quite nice anyway with our own PA and we also managed to debut Disco Dilemma at last. The crowd on hand,
including Blair on his bucks' night, (pic) thoroughly enjoyed themselves - they were last seen as we left mooning the passing traffic on Burwood Highway. What it is to be young..

Phil Manning and Brod Smith pose with the lads
Someday I'll Have Money - the sequel
18.11.09 - My poor brain has barely recovered from the Morning of the Earth revision fiasco when the SIHM concept is dragged out of the cupboard and dusted off for a repeat performance in Albury on the weekend. You appreciate the quality of the songs on offer, particularly from Brod Smith's catalogue, but it's a struggle to remember the subtleties of some of the arrangements - I think I'll have to resort to crib sheets this time around.
Anyway, we had our first rehearsal today (pic) at Pete Dacy's Secret Sound Studios and it chose to be as hot as hell - and I believe it's going to be similar tomorrow. Luckily there was as much love as sweat in the rehearsal room and we're looking forward to a fun weekend.
Another pleasant bally Sunday..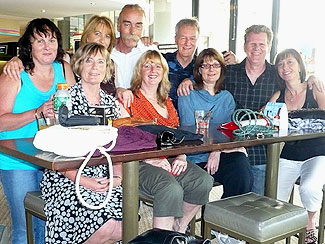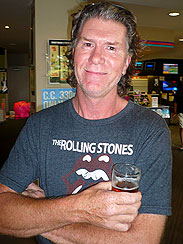 1) The Trollops celebrate Jen's birthday (orange top) 2) Simon Gardiner for the blokes
gig report
Manningham Club Sports Bar 15.11.09
Trollops (and TITs) help make Sunday arvo in Bulleen a ball
16.11.09 - Given the total lack of advertising at the Manningham the last time we were there, I made sure to send a mail-out during the week so at least the mailing list would know we were on. I heard a cheery 'hullo Mike!' from across the carpark just as we finished loading in, and there they were, The Trollops, (pic 1) singing and swaying with the music and having a wonderful time for the entire afternoon. (TITs? Trollops in Training apparently - you just can't become a Trollop overnight you know).
They weren't the only people in the room - Simon Gardiner (pic 2) was there for instance - but they certainly helped create an atmosphere and that helped the band and the rest of the audience enjoy the arvo-in-Bulleen experience. (The arvo was recorded, so I'll let you know when it might go to air on Radio 3MDR).

Robbo and Bill pose with Julie in her Kiwi T-shirt
gig report
3MDR gig seems to go off
14.11.09 - We did this same benefit gig for Emerald's 3MDR last year, which we were reminded of when we were given a CD each with selections from last year's show. There was a band playing when we arrived ('sounds like Kiss', said Robbo) which we were told was Lloyd Spiegel, (!) and our meals had only just arrived as Fats Wah Wah took the stage, but the show was running fifteen minutes behind so I had plenty of time to concoct a perverse set list with the aim of sounding as different as possible from what had gone on before. We got enough positive feedback from all and sundry to suggest it wasn't too bad either. Early night too..
The Mushroom Evolution Concert DVD
11.11.09 - Vincent Donato at Liberator told me that the three-disc box set of the Mushroom Evolution Concert ('with a cracking 45 minute set from the Heaters') would be out in time for Christmas - and it is! There's more than seven hours of playing time on it and most of the tracks are rendered in stunning 5.1 surround sound. With acts like Jo Jo Zep and the Falcons, Swingers, The Kevin Borich Express, The Models, The Sports, Madder Lake, Chain, Renée Geyer and Russell Morris and more, you'll be in '80s heaven for the best part of an entire day if you choose to watch it in one sitting! I haven't seen much of it yet, (I only got my copy today), but if the sound quality on the Heaters' tracks is any guide, they've done a fabulous job of restoration and preservation. Just click on Liberator and you'll be able to access a link to buy your copies on the 'Net. Could be the ideal solution to that Christmas gift problem.. Only $19.95
Surf's up in Manly

1) Them's The Breaks playing an impressive set of thoughtfully arranged surf-type instrumentals

2) Brian has a word with long-time associate, Tony Naylor 3) Maryanne Slavich, partner John and Mike (pic Al Heeney)

4) Nayles reflects at the post-gig breakfast in Manly
gig report
The Grand Hotel 7.11.09
Morning of the Eartth 8.11.09
From Ballarat to the Northhead Sanctuary
9.11.09 - I spent last week furiously prepping for the Morning of the Earth show that Amanda Pelman had conspired with the Manly council to present for the inaugural Manly Festival of Surfing on Sunday, so wasn't really conscious of the impact of the last minute gig we scored in Ballarat on the Saturday night. As it happened the so-called 'grand opening' at the Grand Hotel in Ballarat misfired somewhat and the six people at the table in front of the band comprised the entire crowd for the night.
That disappointment aside, I got home at just after 2.30, but Tony Naylor (pic 4) was picking me up at 7.00, so I

wasn't going to be well-rested. I'm not good at grabbing snatches of sleep either, so I was just going to have to wear feeling scratchy for the rest of the day. I hadn't checked up on the forecast, so I was surprised to find that Sydney was overcast and quite cool when our driver Kerry picked us up from the airport and drove us to the Sebel in Manly. Naturally my room wasn't ready, so I hung out in Tony's room until Kerry drove us to the site at Northhead Sanctuary for the 1.30 sound check. The site was the size of a standard cricket oval and I was impressed with the staging and peripheral infrastructure that had been constructed, but if anything the weather had deteriorated and there was a fine but persistent drizzle dampening proceedings that was bound to affect the size of the walk-up crowd they were hoping for.
The sound check went OK, but I was concerned that my Simple Ben lyrics were proving elusive - maybe I'd favoured the other songs when I was revising. My room was available when we got back from sound check, so I was able to rest without actually sleeping. When we got back to the site The Breaks (pic 1) (the Oils sans Peter Garrett) were playing their set of psychedelic surf instrumentals, and so I took the opportunity to wander out into the crowd and meet up with former Ariel and Heaters' keyboardist Tony Slavich's sister, Maryanne, (pic 3) when Lynnette Timmis appeared and alerted me to the fact that Pam Cleary was also in the audience and it was her birthday! I just had time to wish her Happy Birthday when The Breaks finished their set, (Rob Hirst said it was their first ever gig!), and the Morning of the Earth refrain was casting its spell over the crowd and the show was on.
I was OK until bloody Simple Ben came along, then I drew a blank and could only muster a bit of Satchmo-like scat while I tried to remember the next line, which had Lior falling about laughing. It was hardly any better with the reprise, although I did al least manage to remember all the lines - just in the wrong order.
Amanda was in a forgiving mood however, and the crowd certainly didn't let it get in the way of their thoroughly enjoying themselves - the rain even held off for the entire show, so everybody was happy. By now the long day was catching up with me and I was starting to get head-achy, so I was relieved when Kerry drove us back to the Sebel and I could put my head down for some real sleep. I really hope that we do the show again, but let's do more than just the one next time - it wears me out worrying about lyrics for a one-off.
*See some spiffy large pics of Mike in full cry taken by Al Heeney
And the winner is...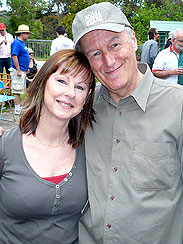 1) Nik and his beansprout son, Nik 2) Mike cuddles up to Esmeralda agitator, Vicki
gig report
Nik's backyard Cup Day 3.11.09
A Shocking Cup Day in Nik's backyard
3.11.09 - Bill and I have done a couple of Nik's Cup Day specials before, but I thought it would be nice to bring Robbo along this time around, and I'm happy to report it worked out really nicely. The day was warm but overcast with the hint of a shower somewhere along the line, but fortunately that didn't eventuate till we were driving home, so the playing conditions were really quite perfect. Robbo was still suffering with his chest complaint, but being the trouper that he is he gave his usual immaculate performance - we all did. It was thoroughly appreciated too, and Robbo and I got spontaneously applauded as we drove out of Nik's driveway to go home. (Bill had already left by then). You really can't ask for better than that..
1) Paul O'Gorman 2) Tim McCallum got a standing ovation
gig report
Dandy Workers Club & In North Melb Tonight 1.11.09
The Dandy Workers disappoints
3.11.09 - As we were setting up at the Dandy Workers, (inside, because the weather looked uncertain), Bill called for bets as to how many people would show up. I guessed five, Robbo thought twenty three and Bill posited eleven - none of us were particularly optimistic. As it turned out we were all right - at various times. The dance club was miffed that their usual lesson had been supplanted by live music, but some of them stayed anyway and added some elegance to the otherwise uninspired proceedings. We had fun anyway.
Tony Cavanagh rang me late in October insisting
that I should show up at the annual In North Melbourne Tonight event to perform my party trick, but this time acapella. (Well, I actually volunteered to sing it acapella thinking that I was going to be late anyway and a rehearsal with anybody hanging round with a guitar would be impossible).
I'd missed Judith Durham's song by the time I arrived, but sat down next to her table in time to see fellow Seeker Keith Potger's Buddy Holly tribute, followed by an idiosyncratically mixed bag of acts, including Paul O'Gorman, (pic 1) Tim McCallum, (pic 2) Ronnie Charles, (sans leather pants), Buddy England and Anthony Hurry on blues harp accompanying a South African flautist - and more. I was the penultimate act as it turned out, and then had to stay up on stage and pretend to sing along with a Seekers' song I didn't know. (Neither did Buddy England, which made me feel better).
I chatted to Judith briefly and she was most complimentary about the mix I'd done on the Summertime clip, and she wondered what I'd done to make her vocal sound so good. I told her honestly I'd done nothing, other than add a subtle reverb, but I'm not sure she believed me. I feared she might break in half when Athol Guy and others were hugging her after the last song, and I wanted to get a pic of her and me together, but she was too much in demand, so I scuttled off into the humid North Melbourne night back to the predictable calm of.Camberwell.
back to the top