Scroll down to the start of the month
Close this window to
return to Mike Rudd &
Bill Putt's home page
On the road again!

1) Glen and The Fingerlings at The Sandbar 2) Mick Wordley contemplates life on GF day

3) Doc Neeson's brother Kev Neeson lent us his backyard for a show 4) Robbo and friend

5) The crowd starts to build at the Semaphore Workers Club 6) Mike vents some frustration (pic - Hunter)

7) Bill at the Semaphore Workers Club (pic - Hunter)

gig report
The Sandbar Mildura 25.9.09
Kev Neeson's place Camden Park SA 26.9.09
The Semaphore Workers Club SA 27.9.09
Spectrum goes to Adelaide
30.9.09 - My unsolicited chest infection peaked on Thursday and transformed into a streaming head cold in time for our early departure for Mildura on Friday morning, matching the rather bleak weather blowing in from the southwest. Mildura was colder and wetter if anything when we arrived, so we grabbed a bite and rested up at the motel until it was time to go to The Sandbar. Glen, the bass player from the Fingerlings (pic 1) was also the venue's sound guy and was very helpful setting up the sound. As soon as we started to play I began to feel a bit better and

because of that, and in deference to the older people in the room, we just kept on playing. In the end we played in excess of a two hour set, and much to my relief, my voice hung in for the entire night.
I'd conspired with Mick Wordley (pic 2) to lob at his place for the AFL Grand Final, and we just had time to check in at Flinders Lodge before heading out to Mick and Robyn's place in Hawthorndene and enjoying their boundless hospitality while watching a tense battle for the flag - I was the only one in the room quietly supporting the Cats.
From the Wordleys it was straight to Kev Neeson's (pic 3) place in Camden Park, where Greg Osborn had arranged a 'private' Weekend Warriors gig in response to my pleas per the SA e-mail list. It was a bitterly cold night with a couple of showers thrown in to keep everybody on their toes, but it turned out to be a lot of fun anyway - and Jim took advantage of the opportunity to propose to his girlfriend Susie to crown an eventful night.
We got lost on the way to the Semaphore Workers Club, but we were delighted with the room when we finally got there. Although it used to be a yacht club, it's a genuine in-yer-face workers club these days - you even get the hammer and sickle rubber stamp (pic 8) as proof of entry - and the obvious fellowship of the members adds to the atmosphere already in the room.
A good crowd was building as we set up, (pic 5) and by the time we graunched into action the room was absolutely full! Comrade Dave Pearse (pic 11) (sound engineer/booker) said it was the first time they'd had to close the doors and my friend Marilyn (Rudd) had to claim kinship to squeeze herself and her relatives into the room. (I can feel a song coming on..)
Paradoxically, but not entirely unexpectedly for those who know me, I proceeded to dish up a scatter-brained performance, which didn't exactly destroy the day, but it could've been so much better. I think I'm going to have to experiment with some alcohol variant to curb my brain's tendency to spoil the party.
Happily most of the room seemed to enjoy the performance, (check out Michael Hunter's pics and videos of We Are Indelible, Rock & Roll Scars and Xavier Rudd on YouTube*) and Comrade Dave was musing about the next visit as we loaded out. As well as a sold-out venue, we'd sold a world record number of CDs, so we drove back into town and celebrated with a slap-up meal at the band's expense. Hooray for us!

*Now also see Some Good Advice, I Want To Know and Hoochie Coochie Man c/o Michael Hunter
Greg Brown's bonus Semaphore shots

8) Lachie's really cool stamp 9) Ron Alphabet tries on Lachie's headphones

10) This is the end my friends - probably the end of Spoonful 11) Comrade Dave Pearse
Two photographers
15.9.09 - I must pop along to see Brian Pieper's Unseen 1970's Rock 'n' Roll Photography exhibition - Spectrum's in it! It's at the Synergy Gallery, (253 High St, Northcote), and it opens tonight at 6:30. The gallery's open from Wednesday to Saturday at 11.00 till 4.00 and runs until the 26 Sept (Also open all day, with live music, on Sunday 20th September, as part of High Vibes Music Festival).
Assembled and exhibited for the first time, this collection of works transports the viewer to another era. Mainly black and white, shot on a Pentax SLR, all by one person, Brian Pieper, (mainly known for his printmaking), the photographs have been hand-printed using traditional darkroom processes, from original negatives, with no digital intervention. The exhibition includes images of the Rolling Stones' February 1973 concert, Rod Stewart and the Faces (featuring Ronnie Wood), Dolly Parton on her first tour of Australia, Billy Thorpe, Daddy Cool, Spectrum and many other well known bands of the seventies. It includes a prequel of snaps taken of The Groop (featuring a very young Brian Cadd) in 1968, and a postscript of Died Pretty at the Club in Collingwood in 1988.
Another photographer in our orbit is Lloyd Godman, who has created a large sculptural walk-in installation called Carbon Obscura that, as the name suggests, uses the principle of camera obscura to present a stunning show. The work was commissioned as part of 'The Grid': a Green Expectations Project that aims to raise awareness and discussion about climate change and was open to the public at Federation Square, and although I don't think it's there any more, you can check out what it looked like on YouTube

3CR sound technician Meg and Matt Gleeson
Breathing Space Too
3CR interview
6.9.09 - 3CR is an anomaly on the Melbourne radio landscape - an AM community radio station in an FM world - but, by way of compensation, it plays host to a bunch of shows with a far more radical political agenda than any of its FM counterparts, while still managing to have presenters who are in it for the music. Matt Gleeson (pic) is one of those, and as I pulled up outside the station on Friday I tuned in to Matt's show and heard part of a phone interview he was conducting with an unusually forthcoming Steve Kilby - and that's the thing: if the subject of the interview is lulled into his comfort zone by the thought that not too many people are listening, you can get
the most revealing interviews. Anyway, Matt was a generous interviewer in person and had obviously seen Spectrum playing live, so his questions and observations were well informed. I wonder how many people heard it though.. Listen to Mike's interview with Alan Brough on ABC radio (story on the A Separate Reality page)
Surprise!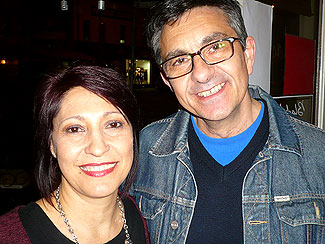 1) Enza with 'surprised' guest, Jon Cattapan 2) Our host, Bernd, (standing) and guest

gig report
Bernd Rohrrman's unbirthday party Black Ruby North Carlton 4.9.09
The professor's surprise un-birthday party
5.9.09 - Usually surprise parties are devised to surprise the birthday boy, but Bernd Rohrmann, (pic 2) Associate Professor of Psychology at Melbourne University, has never acknowledged his birthdays, and so feels free to create an annual surprise party for his hand-picked guests at round about the time his birthday might've been. The venue is always the same, (Black Ruby in Rathdowne St Nth Carlton), and the surprise element is the entertainment, and Bernd goes to extraordinary lengths to keep his choice of (usually) musical entertainment a secret from his guests.
Bernd first approached me when we last played the Lomond, and since then he's been in constant contact, excitedly planning the way the evening might unfold. Black Ruby is tiny and unlicensed for music, so drums were verboten, (and anyway, Robbo's still in the Libyan desert somewhere), so I suggested that Bill and I combine with our favourite female singer, Enza Pantano, (pic 1) as well as Jimmy Sloggett, as Bernd was keen to have a saxophonist. Because the place is so tiny, we decided to forego vocal amplification and we brought along just a couple of amps for the guitars and bass.
To prolong the surprise element, the band was hidden upstairs for an hour or so until all the guests arrived and then Bernd announced our entrance. (Jon Cattapan (pic 1) was in attendance, so in one case at least, the surprise was mutual). The first set comprised almost entirely of numbers from the Living on a Volcano CD, for which Jimmy provided a simple but effective conga accompaniment - it was great to hear the three (and four) part harmonies. (I was also very pleased at the blend of my steel-string Martin (George) with Bill's nylon strings). For a complete change we finished the set with Enza's choice of Italian folk song, Il Tango de Capnere, (with me on mandolin), and Jimmy's sax rendition of Return to Sorrento.
After a fine meal, courtesy of Bernd and Black Ruby, we began the second set with the 'b' version of I'll Be Gone and then found our way into the blues bracket with Enza and Jimmy again featuring somewhere along the line in a gorgeous version of Summertime.
To Bernd's obvious pleasure, all the guests seemed to be duly surprised and, from what I can gather, wholly delighted with his choice of un-birthday entertainment. We had fun too, and I'd be even more thrilled if we could repeat the performance with Enza and Jimmy in the not too distant future. Hmmm..

Mike tries to look busy at home in downtown Cinemascope (pic Josie Hayden)
St Andrews is off and other stories..
2.9.09 - Adam asked if I'd seen the article in the Leader when I walked into Choclatté. I was still grumpy from having to cancel the St Andrews gig slotted for the 13th, but I had a look anyway. Check it out The good news is that the Breathing Space Too EP is back in stock, just in time for our trip over to the Semaphore Workers Club in SA via The Sandbar in Mildura. In the meantime, book now at Ticketek for the Rock of Ages show on Fri. Oct. 2nd
I almost forgot. I received an e-mail from The Soundgarden the other day and it seems that our genial hosts, Dave and Maree, are calling it a day after this coming weekend. That's sad in so many ways, but not least because they whole-heartedly enjoyed the experience of putting on good food and entertainment and their enjoyment was infectious. North Laverton will resume being just another suburb we speed past on the way to somewhere else - we'll miss them.
back to the top