Scroll down to the start of the month
Close this window to
return to Mike Rudd &
Bill Putt's home page

Neil Butler goes Radio Ga Ga..
The airwaves are alive with the sounds of Spectrum!
30.12.08 - As the New Year elect waits in the wings, the old one has a few more wags in the tail. On Saturday Bill and I trekked down to the Southbank studios of the ABC for what we though might be fifteen minutes or so with the Coodabeens. I'd been up to Bill's place that arvo to run through a few song possibilities, but while we were waiting for 8.00 I suddenly remembered What The World Needs Is A New Pair Of Socks and so we ran through that as well. As it turned out, we were on air for the entire hour and we did play Socks as well as I'll Be Gone, Jamaican Farewell, Baby Please Don't Go (a listener's request) finishing up with a rousing version of Esmeralda with the Coodabeens all joining in!
The next day I had a date with 3WBC's Neil Butler (pic) on his Radio Ga Ga show to celebrate Spectrum's inauguration into Dead Set Legends. Neil made me aware that there were a few more versions of I'll Be Gone around, so when the next edition of I'll Be Gonz is released, I guess they'll be on board!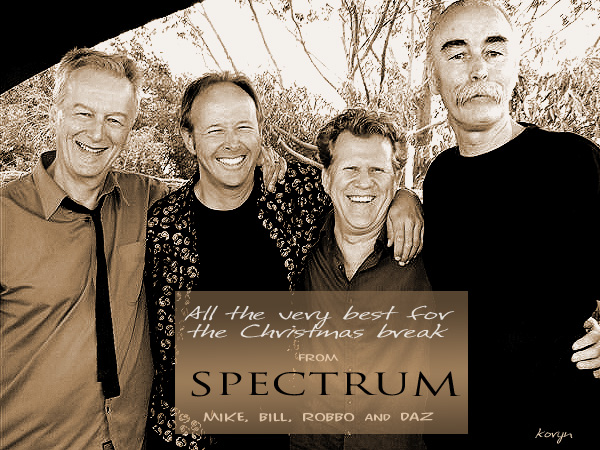 The lads at the Frankston RSL. I think Bill's sneakily putting the tickle on Daryl, don't you?

You're not taking my photo..
Spectrum on the Byron Blues Festival bill!
24.11.08 - When I heard that the Morning of the Earth show was applying for the Byron Blues Festival, I asked Amanda (Pelman) if she thought that Spectrum would have a shot at getting a spot on the bill. She said I should give it a go - and so I did. And a couple of days ago I rang the festival's Brendan Meek and he confirmed we were indeed on the show. Over the years we've played quite a number of the major festivals, but Byron has eluded us for one reason or another, so I'm very pleased to have finally be given the chance.
Yesterday I turned up at Doug Brady's (pic) studio to put down a harp lick or two on Mike Brady's upcoming CD. The track was the Roy Orbison song, Candy Man, which has a classic harmonica intro - almost as classic as you-know-what.
And, in further news, Anita Monk tells me that Wrokdown will be commencing on Channel 31 Adelaide from Wed. January 14th at 8.30pm, with a repeat every Friday night. The first episode will be from Series One, starting with me!.

Sandra toasts Mike and MOTE

gig report
A quiet end to 2008 at the Wild Thyme Café
21.12.08 - Robbo got a call from the Wild Thyme's Allan Sepping late on Friday night requesting that we start at 7.00 rather than the advertised 8.30, so I guessed he was expecting a quiet night. The weather was pleasant enough, and anyway Allan's got the back area pretty well set up with protective tarpaulins so we set up on the stage out the back of the café which has a very pleasant view overlooking the river. As we were setting up I was approached by Sandra (pic) who told me she'd taken her parents to the Morning of the Earth show at the Palais and how much she (and her parents) had enjoyed it. As I mentioned, there are some more shows coming up in the New Year and you can check out the Gigs page for the latest info.
While we had a quiet-ish night crowd-wise, everybody seemed to enjoy themselves and it was great to catch up with Allan and the crew again.


Paul Le Couteur is nonchalant
I'll Be Gone video restored to where it's never been - at last!
20.12.08 - As I survey the past year I realise my propensity for procrastination is no longer to be viewed with mild bemusement. It's out of control.and has to be remedied - eventually.. I daren't specify when I embarked on this madcap scheme to re-stripe the I'll Be Gone clip with a stereo version of the original edited soundtrack - was it two years ago? More? I have to confess the delays have been mostly of my making, and the other agencies I've involved can only be commended for their perseverance in the face of sustained inconsistency on my part. The first agency is the NFSA (National Film & Sound Archives), represented in the ACT by Matthew Davies and in Melbourne by Zsuzsi Szucs. It was Matthew who oversaw the re-calibration of the video by the painstaking insertion of extra frames, and it was Ceri and Paul (pic) at Flagstaff who realised the successful re-striping, which again involved some serious adjustments. The result is fantastic. I'll see if it's possible to share it with you before I die..
gig report
The last Lomond for 2008
17.12.08 - I'm taking advantage of an undoubtedly unsustainable, but nonetheless miraculous and welcome moment of remission for my ancient Dell, which has stolidly denied me admission since I tried to download the latest 2000 updates last week. Doctor James is due down from Shepparton (!) tomorrow with the Dell's up-to-the-moment state-of-the-art replacement, but till then I'll hold my breath and try and catch up with some house keeping.
I've observed this before, but the Lomond always surprises by having a completely different audience everytime we play there. Well, that's not entirely true - there's a core of about a dozen stalwarts that show up regularly, but the tone of the evening varies dramatically depending on the disposition of the current Spectrum novices that make up the balance of the audience. Saturday's lot weren't inclined to get up and jig about, but that didn't mean they weren't appreciative. I arrived uncharacteristically early and ran into the crossover crowd from the afternoon's gig - I keep forgetting that The Lomond is essentially a folk gig after all - and I suspect a number of them stayed on to see what we were on about. Whatever - they gave us a good hearing and we enjoyed ourselves, and that's what it's all about.
The Spectrum Christmas card goes sepia again
10.12.08 - Another year has whizzed past and another bloody Christmas beckons. Peter Koryn took the pic at the Frankston RSL a couple of weeks back and I think it's a happy enough snap for the purpose - or for the porpoise for that matter. (Remember porpoises?) I've persisted with the 'big brown, band for a big, brown land' theme simply because, well, I like it.
We've just a couple of gigs remaining before we kiss 2008 goodbye and then we'll be waiting impatiently for round Australia Day to bring the first of the New Year's gigs - unless somebody comes up with a last minute gig or two for the rest of January.
Apart from being short by about six months, 2008 has been a fun year, notable for the release of a couple of fine Aztec re-issues (Part One and Milesago) and the first of the Breathing Space EPs on our own Volcano label, as well as some wonderful Spectrum gigs here and in SA, Tasmania and the ACT. In the latter part of the year we've hooked up with some agents who have directed us to some previously unexplored hotels and RSL venues, which have actually proved to be a good way to connect with our audience demographic - and lose part of our fee to commisions. You might remember that Spectrum hooked up with Brod Smith and Phil Manning for a brief tour, and although there's been no follow-up (!), I think this formula could be the way of the future. In the latter part of the year I was invited to participate in the wonderfully received Morning of the Earth show, and there'll be more news of this soon, as well as other 'solo' projects in the New Year.
To conclude, I don't give nearly enough credit to my partners in crime, Bill, Robbo and more recently, Daz. The more I get to play with other musicians, the more I realise how special our unit is. It's not only a special musical bond, but it has a personal chemistry that I cherish. Thanks you guys! And thanks to every one of you that takes the the time to read this and occasionally respond by e-mail. We simply wouldn't exist without you, so keep dreaming - you've got a helluva responsibility. We'll see you in the New Year, if not before.

1) Sally and Walter made it to their local gig 2) Health Kick man Barry and Claire also came to the Croydon Hotel

3) Boys just gotta have fun
gig report
A happy Sunday arvo at the Croydon Hotel
8.12.08 - I think the last time Bill and I played at the Croyden Hotel was with The Heaters back in the '80s. It didn't look like much had changed since then either, except this time we were playing in the beer garden, for which eventuality the venue had done the minimum of preparation - i.e. nothing, not even putting up the posters I'd sent them. With the possiblilty of a shower in the offing, Bill and I made sure that the vital electronics were under cover and prepared for a lack-luste afternoon. Against all expectations however, people (other than smokers ducking out for a puff) started to arrive, and into the first set we had quite a satisfactory crowd building up. The Melharts (pic 1) arrived followed by the Cheeks and the McClatchys (including Molly), as well as a whole bunch of folks local to the Croydon area. Some of the children present had to have a go on Robbo's drums (pic 3) and altogether it was a charming afternoon. Let's do it again!

Bernie, sausage, birthday boy Luc and Dave Walker
gig report
Mike wins Silly Old Sausage award - twice!
7.12.08 - I'd forgotten that Dave Walker had asked me to turn up to Luciano Evangelista's (Luc - pron. looch) 50th until we were setting up at the Barra Shed last week and Luc himself reminded me. So I arrived at Luc's Mt Evelyn address last night and set up on the stage with the Blue Moon Lodge. The plan was to sing a few songs solo and then the band would get up and we'd bounce around a few blues tunes - which is what happened, and it was quite a lot of fun too.
When I came to leave I noticed some cars had blocked my exit - which was when I managed to lock my keys in the van. Embarrassing as that was, it was remedied quickly
enough - but as I was re-packing the van this morning I noticed I'd also managed to leave my guitar at the party! Irony of ironies - part of the reason I was glad to be meeting up with Dave again last night was because he had picked up Bill's stool and my guitar stand which we'd left at the Barra Shed gig!

The roast chicken is enormous they said - and it was!
gig report
Seaford another RSL triumph!
5.12.08 - I don't think that's an exaggeration either. Mind you, we had to work hard at it - damn hard! There's been a concerted effort by the RSL sub-branches we've come across to install acoustic tiling in the bistro areas. Our PA is quite tiny by any standard, and whereas it's not struggling exactly, we're not getting any acoustical assistance from the room, which can be disconcerting, verging on alarming. As it was, the room was full, (pic) we sold CDs and got a swag new chums on the e-mail list. Room manager Jack said he loved it, so that can't be bad.
Watch the Xerox machine - it's the Debonaires' end of year party!

1) The pipes, the pipes are calling. The piper opens proceedings 2) Bill made sure I knew where I was sitting..

3) Taste's Kenny Murdoch and Spectrum's Tubby Tom Tom 4) Big Bob Valentine has a larf with Little Laff..

5) Gunther Gorman showed 6) Anita Monk Wrokked on down
Spectrum's end of year party..
2.12.08 - It was a huge lunchtime affair today at the Fog Restaurant in Greville St Prahran, and anybody who was somebody was there. In reality, (fuck reality, I say!), it was the Debonaires' Support Act Ltd end of year bash, but in our minds it was Spectrum's very special do, and although Daz couldn't make it (he left for Perth today for some reason), Bill, Robbo and I networked with as many people as we could remember - which makes at least a dozen. Spectrum's first drummer, Mark Kennedy, was there, as was Gunther Gorman (pic 5) and Peter Laffy, (pic 4) leaving us soon for for Hawaii. It makes you glad to be alive..
Three gigs in two days!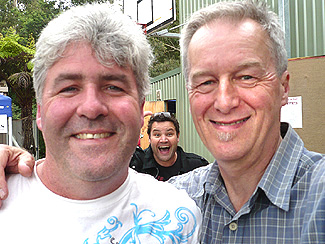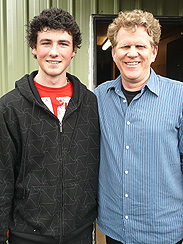 1) Tony O'Neill and Mike at the Barra Shed Festival 2) Tony's son Declan and Robbo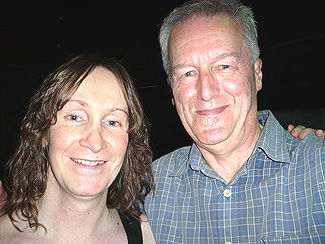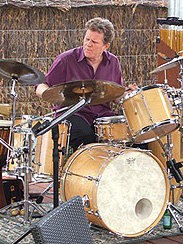 3) The Studio's Danielle O'Connor with Mike 4) Robbo gets into it at Frankston (Peter K)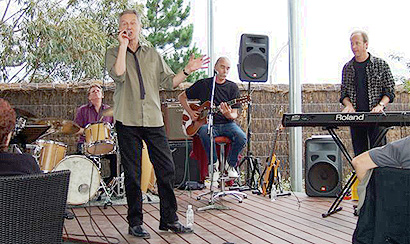 5) The band goes into blues mode at Frankston (Peter K) 6) Bill actually looks happy on a foreign stool (Peter K)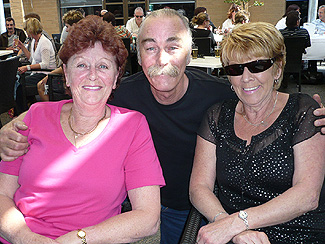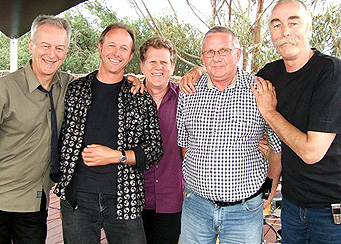 7) Bill with his sister Pat (left) on her once-in-a-decade gig 8) The band poses with happy snapper Peter Koryn
gig report
Three gigs - and a contender for gig of the year..
1.12.08 - I had an uneasy feeling that I might've over-reached myself when I accepted the offer of an afternoon spot at the Barra Shed Festival, followed by a gig at The Studio in Geelong that same night. The Barra Shed do is in Gladysdale, which is on the way to Warburton well to the east of Melbourne, and, of course, Geelong is on the western side of the Bay a good two and a bit hours away from Gladysdale, so it was a tight and potentially risky proposition. Bill, Robbo and I (Daryl was otherwise occupied) arrived at the Barra Shed site well and truly early and were greeted by the festival's organiser, Chris Young. The Shed itself is an impressive enough building, while still retaining the essential elements of a shed - hence the name I suppose. We'd determined to use the backline provided so we could get away promptly, a strategy that proved to have some inherent risks - like leaving bits behind for instance, which both Bill and I were dismayed to discover we'd done when we arrived in Geelong. (Bill left his favourite stool and I left a guitar stand).
We were the opening act for the afternoon, and we delivered a tidy no-frills performance that nevertheless got a warm response from the hundred or so punters in attendance at that early stage. It was a great location for a festival, and the Shed concept allows for variations in the weather (it was a bit showery on the day), and I heard somebody say that we might be guests again next year.
The Studio is another venture by Michael Ward, who promoted the Brod Smith, Phil Manning, Spectrum gig at the Deakin Waterfront Café a few months ago. As soon as we walked in we all remarked on the similarity to the Continenetal Café and our hearts lifted. Geelong has been a conundrum as regards appropriate gigs for as long as I can remember, so to have a venue with the potential to be mentioned in the same breath as the Continental is a giant leap forward.
And so it turned out to be. The sound engineer, Danielle, (pic 3) seemed to be both competent and enthusiastic, and did remarkably well with the sound, as far as I could tell from the stage anyway, and especially considering the truncated time available to set up and sound check. By the time we sauntered onto the stage the band was relaxed and there was an immediate rapport with the audience, and all this led to my consciously thinking at one stage that there was no way I could actually fuck this up, it felt so good.
I made a decision not to even try to sell any CDs (it's very exhausting) and passed round the e-mailing list instead - I'm sure we would've made a killing, but I wanted to conserve my energy for the next day. We received lots of wonderful feedback from the audience, (it was good to catch up with Karen O'Connor and the Ramsays), and I think Michael Ward was happy with the way things went, particularly considering we were up against the Queenscliff Festival.
Bill slept over, so we were able to arrive at the Frankston RSL an hour earlier than intended - and just as well too. The load-in was an absolute bitch, and I was getting a little frayed by the time we'd got all the equipment onto the helpfully asymmetrical stage in the beer garden. Still, it was a pleasant eanough day, and the T-bone steak I got for lunch was actually very good indeed, so I was reasonably mellow by the time we started the first set.
It was one of those gigs I warmed into, despite feeling tired and a little bit grumpy, and by the time we ended the last set, the crowd was demanding an encore - and we gave it to them too. Bill's sister Pat was there (pic 7) and birthday girl Sally Dettmer and friends. plus a host of others, including Peter Koryn (pic 8) who kindly supplied most of the pics from the afternoon - it made for a very friendly session. Then there was the load-out..
Now we just have to work out how to get our things back from Gladysdale..
back to the top