Scroll down to the start of the month
Close this window to
return to Mike Rudd &
Bill Putt's home page
Mike & Bill join the Art connoisseur crowd
1) Maddy Hayes 2) Tony Healey, Athol Guy, Mike and his personalised bottle o' pinot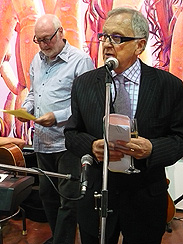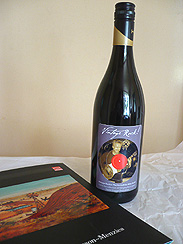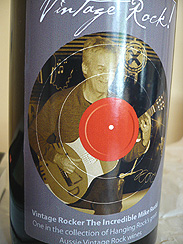 3) Tony Cavanagh introduces Athol Guy 4) The bottle and the lavish art program 5) The label
gig report
Mike & Bill at the Deutscher-Menzies Gallery
28.11.08 - My Molly Award has had an unexpected corollary. (See A Separate Reality) Tony Cavanagh rang a couple of days ago to see if Bill and I could play a couple of tunes at the Deutscher-Menzies Gallery for an upcoming auction preview. Apparently gallery owner Rod Menzies had been at the In North Melbourne Tonight (ah, the penny drops!) evening at the Czech Club, and he had been most impressed with the music on offer and thought it might be diverting entertainment to have some of the same artists at the preview.
So, Bill and I duly set up our PA at 5.00 and guests started to filter in about an hour later. It was quite stifling before the change came rolling in, so Bill and I amused ourselves by acting as doormen while we waited for our spot. Athol Guy brought his protegé Stefanie along to sing a song, and Maddy Hayes (pic 1) brought her piano along to sing her song, and finally Bill and I did our bit. We got some favourable comments too, but the best part was when Tony Healey (pic 2) delivered my consignment of personalised pinot noire (pics 4 & 5). Maybe I should have a competition with a bottle as the prize - waddya think?

1) Daryl's son Matthew and the Daz 2) Elaine and Jeff rushed back from Ballarat to get to St Andrews for this pic

3) 'I don't know this red-shirted idiiot,' thinks Chris
gig report
Father & son day at last St Andrews of 2008
24.11.08 - At which point I exclaim helplessly, 'where did the year go?' Stan had the fire going, appropriately for a change as the weather was bordering on downright inclement, and there was a good crowd indoors when we started the first set. I thought it fair to vary the repertoire a little seeing we'd been there just a couple of weeks before, and so we immediately embarked on an adventurous and slightly scary course. I made some last minute changes to the Gee Whiz bass line that threw Daz in a spin, and which he rightly pointed out might necessitate some revisions to the recording, but it went OK anyway.
As well as Daz's son being there, (pic 1), my son Chris'
Vermont St crew showed up for lunch and to take in the first set, so I was able to introduce Chris to everybody at the start of the Xavier Rudd song. (Incidentally, thanks to the lady who made sure Chris ate all his fish).
There were quite a few of our regular friends in attendance, but special mention goes to Jeff and Elaine. (pic 2) It was Jeff's 53rd birthday and he risked life and limb to get back from Ballarat in time for the last three numbers. Now that's what I call dedication!

Just in time for Christmas..
Support Act releases Tribute CD
23.11.08 - Morning of the Earth producer, Amanda Pelman, sent me this CD release info the other day. The accompanying press release is reprinted in full.
In 2005 and 2006 these two shows were put together by Billy and underwritten by Chugg Entertainment. Countless artists and roadcrew gave their time and energy to raise funds for Pete Wells and Lobby Loyde, as directed through Support Act Ltd.
Support Act Limited (SAL) was formed as a registered charity in 1997 by a group of concerned music industry veterans, including Michael Chugg, Meryl Gross and Jim White (ex Festival Records ) and Lindy Morrison (Drummer for The Go Betweens ) who could see that there was a definite need for an organisation to assist members of the industry who were in need or suffering hardship. Billy Thorpe became a Director
of Support Act shortly before his death in 2007 and in his memory, the Billy Thorpe Foundation has now been setup. It's specific purpose is to carry out Billy's dream of creating purpose built spaces within existing retirement homes for music industry veterans.
This recording will benefit Support Act and the families of Pete Wells, Billy Thorpe and Lobby Loyde. All the artists on the recording have given their time and their royalties to the cause. Various industry organizations pitched in to pay for the production of this project and they need to be applauded for doing so. They include Bombora Records, Metropolitan Groove Merchants, Chugg Entertainment, Andrew McManus Presents, Acer Arena and Brisbane Entertainment Centre, Bob King and Serge Thomann Photography and Mushroom Music.
New Support Act Director Brian Cadd comments : "The tracks on this wonderful, uplifting and ultimately celebratory album have come from two extraordinary works of love. The benefit for Lobby Loyde and the benefit for Pete Wells.
For our old friend and much-missed giant of Australian Rock, Billy Thorpe, it was a love for these two rock magicians that drove him to put these two concerts together. It was also a practical way to help these legendary musicians in need. And that is what lies at the heart of what Support Act stands for. "The idea that, in an industry where the most common form of superannuation may be an old guitar or two, there are ever increasing numbers of our brothers and sisters who have fallen on hard times and need our help. Support Act is one of the beneficiaries of the royalties earned from the sale of this music. On behalf of all of those who have given so much to audiences over the years and now or in the future may need our help, I thank you from the bottom of my heart."
Project Producer Amanda Pelman stated : "As manager of the Estate for Billy Thorpe, my day to day duties include maximizing Billy's contribution to the Australian music industry now he is no longer here with us to do so. Some days it is a little like having a parrot on your shoulder – I can hear him saying 'Put the Rilen track straight after Lobby – luv ya!' Our relationship as friends and mutual Aries drove us in life and the beliefs and opinions he held so dear now drive me on after his death. He would have been extremely proud of this release - I know he was overwhelmed by everyone's contributions. Now all he would say is 'Go out and buy the fucking thing'."
Michael Chugg, Billy's long time friend and manager : "When Billy had an idea he didn't let it rest until it happened.
That was how it was for both the events he designed for Pete and Lobby. I was happy to underwrite both ventures
in the spirit of solidarity that they were intended. On the afternoon of The Palace show, Billy was everywhere, doing everything, when he casually dropped the line 'You'll be doing one of these for me soon!' Our grief is that he is sadly now included in this Tribute. Enjoy the energy in this music – the last performances from Lobby, Ian Rilen – and all too soon, from my mate Billy Thorpe. "
Angry Anderson of Rose Tattoo remembers his friend Pete Wells : "we are one less now we band of few...
'Tribute' will be released through MGM Distribution and will be in store on 6th December 2008 . The first three thousand copies will include a bonus DVD including performances by Billy Thorpe and Lobby Loyde.

For further information please contact :Ferris Davies PR – Rina Ferris / Katie Hardwick rina@ferrisdaviesprm.com.au Chugg Entertainment : Amanda Pelman amanda@chuggentertainment.com

We snared Vicki for this pic to prove we'd been there
gig report
Cranbourne RSL goes off!
21.11.08 - As I said to the audience before we started, none of us anticipated when we were happily crashing about Southside Six as mere toddlers, that we would be here at the Cranbourne RSL some thirty or so years later checking the toll the intervening years had taken on fellow punters. It could've been salutory, but in the event it was actually quite a bit of fun. The acoustic tiling was effective without being totally stifling, so musically it was a happy experience, and the audience seemed to be enjoying themselves. We sold bulk Breathing Space EPs, we got a free feed, the management seemed to be happy and we got paid. Isn't this what life's all about?

1) Greg from Blackbird at the 3MDR fund raiser 2) The Maldon crowd goes berserk to see such fun

3) Bill signs another Breathing Space for Dianne 4) Robbo gets acquainted with a native

5) Mike's mate Vivienne Hamilton came to the gig
gig report
3MDR fund raiser and Maldon Blues Club
17.11.08 - I suspect that most of the crowd that elected to be indoors on this fine spring Saturday afternoon at the 3MDR fund raiser at the Elevation restaurant in Emerald was there to see Spectrum. The acoustics were a little brittle and Robbo was using the house kit, but we managed to play a laid-back set and got a very fine reception. I think we'll probaly do it again next year.
We left at 11.30 the next morning to get to the Maldon pub in time for the arvo session, and when we started it looked as if we weren't going to get as big a crowd as the last time we played there, but it quickly filled up and every song received rapturous applause. (pic 2) We sold a lot of CDs
too, and actually ran out of Breathing Space EPs. Incidentally, I just received confirmation that we'll be playing at the Australia Day celebrations at Bendigo's Lake Weeroona again next year, so we'll no doubt catch up with a lot of our Maldon pub friends then - I'll be sure to bring more Breathing Space EPs...

1) Party dude discovers the room is moving 2) Jan Stephenson (left) and friend enjoy the day at St Andrews
3) Bill flexes his intelligence with Mick Newman at St Andrews
gig report
Party time in Altona and St Andrews
10.11.08 - It was very sweet of The Soundgarden's Dave and Maree to dob us in for (another) Dave's 60th birthday on Saturday night, and it was good fun too, despite the birthday boy being the only one in the room who'd heard of us before. Predictably the DJ was the big hit of the night. Maree gave us some mini-Magnums to go home with, and Bill, who doesn't usually eat ice cream, commented the next day Magnums were smaller than they used to be..
St Andrews was the usual afternoon delight and we caught up with some old (and new) friends - the next one (Sun. 23rd) is the last one for the year!!

Peter and Gwen Merrill are happy we're at their local
gig report
The Mulgrave Country Club
6.11.08 - On a politically momentous day, whether you're thinking Barack Obama or Guy Fawkes, Spectrum chose to peddle their musical wares at the Mulgrave Country Club, nestled in the shadow of the last remaining stand at Waverley Park, which looms out of the suburban landscape like some latter day Coliseum. Dynamic Entertainment's Gavin Nolan said not to expect too much crowd-wise because the room was in a 'building phase', so we weren't bitterly disappointed with the smallish group of locals that came along, especially as they were just about all fans at one stage or another of our career, as evidenced by the healthy CD sales. Quite an enjoyable night all told.

Mike's unexpected Molly Award
gig report
The Royal not quite up to speed
3.11.08 - On the way to the gig, a young bloke in a camel coloured Peter Jackson suit with muted mustard stripes dashed out into the traffic and nearly got himself knocked over by a four-wheel drive. The driver swerved and honked his horn as you'd expect, and our party-boy gesticulated extravagantly as if it was the driver's fault and staggered back to his unconcerned friends on the footpath. I don't know if it was the same bloke who turned up with his mates at the end of what was a very quiet night at the Royal Park Hotel and commandeered my microphone for no particular reason, but it might have been. The Spring Carnival is THE event in town for aspiting virgins to put on their finery and make complete idiots of themselves, and while I'm well and truly over it, I was almost grateful for the diversion in this case. Ironically, just down the road the following night at the Czech Club, I was honoured with a Molly Award. (pic) (see A Separate Reality) That's showbiz!
back to the top