Scroll down to the start of the month
Close this window to
return to Mike Rudd &
Bill Putt's home page

Bill applies the throttle to Allan
gig report
A quiet riot in Warburton
27.7.08 - Just before I left for Warburton I got a call from my bro' in-law Geoff, inviting me to join him and Syl watching the first instalment of the Bledisloe Cup series. That would've been a really nice thing to do, but Bill and I had a gig at the Wild Thyme, which is one of our favourite gigs for a number of reasons. Robbo's away, but, because the room is so tiny that a full kit of drums and percussion seems sheer indulgence, it's actually more sensible to have the duo playing there.
So we set up and ordered our meals - I had the scrummy Moroccan Lamb - and had a bit of a chat with the Wild Thyme's owner, Allan Seppings (pic). It seems he's taken up learning to play the bagpipes, which is a bit of a coincidence. We played two long-ish sets, and again, because the place is so small, we were able to play at a sensible volume. We loved it, the crowd loved it, and I even got to see the second half of the rugby when I got home!

The Robbos bravely pose at Tullamarine and say 'bye..
Robbos Edinburgh bound
25.7.08 - When I got to the Robbos' place, they were still packing and fretting about being overweight, and by the time we got onto the toll-way, Lisa felt so odd she couldn't look ahead and had to close her eyes till we got to the airport. She's not good on planes anyway, so I hope she calmed down a bit by the time they boarded their Emirates flight. Thank goodness they didn't hear about the Qantas incident, otherwise who knows what might have happened. They did look very smart, if slightly daggy, in their matching Rats of Tobruk Pipe Band trackies (pic), and I think they were pretty excited about going if the truth be known, even if they were leaving their best buddies in the lurch for a whole month..
Breathing Space feedback
23.7.08 - I picked up an auspicious looking brown paper bag from our mailbox today when I went down to the Camberwell PO. It turned out to be the exit report from Lou Ridsdale and Adele Spence - i.e. Lance Rock Publicity, who so diligently handled the publicity for Milesago and the Breathing Space EP. Till now I believed there had been simply no reviews of the EP, but I dicovered in the exit report there actually had been a few, including a couple of really scathing ones. No matter how much you think you are prepared for stinking reviews, it still rankles. I guess we've been very lucky in the past to have received more than our quota of generous reviews for just about everything we've done, so it was inevitable that things should even out, but it's more than a simple question of balance. As far as pop music's concerned, it would be fair to say we've well and truly passed our used-by date, and yet we persist in playing live gigs on a regular basis and continue to record our music. I'm even known to occasionally stand on my head. Part of the reason I resisted putting out a Spectrum album at this stage was because the music we've recorded over the past few years has had no particular coherence, and so it's unsurprising that a series of musically incoherent EPs is the result. Whether we ever return to having a discernible direction (if, indeed, we ever had one) is a matter for conjecture. We'll know more when this series of EPs is out of the way. In the meantime, get ready for more of the Breathing Space musical roller-coaster ride - at a sensible and sedate pace, naturally. See Reviews

Robbo models his Edinburgh 'do' with the Spectrums
gig report
St Andrews goes off - again!
21.7.08 - Robbo suggested darkly that this could be our last gig together and insisted we get Alana take a pic of the band just in case. While I'm sure that the Robbos will have a safe trip to Ediburgh, it's going to be a long four weeks without our favourite drummer.
There was a very good crowd in yesterday as it happened, swelled by the party that Secret Sound's Pete Dacy had brought with him. They were a good natured bunch too, but strangely disinclined to dance, which is unusual for the St Andrews mob. Still, they obviously enjoyed themselves and we sold quite a few CDs. We're back with Robbo (and Daz) at St Andrews at the end of August.

Bill clutches guests Judy and Sally in a bass embrace
gig report
Loungeroom series renaissance
20.7.08 - I can't remember exactly when the last one was, but it's got to be a year now since we first rolled up to Lee McIntosh's place in Frankston South and set up in her admittedly generous longeroom. After we'd set up we were treated to a wonderful meal while we waited for the guests to arrive. We thoroughly enjoyed it last time and this time was no different, and I'm just left wondering why we don't do it more often. It's a simple enough concept: you invite friends and acquaintances to your place and they pay a nominal amount for the privilege of seeing Spectrum up close and personal in your very own loungeroom. It's great fun - go to book Spectrum

Richard the Cheesemaker and Bill the cheese..
gig report
Another Grand night for Crudd & Pump
18.7.08 - It was a better crowd than last time, but I'm surprised more of the locals haven't wised up to this terrific venue. Maybe old habits die hard - Richard the Cheesemaker (pic) said it took him a while to be convinced that things had changed for the better at the pub for instance. The food is especially good - I had the lamb last night and it was exceptional - and the atmosphere is warm and friendly. It's a great gig! We're back there on Thursday the 11th of September, so you've been warned..
The north of the border and Sleepy Hollow mini-tour pics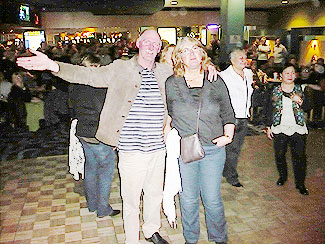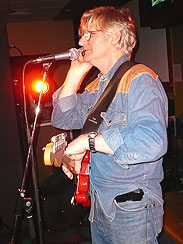 1) Carnage on the Albury S,S & A dance floor 2) Phil tries to phone Matt Taylor for his 60th birthday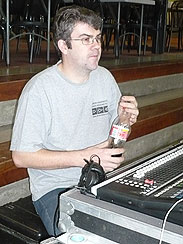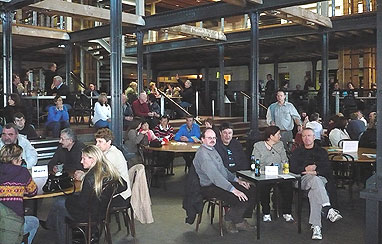 3) Audo guy Simon vibes up for the gig 4) The impressive room at the Deakin Waterfront Café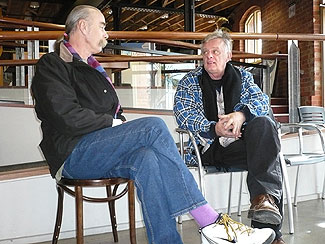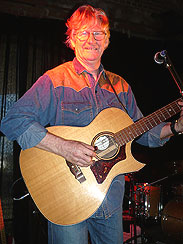 5) Bill and Brod Smith partition Europe 6) Phil strikes the pose during Migrants Dance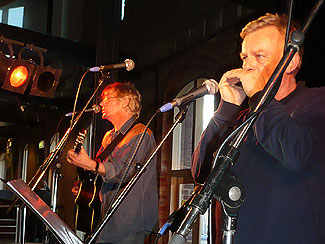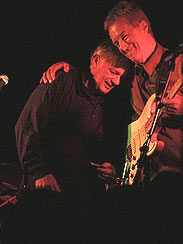 7) Phil and Brod play a surprise song to open the second set 8) Mike comforts a sick Brod*
9) Phil happily autographs another CD 10) Stephen and Sarah Ramsay and Spectrum
*detail of photo by Wayne Reid
gig report
The Someday I'll Have Money mini-tour
13.7.08 - I'd left the address at home, but we drove into Albury and found ourselves right outside the S, S & A Club anyway, and while I still don't know exactly what that is, we quickly discovered that it was a Leagues Club by any other name - and a bloody big one too. The so-called Main Lounge we were playing in wasn't a separate room at all, and so we were competing with the usual array of football games, trots etc. plus the omnipresent silent order of zombies working the pokies, but Brod had made sure we had an enormous PA, so we weren't going to die unnoticed. We set up and sound checked and then managed to persuade the staff to put our meals on the band tab before checking into our (separate) rooms at the Comfort Inn on the other side of the club's car park.
When we got back, all seemed to be confusion and disco balls, but the disc jockey insisted it was a good crowd, so we took his word for it and Phil stepped up to open the first set with his solo instrumental, Migrants Dance, (pic 6) which I was hearing for the first time. Utterly breathtaking it was too, referencing moods and influences way outside his prescribed brief.
Then we were all on. Brod was suffering from a chill he'd got at rehearsal on Monday, so warned us not to expect Mickey Rooney, but I'm certain nobody in the audience would've twigged he was ill, or that he wasn't Mickey Rooney for that matter. He's a very funny man, and, apart from being a wonderful singer and exemplary blues harp player, he's very tolerant when the backing band is taking liberties with the arrangements for his songs. And, while I'm at it, Phil's very reassuring to play with too - he's a no-nonsense this-is-the-way-it goes player when he's fronting the band, which allows anarchists like me to cruise in the background while he soars.
The set list had been worked out, but absolutely nothing else had even been discussed regarding direction, and so I guess it comes down to the combined years of experience present that ensured the show seemed to run fairly seamlessly on an improvised consensus basis. That the audience who had come specifically to see us were fairly muted I put down to the competitive nature of the venue, and I actually got the impression that most of them had enjoyed the show. It's hard to know anything much at all when Abba is blasting out at a million decibels before you've even vacated the stage.
Despite the comparative luxury of the accommodation, I managed not to sleep at all, as is my wont first night on the road, so getting up early to be on the road by 8.00 wasn't an issue - but surprisingly enough, everybody else was equally prompt. Which was just as well, 'cause we had to be at the Deakin Waterfront Café in Geelong by 1.00 according to the work sheet, so there was going to be no time to take in the sights as the sun rose over the sleepy border town of Albury.
As it turned out, we got there to Geelong in plenty of time, and were duly impressed with the venue.(pic 4) By the time we started there was a very good crowd in attendance, both in size and disposition, and this afternoon there were no distractions, so each musical contribution was greeted with rapturous applause. This, and the fact we already had our virgin performance under our belts, added to our confidence, and I have to say it all sounded rather fine, to me anyway. (See the Rock'n'Roll Scars site for an independent review).
As we took Phil to the train station we discussed how well it had gone and how we should do it again as soon as possible - before we all completely forget the arrangements at least..

I can't quite make out my name there..

Morning Of The Earth Live in Concert
9.7.08 - The announcement has been officially made, so now I can reveal that I've been asked to appear as a guest artist on the live concert version of the classic Aussie surf movie, Morning Of The Earth. The following is reprinted from Undercover News.
The classic Australian surfing movie 'Morning Of The Earth' will have a rerun in Sydney and Melbourne later this year with original film being accompanied by a live concert featuring original acts from the soundtrack.
Special guests Lior, Mike Rudd and Old Man River for the screening will join Brian Cadd, G. Wayne Thomas and Tim Gaze of Taman Shud.
'Morning Of The Earth' is an icon of the Australian music and movie industry. The 1972 film had a platinum-selling soundtrack especially
for the movie.

Promoter Michael Chugg said, "Who can forget the summer of '72 – it was Sunbury and it was Morning of the Earth – what a time!" Producer for Morning of the Earth – The Original Film & Music Live in Concert, Amanda Pelman from Chugg Entertainment said, "Some films stay with you all your life, and crystallise a certain philosophy of living - Morning of the Earth was that defining moment for me. I am lucky enough to have Brian Cadd as my life partner and I will share all the musical memories of this project with him when he plays it live. This show is a culmination of these amazing images and sounds with great contemporary artists like Lior performing because he totally 'gets it' in the now. I hope you as the audience will too."
Original Morning of the Earth film director Albert Falzon said, "I've lived and breathed the lifestyle portrayed in this film for many years now, and it is truly wonderful to think it is now experiencing a renaissance. The essence of surfing never changes, regardless of how big the associated corporations get. New audiences and generations seem to constantly draw inspiration from its visuals, idyllic lifestyle and the music which is such an important part of the whole – and for me, that is a very humbling evolution to witness."
The Morning of the Earth film and music Live In Concert is on: September 27, Sydney, The State Theatre
October 3, The Palais, Melbourne Tickets go on sale through Ticketmaster on July 11.
by Paul Cashmere - July 5 2008
1) Big Phil Birch-Marston 2) The Greaggs showed up at the Press Club -
thank goodness!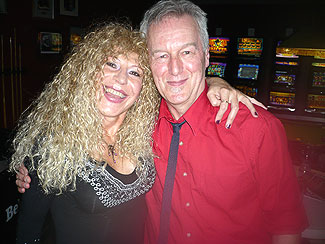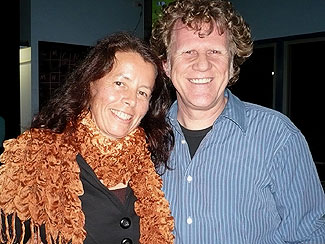 3) Mike looks happy with John Mills' former classmate, Szusza 4) Dallas Tapsall and Robbo at the Tathra Hotel
gig report
Spectrum trio successfully negotiates Canberra and Tathra gigs - amazing scenes!
7.7.08 - On Tuesday night Robbo finally decided to skip the tedium of the drive up to Canberra and elected to fly the followiing day, which left Bill and me to stretch a ten minute conversation over six or seven hours in the van on the Wednesday. I rang Cookie (Geof Cook) as we blundered into the outskirts of Canberra, and he said that our timing was perfect 'cause Gaye was cooking a roast chicken and he was warming the telly for the State of Origin decider! We stopped at the local bottle shop to buy a nice red - and ran into Geof buying some last minute vego stuff for Bill. We had a lovely meal and a fun night unwinding after the long trip.
At midday the next day Bill and I popped over to see Phil Birch-Marston (pic 1) at ArtSound 92.7 and got a guided tour through the in-house studio where Gaye recorded her album before heading to the airport to pick up our very special drummer. We set up early at the National Press Club, which makes a difference because it has to be one of the more tiresome load-ins, but I'd forgotten how unresponsive the room is acoustically, not unlike treading water in quicksand in fact, and if it wasn't for the appearance of some of our favourite Canberra (and beyond) people (pic 2) and the gratifying response from some new Spectrum chums, my verdict on the night would have been wholly dire.
After breakfast the next morning at Gus' Café, I dropped Bill and Robbo back at Curtin and headed off to do brunch with the Greaggs. I got a call from Cookie not long after getting there saying that he'd procured an interview for Bill & me with Mike Welsh on 2CC at 2.10, and what started off being a leisurely day socialising suddenly looked a fairly strategic proposition, especially as I'd been approached per e-mail a few days earlier by Maka McMahon to conduct a lesson for a group of harmonica enthusiasts at 3.00 in some place called Chapman.
I'd done a 'phoney' with Mike Welsh on one of our previous visits, but I'd not met him in person. It turns out he's from Launceston originally, and saw Spectrum (with Daddy Cool) at the local hall back in 1971. I remember that particular gig because there was a fracas involving our roadie, Jim Murrie, as he was loading in, and I ended up with painfully bruised ribs as a result. Let's just say that bruised ribs are not good for singing or breathing in general, and it was was one of the more excruciating gigs I've endured.
Anyway, the interview was fun, and I dropped off Bill at Curtin and headed to Maka's aided by a Google map and directions. A Google map is only as good as the idiot who's reading it and I managed to arrive about fifteen minutes late, but Maka, Fiona, Rob and Arthur weren't at all disconcerted and we spent the next ninety or so minutes musing the pros and cons of various blues harp techniques.
Fiona, Rob and Maka even showed up at the Old Canberra Inn gig that night, along with stalwarts Pam Cleary and Lynn Timmis from the Press Club, and happily for the band it was a very different story acoustically to the previous night, and as a result we and the audience had a lovely time. Brian, one of the owners of the room and a former rugby union player, insisted that I give him and his young five-eighth protegé a verbal account of the old Christ's College haka. Now that doesn't happen very often!
One last breakfast at Gus' and we left Cookie and Gaye (and Jedda and Columbus) and headed off to our last gig at the Tathra Hotel on the Sapphire Coast. Although we were consigned to the back of the gaming room and therefore hidden pretty effectively from public gaze, I was still pleased we didn't play in the function room cum bistro - I don't think we'd have got anybody in there at all. As it was there were only a few there specifically to see us, including Lynn Timmis and Dallas Tapsall (pic 3) whom we'd met on a previous Canberra visit. Perhaps perversely I enjoyed the night well enough, but the accommodation provided by the pub was something else again. Bill and I were able to draw a couple of historical comparisons, but it was the most unpleasantly cold and uncomfortable night I can remember, especially for us old codgers with weak bladders who thought this kind of contemptible treatment was a thing of the distant past.
So, we're safely back home now. Not so many amazing scenes as it happens, but many thanks to Geof and Gaye at Let's Create and the audiences in general over the border(s) for making us feel welcome and (sort of) relevant - I'm (almost) certain we'll be back one day soon!
back to the top